If you just found out your beloved dog has lymphoma, you may be feeling overwhelmed as a million questions run through your head. Integrative veterinarian Dr. Julie Buzby is here to help. In her characteristic compassionate way, she shares the types, signs, diagnosis, treatment, and prognosis for lymphoma in dogs with a special emphasis on multicentric (lymph node) lymphoma.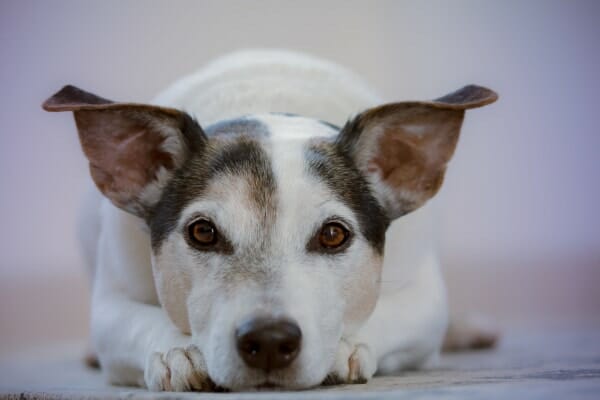 To his parents, 10-year-old Basset Hound mix, Joshua, was the picture of health. When he visited me for his annual exam, they said he was acting like his normal silly, slobbery self. They had no concerns and expected a routine visit. However, their world soon came crashing down around them.
On his physical exam, I discovered significant enlargement of most of Joshua's external lymph nodes. As I examined the cells from his lymph nodes under the microscope, his parents anxiously awaited the results. Unfortunately, their worst fears were confirmed. Joshua had lymphoma.
What is lymphoma?
This common cancer of the lymphocytes (i.e. a type of white blood cells) is also known as malignant lymphoma, lymphosarcoma, or LSA. It is responsible for up to 24% of canine cancer cases in the U.S. and affects 13 to 24 dogs per 100,000 each year.
To understand lymphoma a little better, it helps to understand lymphocytes. In a normal dog, they are an important part of the immune system's defense against infections. Like other types of white blood cells, lymphocytes circulate in the blood.
However, they are also a very important part of the lymphatic system. This is the system of tiny vessels that runs parallel to some of the blood vessels. Lymphatic vessels collect fluid that has moved out of the blood vessels and into the tissue. This fluid can pick up foreign materials such as bacteria, viruses, and proteins that don't belong in the body.
Along the path of the lymphatic vessels are lymphocyte-rich lymph nodes. Think about lymph nodes as the inspection checkpoints along the lymphatic road. There's no getting around them. As the lymphatic fluid flows through the lymph node, the immune system cells come in contact with the foreign substances. This allows the body to detect then mount a response against anything it sees as potentially dangerous.
In addition to lymph nodes, the spleen and bone marrow also contain large amounts of lymphatic tissue (i.e. lymphocytes and other immune system cells). However, lymphatic tissue is present to some extent in almost every organ. Thus, lymphoma can develop almost anywhere in the body.
How is lymphoma classified?
There are three forms of lymphoma, defined by the primary location:
Multicentric or nodal lymphoma—found in the peripheral lymph nodes, bone marrow, liver, or as a cause of splenic masses in dogs.
Gastrointestinal (GI) lymphoma—affecting the small intestines and/or stomach.
Extranodal lymphoma—found in a location other than the lymph nodes or GI tract.
Extranodal lymphoma is further classified into different subtypes based on location:
Mediastinal lymphoma—in the chest
Cutaneous lymphoma—in the skin
Renal lymphoma—in the kidneys
Central nervous system lymphoma—in the brain or spinal cord
Ocular lymphoma—in the eye
Multicentric is by far the most common type of lymphoma in dogs, accounting for approximately 80% of cases. GI lymphoma is responsible for about 5 to 7% of lymphoma cases and will be discussed in another blog. The remainder fall in the extranodular category. Because it is the most common, the rest of this blog will focus on multicentric lymphoma.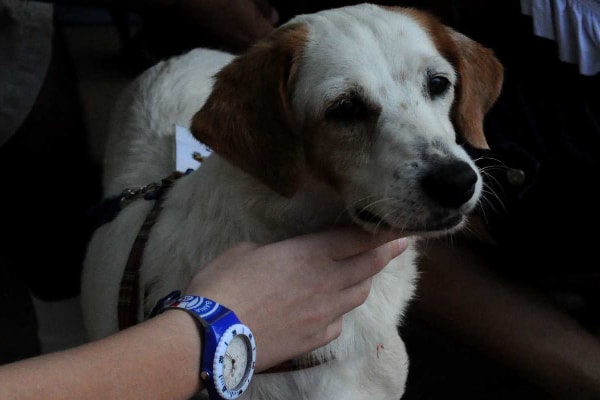 Which dogs are at the highest risk for multicentric lymphoma?
Although most dogs with lymphoma are middle-aged or older, it can affect dogs of any age. Unfortunately, I have seen it in dogs as young as nine months old. Lymphoma is equally common in male and female dogs. While it can affect all breeds of dogs (and mixed breeds), some breeds have an increased risk of lymphoma including:
Golden Retrievers
Scottish Terriers
Bassett Hounds
Cocker Spaniels
Poodles
What are the symptoms of multicentric lymphoma in dogs?
One or more enlarged lymph nodes is the characteristic finding in multicentric lymphoma. When I say "enlarged," I don't mean just slightly bigger than normal. Often these lymph nodes are much larger, potentially the size of a golf ball or bigger, depending on the size of the dog. The lymph nodes are firm and usually not painful when palpated.
Locating the enlarged lymph nodes
Although there are lymph nodes throughout the body, some are more noticeable than others. The most prominent and easy to feel lymph nodes are the:
Submandibular lymph nodes—located under the jaw where it meets the neck.
Prescapular lymph nodes—in front of the shoulder blade.
Axillary lymph nodes—found in the armpit area.
Inguinal lymph nodes—on the lower abdomen where the legs connect to the body (groin region).
Popliteal lymph nodes—located on the back side the dog's knee (stifle).
It's important to note that enlarged lymph nodes don't always equal lymphoma. Due to their role in the immune response, lymph nodes can react and grow in response to an infection (viral, fungal, or bacterial) or even vaccinations. Vets usually refer to these as "reactive" lymph nodes.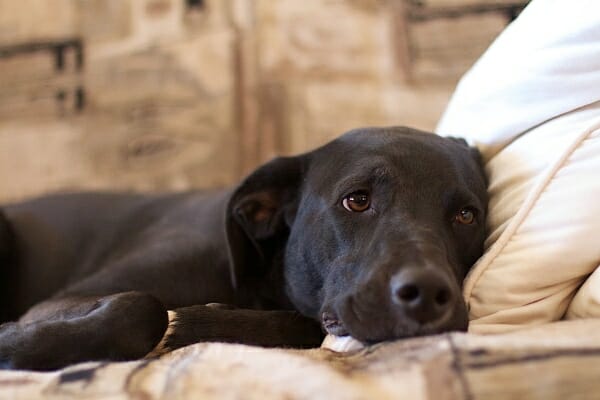 The submandibular lymph nodes are the most likely lymph node to be enlarged due to non-lymphoma causes. This is in part because they filter the blood, and therefore the bacteria, from the mouth. If your dog has dental disease or your older dog is losing teeth, this may be enough to stimulate a response in the lymph nodes and cause moderate enlargement. Thus, finding enlarged lymph notes is suspicious, but not definitive for lymphoma.
Other signs of multicentric lymphoma in dogs
Many dogs are not initially sick. Sometimes their parents make a "check lump" appointment with their vet because they notice a firm swelling that isn't going away. Other times the vet detects the enlarged lymph nodes on a physical exam like I did with Joshua.
Other dogs may stop eating, exhibit lethargy in dogs, or lose weight. Some dogs may experience trouble breathing. This can be due to enlarged lymph nodes in the chest causing fluid to build up. Alternatively, markedly enlarged submandibular lymph nodes may block the upper airways (throat). A dog could have an enlarged liver or spleen that causes the abdomen to look distended.
How is lymphoma diagnosed?
As we discussed earlier, just because a dog has enlarged lymph nodes, this doesn't automatically mean it is lymphoma. Typically, your vet will use a fine needle aspirate of the lymph nodes to diagnose lymphoma. This involves poking a needle into the lymph node multiple times to obtain a sample of cells. Then the vet will examine the cells under a microscope.
A normal lymph node contains primarily small, mature lymphocytes. However, if the vet sees a large number of lymphoblasts (larger, immature lymphocytes), a diagnosis of lymphoma is likely. Many veterinarians will send the slides to a veterinary pathologist to confirm the diagnosis of lymphoma.
Sometimes, even when a veterinary pathologist examines the sample, it can be difficult to definitively determine if a lymph node is cancerous or reactive. In these cases, your veterinarian may want to take a biopsy, or a small piece of tissue from the lymph node, and submit it to a veterinary pathologist.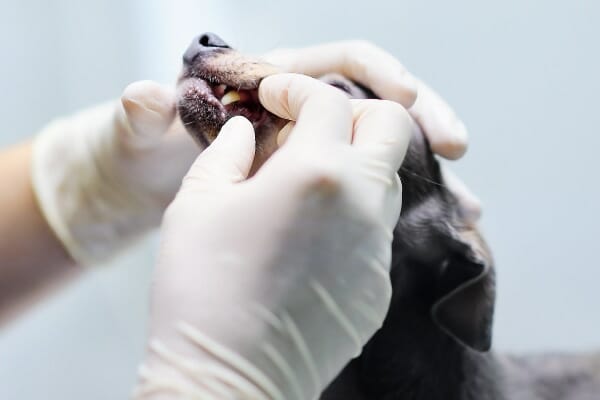 What is the treatment for lymphoma in dogs?
Unlike many other types of cancer, surgery cannot cure or treat this type of lymphoma. The lymphatic system is widespread throughout the body, so by the time of diagnosis, lymphoma has most likely spread to multiple locations. Thus, even if only one or two lymph nodes are enlarged, removal of those lymph nodes is not an effective treatment.
Chemotherapy to treat lymphoma
This is the treatment of choice for canine lymphoma. There are multiple different chemotherapy protocols (i.e. the type of drug or combinations of drugs administered on a set schedule) to treat lymphoma. A veterinary oncologist can discuss different protocols and determine which one is best for your dog.
To learn more, check out Veterinary Partner's article on common lymphoma chemotherapy medications for dogs and cats.
Joshua's chemotherapy story
Remember Joshua? I referred him to a veterinary oncologist who planned and administered a chemotherapy protocol. Joshua's lymphoma went into remission, and he had an additional two wonderful years with his family. They were so happy with the time that the chemotherapy gave them with their sweet Joshua.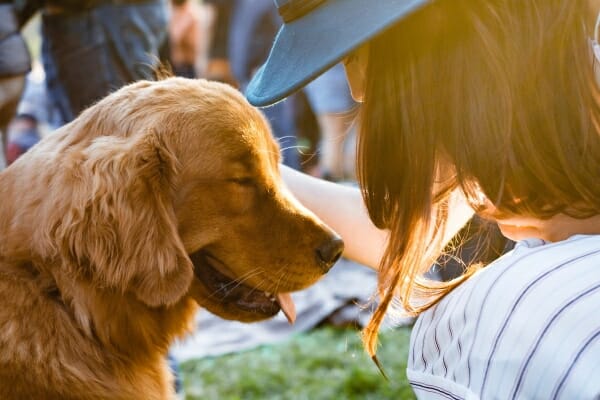 Prednisone to treat lymphoma
If you do not want to pursue chemotherapy for your dog, there is another option. Most dogs will go into partial or complete remission when treated appropriately with the corticosteroid prednisone for dogs (or prednisolone). It is a tablet that is readily available at most veterinary hospitals and can be given at home. Note that it does sometimes cause increased thirst and urination, excessive panting, or increased appetite.
Unfortunately, prednisone typically only causes a short-lived remission. Typically, the lymphoma develops resistance to prednisone after a couple of months. Another concern with starting prednisone right away is that it makes lymphoma less responsive to chemotherapy in the future. Before I start any of my patients on prednisone for lymphoma, I always counsel the family on the pros and cons. I also ensure they have no plans of pursuing chemotherapy down the road.
Charlie's prednisone story
Charlie is a 10-year-old Golden Retriever who came to see me because he was not eating well and was acting lethargic. I discovered his lymph nodes were enlarged and lymph node aspirates confirmed the diagnosis of lymphoma. He also had high calcium (more on why that happens in a bit).
Referral to an oncologist and chemotherapy was not an option for this family, so we started treatment with prednisolone. I informed his family that the prednisolone may make him feel better for one to two months. But then he was likely to relapse. Amazingly, it has been almost five months since Charlie's diagnosis and he is still happy and active.
I rechecked him last week. His lymph nodes are still very large and he is not in full remission but he is living his best life right now. His family is extremely happy for the extra time with him. While his story is not typical for dogs with lymphoma who are treated with prednisolone, I wanted to share it to demonstrate that some dogs defy the odds.
What is the life expectancy for multicentric lymphoma in dogs?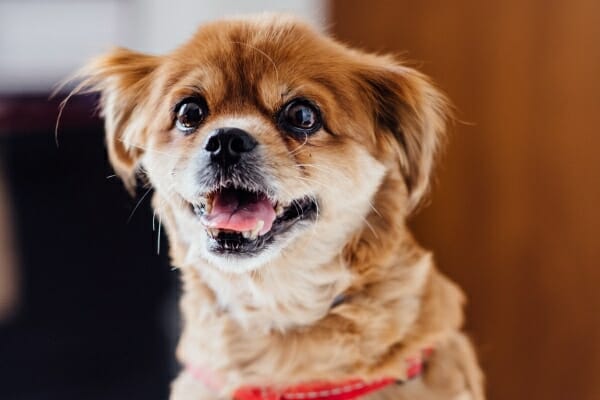 Without any treatment, lymphoma often progresses quickly. Most untreated dogs will succumb to the disease within one to two months of diagnosis. Treatment with prednisone alone can cause a temporary remission and may extend survival time by a few more months.
Treatment with chemotherapy can give your dog a good quality of life for months to years. People understandably tend to worry about the side effects of chemotherapy. Side effects are much less common in dogs than they are in people.
When considering the life expectancy of dogs treated with chemotherapy, there are certain factors that affect prognosis and overall outcome:
Gender
Female dogs tend to respond better than male dogs.
Dog size
Smaller dogs respond better than larger dogs.
Histological grade
The veterinary pathologist will determine the grade of the lymphoma, with high-grade lymphoma expected to behave more aggressively than low-grade lymphoma. Interestingly, high grade lymphoma is actually more likely to go into remission than low grade lymphoma.
Staging
Lymphoma is also classified into stages. The lower the stage, the better the prognosis (outlook).
Stage I—only a single lymph node is affected
Stage II—multiple lymph nodes in the same region of the body are affected
Stage III—lymph nodes throughout the body are affected
Stage IV—the liver or spleen are involved
Stage V—lymphoma is found in the blood or bone marrow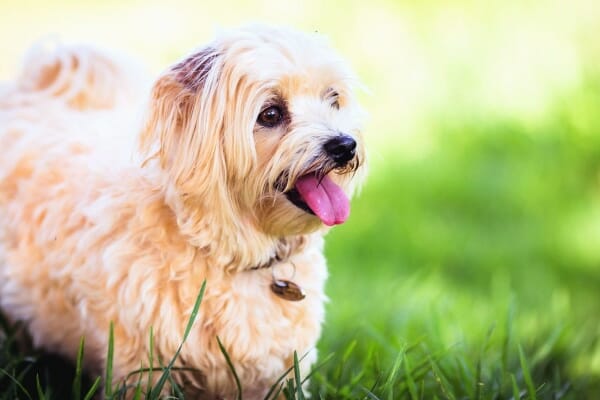 Sub-stage
Dogs with lymphoma are classified into "substage a" (patients who ARE NOT sick at the time of diagnosis) and "substage b" (patients who ARE sick at the time of diagnosis). Dogs who are in "substage a" generally do better.
Phenotype
There are two types of lymphocytes—B-cells and T-cells. B-cells come from the bone marrow and create antibodies (immune system proteins that target specific foreign invaders). T-cells mature in the thymus (immune system tissue in the chest) and help direct the immune reaction or kill infected or abnormal cells. Dogs with B-cell lymphoma tend to fare better than dogs with T-cell lymphoma. A veterinary pathologist can perform special testing to determine the phenotype (i.e. T-cell or B-cell) of the lymphoma.
Hypercalcemia
Some cancerous cells, including some cancerous lymphocytes, produce a protein that mimics parathyroid hormone (PTH). Normally, PTH helps control calcium levels in the body. When cancer cells make parathyroid hormone-related protein (PTHrP) this can force the body to abnormally retain calcium. An elevated calcium causes kidney damage, weakness, and a loss of appetite. These dogs are often feel sick and have a worse prognosis than a dog with a normal calcium level.
Presence of a mediastinal mass
When there is a mass present in the center of the chest (mediastinum), this indicates that the thymus is probably involved. Thus, T-cell lymphoma is more likely. As mentioned above, T-cell lymphoma does not respond as well to chemotherapy.
Previous treatment with prednisone or prednisolone
As discussed in the treatment section, lymphoma that has previously been treated with prednisone alone is less likely to respond to chemotherapy.
When trying to decide the best course of action for your dog with lymphoma, I always recommend a consultation with a veterinary oncologist. He or she will evaluate your dog and look at the prognostic indicators. This will help determine your dog's chance of achieving remission and allow the veterinary oncologist to formulate the best treatment plan for your family and your dog.
Hope in the midst of the hard times
Even though lymphoma is often a fatal disease, it is not hopeless. Many dogs with lymphoma don't feel sick during the earlier stages of the disease. Like Joshua, they have no idea anything is wrong with them, and may wonder why their parents are so sad and worried.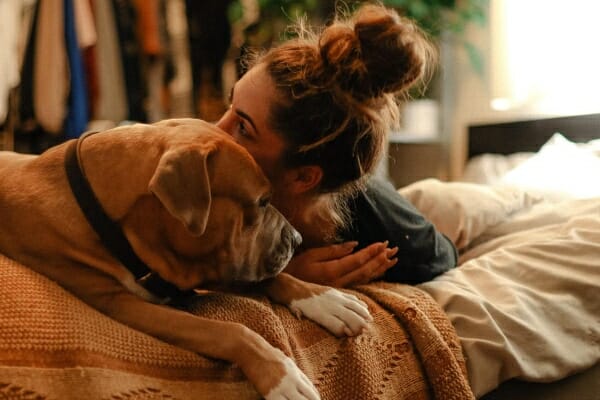 Additionally, many dogs with lymphoma will respond well to chemotherapy or prednisone. They can have an excellent quality of life during their final weeks, months, or years. Treasure the time. Make a bucket list for your dog and see how many things you can check off of it. Spoil him or her like never before. Keep living and loving until it is time to say goodbye.
Saying goodbye to your dog with lymphoma
This next section might be hard to read, but I think it is worth sharing. Knowing that your dog has a disease that will most likely eventually claim his or her life gives you the chance to prepare for your dog's euthanasia. Perhaps you want to plan an in-home dog euthanasia in your dog's favorite location, surrounded by the things and people he or she loves. That's how my family said goodbye to our dog, Luke, who had mediastinal lymphoma.
Or maybe you will say goodbye at the vet's office, while your dog lies on a favorite bed after just having a meal of all his or her favorite foods (even the usually forbidden ones). The plan may look a bit different for everyone, and that's ok.
No one wants to have to face losing their beloved dog, but sometimes being able to think about how you want those last days and moments to go—whenever they come—can bring a small measure of comfort.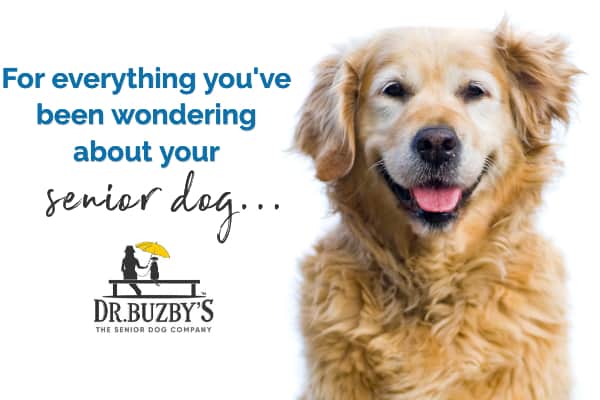 Has your dog been diagnosed with lymphoma?
Feel free to share his or her story below.