Can a diabetic dog eat chicken breast? What about eggs? Coconut oil? Trying to navigate the ins and outs of which human foods and treats you can safely feed your diabetic dog can feel overwhelming. But it doesn't have to be, thanks to integrative veterinarian Dr. Julie Buzby's handy guide to human food, treats, and supplements for diabetic dogs.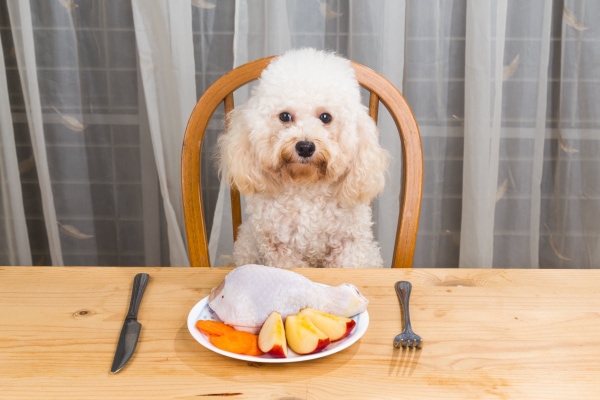 A few weeks ago, I saw Tina, an 8-year-old Goldendoodle, for a follow-up appointment after diagnosing her with diabetes in dogs. Understandably, Tina's mom had a lot of questions about caring for a dog with diabetes.
She was worried about diabetic ketoacidosis in dogs, and she had concerns about what to do if her diabetic dog won't eat. Plus, she wondered what human food and treats she could still give her dear dog.
If you recently discovered your dog has diabetes, you probably have some of the same questions and concerns. I have written other blogs to address the first two topics, so let's focus on the last one—"What human foods can I feed my diabetic dog?"
We will take a look at which human foods are diabetic-friendly (and which ones are not). Plus, I'll discuss some treats and supplements for diabetic dogs.
Why does it matter what I feed my diabetic dog?
But first, let's discuss how eating impacts your diabetic dog's blood sugar. As your vet has probably explained to you, your dog's body breaks the food he or she eats into its components, including glucose (i.e. sugar). Some foods are going to dump a lot of sugar into the blood quickly, and others will release the sugar more slowly.
Normally, in response to eating, the dog's pancreas would secrete insulin, a hormone that lowers blood sugar by driving glucose into the cells. This is a good thing because the body functions best in a narrow range of blood sugar levels. And the glucose needs to get inside the cells so that it can be used as cellular energy.
Diabetic dogs need insulin and should eat two meals a day
However, since a diabetic dog's pancreas isn't producing insulin, he or she needs insulin injections as a "substitute pancreas." This works ok, but it isn't going to be quite as good as the real deal (i.e. the dog's pancreas). Thus, the composition of the food the dog eats, and when he or she eats it, plays into how well the insulin injection can control a diabetic dog's blood sugar.
Typically, your vet will have you feed your dog first. And then he or she will have you give a set amount of insulin (the same amount each time) once you ensure your dog has finished the meal. Since long-acting insulin works for about 12 hours, vets usually recommend feeding a diabetic dog two distinct meals a day (12 hours apart) and administering insulin twice a day. This strategy can help prevent dangerous blood sugar spikes or drops, especially when the dog gets a consistent composition and amount of food at a consistent time.
Diabetic dogs have specific nutritional needs
As alluded to, the type of food you feed your diabetic dog helps regulate blood sugar. Most of the time, this is a diet that is high in fiber, low in fat, low in calories, and medium to high in protein. Some dogs do best on prescription diabetic dog food. Others may be successful on an over-the-counter diet that fits those parameters. It is a matter of finding what works best for your particular dog.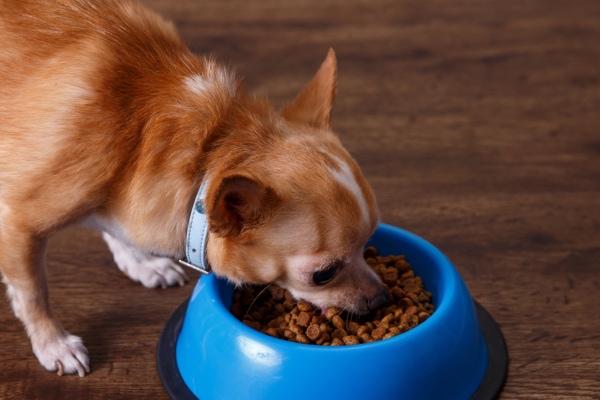 I know making these changes to your dog's diet can be difficult, especially if your dog is used to getting table scraps. But, the good news is that there are some human foods you can still safely feed your diabetic dog to keep meal times fun.
Without further adieu, let's tackle some FAQs about which human foods are good for diabetic dogs.
Can diabetic dogs eat meat?
First, we will address meats since they tend to be high on the list of foods that people want to give their dogs.
Can a diabetic dog eat chicken breast?
One of the most common foods people ask me about is chicken breast. And I usually tell them that, yes, chicken is safe for diabetic dogs to eat. Chicken is an excellent source of protein and nutrients for your dog. Also, it has a lower fat content than other meats like beef or pork.
However, if you are going to have your diabetic dog eat chicken breast, cook it without butter or seasonings. And remove the skin. These cooking instructions are important because butter and seasonings are a source of fat, oils, and carbohydrates, and the skin is high in fat. These "extras" may negatively influence your dog's blood sugar. Plus, some seasonings contain ingredients (e.g., garlic or onions) that are toxic to dogs.
What meats should I avoid giving my diabetic dog?
While chicken is a safe option for your dog, there are some meats that your diabetic dog should not eat. The most important ones to avoid are beef and pork products like:
Ground beef
Beef burgers
Pork chops
Bacon
These meats can be problematic due to their high-fat content (and therefore high-calorie content). Diabetic dogs need to maintain a healthy dog body condition score (BCS) to help with blood glucose control, so they don't need the extra calories. Plus, high-fat meals can slow down digestion, which makes it more difficult for insulin to work at the optimal time.
Finally, but perhaps most importantly, these fatty foods put your dog at risk for pancreatitis in dogs. This is a potentially life-threatening inflammation of the pancreas which can cause vomiting, diarrhea, and abdominal pain. Diabetic dogs are already prone to pancreatitis, so adding another risk factor in the form of fatty foods is definitely not a good idea.
Other than chicken, which meats can I feed my diabetic dog?
If you need a meat source to feed your diabetic dog that is safe (but not chicken), some other options include turkey, fish, and beef liver.
Turkey is a great substitute for dogs who don't eat chicken. It is high in protein and low in fat. But, if your dog is allergic to chicken, it is possible that he or she might be allergic to turkey as well.
In these cases, fish (like salmon) can be a safe meat for your diabetic dog. Salmon is lower in cholesterol than red meat and low in fat—making it a great choice.
Another potential option is beef liver. While, as we discussed, beef is a high-fat food, beef liver is actually very low in fat and calories. This makes it a low glycemic index food. (Glycemic index gives an indication of how fast foods make blood sugar rise, with "high" foods creating a rapid rise and "low" foods creating a slow rise.) Plus, beef liver is very high in vitamins and minerals, which is a great added benefit.
What treats can I give my diabetic dog?
Speaking of the glycemic index, typical dog treats that you find on your local grocery store shelf tend to be higher in sugar. Therefore, many are considered high-glycemic foods. This can make it difficult to find treats for dogs who are diabetic.
Conveniently, some of the dog food companies that make diabetic dog food also make diabetic dog treats. These treats are usually in a biscuit or cookie form and have a similar formulation to prescription dog food. In other words, they are lower in calories, don't have added sugars, and can be easily metabolized by your diabetic dog. Also, since they come premade, many owners find them easy and convenient to give their dogs.
If you are interested in these types of treats for diabetic dogs, I suggest asking your veterinarian for recommendations. But remember, even if they have your vet's seal of approval, you still need to limit the number of treats your dog gets. Especially for diabetic dogs, treats should make up less than 10% of your dog's daily caloric intake.
Can diabetic dogs eat rawhides?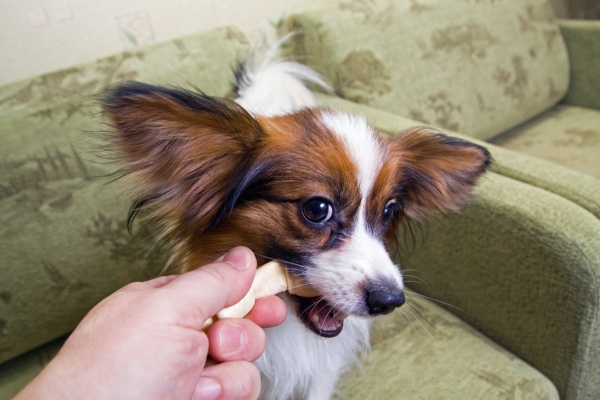 When talking about treats, many of my clients also ask me about rawhides. In general, I am not a big fan of rawhides for dogs (even non-diabetic dogs). There are several reasons why I feel this way:
Rawhides can fracture a dog's tooth (which is painful and can lead to a dog tooth abscess and/or necessitate a dog tooth extraction).
Rawhides are not easily digestible. I have seen dogs swallow large pieces and end up with them lodged in the esophagus, stomach, or intestines.
Flavored rawhides can contain ingredients that may lead to an upset stomach or pancreatitis.
Rawhides can be very calorie dense (According to a Tufts University Cumming's School of Veterinary Medicine article discussing whether rawhide chews cause weight gain in dogs, a 2-inch by 6-inch by 1/8 inch rawhide chew contains 50 to 100 calories.)
This last bullet is especially important for diabetic dogs. Remember, when asking "What foods can I feed my diabetic dog?", we are selecting ones that are low in calories. In my book, this makes rawhides a definite "no" for diabetic dogs.
What are some good chews and toys for diabetic dogs?
Once I tell dog parents that rawhides are not a good option for their diabetic dog, their next question is usually, "What chew is a good option then?"
Because managing diabetes also means managing calories, I really like to recommend chews that are not food-based. You can find information on multiple chews that fall into this category in my article on safe chew toys for dogs.
But, I also understand that some dogs may not enjoy chewing on "non-food" treats. If this is your dog, one of my favorite solutions is to put some of his or her diabetic-safe dog kibble in a Kong toy. This encourages your dog to play and chew with the toy. And you are offering a food reward that you already know is safe.
However, if the Kong doesn't work for your dog either, my next solution is to try offering your dog small amounts of vegetables that are safe for diabetic dogs.
Which vegetables are safe for diabetic dogs?
In general, I think vegetables are a great food and treat option for dogs. However, while I have a detailed list of vegetables dogs can eat, not all of these vegetables are the best choice for diabetic dogs. Let's go through some of the most common ones I get asked about.
Carrots
If you are wondering if diabetic dogs can eat carrots, the answer is yes! Carrots are very low in calories and have many vitamins and minerals that are beneficial for your dog. Also, carrots are sweeter-tasting than many other veggies, making them more palatable to dogs. And as an added benefit, carrots are crunchy when fed raw. This makes them a great chew for your dog too.
However, they do have a higher sugar content than other vegetables, so carrots should be fed to diabetic dogs in moderation.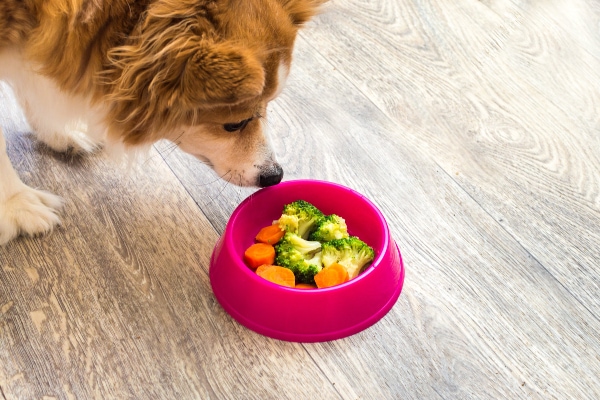 Broccoli
This flowery, green vegetable is an excellent veggie snack for diabetic dogs. Broccoli has a very low glycemic index, so it won't raise your dog's blood sugar quickly. Also, it is extremely high in fiber, which can actually help a dog with diabetes.
In addition to using it as a treat, you also can give broccoli to your diabetic dog as part of a meal if he or she is on a diet. Often, when trying to help dogs lose weight, owners worry about them being hungry. Broccoli is very filling, and it can help your dog feel full even after a smaller meal. (Just be sure to serve bite-sized pieces so they don't become a choking hazard.)
Sweet potatoes
While sweet potatoes are delicious and can be a great option for many dogs, I don't recommend letting your diabetic dog eat them. They are high in fiber (which is a good thing), but they have a very high sugar content. This makes sweet potatoes high on the glycemic index, meaning they may cause your dog's blood glucose to increase rapidly.
Potatoes
Just like sweet potatoes, regular potatoes should be avoided in diabetic dogs. They can cause your dog to have blood sugar spikes too.
Celery
Unlike potatoes and sweet potatoes, diabetic dogs can eat celery. It is low in calories, fat, and cholesterol, making it a great treat for dogs with diabetes, or for those who are on a diet. However, celery is not as flavorful as some of the other vegetables. So, don't be surprised if your dog isn't interested in this healthy green treat.
Cucumbers
Technically, diabetic dogs can eat cucumbers because they are low in calories and starch. This means cucumbers aren't going to significantly affect your dog's blood sugar. However, cucumbers can be dangerous for dogs because their shape makes them a choking hazard. And if your dog eats too many of them at once, they can cause stomach upset or even blockages in the digestive system.
Therefore, while nutritionally speaking, cucumbers are safe, I recommend avoiding them as much as possible. If you are going to give your diabetic dog some cucumber, be sure to cut it into little pieces, and only feed small amounts.
Can diabetic dogs eat fruit?
After talking about all the vegetables that diabetic dogs can and can't have, I often get asked about fruits. In general, you have to be more careful when feeding fruits to your diabetic dog. Many fruits are higher in sugar and starch, which can pose a problem for blood glucose regulation. However, some fruits have good levels of fiber for dogs with diabetes.
Apples
Apples are a perfect example of a fruit that has wonderful nutritional benefits but might not be a good pick for diabetic dogs. I love apples because they are an excellent source of vitamins A and C—making them very good for the immune system. But while they are high in fiber, they are also very high in sugar, which isn't great for diabetic dogs. With this heavy sugar content, I recommend only giving your diabetic dog occasional tiny bites of an apple.
Bananas
While bananas are a tasty treat for dogs, I usually recommend not letting diabetic dogs eat them either. Bananas are full of vitamins and minerals that your dog needs. However, the sugar content, and therefore glycemic index, of bananas is high. Even in dogs who are not diabetic, I always advise giving bananas in moderation as an occasional small treat. So, for our furry friends with diabetes, it is definitely safer to avoid bananas altogether.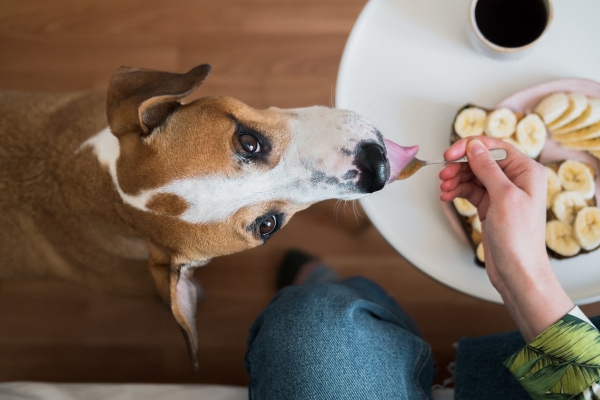 Watermelon and strawberries
Unfortunately, while watermelon and strawberries are delicious, diabetic dogs cannot eat them. Just like bananas, these fruits are too high in sugar to be a good idea.
Blueberries
Unlike the previous fruits, this little blue fruit can be eaten by diabetic dogs. Blueberries are excellent sources of vitamin C and fiber. The high fiber makes them easier for diabetic dogs to digest and use in the body. Additionally, they are lower in sugar than some other fruits.
However, blueberries do still have more sugar than vegetables or your dog's diabetic dog food. For this reason, they should be fed in moderation as an occasional treat.
Pumpkin
If I was going to pick an ideal fruit for a diabetic dog, I would have to pick a pumpkin. Canned pumpkin for dogs has many nutritional benefits. For example, it contains a lot of important nutrients like vitamin A. But for diabetics, I specifically prefer it over other fruits because pumpkin has a very high fiber content. This makes it a safe food that diabetic dogs can eat. It is also low in calories, which can help diabetic patients lose weight.
The most important thing to remember when feeding pumpkin to dogs is to never use canned pumpkin pie filling. You should only feed fresh pumpkin or pure, canned pumpkin. Pumpkin pie filling has added seasonings that can be toxic to dogs. Additionally, it often contains an artificial sweetener called xylitol (i.e. birch sugar), which is extremely toxic to dogs.
What other human food can I feed my diabetic dog?
Now that we have covered the larger categories of meats, fruits, and veggies, let's discuss other common human foods that you might want to feed your diabetic dog.
Eggs
Diabetic dogs can eat eggs! They are an excellent source of protein for your dog. Eggs also have other nutrients that are important for your dog's health. And unlike many of the foods we just discussed, eggs aren't very high in sugar. This makes them less likely to impact your dog's glucose levels.
When feeding your dog eggs, you should always fully cook them to reduce the risk of salmonella. It is okay if they are scrambled or boiled. But you should avoid adding seasonings or butter, which could be harmful to your dog.
White and brown rice
While white rice is often recommended as part of a bland diet for dogs, you should avoid giving it to dogs with diabetes. It does not provide much nutritional value for dogs, so it would mostly be empty calories that have a higher glycemic index than is recommended.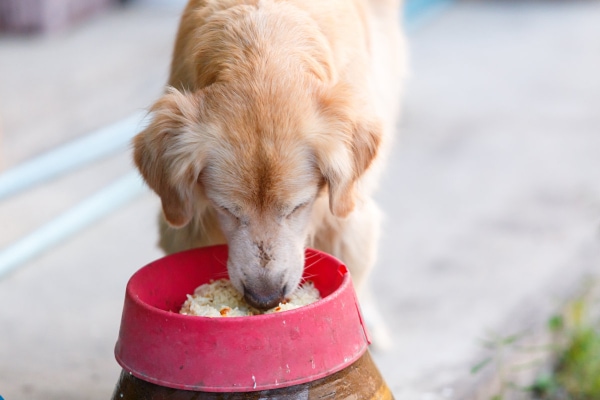 Brown rice is a little more nutritious than white rice, but can still cause blood sugar levels to rise if diabetic dogs eat it. Therefore, I usually advise my clients to avoid rice in general.
Cheese
While dogs love cheese, it has a higher fat and cholesterol content than I prefer for diabetic dogs. However, diabetic dogs can eat some low-fat cheeses in very small portions. Cheese can be an excellent source of protein, vitamins, and minerals (and a good way to hide pills if your dog won't take pills). Therefore, if you want to give your diabetic dog the occasional low-fat cheese snack or use a tiny bit of cheese to get your dog to take his or her medication, you can often safely do so in moderation.
Peanut butter
When clients ask me if diabetic dogs can eat peanut butter, I warn them that there isn't a straightforward answer. This is the case because there are so many variations of peanut butter. Some have a higher sugar content and should be avoided. Other types (e.g., high-quality or natural peanut butter) are less likely to have extra additives, making them somewhat safer for diabetic dogs.
These types of peanut butter can serve as an excellent source of protein and nutrients for your dog. However, it is important to feed peanut butter in moderation because the fat content could affect your dog's sugar levels or cause pancreatitis.
If you are considering offering peanut butter to your dog as a treat, I recommend discussing it with your veterinarian first. He or she can help you determine if the brand you are using is safe for your diabetic dog, and how often it is okay for your dog to have it. (Also, always check the label for the toxic sugar substitute xylitol before giving peanut butter to your dog.)
What about supplements for diabetic dogs?
Finally, let's briefly touch on supplements for diabetic dogs. I won't get into this too deeply because there are so many different supplements available for a wide range of problems. However, I do want to touch on two that tend to come up more often—coconut oil and joint supplements.
Can diabetic dogs have coconut oil?
I know that coconut oil is popular among dog parents as a way to improve skin and coat health, support the immune system, help with arthritis, and more. However, generally, I do not recommend giving coconut oil to diabetic dogs. While coconut oil is lower in sugar than some other products, it is very rich in saturated fat. The high-fat content can lead to weight gain or pancreatitis—both of which we want to avoid in our diabetic dogs.
Therefore, I recommend asking your veterinarian to recommend a safe alternative to coconut oil for your diabetic dog.
Can diabetic dogs take joint supplements?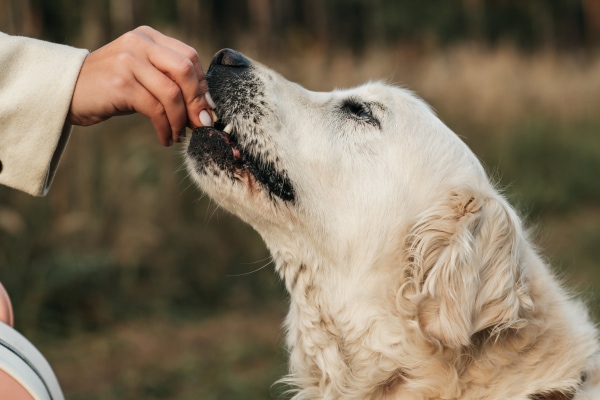 Often, dogs are diagnosed with diabetes between 7 and 10 years old, which means there is a good chance they have some osteoarthritis in dogs too. This leads to many clients asking me about the safety of joint supplements for dogs who are diabetic. Thankfully, many joint supplements are safe for diabetic dogs. But it is always best to run any new supplement past your veterinarian since he or she knows your dog's medical history.
My favorite product to recommend for arthritic dogs (or other diabetic dogs with joint disease) is Dr. Buzby's Encore Mobility™ hip and joint supplement.
Encore Mobility is a natural "super supplement" made from New Zealand deer antler velvet and green lipped mussel for dogs. I love this supplement for many reasons, including because it is safe for diabetic dogs. And as an added bonus, dogs love the taste!
When in doubt, ask your vet!
While I've covered a wide range of foods from veggies, fruits, and meats to supplements and treats, I know I did not address every food you might want to offer your diabetic dog. And I understand that navigating life with a newly-diagnosed diabetic dog can be difficult. Remember though—you don't have to figure it out alone!
Your veterinarian can be an excellent resource as you sort out what you should—and should not—feed your diabetic dog. If you ever have specific questions about a food or treat, please ask your veterinarian.
I recommend bringing the actual product (e.g. supplement, jar of peanut butter, etc.) to the vet clinic with you, or taking a picture of the label and nutrition/ingredient information. This can help give the vet the information needed to make an informed decision about a specific food, treat, or supplement.
Food is an important part of many dogs' lives (and often your bond with them). And that doesn't have to stop being the case just because of a diabetes diagnosis. There are ways to maintain that aspect of your relationship while helping keep your dog's blood sugar under control. My advice would be to use what you have learned from this article, consult your vet when you have questions, and keep on enjoying life with your diabetic dog.
What is your dog's favorite diabetic-safe snack?
Please comment below