If you're the parent of a senior dog, tooth extraction is probably something you hope never needs to be part of your dog's oral health plan. However, sometimes it is unavoidable. To help put your mind at ease, integrative veterinarian Dr. Julie Buzby explains why a senior dog might need a tooth extraction and what you can expect from start to finish.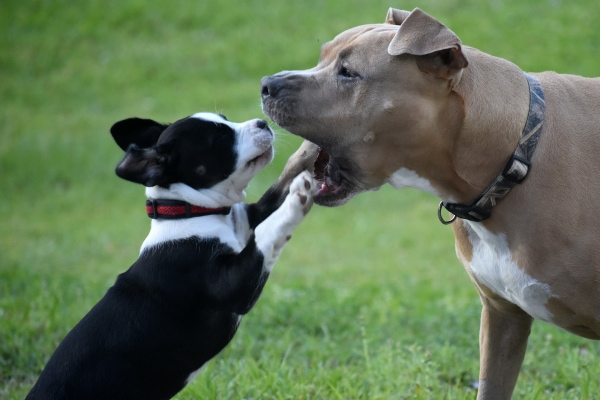 When I am talking with clients about why their senior dog needs a dental procedure, it seems most are worried about two things—the anesthesia for the procedure and the fact that their dog may need some teeth extracted. As a dog mom, I get it.
And as a veterinarian with a huge soft-spot for senior dogs, I know how vital dental care can be for their comfort and wellbeing. That's why I want to help you feel a bit more comfortable about what goes into a dental with extractions.
What are the reasons for a senior dog tooth extraction?
Let's start by getting right to the heart of the matter—why your senior dog might need a tooth extraction in the first place. As you know, dogs need their teeth taken care of just like humans do. This involves brushing their teeth regularly, ensuring they have safe chew toys for dogs, and scheduling professional veterinary dental cleanings as needed.
However, sometimes your dog's teeth may become unhealthy or damaged despite your best efforts. This is especially the case if you have a small breed dog. They tend to be genetically prone to crowded teeth and poor dental health. Both of these problems increase the chances that a dog tooth extraction may be necessary at some point in a small dog's life.
In general, senior dogs may need tooth extractions for the following reasons:
Broken or chipped teeth (such as from chewing on wire crates or antler chews for dogs)
Loose or wiggly teeth
Unerupted tooth (a tooth that never fully came through the gums)
A tooth angled in the wrong direction or in the wrong position
Periodontal disease (i.e. dental disease in dogs)
Dead or decaying teeth
Teeth that are near or part of an oral tumor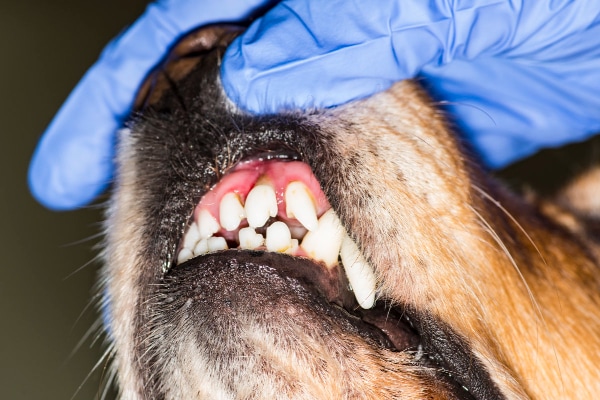 These are the most common reasons that your veterinarian might recommend extractions for your dog. But they are not the only reasons.
Extraction decisions are best made during the dental procedure
Often the vet won't know for sure whether your senior dog needs a tooth extraction (or extractions) until your dog is under general anesthesia for the dental cleaning. Most of the problems on the list above require the vet to be able to X-ray the teeth and probe around them. And those things are only possible under anesthesia.
Next, let's take a look at some clues that your dog might need a tooth extraction.
What are the symptoms of dental problems in dogs?
Sometimes you will be completely shocked that your dog needs a tooth pulled because he or she seems totally normal. But other times you may have seen some warning signs such as:
Bad breath—This is probably the most common symptom that dog parents notice. And contrary to what some people may believe, bad breath isn't normal for older dogs, or any dog. If your dog has "dog breath" it may mean he or she needs dental care.
Decreased appetite or difficulty eating—If a dog's mouth is painful, he or she may not be interested in eating. Or, if your dog is still eating, you may notice him or her yelp or cry out when chewing.
Bloody gums—You may notice blood on the outside of your dog's lips, on the food or water bowl, or on your dog's bones or chew toys.
Plaque or tartar—If your dog lets you examine his or her mouth, you might notice a yellow, brown, grey, or black film on your dog's teeth. Or, in more severe cases, it may look like the dog has clumps of material or a shell covering the tooth.
Swollen lymph nodes— Your dog's submandibular lymph nodes (i.e. the ones under the chin) may become enlarged due to dental infection. (To find these lymph nodes, check out my dog lymph node location chart .)
Swelling beneath your dog's eyes—The upper tooth roots lie in the sinuses below the eye. Infection can travel up the root and create an abscess.
Pawing at the face—Rubbing or pawing at the face can be a sign your dog is in pain from his or her teeth.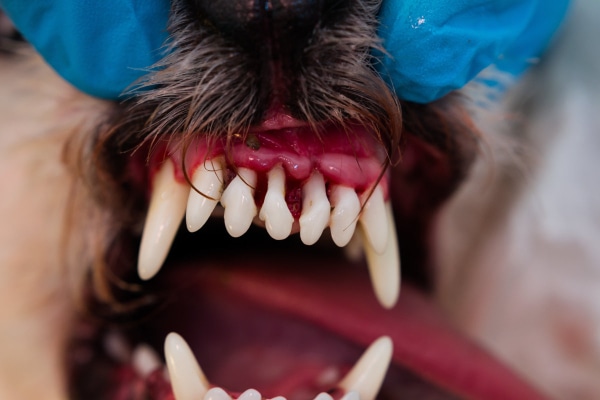 Don't ignore the signs of dental disease
As you can gather from these signs (or perhaps attest to from your own experience), dental problems can be extremely painful. Sadly, many dogs suffer silently for months or years with dental pain. Sometimes a dog parent won't even know how badly their dog was hurting until suddenly their dog is happily scarfing down his or her food and running about like a puppy again after a dental procedure.
Additionally, maintaining good dental health is important for your senior dog's cardiovascular (i.e. heart) health. If your dog has a severe dental infection, it can begin to negatively affect your dog's heart. Plus, dental disease can impact your dog's liver, kidneys, lungs, and overall health.
For these reasons, it is better to address dental problems sooner rather than later. If you see the signs above or suspect your dog has dental disease, please make an appointment with your vet.
What can I expect at the vet visit?
At the appointment, the vet will start by gathering information from you about your dog's dental health and symptoms. Then he or she will perform a dental exam, physical exam, and bloodwork on your dog.
Finally, your vet can give you an estimate for what the dental procedure and possible tooth extractions may cost. However, please know that this estimate can vary significantly depending on what the vet finds once he or she anesthetizes your dog.
Dental exam
The dental exam will help your veterinarian start to assess the degree of your senior dog's dental issues. It usually gives enough information for the vet to decide if the dog would benefit from a dental procedure. However, an awake dog isn't going to let the vet fully examine the mouth or take X-rays. This means the vet may not know the full extent of the tooth damage or which teeth (if any) need extracted until the dog is under general anesthesia.
Understandably, this need for anesthesia often raises the question "Is my dog too old for anesthesia?" To explain my line of thinking, allow me to quote one of my favorite sayings—"Age is not a disease."
In other words, just because your dog is a senior, he or she shouldn't automatically be considered "ill" or "disabled." Senior dogs can still be very healthy and do well under anesthesia. Therefore, your dog's age alone isn't a reason to avoid anesthesia. Instead, you should speak with your vet about whether anesthesia is safe for your dog.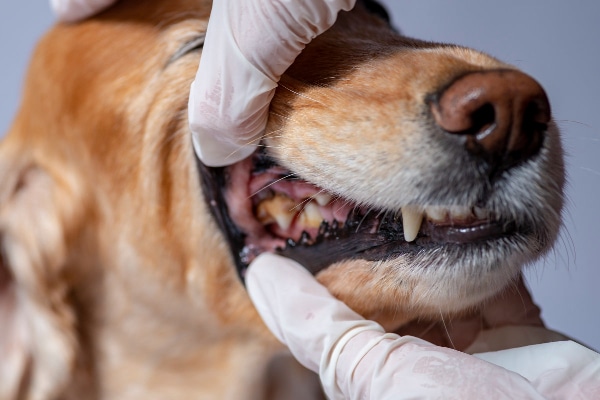 Physical exam and diagnostic testing
Prior to proceeding with anesthesia, the vet will do his or her best to ensure your dog is a good anesthetic candidate. This starts with a complete nose-to-tail physical exam to assess your dog's heart, lungs, and other systems. Plus, the vet will probably perform some bloodwork such as a chemistry panel and complete blood count. These tests are helpful for evaluating your dog's organ function and red cell, white cell, and platelet numbers. Sometimes the vet will also suggest other tests like chest X-rays or blood pressure measurements.
Together, these examinations and tests can help screen for common geriatric dog problems that might make anesthesia more complicated. Some of these conditions include:
I want to be clear that those conditions don't necessarily mean your dog cannot have anesthesia. That is a decision you and your vet need to make together. It is often quite possible to make a safe anesthetic plan for senior dogs, even those with pre-existing conditions. Plus, dental procedures have a huge potential to greatly improve a dog's quality of life. This often makes anesthesia a risk worth taking.
What can I expect while my dog is under anesthesia?
Even so, knowing your dog is under anesthesia for a dental procedure can be nerve wracking. But please rest assured that the whole veterinary team takes anesthesia very seriously. They will to do everything they can to avoid and quickly address any anesthetic complications.
The veterinary team will typically take the following precautions any time a dog, especially a senior dog, is under anesthesia:
Ensure that any other conditions are well managed and accounted for when making an anesthetic plan. This may involve modifying the anesthetic drug protocol for dogs with heart issues, checking the blood sugar of a diabetic dog, etc.
Place an IV catheter to allow immediate access to the dog's circulatory system should the dog need any emergency drugs. The vet will also use the catheter to give your dog IV fluids during the procedure. This can help maintain your dog's blood pressure to provide adequate blood flow to the organs and tissues.
Have a dedicated veterinary nurse monitoring your dog for the duration of the procedure. He or she will use specialized equipment to track your dog's blood pressure, oxygenation, heart rate, respiratory rate, temperature, and more. If any of your dog's vitals become unstable, the veterinary nurse can alert the vet and they can spring into action.
Continue to monitor your dog during the recovery period. A veterinary team member will check on your dog regularly and take his or her vitals. This is why your dog needs to stay at the clinic for several hours after the procedure.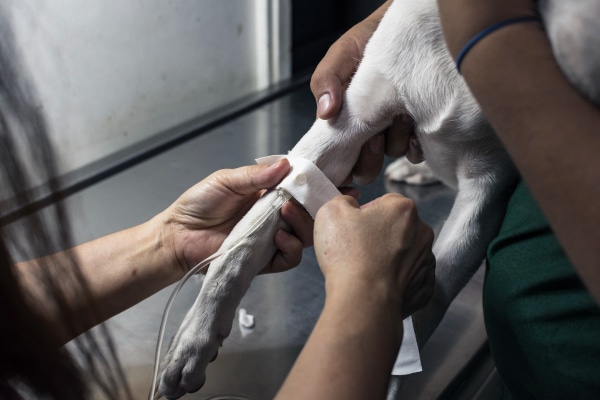 Working with a veterinary specialist
As an added layer of safety, the vet may also want to involve a specialist in your dog's care. This tends to be the case if your vet suspects your dog's anesthesia or dental will be particularly challenging. Sometimes the vet will feel comfortable performing the procedure at his or her clinic after developing a plan with the specialist.
In other cases, your vet may decide it is best to refer your dog to a specialist. This is often a veterinary dentist if the dog needs fairly extensive or specialized dental work. If your vet doesn't have a particular dentist he or she recommends, you can find a veterinary dental specialist on the American Veterinary Dental College's website.
Alternatively, if the vet feels that anesthesia is going to be the most challenging aspect, he or she may recommend going to a specialty clinic with veterinary anesthesiologists and veterinary dentists on staff.
What can I expect during the dental procedure?
Once your dog is anesthetized for the dental procedure, your veterinarian can further assess your dog's teeth. The first thing he or she might do is take dental X-rays of your dog's full mouth. X-rays will allow your vet to look at the integrity of the teeth and the roots below the gum line. Since much of the destruction from dental disease occurs below the gum line, these X-rays are vital for evaluating the teeth.
Your veterinarian will also perform a visual examination of your dog's teeth and gums. He or she will look for signs of decay, abscesses, broken and missing teeth, or pockets around the teeth. Pockets occur when there is a gap between the tooth and the gums. If this occurs, the tooth isn't as solidly rooted in its spot. As a result, the tooth may be predisposed to infection, decay, or fractures.
If the visual examination and X-rays reveal any unhealthy teeth that are causing problems and pain, the veterinarian may recommend pulling those teeth. No one likes to think about their dog losing teeth. However, I can assure you that dogs often feel much better without these bad teeth.
Sometimes the vet or a veterinary nurse will call you in the middle of the procedure to go over which teeth need to be extracted and to give up an updated cost for the extractions. But other times it is isn't possible or practical to check in with dog parents in the middle of the procedure.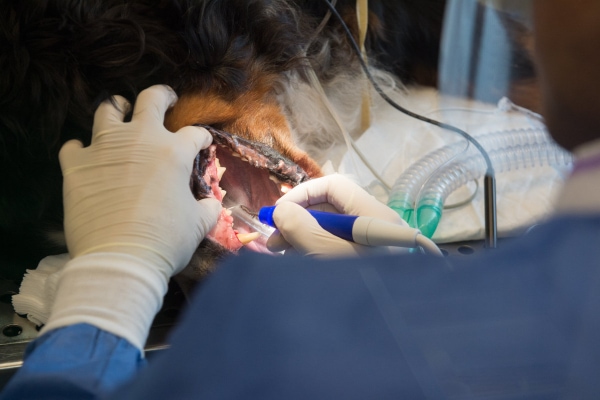 Senior dog tooth extractions
During the tooth extractions, your veterinarian will give your senior dog nerve blocks much like your dentist would do. A nerve block involves injecting a local anesthetic near the nerve associated with the tooth being removed. Even though your dog is already under anesthesia, this provides additional numbing and pain relief which can last for several hours after the procedure.
The veterinarian will use his or her dental instruments and drill to carefully extract any of the diseased teeth. Then the veterinary team will take post-extraction X-rays to ensure that the vet removed the entire root. Finally, the veterinarian may suture the gums together again with dissolvable suture.
Occasionally, the dog's jaw may break before, during, or after the extractions. While the vet always uses the utmost caution during extractions, severe dental disease can weaken and destroy the bone in the jaw to the point that it loses its integrity. Plus, senior dogs with other health conditions can also be prone to weaker jaw bones. In the event of a jaw fracture, your veterinarian will contact you to discuss the next steps.
Teeth cleaning and polishing
A veterinary nurse will also perform a dental cleaning while your dog is under anesthesia. First, he or she will use an ultrasonic scaler to remove the plaque from your dog's remaining teeth. Then the nurse will polish the teeth to get rid of any microscopic scratches created by the scaler. This makes the surface of the tooth smooth, which helps prevent plaque-forming bacteria from adhering as easily.
What are the post-extraction instructions?
Once your dog has recovered fully from the anesthesia, he or she can go home. At the time of discharge, the vet or veterinary nurse will give you specific post-procedure instructions. It is important that you follow these instructions carefully to help your dog have the best and fastest recovery possible.
Some general guidelines include:
1. Administer pain medications as directed.
As you might imagine, extractions are painful. Therefore, your veterinarian will typically send your dog home with pain medications including a non-steroidal anti-inflammatory drug (NSAID) and possibly a second pain medication. Ensure that you give those medications exactly as directed so you dog receives adequate pain control. If you feel your dog is still painful, please consult with your vet. Do not decide to give your dog extra doses of pain medication on your own.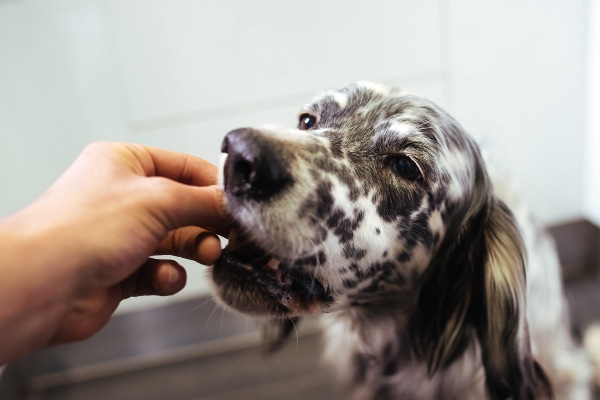 2. Soften your dog's food for a few days.
Your veterinarian will also give you directions about feeding your dog. He or she might recommend giving him or her softened food for a few days. This may involve adding water to the dry kibble or feeding your dog wet food. It is important, though, that you do not drastically change your dog's meals. Diet changes can upset your dog's stomach, and your dog may already be somewhat nauseous from the anesthesia.
3. Allow your dog to determine his or her activity level.
Unlike other types of surgery, your dog may not need to be exercise-restricted during the recovery period. Most likely your veterinarian will say that your dog can resume his or her normal activities following the extractions.
What can I expect during my senior dog's tooth extraction recovery?
Following your dog's procedure, he or she will likely be very tired when you get home. This is to be expected. Your dog just spent all day at the vet hospital and went through oral surgery. Plus, he or she might still be a bit groggy from the anesthesia.
If your dog wants to curl up somewhere and sleep the rest of the night, do not be alarmed. It is good to let your dog relax and rest. However, you do still need to wake your dog up to administer the pain medications and/or other medications as prescribed.
That night or the next morning (depending on your vet's instructions) offer your water and some softened dog food. Keep in mind that since your dog received IV fluids during the procedure, he or she may not drink as much water at first. Also, he or she may not eat quite as much as usual at that first meal or two.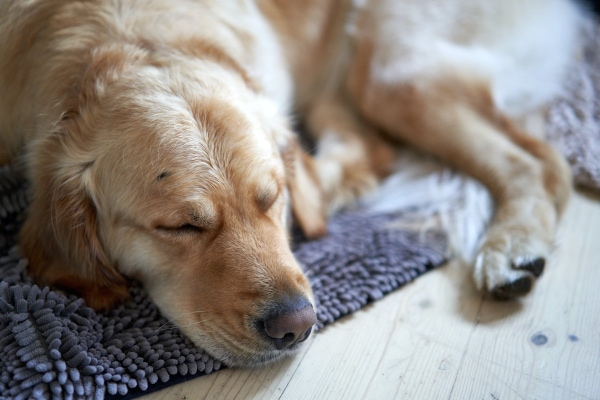 Watch for complications of a senior dog tooth extraction
The first three days following anesthesia are when you are most likely to notice complications. It is important you keep a close eye on your dog during this part of the senior dog tooth extraction recovery period. The most common complications that owners notice are related to pain or the anesthesia, but there can be a few other complications as well.
If you have ever had surgery yourself, you might remember feeling very nauseous afterward. This is a common side effect of anesthesia. Therefore, your dog might experience mild vomiting, diarrhea, or decreased appetite after surgery. If this continues for more than two days, I recommend scheduling a recheck with your veterinarian.
The other common complication, especially after extractions, is pain. While having a clean and healthy mouth is very beneficial to your dog, your dog may be uncomfortable for the first couple days of recovery. There also might be substantial inflammation in your dog's mouth. Therefore, you may notice:
Pawing at the face
Decreased appetite
Tilting the head at an abnormal angle while eating
Drooling
Sensitive if the mouth is touched
Facial swelling
If you think your dog is painful, please speak with your veterinarian. As I mentioned before, do not give extra doses of pain medication without consulting your vet.
Sometimes dogs might also have some extraction site bleeding. Very mild bleeding is fairly common, especially if your dog had severe dental disease. If there is profuse bleeding, please consult your veterinarian immediately.
Finally, remember it is normal to see some sleepiness in your dog along with some decreased eating during this time. But as your dog's mouth heals and the anesthesia wears off, your dog should quickly return to normal. If he or she doesn't or you have any concerns, please contact your veterinarian.
On the road to recovery
Once you get through those first few days, most dogs quickly start to feel better. They are usually less painful and can start to appreciate their fresh smile. Your dog's appetite should return and he or she will probably get more spring in his or her step. Often families are amazed at just how much better their senior dog feels after the dental. Veterinary dentistry really can be life-changing for your dog!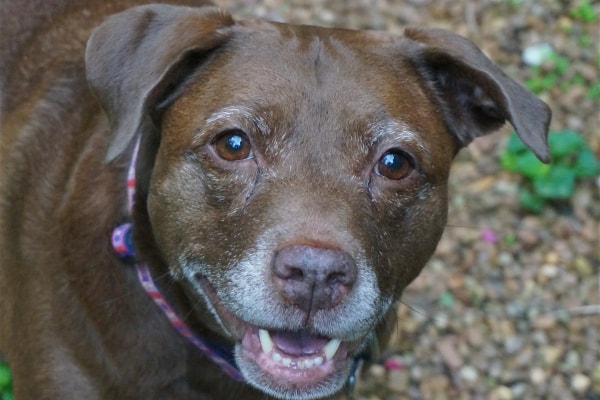 Your veterinarian will likely want to recheck your dog's mouth about 10 to 14 days following the oral surgery. During that appointment, your vet will ask you how your dog has been doing at home. Then he or she will examine your dog's mouth, with special focus on the extraction sites.
Most sutures that vets use when closing teeth extraction sites will slowly dissolve over time. However, if there are any that are not dissolving, your vet will probably remove them at the recheck.
At this point, you can breathe that final sigh of relief. You and your dog have made it through the senior dog tooth extraction recovery period. Now, you can focus on promoting good oral hygiene and delaying the time until your dog needs another dental. If you have questions about how to do this, your veterinarian is a great resource.
Can't I just pull my dog's loose tooth at home?
After reading about everything that goes into senior dog tooth extractions, some of you may be wondering if there is an easier alternative. If your dog's tooth is loose or broken, can't you just pull it out yourself?
The answer is a resounding "No!" While dental disease may lead to old dogs losing teeth on their own, you absolutely should not pull a tooth at home. I say this for a few reasons:
The tooth is probably painful. Even the best dogs can bite when in pain.
If you pull the tooth, it is very likely that a portion of the root will break and be left behind. This is painful for your dog and can lead to infections and other problems.
If your dog has one loose tooth it is likely that he or she needs a full dental cleaning and possibly other extractions. It is important to address the health of your dog's whole mouth sooner rather than later to avoid more problems down the road.
Dental work should always be performed under anesthesia for your dog's comfort and wellbeing.
Let me say it again. Please leave dental work to your veterinarian or a veterinary dentist! Your dog will thank you.
Don't let fear of a senior dog tooth extraction stand in the way of your dog's comfort
I understand how difficult it can be to think about your beloved senior dog undergoing anesthesia and possibly having some tooth extractions. But I am here to say that it is worth it! I have heard countless stories from dog parents who were amazed by how much better their dog felt after the dental. And they often say that they wish they would have done it sooner.
If your senior dog is having tooth troubles, please speak with your veterinarian. He or she would be happy to walk you through the pros and cons of a dental procedure and answer any questions you might have about the anesthesia or extractions. Like any procedure, it does have its risks. But the reward is a happy dog with a pain-free smile who can get back to enjoying life to the fullest without dental pain getting in the way.
How has a dental and tooth extractions improved your dog's life?
Please comment below.