Diabetes in dogs is a fairly common diagnosis, but that doesn't make it any less overwhelming for dog parents. That's why integrative veterinarian Dr. Julie Buzby created this ultimate guide to canine diabetes. By the end of this article, you'll have a complete picture of the types, risk factors, symptoms, diagnosis, treatment, monitoring, and prognosis for diabetes in dogs.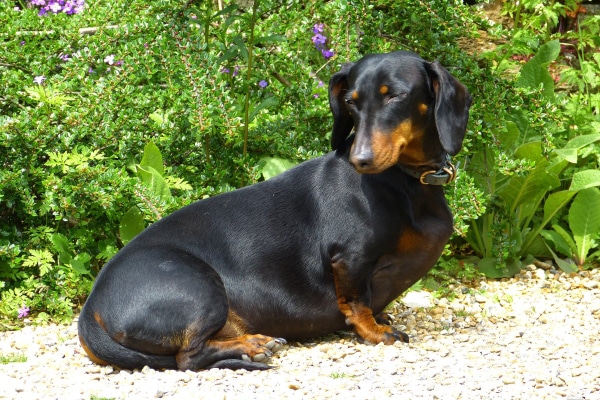 A few weekends ago, after diagnosing my third diabetic dog in a week (a record for me), I performed an informal poll at a neighborhood gathering. Here's what I learned.
Every one of my neighbors knew of a family member, friend, or coworker who was diabetic. I suspect this is likely the case for you as well. However, several of my neighbors were unaware that dogs could develop diabetes. And the ones who did know dogs could be diabetic thought it was a rare diagnosis.
The data from this non-scientific poll fit right in with my personal experience when explaining a diagnosis of diabetes in dogs to stunned dog parents over the years.
I want to do my part to spread awareness about diabetes in dogs. That way every dog parent knows what to watch for and what to expect if their dog falls into the roughly 1% of dogs who will be diagnosed with diabetes at some point in their lives. Dog parents need to know that a diagnosis of diabetes doesn't have to mean a rapid decline. And it doesn't guarantee the life of their beloved canine companion will be cut short.
So grab a cup of coffee (and maybe a low carb treat for your pup). And get ready for the comprehensive guide to diabetes in dogs.
What is diabetes in dogs?
Diabetes mellitus in dogs, commonly shortened to just diabetes, occurs when the body has trouble regulating blood sugar levels. (Not to be confused with diabetes insipidus in dogs, where the body has trouble concentrating the urine.)
Just like in people, there are two types of diabetes in dogs:
Type 1—the body doesn't produce enough insulin
Type 2—the body becomes resistant to insulin
Insulin, a hormone produced by the pancreas, normally helps transport glucose (i.e. sugar) from the bloodstream into cells. There it can be used as energy to power all the normal functions required for life.
I like to use a lock and key analogy to help paint a picture of the different types of diabetes. Insulin is like a special key that helps unlock the doors of the body's cells, allowing glucose to enter and provide energy.
Type 1 diabetes is the much more common type in dogs. In Type 1 diabetes, the pancreas doesn't produce enough insulin. So it's as if there aren't enough keys to unlock all the doors that need to be opened.
On the other hand, Type 2 diabetes is rare in dogs and much more common in cats. With Type 2 diabetes, the pancreas may still produce insulin, but the body doesn't use it effectively. It's as if the lock on the cell doors is a bit rusty. And even when the key (insulin) is there, it doesn't work properly. As a result, the sugar can't get into the cells, and it stays in the blood.
Regardless of type, the end result is cells that are starved of vital energy and a bloodstream full of extra glucose that has nowhere to go.
Which dogs are at the highest risk for developing diabetes?
Just like with humans, not all dogs are equally likely to develop diabetes. There are certain factors that can put our furry friends at a higher risk. Some of these factors you might have some control over, but most you do not. Even so, it can be helpful to arm yourself with the knowledge of which dogs might be more likely to become diabetic.
Age
Dogs who are middle-aged or older have a much higher risk of developing diabetes, with most dogs being diagnosed when they are between 7 and 10 years old.
Sex and reproductive status
Female dogs are more prone to developing diabetes than males. And the risk disparity is especially dramatic for female dogs who are not spayed.
Intact (i.e. unspayed) females are almost twice as likely as male dogs to develop diabetes. This is because hormonal changes can affect the body's insulin regulation, increasing the likelihood of developing diabetes. The hormonal fluctuations also make diabetes harder to control after an official diagnosis. However, the good news is that once a female dog is spayed, her diabetes can be managed just as effectively as a male dog with diabetes.
Breed
Some dog breeds are more prone to developing diabetes than others. Predisposed breeds include:
Poodles
Beagles
Cairn Terriers
Dachshunds
Miniature Schnauzers
Tibetan Terriers
Samoyeds
Pugs
Fox Terriers
Bichon Frises
Cocker Spaniels
Labrador Retrievers
But that doesn't mean that other breeds are completely immune. Diabetes can affect dogs of any breed. And mixed breed dogs seem to be just as at risk for developing diabetes as their purebred counterparts.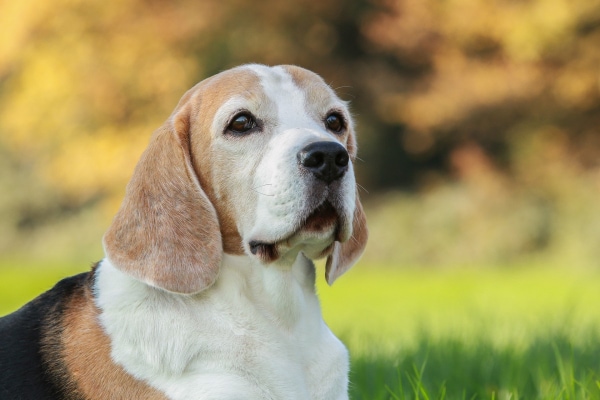 Body condition
Weight is another important factor, and it is one you do have control over. Dogs who are overweight or obese are at a higher risk of developing diabetes. Extra weight is a known factor in the development of insulin resistance. And it can push a predisposed dog over the edge into becoming a full-blown diabetic.
If you are wondering "Is my dog overweight?" please use my easy method to find your dog's body condition score (BCS) or talk to your veterinarian. I can't emphasize enough the importance of keeping your dog at a good body condition score. It can make a huge difference in your dog's overall health and longevity.
Family history
Genetics can also come into play when weighing the risk of a dog developing diabetes. If a dog has a family history of diabetes, he or she may be more susceptible to developing the condition too. This isn't always the knowledge that dog parents have access to. But if you do have the option, it is worth asking the breeder about diabetes as you gather the health history of your dog's parents or siblings.
Other medical conditions
Certain medical conditions can increase the risk of diabetes as well. For instance, if dogs have Cushing's disease in dogs or pancreatitis in dogs, this can affect their insulin production or lead to insulin resistance, making them more prone to diabetes. Dogs with hypothyroidism in dogs also have a slightly higher risk of becoming diabetic. And any dog who has required long-term treatment with steroids (e.g. prednisone for dogs) is also at a mildly increased risk.
I know this list might feel overwhelming. But it's important to remember that just because a dog falls into one or more of these risk categories doesn't mean he or she will definitely develop diabetes. It's more about recognizing the potential risks and being proactive in monitoring your dog's health.
If you have concerns about your dog's risk of developing diabetes, consider checking in with your veterinarian. He or she can help assess your pup's individual risk factors. And your vet can provide guidance on how to manage, or potentially even reduce, those risks. Plus, he or she can help you know what sort of symptoms to watch for should your dog become diabetic.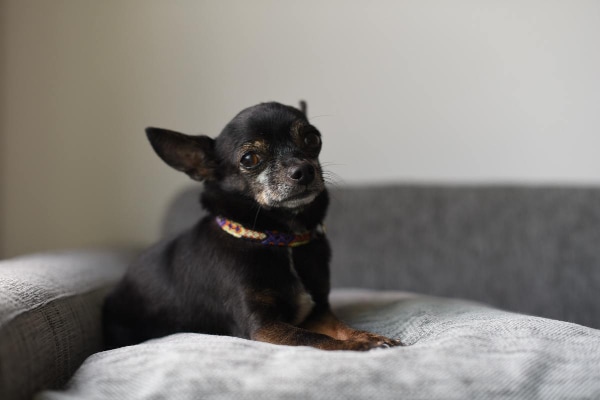 What are the symptoms of diabetes in dogs?
Recognizing diabetes in dogs can be tricky as the symptoms may be subtle initially. However, understanding the interplay between insulin and glucose, and knowing what goes wrong in that process for diabetic dogs, can explain a lot about the symptoms of canine diabetes.
To recap, regardless of the type of diabetes, cells end up starved of the fuel they need to run all their everyday vital processes. So, it makes sense that one of the classic signs of diabetes is a dog who is losing weight but eating well. Diabetic dogs often start out eating normally or even having an increased appetite. But their body can't use the energy from the food they are consuming, so they lose weight anyway.
The other aspect of diabetes to keep in mind is that glucose builds up in the bloodstream with nowhere to go. When it reaches high enough levels, the glucose starts leaking out into the urine, pulling lots of water with it. This means that diabetic dogs tend to urinate excessively. And to try to keep up with all the water they are losing in their urine, they also drink excessively.
In case you find a list more helpful, here are the signs of diabetes in dogs:
Weight loss
Normal or increased appetite initially (but eventually dogs may have a lack of appetite)
Increased urination (large volumes of urine usually)
Urine that is sticky (due to the glucose)
Cloudy eyes from cataracts in dogs
Muscle weakness
Diabetes that remains untreated for a long period of time or diabetes that is complicated by another illness can lead to a life-threatening medical condition known as diabetic ketoacidosis, or DKA in dogs. Signs of DKA include lack of appetite, being a lethargic dog, dull mentation, vomiting, and diarrhea.
Visit your veterinarian if you see these symptoms
Keep in mind that many of these signs, like weight loss or increased thirst and urination, are not specific to diabetes. They can be markers of multiple types of illness. The best way to determine what might be causing your furry family member to be out of sorts is to schedule an appointment with your veterinarian (or bring your dog in for an emergency vet visit if your dog is extremely ill.)
How is diabetes diagnosed in dogs?
During the appointment, your veterinarian will start by getting a thorough medical history. He or she will ask you questions about what you have noticed that made you concerned, how long it has been going on, etc.
Then, your veterinarian will perform a thorough physical examination. This may include checking your dog's overall health, assessing your dog's body condition, and looking for any specific signs that might suggest diabetes.
In many cases, your veterinarian may want to perform some comprehensive lab tests such as:
CBC (complete blood count)
Chemistry panel
Urinalysis
Blood tests like a CBC and chemistry panel are a great way to assess your dog's overall health, confirm a suspected diagnosis of diabetes, and rule out other potential causes of your dog's symptoms. Luckily, diabetes is easy to rule in or rule out once you are at the clinic. As part of the chemistry panel (or occasionally as a stand-alone test) your vet can evaluate the amount of glucose in the blood. If your dog's blood glucose is significantly elevated, this is consistent with a diagnosis of diabetes.
Additionally, the vet will use the urinalysis to check for the presence of glucose or ketones in the urine, which would help confirm the diagnosis of diabetes. (Normal urine should not contain glucose or ketones). Since dogs with diabetes are prone to urinary tract infections (UTIs), the urinalysis is also useful for screening for a concurrent UTI in dogs.
Your veterinarian may decide to run these tests as in-house lab work that he or she has back immediately. Or, especially if your pup seems very stable, the vet may decide to send slightly more comprehensive lab work out to a veterinary diagnostic laboratory. Either option should give you answers about what is wrong with your pup.
What is the treatment for diabetes in dogs?
If the vet diagnoses your dog with diabetes, this can be scary. And understandably it may send your mind veering into a state of anxiety, full of "what-ifs" and worry over what this will mean for you and your beloved canine companion.
The good news is that diabetes in dogs can be managed effectively with proper care and treatment. And your furry family member can still live a long and happy life with you. Your veterinarian will work closely with you to develop a tailored management plan for you and your pup. This plan may include dietary changes, regular exercise, and, most importantly, insulin therapy.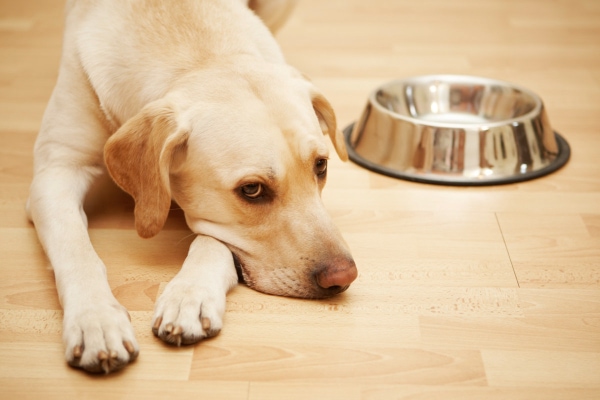 Dietary considerations
A balanced and consistent diet plays a crucial role in managing diabetes in dogs. Your veterinarian may recommend a specialized diet that helps regulate blood sugar levels. These diets are often high in fiber for dogs and lower in simple carbohydrates and fat, ensuring a slow release of glucose into the bloodstream.
Feeding your pup at consistent intervals (timed to coincide with their insulin injections), and avoiding table scraps can also help maintain stable blood sugar levels and better diabetic control. If it is important to you to give your dog some human foods occasionally, check out my article, Can a Diabetic Dog Eat Chicken Breast for answers to frequently asked questions about diabetic-safe ideas. And run them by your veterinarian too.
Exercise
Regular exercise is an often underused weapon in our arsenal to help manage diabetes in dogs. Physical activity helps the body use glucose effectively, leading to improved insulin sensitivity. Therefore, taking your diabetic dog on regular walks is a great way to set him or her up for success and have fun at the same time.
Additionally, exercise is one component of helping your dog lose weight or maintain a good body condition, which can also help with glucose control. Your veterinarian can work with you to come up with a weight loss or maintenance plan that is right for your diabetic dog.
Insulin therapy
Insulin injections are a key component of diabetes management in dogs. Some people can manage their diabetes with oral medications. But this is not the case in dogs. They are insulin-dependent diabetics.
If a dog is truly diabetic, he or she will need daily insulin injections for the remainder of his or her life. That may sound daunting. But it is important to know that while living with a diabetic dog does require some lifestyle adjustments, it doesn't mean you can't enjoy life to the fullest together.
Administering insulin may seem intimidating at first. But your veterinarian will be there to guide you through the process. This will include helping pick the right insulin for you and your dog, explaining how to handle and store insulin properly, and teaching you how to administer it safely and painlessly.
What should you expect if you have to give your dog insulin injections?
First, your veterinarian will talk with you about which type of insulin might work best for your pup's situation. Then, he or she will write you a prescription for the insulin and the special syringes you will use to administer the insulin.
Your veterinarian, or veterinary nurse, will show you how to draw the insulin into the syringe and administer the correct number of units. You will give the injection under your dog's skin (i.e. subcutaneously). It is important to vary the location so you don't always give the insulin injection in the exact same spot. Also, remember to only use the insulin needles one time.
Insulin syringes have needles that are very sharp and very small to make the injection process as painless as possible. This is helpful because it means your dog may barely notice the injection. Additionally, you could pair the injection with a small diabetic-friendly treat so your pup looks forward to getting his or her insulin.
Most of the time, you will need to give insulin twice daily at the same time as, or shortly after, your dog eats a meal. But there is one type of insulin that you only need to give once a day. Your veterinarian will guide you toward the option that is right for your dog.
Use appropriate caution with insulin administration
I don't say this to make you worry, but it is important to administer insulin with care and attention. It has what is known as a narrow therapeutic window. This means that giving too much can cause the dog's blood sugar to drop dangerously low (i.e. hypoglycemia).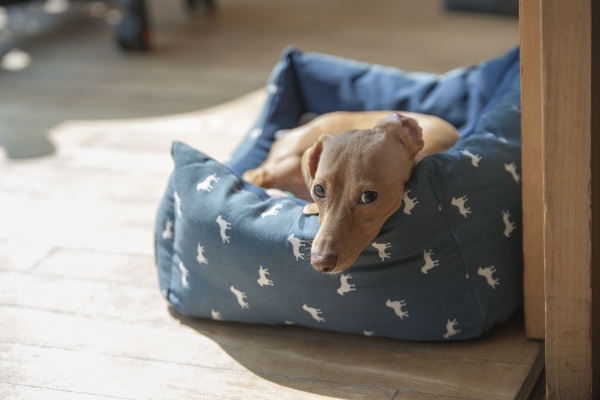 Following these guidelines can help keep your dog safe:
In general, you should not adjust your pup's insulin dose on your own. Instead, please check in with your veterinarian if you feel your dog is getting too much or too little insulin.
Follow your veterinarian's instructions carefully when it comes to giving insulin. He or she will provide guidance on the dosage, frequency, and timing of the injections based on your dog's needs. The vet will also help prepare you for what to do if your diabetic dog won't eat or is fasting for a medical procedure.
Ensure you come up with a way to clearly alert other family members if your dog has already received his or her insulin dose for the morning or evening. Miscommunication in this situation is a common cause of dogs getting "double-dosed" with insulin. And then these dogs may end up in the hospital for emergency care to stabilize their blood sugar.
Only use insulin syringes that are compatible with your dog's type of insulin. Using the wrong syringes, or using ones that are not made for insulin, can cause your dog to receive too much or too little insulin.
You can do it
I understand the prospect of giving your sweet pup shots every day might feel scary. But you can do this! Remember that by giving insulin injections at the right times and in the right amounts, you can help your dog maintain stable blood sugar levels throughout the day.
What sort of monitoring do diabetic dogs need?
Once your veterinarian starts your dog on insulin, he or she will often need to make at least a few dose adjustments over the first weeks or months. It can take time to find the ideal insulin dose—one that keeps your dog's blood sugar at a level that is neither too high nor too low.
In general, vets start treating diabetic dogs at lower doses of insulin. And then they work their way up slowly. This is the case because overdosing on insulin is more dangerous than underdosing insulin.
There are a few common ways that your veterinarian might monitor your pup's response to insulin. These include blood glucose curves, checking a fructosamine level, placing a continuous glucose monitor, and monitoring your dog's diabetic symptoms.
Blood glucose curves
Performing a blood glucose curve involves feeding your dog and administering his or her insulin as normal. Then the veterinary team (or you) will check your dog's blood glucose levels every 2 hours for 8 to 12 hours. You might drop your dog off for the day at your veterinary clinic for this testing. Or your veterinarian may show you how to obtain the samples at home.
By tracking your dog's blood glucose levels over time, your veterinarian can assess how well your pup's diabetes is being managed. And he or she can make any necessary adjustments to the insulin dose based on these results.
Fructosamine testing
Your veterinarian can draw one blood sample in the office. And then he or she will send it out to a veterinary diagnostic laboratory for a fructosamine test. This test provides a long-term picture of your dog's blood sugar control. It does this by evaluating the average blood glucose levels over the past two to three weeks.
Fructosamine levels aren't that helpful for the beginning phase when your veterinarian is making frequent insulin dosing adjustments. But it can be a very useful test once your dog is on his or her maintenance dose of insulin. Your veterinarian may recommend this test periodically to make sure your dog's insulin needs aren't changing over time.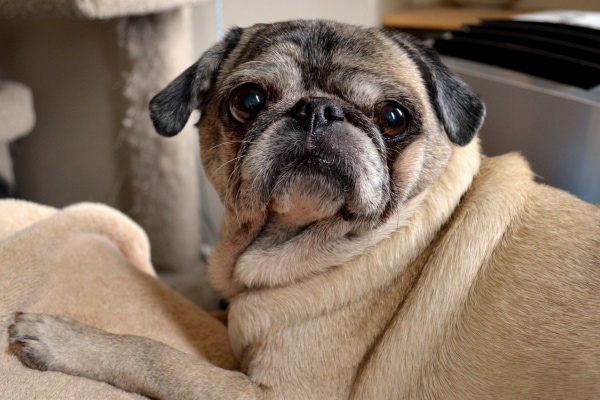 Continuous glucose monitors
Continuous glucose monitors like the FreeStyle Libre are relatively new on the diabetic-monitoring scene. But they are an excellent way to monitor diabetic control in many circumstances. Using a continuous glucose monitor on a dog requires a prescription from your veterinarian, and either a dedicated reader or an app on your phone.
The monitoring device itself consists of a small single-use plastic disk about the size of a silver dollar that adheres to the skin. During placement, which is typically performed in the veterinary office, a very small flexible probe is inserted just under the skin. This allows the device to measure the glucose in the interstitial space (i.e. fluid-filled area between the cells).
The glucose level in this space is not exactly the same as the blood glucose levels. But it is close enough to give plenty of information to help your veterinarian determine if your dog's diabetes is well controlled.
Once in place, you can use either your phone or the dedicated reader to hover over the sensor. It will report the current blood glucose level. Plus, it will transmit information about the blood glucose levels over the previous eight hours.
Continuous glucose monitors can stay on and work for up to 14 days. But in practice, they often come off or stop working sooner than that. Still, even if your veterinarian only gets a few days' worth of blood glucose readings, this is more information than they would have been able to obtain with a traditional blood glucose curve. And it doesn't require repeated blood draws or skin pricks.
Watching for symptoms
There is also a low-tech but highly-valuable home monitoring method that doesn't even require any special tools or training. It is simply watching for the symptoms that may indicate poor diabetic control. Keep an eye out for some of the same signs that may have initially made you suspect your dog was diabetic—increased thirst and urination, weight loss, and changes in appetite.
If you notice any of these changes in your dog's behavior or health, inform your veterinarian. They could indicate a need for adjustments in your pup's diabetes treatment plan.
Create an ongoing monitoring plan with your vet
You and your veterinarian can decide together which monitoring methods work best for your specific situation. Don't be surprised if the method changes from time to time or if your vet wants to combine some methods. As you have seen, each option has its pros and cons.
I also want to point out that monitoring diabetic control is an ongoing process. Regular communication and follow-up visits with your vet are essential. They help ensure your dog's diabetes is well managed and that your vet can make any necessary adjustments.
What might make your dog's diabetes difficult to control?
Sometimes, despite regular monitoring and dose adjustments, your dog's diabetes is still not well controlled. In that situation, your veterinarian will run through a list of common causes to try to find the source of the problem. Some reasons for poor diabetic control include issues with insulin administration, factors related to diet, insulin resistance, or concurrent medical conditions.
Inconsistent insulin administration
Consistency is key when it comes to managing diabetes in dogs. If the dog's parents are not giving the insulin injections regularly, or if the timing or dosage is inconsistent, it can disrupt blood sugar control. Insulin that is too old or that has not been properly stored or properly mixed may also lead to issues with diabetic control.
Diet and feeding habits
A dog's diet plays an important role in managing diabetes too. High-carbohydrate or sugary foods can cause spikes in blood sugar levels. And irregular feeding schedules that are not aligned with insulin injections can make it difficult to achieve optimal diabetic control.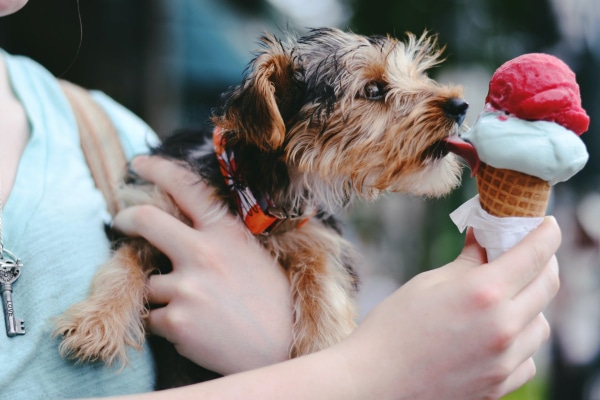 Insulin resistance
Some dogs may develop a condition called insulin resistance. As the name indicates, the body becomes less responsive to the effects of insulin. This means that even if the dog parent gives the right amount of insulin, it may not work as effectively in lowering blood sugar levels.
The veterinarian may suspect insulin resistance if a dog's insulin dose is higher than the maximum amount of insulin that a dog should need and the blood sugar is still consistently high. In that case, the vet will start to investigate why this might be happening. If the insulin administration and feeding habits check out okay, then your veterinarian will want to assess your dog for concurrent medical conditions that lead to insulin resistance.
Concurrent medical conditions
Medical conditions that commonly occur alongside diabetes can interfere with diabetic control. For example, conditions like Cushing's disease or pancreatitis can affect insulin production or sensitivity. This makes it harder to regulate blood sugar levels. Infections, such as skin infections (e.g. pyoderma in dogs), ear infections (i.e. otitis in dogs), and urinary tract infections can also cause insulin resistance.
Stress and hormonal changes
Stressful events, such as illness, surgery, or major changes at home, can sometimes lead to temporary spikes or drops in blood sugar levels.
Hormonal changes, such as those occurring in unspayed female dogs, can also affect insulin regulation. And they can make diabetic control more challenging. For this reason, any female dog who is diagnosed with diabetes should be spayed as soon as it is safe to do so.
Don't despair if diabetic control takes some time
It is easy to feel helpless if your dog's blood sugar doesn't immediately come into the ideal range after you start insulin injections. However, the good news is that with proper care and attention, it is possible to improve diabetic control, even in dogs who are insulin resistant.
To set you and your pup up for success you will need to work closely with your veterinarian. And you may need some extra patience. It can take time, additional testing, and sometimes even some trial and error to find the best type of insulin, insulin dose, and diet for your dog.
What are the risks of poor diabetic control?
You might be wondering why achieving good diabetic control is so important. Well, over time, poorly controlled diabetes can lead to several health problems. These include organ damage, nerve problems, vision issues, poor wound healing, and increased susceptibility to infections.
Organ damage
Diabetes can have a long-term impact on various organs in a dog's body. High blood sugar levels over time may cause damage to organs such as the kidneys, liver, heart, and eyes. And this can lead to complications like kidney failure in dogs, liver disease in dogs, heart disease in dogs, and even vision loss or blindness.
All of these are similar to the complications that people with poorly-controlled diabetes may experience. This is perhaps the only scenario where a dog's shorter lifespan is a good thing. Since dogs are often older when they become diabetic, and they have relatively shorter lifespans, these serious diabetic complications are much less common in them than in their human counterparts.
Nerve damage
Prolonged exposure to high blood sugar levels can lead to a condition known as diabetic neuropathy. This can cause weakness (e.g. a dog's back legs collapsing), loss of coordination, and difficulty walking in dogs. It primarily affects the hind legs, but can also affect other parts of the body.
Cataracts
Dogs with poorly controlled diabetes are at an increased risk of developing cataracts. Cataracts cause the lens in the eye to become cloudy, which can lead to vision impairment or complete blindness if left untreated. Cataracts, once formed, are not reversible. But there are treatment options, including cataract surgery. And even if surgery is not an option, most blind dogs still do well and live a happy life.
Poor wound healing
Diabetes can impair the body's ability to heal wounds. Dogs with diabetes may experience slower healing of cuts, scratches, or surgical incisions.
Increased infection risk
High blood sugar levels can weaken the immune system, making it harder for the body to fight off infections like urinary tract infections, skin infections, and dental disease in dogs. Urinary tract infections are particularly common in diabetic dogs since the glucose that spills into the urine in large quantities serves as an ideal food source for bacteria.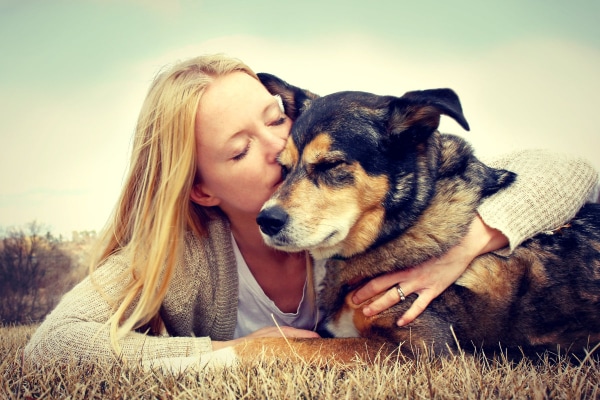 What is the prognosis for dogs with diabetes?
These long-term risks can be anxiety-inducing. But mainly I share them to highlight the importance of working closely with your veterinarian to monitor and manage your dog's diabetes as effectively as possible.
The great news is that based on veterinary scientific literature, the prognosis for diabetes in dogs is generally quite good with proper management. However, dogs with pre-existing health conditions understandably have a more guarded prognosis.
Early diagnosis and initiation of treatment are key factors in achieving a positive prognosis. With appropriate insulin therapy, a well-balanced diet, regular exercise, and diligent monitoring, many diabetic dogs can achieve good glycemic control and maintain stable blood sugar levels within the target range.
Even with diligent care though, some dogs may experience occasional complications or require adjustments to their treatment plan. This is why regular veterinary visits and communication with your veterinarian are so important for long-term diabetes management.
The power of support
Managing diabetes in dogs can be a labor of love. On difficult days, try to remember that you are doing your best, and that is enough. And take comfort in knowing that your sweet pup has a great chance of living a happy and fulfilling life with you.
And also keep in mind that you are not alone in this journey. Reach out to fellow dog parents who have walked the same road. Or join online communities dedicated to diabetic dogs. These groups can offer invaluable support, tips, and encouragement, making the journey more manageable and less overwhelming.
Finally, don't forget that your veterinary team makes a great partner in your diabetic dog's care. If you have questions or concerns, give them a call or schedule an appointment. And keep them updated about how your dog is doing so you can work together to give your diabetic dog the happiest, best life possible.
Do you have a diabetic dog?
Please share words of comfort or encouragement for other dog parents below.