Can a dog live without a spleen? The answer is yes! As integrative veterinarian Dr. Julie Buzby explains, while the spleen has many important roles in the body, it isn't necessary for survival. Dr. Buzby also helps ease the minds of dog parents whose beloved pup is facing a splenectomy by discussing why dogs might need a splenectomy and what to expect after the surgery.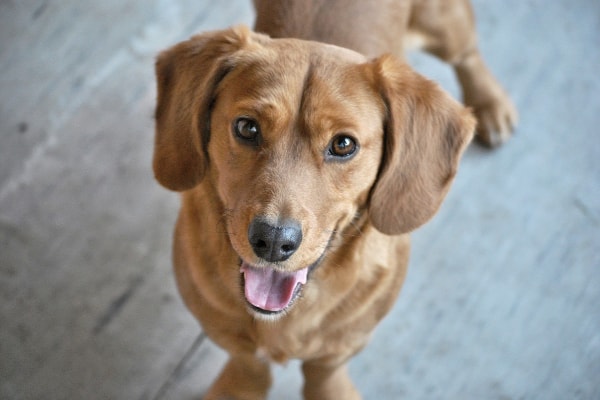 No dog parent ever wants to hear from their veterinarian that their dog needs to go to surgery, especially for an emergency procedure. And if you were told that a major internal organ needed to be removed from your dog it may be especially overwhelming and scary! However, if your dog needs to have his spleen removed (a surgical procedure called a splenectomy) the good news is that dogs can not only survive—but also thrive in many cases—without a spleen.
But before we dive into the "whys" and "what to expects" of splenectomies, let's take a closer look at this marvelous organ.
Where is a dog's spleen?
Your dog's spleen is located in the center of the abdomen, directly underneath the curve of his or her stomach. Shape-wise, it can resemble the Nike "swoosh" logo. It has a thicker "head" closely associated with the curved bottom of the stomach. Then there is a thinner "tail" that is more freely movable and drops down against the small intestine.
Cats and dogs have significantly larger spleens than people. In fact, the spleen can weigh up to 10 pounds in a large dog! Since the spleen is large, it is one of the organs that vets will attempt to palpate (i.e. feel) during a physical examination. This allows the vet to potentially note any abnormalities in size, shape, or texture.
What does the spleen do?
The spleen is a fascinating structure with lots of important functions relating to circulation, and it has a vast network of blood vessels flowing into and out of the organ. In many ways, the spleen serves as a "quality control agent" for the blood moving throughout the body. Some of the jobs of the spleen include:
Storing red blood cells
In instances where your dog may require a sudden influx of blood to support circulation, the splenic muscles can contract. When this happens, millions of extra, lifesaving red blood cells are released like squeezing a soaked sponge. This may occur in cases of hemorrhage (i.e. profuse blood loss), trauma, or even stress.
Culling defective cells
Your dog's spleen has the ability to scrutinize the circulating red blood cells as they pass through the organ and eliminate cells from circulation that do not meet certain requirements. As many as 10% of red cells produced by the bone marrow are "faulty" or unable to survive normal circulation due to abnormal size or shape. Additionally, the body needs a way to remove old red blood cells from circulation.
If these abnormal cells are not culled (i.e. removed) by the spleen, they can cause clumping and blood clots in the blood vessels. This would be problematic for the dog.
When the splenic cells encounter a damaged or abnormal red blood cell, they can capture it and recycle the iron held inside. This preserves essential nutrients for the body.
Removing infectious particles from cells
Your dog's spleen has the ability to recognize red blood cells that have an infection in the cytoplasm (i.e. jelly-like cell interior). Then it can remove a solid particle from the cell without destroying the cell itself. This process is called "pitting" and it can be a great way to remove red blood cell parasites.
Sometimes after the spleen pits a red blood cell, the cell is too damaged to function correctly. In that case, the spleen will then cull the red blood cell.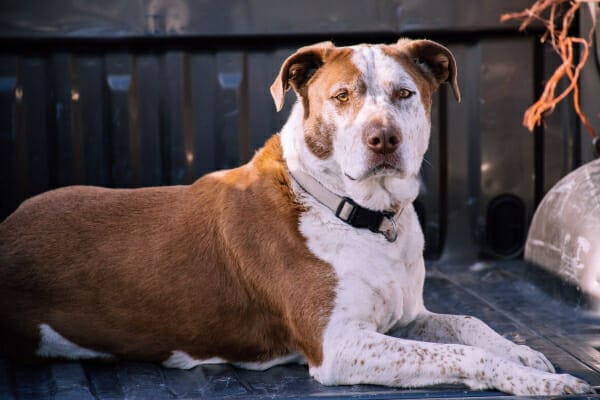 Fighting infection
In addition to storing red blood cells, the spleen is part of the immune system. It contains a lymphatic system. Thus, it can function as a very large lymph node. It houses lymphocytes (a type of white blood cells) that will produce infection-fighting antibodies in response to signals carried in with the blood flow. Other sites in the body can recruit these lymphocytes to respond to the infection as needed.
Can a dog live without a spleen?
After reading the list of all the wonderful things the spleen does, it can be easy to wonder how a dog can live without a spleen. The good news is that many other organs can "pick up the slack" after a splenectomy. The dog may be slightly immunosuppressed compared to a dog who still has a spleen. Usually this doesn't significantly impact quality of life.
There is a caveat to that statement, though. Sometimes the condition that made the splenectomy necessary can have significant effects on quality of life or life expectancy. This is especially the case if the dog needed a splenectomy due to spleen cancer.
What are the signs of a spleen problem?
With all those functions, it seems that the warning signs indicating something has gone wrong with the spleen would be obvious. However, the signs of splenic dysfunction or injury can sometimes be vague or difficult to spot. Here are a few warning signs that may indicate a splenic problem:
Swollen abdomen
Fatigue or a lethargic dog
Loss of appetite
Weakness or collapse
Pale gum color
Weight loss
If you notice any of these symptoms, especially if they come on suddenly, call your vet ASAP or head to the nearest emergency hospital for an emergency vet visit for your dog.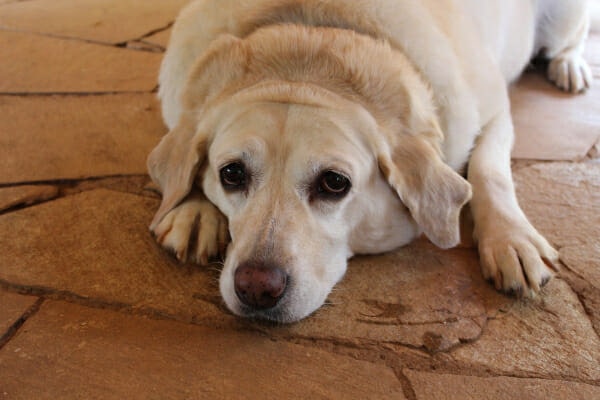 How is a spleen problem diagnosed?
The veterinarian will start by assessing your dog and stabilizing him or her with life-saving therapies if needed. Then the doctor will most likely perform a full physical examination. Part of that involves attempting to "feel" the spleen through the body wall. In doing so, he or she may be able to note changes in the spleen that would warrant further assessment.
Your vet also will often recommend blood work to check for inflammation and anemia. Because the spleen is such a vascular organ, splenic disease or injury can cause internal bleeding. This can rapidly lead to severe, or sometimes fatal, anemia (i.e. low red blood cell numbers). The veterinarian may also recommend advanced imaging in the form of abdominal X-rays or abdominal ultrasound.
Based on that information, the vet will develop a plan for your dog. Sometimes this may involve additional diagnostics. Other times, your vet may need to break the news to you that your dog needs a splenectomy.
Why might a dog need a splenectomy?
There are multiple issues that may necessitate the removal of your dog's spleen. Your veterinarian may recommend a splenectomy if they suspect or diagnose one of the following conditions:
Splenic mass
Abnormal cell growth on or within the spleen (i.e. a splenic tumor) means that the spleen may no longer function properly. This also puts the spleen at risk for rupture, which is life-threatening. Both benign and malignant masses can rupture and bleed so the presence of bleeding can't distinguish between the two. While a fine needle aspiration (FNA) or the ultrasound may give clues about the identity of the mass, a splenic biopsy is the most definitive way to reach a diagnosis.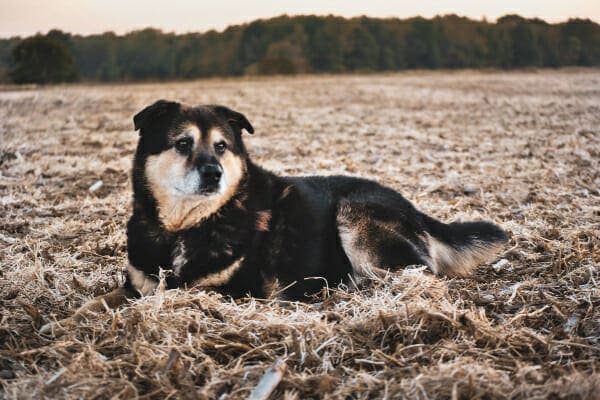 However, removing just a piece of the spleen for a biopsy can be dangerous. Plus, the dog may still require a splenectomy at a later date if the mass is cancerous or ruptures.
So in many cases, the vet will recommend a splenectomy. Then he or she can submit the entire spleen to the pathologist to reach a final diagnosis. Occasionally, if the vet suspects the mass is benign and not bleeding, he or she will recommend frequent monitoring of the mass via ultrasound instead of going right to a splenectomy.
Benign splenic masses in dogs include hemangiomas and splenic hematomas. Dogs may also have malignant splenic masses such as hemangiosarcoma in dogs, mast cell tumors, or lymphoma in dogs. If the mass ends up being benign, removal of the spleen is curative.
However, with a malignant mass, the dog may need additional therapy such as chemotherapy to address tumor metastasis (i.e. spread to other organs). Some dogs may also benefit from Yunnan Baiyao for dogs, a Traditional Chinese Medicine that can reduce bleeding.
Splenic rupture
Sometimes a splenic mass remains hidden until it ruptures and bleeds. Additionally, trauma (i.e. a horse kick, being hit by car, a fall, etc.), may cause the spleen to rupture and hemorrhage internally. This is a medical emergency and time is of the essence. However, the hard part is that you may not initially realize what is going on. In these cases, sometimes the only clinical signs you may see are weakness and pale gums.
Splenic torsion
This condition occurs when the spleen twists upon itself and its vessels. It can happen on its own or in conjunction with a gastric dilatation-volvulus (GDV). Sometimes when the stomach flips in a GDV, it takes the spleen along with it since the spleen attaches along the bottom of the stomach. Splenic torsion occurs predominantly in large, deep-chested dogs such as Great Danes and Shepherds. Additionally, being nervous or anxious may predispose dogs to this condition.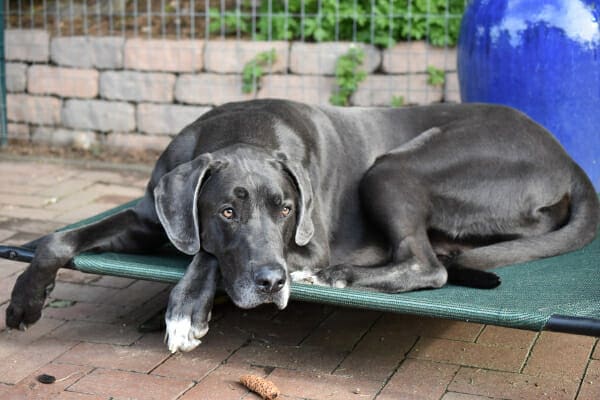 Splenic infection
Because of its high level of circulation, the spleen can suffer from bacterial infections or abscesses in the splenic tissue. If antibiotics are insufficient for controlling this level of infection, the vet may recommend a splenectomy.
What is recovery like after a splenectomy?
Because the spleen is such an important internal organ, your veterinarian will not take the decision to remove it lightly. Following surgery, you should have a discharge appointment. This is the time to ask questions. That way you can feel confident about the home-care plan that will help your dog recover best. Every situation is different, but these are some of the things you could potentially expect during and after your dog's spleen is removed:
Potential for a blood transfusion
Prior to surgery, your veterinarian may opt to cross-match your dog with a blood donor that they will have available to give a supportive blood transfusion for dogs. Because the spleen is such a highly vascular organ, removing it removes a lot of blood volume from your dog. Additionally, if your dog is already anemic from a splenic rupture or hemorrhage, he or she would probably benefit from a transfusion. This can help maintain circulation and blood flow to the organs.
Hospitalization
Following surgery, your dog may go home the same day. Alternatively, he or she may need to stay hospitalized with supportive care for many days afterward. The vet will most likely send the spleen off for pathologic analysis. That way he or she knows the type of tumor (if there was one) or what processes were going on in the spleen. This information allows your vet to create a medical management plan going forward.
Wearing the E-collar
Perhaps most importantly, your dog needs to wear the E-collar that the vet will send home with him or her. This can help prevent your dog from licking the incision or pulling out the sutures. Let me say it again—it is imperative that you keep the collar on your dog for as long as your vet instructs.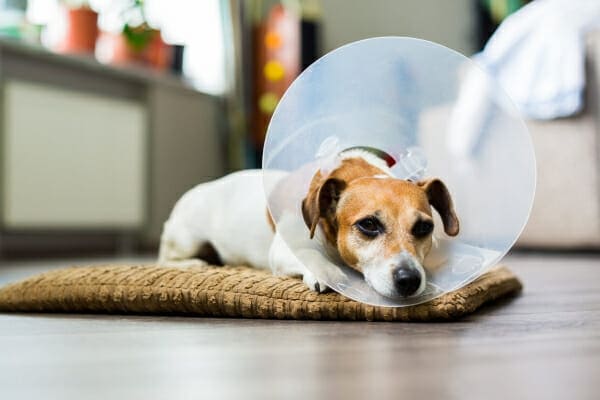 Otherwise, you may come home to find that your dog has preemptively removed the sutures or created an infection in the surgery site. Both of those scenarios could necessitate a second surgery. Post-operative complications are almost always related to improper use of E-collars at home. So keep that collar on!
Incision care and appearance
Because of the large size of the canine spleen, you may note that your dog looks significantly thinner after surgery. Don't worry—this is normal. He or she also will have a fairly long abdominal incision that is closed with sutures or staples. Your dog may need to return to the clinic approximately 10 days after surgery for a staple or suture removal. In the meantime, the incision line must stay clean and dry at home.
If the incision starts to come apart, looks inflamed, begins to drain excessively, or you have any other concerns about how your dog is looking or acting during the healing process, contact your veterinarian.
Rest
When you bring your dog home, he or she should stay on the dog version of "bed rest" for 10 to 14 days. This means that your dog is not allowed to jump on or off furniture, play with housemates, or go on long walks. When you take your dog outside to go to the bathroom, he or she must be on a leash. This allows you to restrict him or her from running or jumping.
Keep in mind that not only is your dog recovering from major abdominal surgery, but he or she is also trying to replace the lost blood volume. Excessive movement can damage the fragile healing tissues. Plus, your dog may not have the red blood cell reserves to support much activity.
Long-term monitoring
Following a successful splenectomy, most dogs can resume normal lives after a two to three week healing period. Depending on the type of injury or disease process in the spleen, your veterinarian may recommend frequent follow up visits. For example, dogs with a malignant splenic tumor may need screening bloodwork or imaging (ultrasound or X-ray) to check for metastasis of any cancerous cells.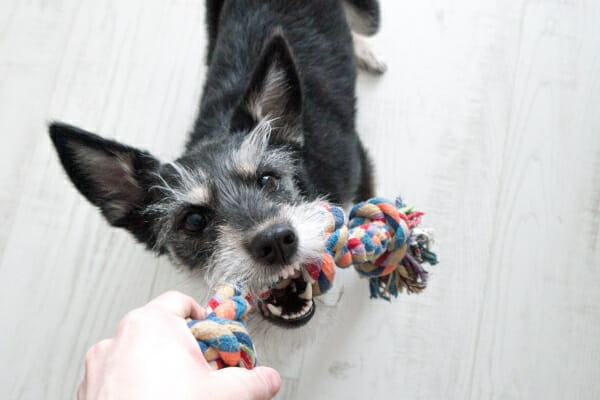 Life without a spleen is still a great life!
Despite serving so many important functions for the body, a dog doesn't actually need a spleen. As long as your dog is otherwise healthy, he or she can continue to live a full and active life after the splenectomy recovery period. Dogs who have a malignant tumor may eventually succumb to their disease. But they can still have a bit more time to make memories with their family.
I understand it can be difficult to face the idea of your dog losing his or her spleen. But sometimes it is life saving. And it doesn't have to be life altering. Maybe a splenectomy will give your dog many more good years. Or, perhaps it will buy him or her several more wonderful weeks or months. Either way, keep in mind that dogs can survive and thrive without a spleen. There is hope, even when facing a scary situation like a splenectomy.
Has your beloved companion had a splenectomy?
Please share his or her story and any words of advice or encouragement below.