If your dog has a cruciate ligament rupture or partial tear, you may be wondering about treatment options. Dr. Susan Davis—internationally recognized author, physical therapist for animals, and friend of Dr. Julie Buzby—shares from her decades of experience how you can support, advocate, and make the right treatment decision for your senior dog.
Without a doubt, ruptures of the cranial cruciate ligament account for the majority of my physical therapy caseload at any given point in time. Why are there so many?
My theory involves the indoor lifestyle we shifted our companion pets, particularly dogs, toward, the past four decades. Add to that, more human work hours, less time for the owner to take their dog on leash walks, plus a shift from the use of indoor carpeting to smooth, hardwood, and tile flooring.
Back in the 1930s to 1970s, most dogs lived outdoors and spent their time on grass and dirt, not jumping on and off furniture onto slippery surfaces. Cruciate ligament tears were rare. Fast forward to the present day. Most dog owners are acutely aware of the cruciate ligament, though they may know it as the "ACL."
What is the cranial cruciate ligament in dogs?
The equivalent to the human being's anterior cruciate ligament (ACL) is the dog cranial cruciate ligament (CCL). It is a band of fibrous tissue located in the dog's hind legs at the knee (stifle) joint. The ligament provides inner crossover stability to prevent forward slippage of the shinbone (front of the tibia), relative to the long thigh bone (femur).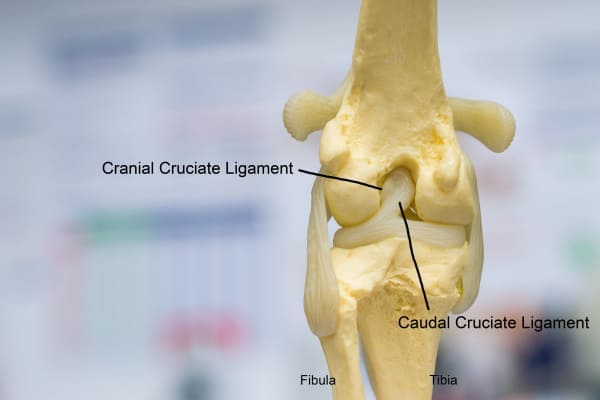 Though we have this ligament in common with our canine companions, theirs ruptures much differently than ours. The upright, two-legged human gait is less susceptible to ACL ruptures with normal activity. A person's ACL ruptures swiftly and completely from trauma and sports-related injuries.
The dog's CCL is subjected to different biomechanical forces in their down-on-all-fours gait along with a slightly different shape and angle of the tibial plateau. Running, turning, and sliding on slippery surfaces cause gradual wear and tear of the dog's CCL. It begins to stretch, tear, and slowly degrade. Sometimes it tears fully, called a rupture. Other times it tears only partially. In both cases, compromised stifle joint stability leads to injury to the meniscus (the cartilage shock absorber) and arthritis.
What are the signs of a cranial cruciate ligament tear in dogs?
The first outward sign of cranial cruciate ligament damage is lameness. The dog may either hold the limb up completely or put only partial weight on it. We call this toe-touching. The dog begins to shift its weight onto the other hind limb. That is why a dog with a ruptured CCL has a 25 to 50% chance of tearing the other hind leg's CCL within 12 to 16 months!
The key to recovery from the rupture (and prevention of the other side tearing) is rapid timing of diagnosis and intervention. Getting started right away promotes early healing, can help prevent full rupture, and reduces the risk of the opposite side tearing.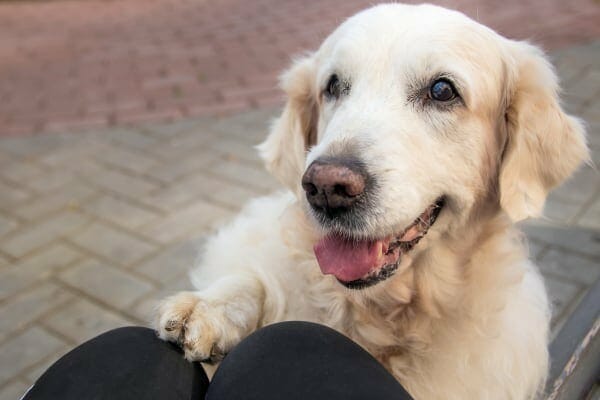 How is a cranial cruciate ligament tear diagnosed and treated?
Early diagnosis of CCL tear is imperative to your dog's future health. If your dog is limping or holding up a limb, do not delay in making a veterinary appointment.
Diagnosis of CCL rupture happens through observation, the performance of a drawer test, a radiograph (X-ray), or sometimes an MRI. The drawer test involves the veterinarian or physical therapist placing their hands around the dog's stifle joint, using a gliding motion used to test the "tightness" of the ligament. A 'positive drawer' or 'cranial drawer sign' means the ligament is too loose and ruptured (completely torn) or has merely a partial tear.
If your dog has a ruptured CCL, surgical correction followed by rehabilitation is the best form of treatment. On the other hand, your dog might not need surgery if the CCL is partially torn. Partial tearing of the cruciate ligament presents various treatment options.
It's important to weigh the pros and cons of surgery in terms of a dog's size, health status, activity level, and lifestyle. Surgery requires recovery of at least 12 to 16 weeks. Smaller (less than 22 pounds) and leaner dogs tend to manage better without surgery than their larger or overweight friends do. If your dog has a partial cruciate ligament rupture but is standing and walking on the limb, non-surgical treatment options may be reasonable.
11 non-surgical treatments for dogs with partial cruciate ligament ruptures
Here are 11 non-surgical treatments for dogs with partial CCL tears and also dogs with a full cruciate rupture that cannot have surgery for reasons such as advanced age, medical risk of undergoing anesthesia, bleeding disorder, seizures, or financial constraints.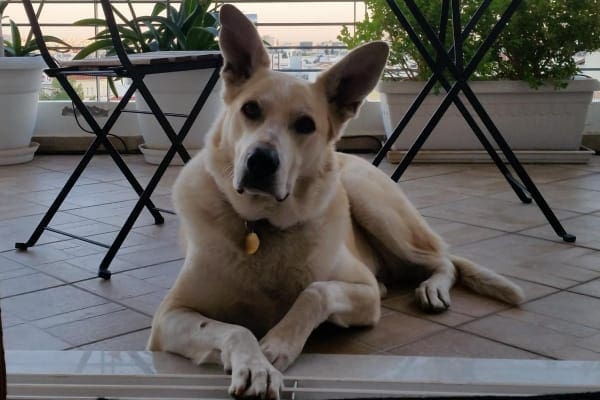 1. Rest and activity restriction
For the next six weeks, plan to reduce the length and intensity of walks and possibly crate or confine your dog several hours per day to allow for healing. Playing or rough housing with other dogs is off limits for a few weeks. Your veterinarian will help you understand what degree of exercise restriction is right for your dog.
2. Medications
Your veterinarian may prescribe anti-inflammatory and pain medications.
3. Ideal body weight
Ask your vet or physical therapist to assess your dog's body weight compared to normative values for the same age and breed. This is called the body condition score. Check to see if a 'waistline' is visible while standing over your dog, looking down at their body shape, and feel if the ribs are easy to find or if a heavy layer of fat makes it difficult to feel them. If your dog is overweight, start a weight loss plan right away. An obese or overweight dog is predisposed to a cruciate ligament rupture or tear.
Get started now discovering your dog's canine body condition score.
4. Healthy diet and supplements
Keep your dog's diet lean: provide healthy treats, plenty of hydration, and supplements for anti-oxidant control of inflammation. Ask your veterinarian whether additional senior dog supplements for cartilage support or omega-3 fatty acids for joint inflammation may be helpful.
5. Physical therapy using cold laser for 6 to 12 sessions
A common question I hear is, "Will cold laser help grow a new ligament or reattach the torn ligament?" Unfortunately, the answer is no.
Cold laser therapy for dogs will not regenerate a new ligament or reattach the torn portion of the ligament. But it should help reduce joint inflammation, swelling, and pain. It may also help in the process of scar tissue formation as the body tries to stabilize the joint.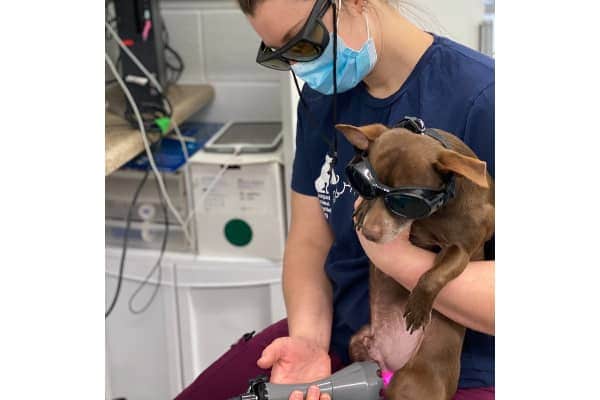 6. Electrical stimulation
Electrical stimulation uses various forms of electrical current delivered through lead wires which are attached to sticky electrodes placed over the stifle joint and thigh. This treatment helps blood rush in and nourish the ligament and surrounding anatomical structures, relieves inflammation, reduces pain, and assists weakened muscles to contract and strengthen.
7. Massage
Using the palm of your hands in a flat position, massage the sides, front, and back of the dog's knee in circular directions with light to medium pressure.
8. Passive range of motion exercises in dogs
Gently bend and straighten the stifle (knee) and hock (ankle) joints, using your hands, and do not go beyond the scope of natural movement currently available.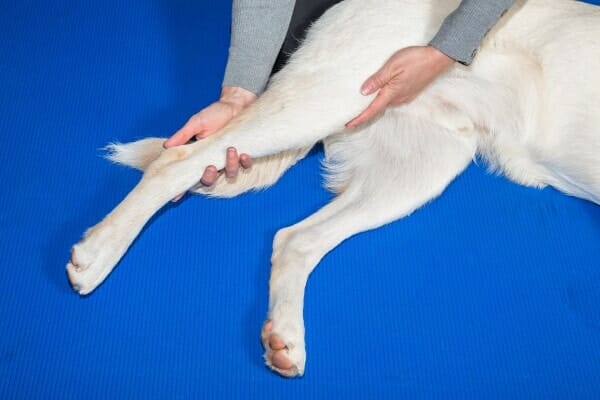 Learn more about passive range of motion exercises for senior dogs.
9. Underwater treadmill
Underwater treadmill or swimming water therapy provides a safe buoyant medium to strengthen the limb while undergoing restriction of normal walking activity.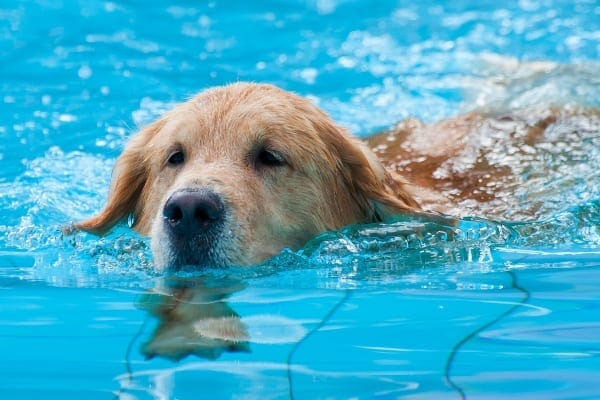 10. Braces
External stability provided by a brace or soft support helps speed the healing process and supports the joint during activity. Dog CCL braces are an alternative to surgery in many cases though inferior to surgery for a complete rupture of the CCL.
Braces are available in prefabricated or custom forms. Custom braces require casting the dog's hind limb and sending the removed cast to a certified orthotist for precise molding of a brace specific to your dog. Custom braces are more expensive than prefabricated types but provide superior support.
11. Regenerative medicine
Stem cell transplant injections and platelet-rich plasma (PRP) injections are emerging as alternative treatments for non-surgical management of partial cruciate ligament ruptures in dogs. However, they are invasive, expensive, and lacking firm evidence of long-term outcomes on ligament healing. Stay tuned as more research is performed.
Back on the move in no time
If your senior dog is hobbling around, the first course of action is to pay a visit to your veterinarian. Then, diagnosis in hand, you can consider all your options both surgical and non-surgical. Ask as many questions as you need to and never forget you are your dog's advocate and voice.
With the expert care of your veterinarian and support from your dog-loving friends and family, your senior dog will be back on the move in no time.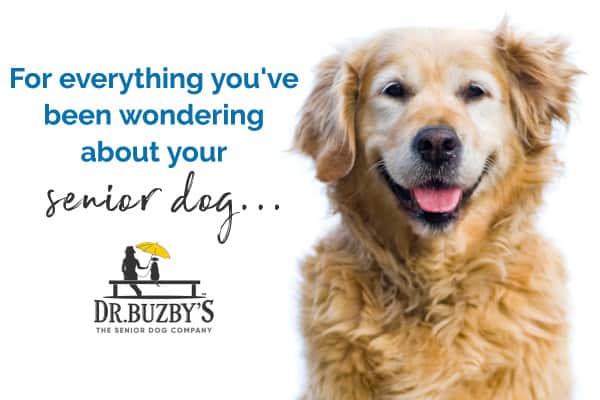 Has your dog had a cruciate ligament rupture?
Share your experience so we can learn together what worked and helped your canine companion the most!