When a dog has a torn cruciate ligament and needs surgery such as a TPLO, recovery, and everything it entails, can feel daunting. To help address some of the concerns and questions that commonly arise during the recovery period, integrative veterinarian Dr. Julie Buzby has put together these TPLO recovery FAQs.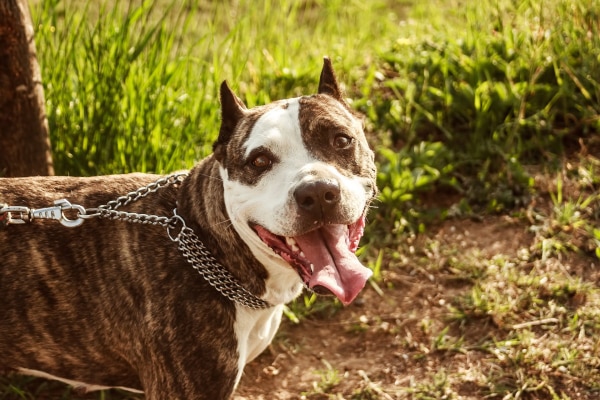 Over the years, I have fielded many questions from my readers and clients about recovery from a TPLO (or other similar surgery). It is stressful enough to find out that your dog has torn his or her cruciate ligament. And then you have to face the prospect of an expensive surgery with a long recovery period. This can be overwhelming, even for an experienced dog parent.
In an effort to help make the entire TPLO experience a bit smoother for dogs and their parents, I have compiled and answered the most common questions about TPLO recovery. Since having an appreciation for what the surgery entails and making preparations ahead of time are also critical to a successful recovery, I have included some questions on those topics as well as questions about the actual post-operative period.
The TPLO procedure
First, in order to understand how to help your dog recover from a TPLO, you need to know a bit about the surgery itself.
Q: Why might a dog need a TPLO?
A tibial plateau leveling osteotomy (TPLO) is one of several potential surgical procedures to repair a torn ACL in dogs. Other common options include the tibial tuberosity advancement (TTA) and extracapsular lateral suture stabilization (ELSS).
Q: Why is a torn cruciate ligament a problem for dogs?
Normally the cranial cruciate ligament (CCL) — the doggie equivalent of a human ACL—helps stabilize the knee. More specifically, it keeps the tibia (i.e. shin bone) from shifting forward relative to the femur (i.e. thigh bone).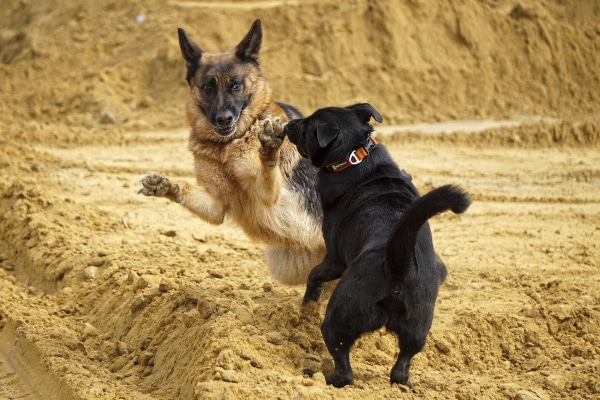 When the CCL begins to tear, it doesn't control movement between the femur and tibia well anymore. As a result, the end of the femur scrapes painfully against the back part of the top of the tibia. Practically speaking, this translates to the symptoms you see such as reluctance to move, difficulty changing from one position to another, and limping.
Q: What does TPLO surgery involve?
In order to provide stability to a knee with a torn CCL, a veterinarian, Dr. Barclay Slocum, developed TPLO surgery for dogs. During the procedure, the surgeon uses a specialized saw that makes a curved bone cut through the top part of the tibia. The bone cut is called an osteotomy.
Next, the surgeon manually rotates the separated piece of the tibia to change the angle at which the top of the tibia and bottom of the femur meet. This allows the femur to sit more squarely on top of the tibia instead of slipping off the back.
Finally, the veterinary surgeon will use a special metal plate and screws to attach the cut section of bone to the tibia in its new orientation. Eventually, the body will lay down new bone between the cut section and the rest of the tibia. But at first, that cut portion of the tibia is only being held in place by the TPLO plate and screws.
I mention this so you can understand the importance of following the orthopedic surgeon's instructions about exercise restriction post-operatively. Letting your dog be too active during recovery can bend or break the TPLO plate, cause the screws to loosen, or hinder bone healing. All of these decrease the chances of a successful recovery.
Preparation for TPLO Recovery
Now that you understand how the TPLO procedure goes, I want to answer a few questions about preparation. What you do in the days or weeks leading up to surgery can also make a big difference in how easy your dog's recovery is.
Q: How can I create the optimal recovery area for my dog?
When we are healing, we want a warm, soothing environment. Having a caregiver nearby that we can see and hear is comforting, too. The same goes for our dogs.
I recommend creating your dog's "recovery space" in an area of the house where he or she normally hangs out. This is where his or her people are and where he or she feels comfortable. Being around you makes your dog feel more secure and it also makes it easier for you to keep an eye on him or her.
Your dog's TPLO recovery area should be large enough for him or her to get up and take a few steps in any direction but not so large that he or she can run or jump. Including a dog bed can give your dog a nice cushy place to lay. However, you need to be careful with putting bulky comforters or blankets on the floor. They can bunch up and could cause your dog to trip and fall.
Some people set up a dog crate or small exercise pen to use for the recovery area. Others use furniture or baby gates to confine their dog to a small area. Whatever you choose, ensure that your dog doesn't have access to anything to jump on. Also, keep other animals out of the recovery area so your dog isn't tempted to play with them.
Q: Are there any products I can purchase to make TPLO recovery easier?
For the first few days post-surgery your dog may not be bearing much weight on the leg. Thankfully, there are a few products that can help him or her maintain good traction, feel supported when walking, and promote recovery.
ToeGrips
The first on my list of recommendations is our signature product, Dr. Buzby's ToeGrips® dog nail grips. These little rubber rings go around a dog's toenails to help give added traction on slippery floors. A better grip means your dog can walk with confidence. Plus, it helps prevent him or her from slipping and falling, which could injure the surgical leg.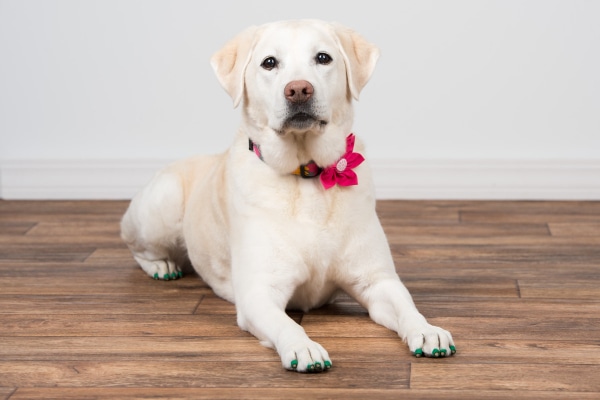 Encore Mobility
Second is our other product, Dr. Buzby's Encore Mobility™ hip and joint supplement. Encore Mobility combines the powers of green lipped mussel for dogs and New Zealand deer antler velvet for dogs. Together these superstar ingredients reduce inflammation and promote joint health—two things that are very good for post-op dogs.
Plus, because dogs who have an orthopedic injury are prone to developing osteoarthritis in dogs, using a joint supplement for dogs is a good long-term plan.
Slings and harnesses
If you or your vet suspect your dog will have a difficult time getting around after surgery, you may also want to consider buying or borrowing a sling. For the kind of help most dogs need, I would recommend the GingerLead® Support and Rehabilitation Harness or a similar "as needed" sling.
To use it, slip it under your dog's belly close to the hind legs. Then gently pull upward to support some of the dog's weight. The key phrase here is "some of your dog's weight." You still want the hind paws touching the ground and bearing weight.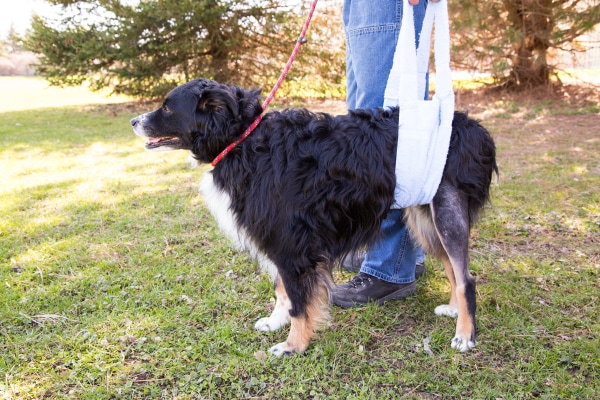 Alternatively, if your dog is having a hard time getting up from the floor, he or she might benefit from the Help 'Em Up® Mobility Harness. This wearable harness has handles you can grab to help hoist your dog up off the floor.
If you do decide to get some sort of sling for TPLO recovery, I highly recommend you size it to your dog ahead of time and do some practice sessions. That way you aren't fumbling with it when you need to use it to get your post-op dog up and moving. Plus, trying it out in short bursts prior to surgery can help you and your dog get comfortable with it.
Q: Is there any sort of training that is helpful prior to the surgery?
If your dog isn't crate trained, I strongly recommend working on it before surgery. Your dog will need to be confined to a crate or small area, especially when you are gone. Attempting to escape from the crate or jump over a baby gate can cause serious injury to a recovering dog. So it is best if your dog can learn to see the crate (or another confinement area) as a relaxing, friendly, happy place.
Getting your dog used to the E-collar ahead of time is also very helpful. I know no one likes the "cone of shame," but it is a necessary evil. A dog's natural response to a painful or irritated area like the incision is to lick. But this can introduce thousands of harmful bacteria into the incision and lead to post-op infections.
Start by doing several short (three to four minutes at a time) E-collar training sessions a day. Give lots of praise and some treats when your dog calmly tolerates wearing the E-collar. If your dog is particularly distressed about the idea, check out this low-stress handling article on teaching your dog to love the cone.
Q: What are some other useful house preparations?
You may want to try to take some steps to cut down on your dog accidentally running or jumping. For example, consider hanging a sign on your door that says "Do not knock or ring the doorbell." You don't want your dog leaping up and sprinting to the door every time you have a visitor or delivery person.
You could also consider keeping your dog's collar and a four to six foot leash hanging by the door. That way, should you need to open the door, you can have your dog on a leash first. Even a painful post-op dog is capable of an adrenaline-fueled run out the door after a squirrel, another dog, etc. You don't want to be frantically chasing your dog, hoping he or she isn't going to damage the surgical leg.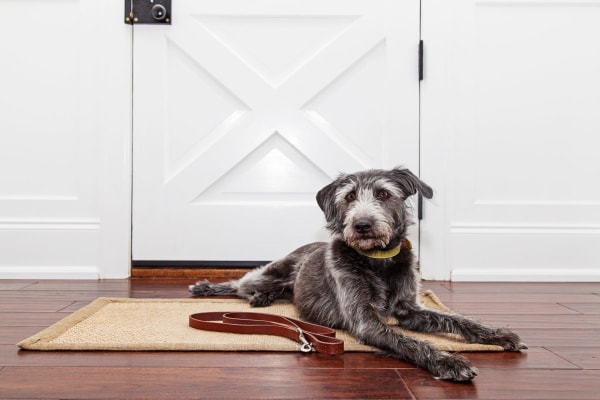 Recovery after TPLO Surgery
Finally, we need to answer the questions that might arise after you bring your dog home from the hospital.
Q: Why is my dog trembling after TPLO surgery?
Just like us, dogs may tremble or shake when they are in pain. Other signs your dog is in pain include:
Hiding or withdrawing from the family
Hunching up and being unwilling to move
Increased respiratory rate
Grimacing or holding the ears back
Whimpering or whining
If you are seeing signs of pain, please talk to your veterinarian. Let him or her know if your dog seems to be in pain constantly or if it tends to be around the time the next dose of non-steroidal anti-inflammatory or other pain medication is due. Your vet may be able to adjust your dog's pain medication schedule. Plus, he or she could add in other medications such as tramadol for dogs or gabapentin for dogs.
Alternatively, it is possible that your dog is shaking because he or she has a full bladder or needs to defecate. Think about how it feels when you are desperate to find a bathroom. Perhaps your dog is feeling the same way. If you think your dog might need to go to the bathroom, try a short leash walk. Keep your dog on a short (four to six foot) leash right by your side and only stay out long enough for your dog to eliminate.
Finally, a dog may also shake because he or she is feeling a bit chilled. Cover him or her up with a blanket, ensure the " TPLO recovery area" is not in a drafty area, and provide a nice warm dog bed to get him or her off the cold floor.
Careful with heat and fentanyl patches
A word of caution about warming your dog up. If your dog has a fentanyl patch for pain control, do not use a heating pad/blanket/bed or allow your dog lie in the sunshine or become overheated. The increased heat can cause your dog to absorb more fentanyl than normal, which can be dangerous.
Q: Is bruising after TPLO surgery normal?
You may notice that your dog starts out with some red bruising around and below the incision. Then it may change over time to purple or shades of yellowish-green. This is generally normal and simply a result of cutting into skin, muscle, and bone during surgery. However, if the bruised area is large, other areas of your dog start to develop bruises, or you have any concerns with how your dog's leg looks, contact your veterinarian.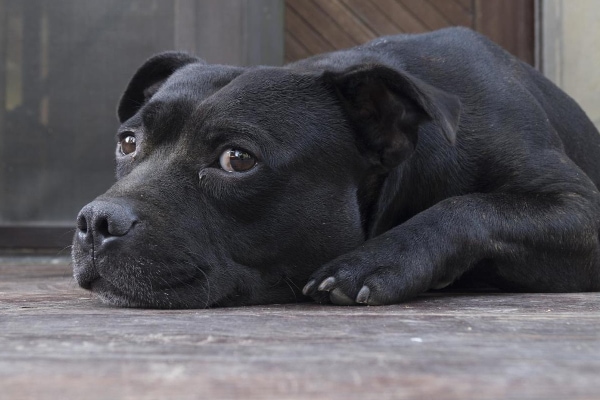 Q: Is swelling normal after TPLO surgery?
Moderate swelling can be normal in the first five to seven days after surgery. The orthopedic surgeon may recommend using an ice pack on the incision and around the joint several times a day. This can help reduce the normal post-op swelling.
However, there are a few types of swelling that are not normal.
Sometimes a dog will develop a seroma. This is a squishy pocket of fluid that often gets bigger for a few days then goes away on its own. It is not painful for the dog and the area should not be hot or red. Typically, treatment involves warm compresses. It is also a good idea to further restrict your dog's activity as a seroma may mean he or she is too active.
An infected incision may be swollen, red, hot to the touch, and/or oozing pinkish red or yellow liquid. The dog is usually painful as well. This typically happens within the first two weeks after surgery.
Additionally, a dog can develop a joint or bone infection in the weeks or months after surgery. In this case, the dog may have seemed fine for a bit. And then suddenly he or she starts limping again plus has a swollen, hot, and painful knee.
If you think there is any chance your dog could have an infection, please contact your veterinarian promptly. Left untreated, infections can become quite serious. Sometimes they may even require removal of the TPLO plate and screws.
Finally, if your dog was sent home with a bandaged leg, keep a close eye on the toes. If you notice your dog's toes looking swollen, if the toes feel cool, and/or the two center toes are splayed apart, this may mean the bandage is too tight. Contact your vet immediately for instructions.
Q: Is it normal for dogs to act lethargic after TPLO surgery?
Especially if a dog goes home the same day as the surgery, he or she may still be a bit drowsy from the anesthesia and other medications. Moving a large groggy dog yourself can be challenging. So you may want to take someone with you to your dog's discharge appointment and/or have someone available once you get home to help you get your dog in and out of the car.
Also, some dogs may be sent home on gabapentin as one of the pain medications. A common but usually harmless gabapentin side effect is sleepiness and an unsteady gait. Thankfully, this often resolves in a few days, and there are dosing strategies to make it less profound. However, if it is becoming problematic, please contact your vet.
On the other hand, if your dog had been normal for a few days, weeks, or even months and then suddenly becomes a lethargic dog, make an appointment with your veterinarian. Sometimes lethargy and fever can go along with a joint or bone infection.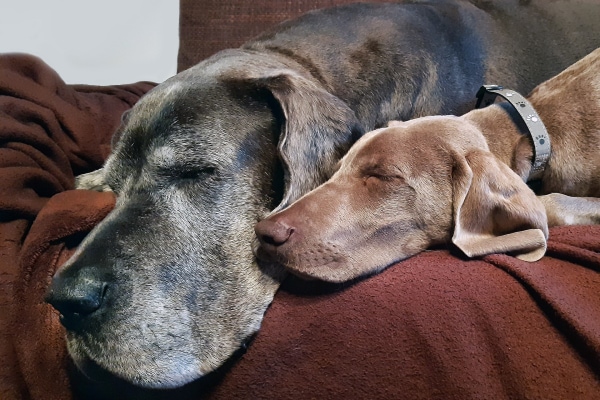 Q: Why is my dog walking slowly after TPLO surgery?
Your dog's leg will be sore, so expect hesitant walking. Also, early in the recovery process your dog's leg may be swollen and have a limited range of motion. This also contributes to slow walking.
Realistically, I would much rather have post-op patients walk slowly and carefully than charge around like crazy. The slower your dog walks, the more likely he or she is to attempt to bear weight on the leg, which is what we want. So slow and steady is a good thing!
Q: When will my dog stop limping after TPLO surgery?
Understandably, you are eager for your dog to be able to get back to using all four of his or her legs. The exact progression can vary from dog to dog, but this is approximately what we would expect:
First 48-72 hours post-op—Your dog will probably be non-weight bearing right after surgery. Often he or she will start toe-touching and bearing a little weight on the leg after 48-72 hours.
10 to 14 days post-op— The dog will continue to bear more and more weight on the leg.
4 weeks post-op—Typically, your dog is consistently weight bearing on the leg but still limping.
8 to 12 weeks post-op—By now some dogs are normal at the walk. Others still show some degree of intermittent to consistent limping while walking.
6 months post-op—Most dogs should be walking and trotting normally (i.e. without limping).
Sometimes dog parents will notice that their pup will walk on all four limbs well when outside for a potty break and then hold the leg up again once back inside. This tends to be the case because when outside the dog is excited by all the signs, sounds, and things to sniff. He or she focuses more on the environment than on the sore leg so the limping disappears. Then when inside again where things are quiet and predictable, the dog is more focused on the leg and limps or holds it up again.
Exercise during recovery
To aid in your dog's recovery and use of the leg, carefully follow the exercise instructions provided by your dog's surgeon. In general, this will involve strict exercise restriction at first. Then you can gradually increase how much exercise your dog gets until he or she is back to normal activity levels. The surgeon may also give you a list of passive range of motion exercises for dogs or other ideas for helping your dog recovery physically.
Other recovery ideas include:
Sometimes these therapeutic modalities can also be helpful prior to surgery. Talk to your vet about what would be right for your dog.
Q: How can I keep my dog entertained during TPLO recovery?
One of the biggest worries I hear from pet owners is how they are going to keep their dog from going crazy during the recovery period. I get it. For an active dog, weeks of exercise restriction sounds a lot like torture. And it can be logistically difficult if you have multiple dogs who normally play together to run off their energy.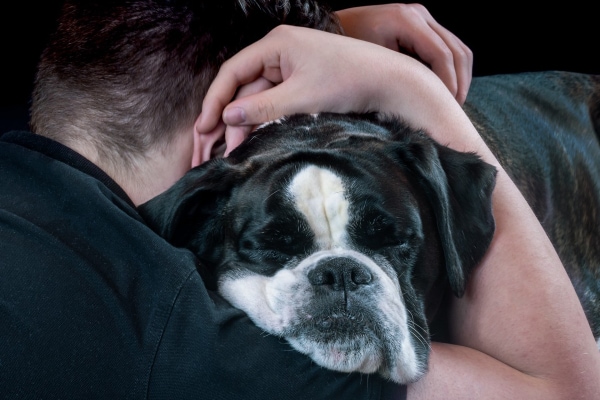 It is possible though! There are ways to exercise and engage your dog's brain so that he or she remains content with less physical exercise. And, while it may not be your favorite solution, your vet can also prescribe your dog some medications to help take the edge off if needed.
As difficult as it may be, carefully following the rules about exercise restrictions now will pay off big in the future. You only get one chance to help your dog's TPLO heal correctly. And proper exercise restriction is one of the big things that can make or break TPLO recovery. It could be the difference between your dog getting full function of the leg back and always having residual problems.
So let's talk about solutions. Here are some entertainment options.
1. Snuggles
Sometimes a dog just needs someone to be there with them. Try relaxing with your dog in the recovery area while reading a book or watching a show. Stroke your dog or scratch his or her favorite spot. Let your dog snuggle up to you. Or learn how to do doggie massage and try it out on your pup.
2. TV animals
Try turning on a video of dogs at the dog park, zoo animals, squirrels, or whatever else your dog may enjoy. As a word of caution, this one isn't good for reactive dogs who would get worked up or start running around. However, it does work well for dogs who are interested in the world but calm about it.
3. Brain games
This is probably my favorite way to keep dogs occupied after TPLO surgery. Playing games that mentally stimulate dogs can be a very effective way of turning boredom around. The mental activity also tires dogs out, so don't underestimate its magic.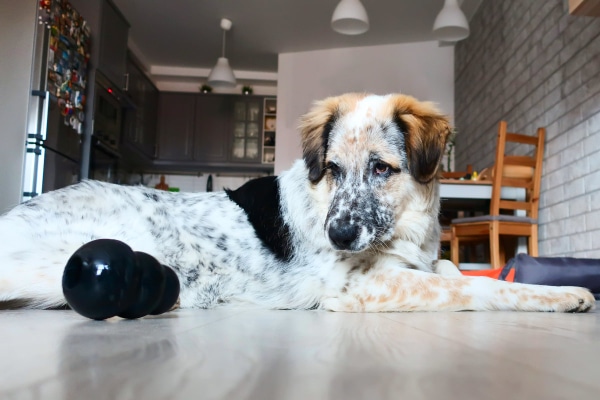 You can look up brain games for dogs online and find a plethora of ideas. But here are two fun tools to get you started:
Snuffle mats—These fabric mats or balls have pockets, flaps, and tassels where you can hide small treats. Dogs must use their sense of smell and touch to locate and unbury their edible treasures.
Kongs or lick mats—You can stuff various foods into the Kongs or smear them on the lick mats. Licking is calming, and these toys give your pup something to work on for awhile. To up the challenge level, you can freeze them after adding the food.
Put on your chef hat and get creative with the foods you use! Some fun fillings include:
Peanut butter—ok for dogs in moderation as long as your dog isn't prone to pancreatitis in dogs and you check the label to ensure it doesn't contain xylitol, an artificial sweetener that is toxic for dogs
Smooth style canned dog food
Bits of kibble, meat or cheese
Raw or cooked veggies—other than onions and garlic since they are toxic to dogs
Fruit—beware of grapes, which are toxic to dogs, and blueberries which may stain your carpet
Watch your dog's weight
A word of warning about using food in these brain games. Your dog will already be more sedentary during recovery, which lowers his or her caloric needs. Then, on top of that, you might be adding in extra treats. This combination is a recipe for weight gain if you continue to feed your dog the same amount of kibble as before surgery.
In order to account for the treat calories and your dog's lower caloric needs, you will need to decrease your dog's daily kibble allotment. Your veterinarian should be able to help you figure out how to make those adjustments.
Additionally, it is a good idea to learn how to find your dogs body condition score (BCS) so that you can keep an eye on your dog's figure. If you determine that your dog is overweight, work with your veterinarian to help your dog lose weight. Not only do overweight dogs tend to have a shorter lifespan, but the excess weight also puts more strain on your dog's joints. This isn't good when your dog is trying to recover from knee surgery.
4. New tricks
Learning how to do new things can also help keep your dog from getting bored. You do have to be a bit careful with trick selection—no jumping through hoops or dancing on the back legs—but there are still plenty of options that don't put strain on your dog's leg.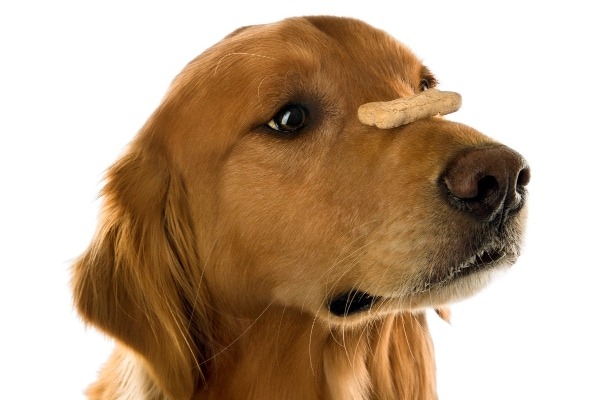 Maybe you want to teach your dog to balance treats on his or her nose. Or work on the "leave it" command. You can also teach your dog to figure out which of your hands holds a treat, have him or her learn to pick up toys and put them away, or work on barking and "whispering" on command. These are just a few ideas to get you started. The internet is full of fun ideas for dog tricks.
TPLO recovery doesn't have to be a drag
I know that helping your dog recover from orthopedic surgery can be a bit daunting. But look for the silver lining. It can also be a great way to strengthen your bond with your dog. You get to explore new activities together like tricks and brain games. And you can slow down and spend more time just hanging out together.
I don't want to make it sounds like it is all fun and games, though. As you learned from some of the FAQs, you do need to keep a close eye on your dog as he or she recovers. If you notice anything concerning, don't hesitate to reach out to the orthopedic surgeon or your vet. They are there to help your dog have a successful recovery.
With some preparation ahead of time, careful adherence to the discharge instructions from the orthopedic surgeon, and a good measure of patience, I'm confident you and your dog can get through a TPLO recovery together.
What questions do you have about TPLO recovery that I haven't answered here?
Please comment below so we can continue to grow our FAQ list.