Dogs and fireworks are usually not a fun—or safe—combination. Although many people enjoy celebrating holidays like the 4th of July with fireworks, most dogs are not fans. The sudden loud sounds and bright lights can be very startling to them. Integrative veterinarian Dr. Julie Buzby discusses ways to calm your dog's fireworks anxiety, as well as some additional tips to keep your dog safe while enjoying summer celebrations.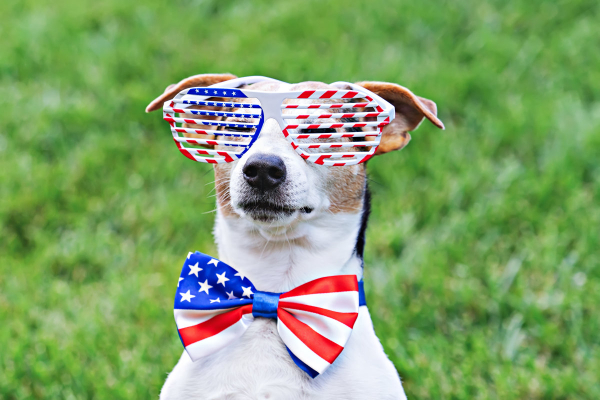 Is your dog scared of fireworks?
The sound of fireworks can be very stressful for dogs, sometimes causing a fight-or-flight response. A dog may bolt to try to escape the intense noise. In fact, more pets are lost around the 4th of July holiday than any other time of year. That's why dogs and fireworks are usually a bad combination.
If your dog is scared of fireworks, there are strategies you can put in place now to help reduce anxiety and calm your dog.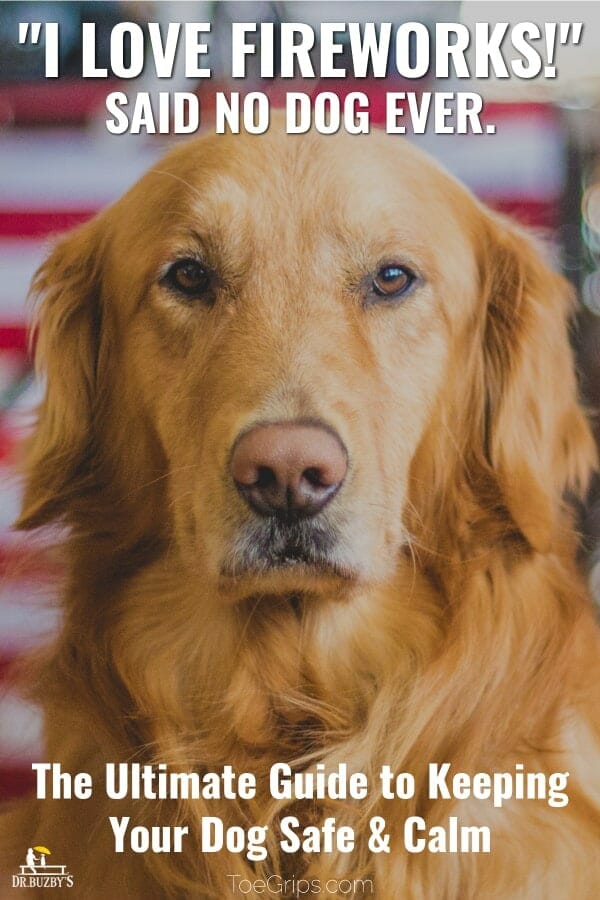 7 expert tips for keeping your dog calm and safe
Before the fireworks start lighting up the evening sky in your neighborhood, get prepped with these helpful tips to keeping your dog calm and safe during the fireworks displays and throughout all the seasonal festivities.
1. Keep your dog safe indoors during fireworks.
This tip is key. A scared dog is way more likely to run off, even if he or she is typically your shadow. Dogs can also be injured by fireworks or sparklers if their curiosity leads them too close to the action.
Keep your dog indoors during fireworks and make sure he or she is wearing a collar with proper identification. Ideally, stay at home with your dog during the fireworks displays.
If you're having visitors, inform them that it is critical for your dog to stay inside, accounted for, and in a safe place. You may also want to explain to guests that your dog may be frightened and needs some extra space. Have all household members be very cautious opening doors to prevent your canine companion from slipping out unnoticed.
2. Make sure your dog is microchipped.
Microchipping your pet is a lost pet prevention tip that increases your chances of finding your dog should he or she become lost. Microchips are small devices that are implanted under your dog's skin, usually right between the shoulder blades. The procedure to implant them is minimally painful (basically like a big shot) and can be done while your dog is awake.
If your canine companion is already microchipped, make sure your contact information is up to date! It is so heartbreaking when veterinarians scan found animals and find a microchip, only to discover that the chip has not been registered or has out-of-date contact information. Without up-to-date information, the chip can't help veterinarians reunite lost animals with their pet parents.
If you're not sure whether your furry friend is microchipped, or whether the microchip information is up to date, ask your vet to scan your dog and record the microchip number for you. You can look up the unique identification number on the American Animal Hospital Association's pet microchip search page.
3. Before fireworks season begins, speak with your dog's vet about anti-anxiety products.
If your dog has mild anxiety, speak with your veterinarian about nutraceuticals (nutritional supplements) and/or synthetic pheromones. Products like Adaptil mimic the pheromones secreted by nursing mother dogs, and can have a calming effect.
Other neutraceuticals including CBD oil for dogs and certain calming treats may be helpful for a dog afraid of fireworks.
For some dogs with anxiety on the milder side, this can be enough to "take the edge off," typically without the side effects that we sometimes see with some prescription anxiety medications. Speak with your vet about which over-the-counter options may be worth trying to reduce your dog's fear of fireworks.
4. If your dog has moderate to severe anxiety, speak with your vet about prescription anti-anxiety medications.
If your dog has moderate to severe anxiety or even a firework phobia, speak with your veterinarian about prescription anxiety medication. Many safe, effective medication options are available.
A bit of a veterinary soapbox: Please make an effort to discuss these options with your veterinarian well in advance of "fireworks holidays" like July 4th and New Year's Eve. Veterinary staffs often find themselves scrambling to fill prescription requests fast enough on July 3! I also sometimes recommend giving "test doses" of new anxiety medications on a non-stressful evening to monitor for any unwanted side effects.
It's important to note that you should never treat your dog with your own medications!
5. Diminish the sound of the fireworks by playing calming music.
If your dog is afraid of loud noises, lessen the sound of the fireworks by playing music as white noise. There's now a cadre of data that music can be helpful in reducing stress and anxiety in pets. If you don't have a specific dog relaxation playlist, classical music is a good option.
Most smart home devices are capable of playing white noise, but keep in mind that static or rain noises may increase stress in dogs with thunderstorm phobias. Give it a trial run to see how your dog reacts to different white noise options before the fireworks kick off.
Turning up the TV is another alternative. Of course, not so loud that the volume is a stress in and of itself—but enough to diminish the impact that the sound of the fireworks is having on your dog.
6. Create a safe space where your dog is most comfortable.
If your dog fears fireworks, make sure to provide a safe haven. For example, if your pup likes the crate, it can be a safe den-like space. Some dogs even like to retreat to a closet. An environment that feels safe will help your dog remain calm as he or she gets through the noise phobia.
7. Try a body wrap before the fireworks begin and when your dog is still calm.
Some dogs are calmed by body wraps such as the Thundershirt®. I always think of the wrap compression as giving a gentle hug, which releases calming endorphins. For more information on how to use a comfort wrap for maximum calm, please follow Thundershirt's® four tips for best results. Just like the synthetic pheromone treatment, wraps such as Thundershirt are typically most effective at quelling mild anxiety.
If your dog is scared of the sound of fireworks, ask your veterinarian about these or other solutions. Most of these options can be used in combination with each other! Just like us, dogs are individuals and it may take some trial and error to tailor a plan that works best for your pup.
7 more summer hazards and how to keep your dog safe
In addition to keeping our dogs calm and safe from fireworks, there are many other hazards that go hand-in-hand with 4th of July or other summer celebrations. Common items like glow sticks, corn cobs, insect repellents don't get as much "airtime" as fireworks. But none the less, they can cause your dog serious harm or stress.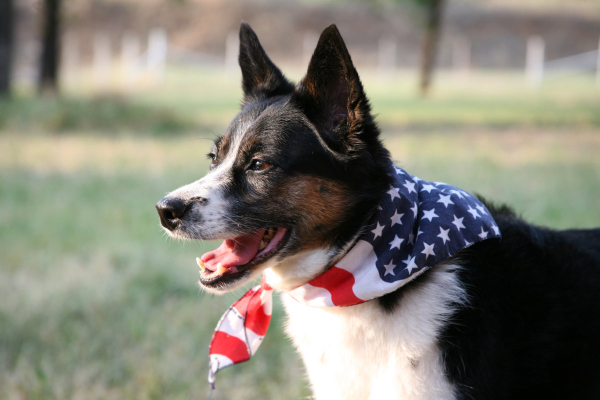 That's why, as you get your pup prepped for fireworks, I encourage you to be vigilant and have a strategy in place throughout the entire day or weekend. Read on for seven more hidden hazards associated with fireworks festivities.
1. Leftovers and table scraps
Ingestion of table scraps may cause your dog to have an upset stomach. Symptoms may include vomiting, diarrhea, and inappetence. Additionally, this could develop into a more serious condition known as pancreatitis in dogs. This is a very painful and life-threatening condition where the dog's pancreas becomes inflamed. In addition to table scraps, watch out for these hazards:
Skewers from kabobs—If swallowed, skewers can puncture your dog's stomach or intestines. I know some dogs (looking at you, Labs!) loiter around the grill waiting for an opportunity to snatch a snack.
Corn cobs—They will not pass through your dog's intestinal tract and require surgical removal if ingested.
Garbage—Lastly, make sure your dog does not get into the trash. The lingo we use for this in veterinary medicine is "garbage gut." Depending on the contents in the trash, this can be a life-threatening emergency. Typically, symptoms may include gastrointestinal signs, vomiting, inappetence, and diarrhea.
Fortunately, there are some vegetables dogs can eat (and may even love) that are healthy and make great treats.
2. Alcohol
Keep alcoholic beverages out of reach of dogs, and do not leave your drink unattended. Consumption of alcoholic beverages can cause dogs to exhibit neurologic symptoms—including coma, in severe cases.
3. Heat
In most areas of the country, 4th of July is accompanied by sweltering summer heat. That's why it's important to be aware of heat stroke in dogs, which is a life-threatening medical emergency. Symptoms of heat stress in dogs—the stage before heat stroke—include panting, drooling, and weakness. Additionally, the dog may seem disoriented, experience vomiting and/or diarrhea, and even collapse. Breeds with flat faces, such as Bulldogs and Pugs, are at a greater risk for heat stroke.
If you're celebrating outdoors with your dog, also be mindful of the temperature of the ground. Asphalt absorbs heat and can be significantly hotter than ambient temperature. Unfortunately, I've treated several paw pad burns for dogs who stood on hot pavement. It's best to keep your dog in a shaded and/or grassy area to keep the feet free from injury.
4. Insect repellants
Insect repellents that are not labeled for pets may be toxic for dogs. They can cause symptoms including drooling, vomiting, diarrhea, neurological signs, and a lethargic dog—including muscle tremors and seizures.
Keeping your dog current on monthly veterinary-prescribed heartworm and flea/tick prevention is the best solution to combatting insects. Also, if you spray insect repellant on yourself, be sure to do so in a well ventilated area away from dogs.
5. Citronella candles and tiki torches
Besides the obvious burn risk that citronella candles and tiki torches present, citronella can harm dogs' gastrointestinal and nervous systems. The fumes can cause lung irritation. Keep citronella candles and tiki torches away from dogs.
6. Lighter fluid and liquid matches
Matches contain chemicals which, if ingested in sufficient quantities, can damage a dog's red blood cells and cause gastrointestinal upset. Lighter fluid can irritate a dog's skin and mouth upon contact and also cause gastrointestinal problems if ingested. During 4th of July picnics (and every day) keep these products safely away from your dog.
7. Glow sticks and glowing necklaces
Lastly, many fireworks celebrations include glow sticks, glow necklaces, and other glow jewelry for guests to wear in the dark. If a dog ingests these, the chemicals in glow products can cause drooling—which is a common sign of nausea—and stomach irritation. Also, the plastic, if ingested, can cause an intestinal blockage which may require surgery. NEVER put glow products on your dog.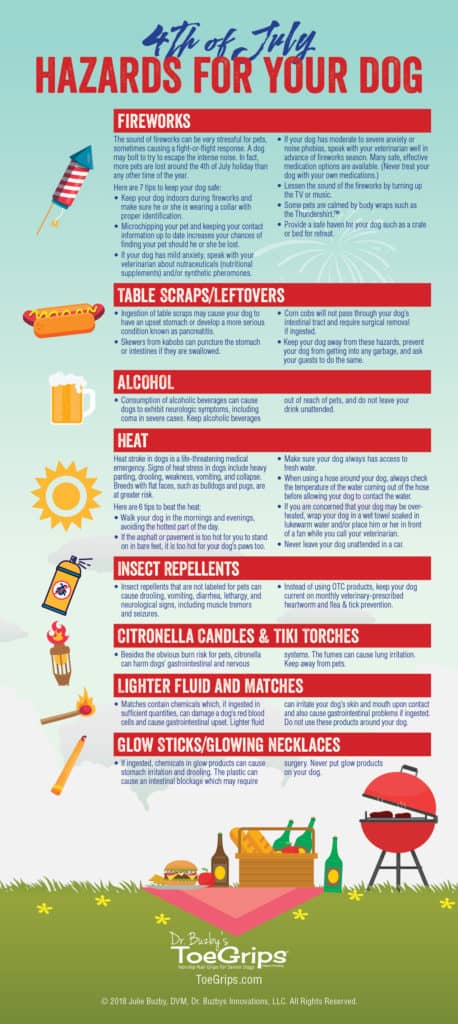 Get prepped and proactive
Fireworks season and summer celebrations are a time when all dog parents need to be extra vigilant to help keep their dogs safe, calm, and anxiety free. By planning ahead, speaking with your vet about strategies to calm your dog during fireworks, and knowing all the other hidden dangers for dogs lurking in our summer celebrations, you'll be pet prepped. You and your dog can enjoy a happier, safer, and healthier summer together. And that is brighter and better than even the biggest fireworks display.
What fireworks or summer safety concerns do you have for your dog?
Please comment below. We can all learn from each other.