A vet may prescribe trazodone for dogs who struggle with phobias, situational anxiety, or other behavioral issues. While trazadone may make these dogs less anxious, giving a new medication can be a bit anxiety-inducing for dog parents. To help them feel prepared, integrative veterinarian Dr. Julie Buzby explains the uses, dosage, side effects, and precautions for trazodone for dogs.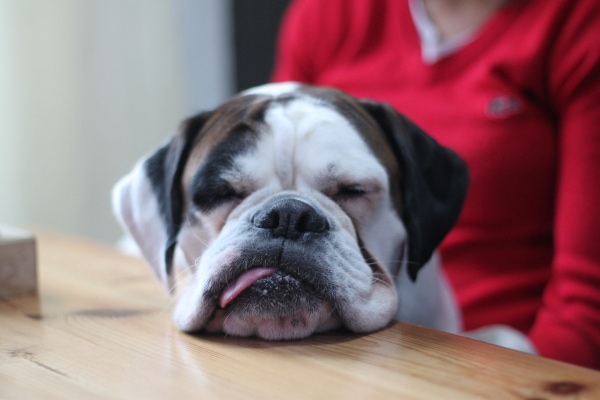 Our canine companions are experts when it comes to communicating without words. They can use various vocalizations and body language to tell us what they are feeling in any given moment.
Most dog parents are familiar with "happy" signals such as tail-wagging and jumping around. But the "anxiety" signals—trembling, whimpering, yawning, lip-licking, restlessness, flattened ears, and avoiding eye contact—may be a bit harder to recognize. Even so, it's important to try to listen to what your dog is telling you and figure out how best to help him or her (with the help of your vet, of course).
Sometimes when feeling nervous is the problem, that help comes partially in the form of anti-anxiety medications like trazodone for dogs.
What is trazodone for dogs?
While trazodone is actually a human medication, veterinarians often prescribe trazodone off-label for dogs with anxiety disorders. In the past, you might have recognized trazodone by the brand names, Desyrel®, Oleptro®, and Trialodine®. However, these brand name products are now discontinued due to the availability of generic trazodone.
What does trazodone do for dogs?
The anti-depressant and anti-anxiety drug, trazodone, is a serotonin antagonist reuptake inhibitor (SARI). In other words, trazadone blocks the receptor that is responsible for pulling circulating serotonin back into the nerve cells.
As a result of this blockade, the levels of "active" serotonin in the brain are higher. This translates to lower anxiety levels because serotonin, the "happy hormone," is a chemical messenger that works to stabilize mood. Interestingly, serotonin also has effects on sleep function, blood clotting, body temperature, and gastrointestinal health, but those aspects are less relevant here.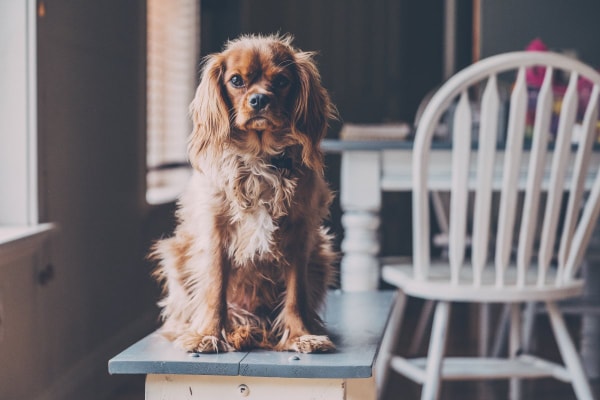 What are some uses for trazodone in dogs?
In veterinary medicine, dogs may take trazodone for any number of behavioral disorders. But the most common indications are anxiety and phobias. Unlike other anxiety medications that can take several weeks to make an obvious difference, trazodone works rapidly—often within one to two hours.
This makes it a great anti-anxiety medication for short-term use during stressful events. Plus, vets or veterinary behaviorists may find it helpful for situations where other therapies and medications have not been helpful.
Trazodone is commonly prescribed to help with:
Separation anxiety
Noise phobia (e.g., storm noises, fireworks, construction, etc.)
Veterinary visits, during a hospital stay, or before nail trims
Travel (e.g. riding in cars or flying on airplanes)
New situations (e.g., first time at doggie daycare or in boarding)
New people (when company comes over or there are new neighbors)
Generalized anxiety
Keeping a dog calm after surgery or injury (such as during TPLO recovery in dogs or recovery from IVDD surgery in dogs)
Sundowners in dogs (because some sundowning dogs become very anxious)
Other behavioral concerns
What is the trazodone dosage for dogs?
When prescribing trazodone for those situations, the vet will base the dosage on your dog's bodyweight. He or she may choose to calculate the dose on a mg/kg basis or consult a dosing chart. Since there is a wide effective dose range, it may take some trial and error to find the right trazodone dose for your dog.
Typically, the vet will start on the lower end of the dosage range, then gradually increase the amount based on your dog's initial response. In other words, if there appears to be very little change in your pup's anxiety, your dog's doctor might tell you to increase the frequency or the amount of the trazodone.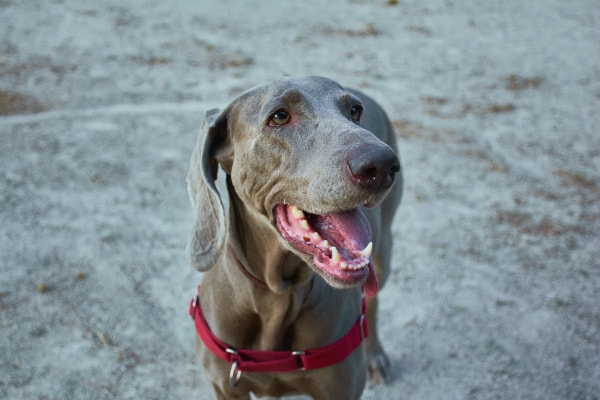 How often can I give my dog trazodone?
Sometimes the vet will prescribe trazodone for use on an "as needed basis." For example, your vet may tell you to give one dose of trazodone the night before a stressful event. And then he or she may have you give another dose about 90 minutes prior to the event.
If this strategy doesn't work well, the vet may change the dose or timing the next time. Or he or she may suggest using a different medication like alprazolam or adding an additional medication like gabapentin.
Additionally, if your vet prescribed trazodone to help with your dog's travel anxiety, he or she might ask you to give a "test dose" during the several days leading up to the trip. This allows you to figure out if your dog becomes adequately calm and see if he or she experiences any adverse effects. Then, based on the "trial run," your vet can change the dose, directions, or medications as needed prior to the trip.
In other situations, your vet may recommend giving trazodone two or three times a day on a regular basis. For example, this might be the case if the goal was using trazodone to facilitate post-surgical confinement in dogs or reduce generalized anxiety. Once again, it is beneficial if you give feedback on how your dog is doing at that dose of trazodone. That way your vet can change the dose if indicated.
Can a dog overdose on trazodone?
No matter whether your dog is taking trazodone occasionally or daily, it is important to follow the label instructions. Do not modify your dog's trazodone dose on your own or share your prescription of trazodone with your dog. This is critical because while the dose range is large, it is possible for a dog to overdose on trazodone.
Signs of a trazodone overdose include:
An unsteady gait (i.e. ataxia)
Disorientation
Urinary incontinence
Seizures
Tremors
Changes in heart rate or blood pressure
Depression
If you see these signs, contact your vet or bring your dog in for an emergency vet visit immediately.
Additionally, if you accidentally give your dog more trazodone than what is recommended on the prescription label, it is best to seek veterinary advice. To get help, you can call your regular veterinarian, your local emergency vet, or an animal poison control center like the Pet Poison Helpline or the ASPCA Animal Poison Control.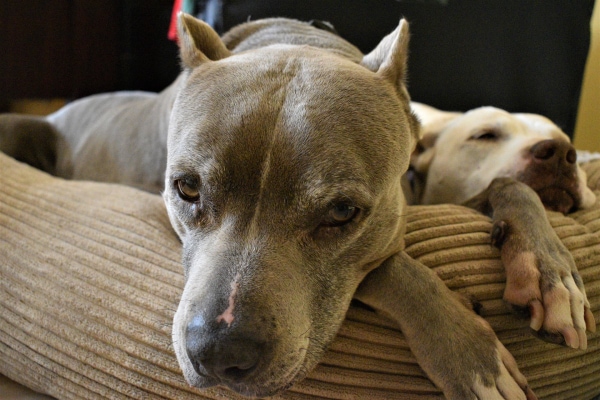 How do you administer trazodone?
When you get ready to give the trazodone to your dog, you will notice that it typically comes in 50 mg, 100 mg, 150 mg, or 300 mg tablets for oral use. However, if your dog won't take pills, your vet can contact a compounding pharmacy about making trazodone into a liquid or chewable tablet.
To help increase its absorbability, it is best to give your dog the trazodone with food or a small treat. Trazodone can still work on an empty stomach. But giving it with food can increase its bioavailability (i.e. amount of drug that enters circulation) by 20 percent.
How long does it take for trazodone to work in dogs?
For the average dog, it takes about one to two hours for trazodone to kick in. This is relatively quick compared to other anti-anxiety medications like fluoxetine, which can take four to six weeks to achieve the full effect.
How long does trazodone last in dogs?
Generally, the effects of trazodone will last several hours. And a single dose should wear off completely within 24 hours from the time of administration. However, if your dog has been taking trazodone more frequently, it can take longer for the effects to wear off.
Also, trazodone is one of many medications that relies on the liver and kidneys for clearance from the body. This means that the effects of trazodone can last longer than normal if your dog has liver disease in dogs or kidney failure in dogs.
What are the side effects of trazodone in dogs?
While preparing to give your dog trazodone, you may also want to be aware of any potential side effects. Thankfully, studies indicate that about 80 percent of dogs taking trazodone will experience no side effects. Also, since it is a short-acting medication, any unexpected side effects will likely wear off after several hours.
Side effects of trazodone can include any of the following:
Gastrointestinal upset (vomiting, diarrhea, etc.)
Agitation, aggression, or increased anxiety
A lethargic dog or excessive sedation
Increased appetite
Also, if your dog has taken trazodone regularly for many weeks or months, and you suddenly stop giving it to him or her, there may be an increased risk of anxiety, agitation, and trouble falling asleep. Therefore, it is important to slowly wean dogs off of trazodone to prevent these withdrawal side effects.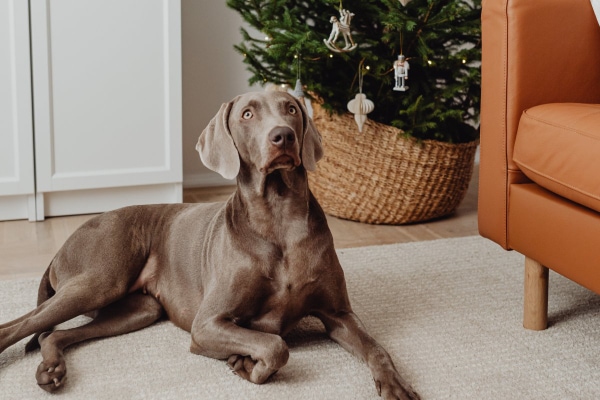 Serotonin syndrome in dogs
All of the side effects we discussed up to this point are fairly mild and should not be life-threatening. However, when trazodone is combined with other anxiety medications like fluoxetine, sertraline, or selegiline for dogs, there is an increased risk of developing a disorder called serotonin syndrome. This dangerous disorder occurs when there are excessive amounts of circulating serotonin.
Besides the symptoms mentioned above, other signs of serotonin syndrome in dogs can include:
If any of these more serious side effects occur, you should contact your veterinarian immediately. Typically, he or she will instruct you to take your dog to the clinic or an emergency veterinary hospital.
Can trazodone be administered with other medications?
This risk of serotonin syndrome emphasizes the importance of informing your vet about any medications or supplements that your dog may be taking. While there are plenty of situations where it may be safe to give trazodone at the same time as another medication or supplement, there are other times when it can be quite dangerous.
Safe combinations with trazodone
For example, trazodone can safely be prescribed with gabapentin for dogs. Sometimes there may be a situation where a dog is already taking gabapentin for pain and the vet will want to add on trazodone for situational anxiety. Or there may be cases where your vet asks you to give gabapentin and trazodone simultaneously prior to a veterinary appointment if your dog is fearful and aggressive.
Unsafe combinations with trazodone
However, as we just mentioned, combining trazodone with some anxiety and anti-depressant medications can be dangerous due to the risk of serotonin syndrome. This is particularly the case for medications like selective serotonin reuptake inhibitors (SSRIs) and monoamine oxidase inhibitors (MAOIs) because they also increase serotonin levels. Therefore, dogs who are on other anxiety medications should not take trazodone unless directed by a veterinarian or a board-certified veterinary behaviorist.
Also, since trazodone can have a mild sedative effect, be careful when using it with other calming medications and supplements. This combination can lead to excess sedation or central nervous system depression.
Studies also suggest that giving trazodone with non-steroidal anti-inflammatory drugs (NSAIDs) or anticoagulant medications may increase the risk of gastrointestinal ulcers and bleeding. Additionally, you need to be cautious giving trazodone to a dog who is taking any of the following prescriptions:
Antibiotics (especially fluoroquinolones and macrolides)
Antifungal medications (e.g., ketoconazole)
Blood pressure medications (e.g., digoxin)
Diuretics (e.g., furosemide)
Prokinetic drugs (e.g., metoclopramide, cisapride)
Tranquilizers (e.g., acepromazine)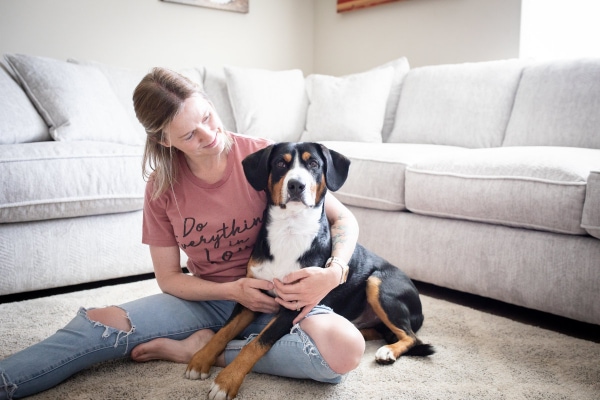 Which dogs should not take trazodone?
In addition to being cautious when prescribing trazodone for use with certain medications, there are also a few situations in which trazodone is contraindicated.
If your furry friend has had problems taking trazodone in the past, it is best to avoid using it. Instead, ask your vet for other recommendations regarding your dog's anxiety. This may involve trying other medications, calming supplements, or environmental modifications.
Since trazodone can lower blood pressure, it should be avoided in cases of heart disease in dogs. Also, trazodone may worsen glaucoma in dogs, a condition where the pressure inside of the eyes is higher than normal. Finally, if the liver or kidneys are impaired, it may be more difficult for trazodone to be metabolized by the body, thus causing lingering effects.
In reproductive studies for animals, very high doses of trazodone negatively affected fetal development. And there currently isn't any information available that describes the safe use of lower-dose trazodone in pregnant or lactating dogs. Therefore, it may be best to avoid trazodone in these cases unless your vet determines the benefits outweigh the risks.
Talk to your vet about trazodone for dogs
If a long car trip, going for a vet visit, or having company over is stressing out your dog, why not talk to your vet about trazodone? It is generally safe for dogs, works quickly, and is well-suited for situational anxiety. Hopefully, with a bit of trazodone your dog can start feeling more relaxed in those situations. And you can feel better knowing that your dog isn't sending you so many "anxiety signals" anymore.
How has trazodone helped your dog's anxiety?
Please comment below.