A heart murmur in dogs can have different causes with varied outlooks. Some are harmless but others can be very serious. Integrative veterinarian, Dr. Julie Buzby, equips you with information about the causes, symptoms, diagnosis, and treatment for heart murmurs in dogs.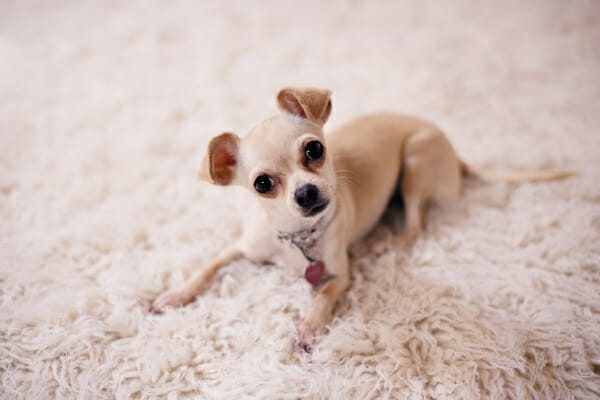 Every time I do a physical exam on one of my patients, I always listen carefully to his or her heart and lungs. It's an important part of the physical exam, and one of the reasons I believe wellness exams are a critical part of protecting your dog's health. I hope that when I am done listening, I can smile and say, "Everything sounds great!"
But I would also much rather find a heart murmur while your dog is still feeling and acting totally normal. This way we can take a proactive approach to finding the reason for the murmur and determining the best course of action. Without that wellness exam, a heart murmur could easily go undiagnosed until it starts causing some serious problems. By then, more damage is done and we are playing catch-up.
What is a heart murmur?
Normally, when listening to your dog's heart with a stethoscope, your vet would hear a crisp "lub-dub" sound. However, sometimes he or she may hear a "whoosh" superimposed over the beat. This abnormal heart sound is called a murmur.
Heart anatomy
To understand heart murmurs, you need to know a bit about the structures in the heart. There are four chambers that make up the heart—the right atrium, the right ventricle, the left atrium, and the left ventricle. To keep the chambers separated, small heart valves open and close depending on if the chambers are pumping or filling with blood. Pressure gradients in the heart work with the valves to keep blood flowing in the correct direction.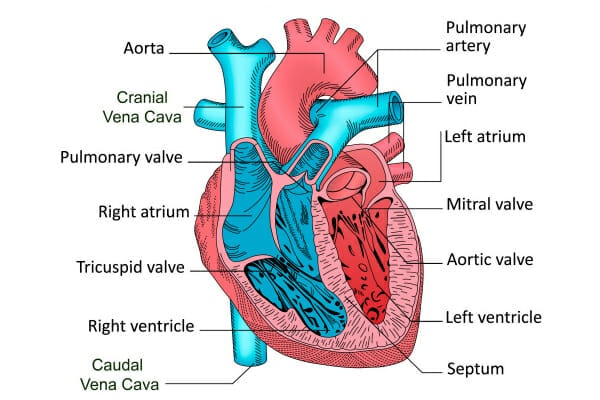 Blood makes its way back to the heart after it has delivers its oxygen to the body. It enters the right atrium then goes through the tricuspid valve and into the right ventricle. Then the right ventricle pumps the blood through the pulmonic valve and into the main pulmonary artery, which leads to the lungs. As blood flows through the lungs, it picks up oxygen.
Next the blood flows from the pulmonary veins into the left atrium. Then it moves through the mitral valve and into the left ventricle. Finally, the left ventricle pumps the blood through the aortic valve and into the aorta. This large artery sends blood to the rest of the body.
What creates a heart murmur?
The sound of the murmur comes from turbulent blood flow in the heart. Blood may be flowing backwards through a leaky valve, being forced through a narrowed valve, or moving through an abnormal hole or vessel connection in the heart. Or sometimes the blood is thin and watery, which changes the flow dynamics.
How are heart murmurs classified?
One method of classification involves grading the intensity or loudness of the murmur on a scale from one to six:
Grade I: Very faint and requires careful listening in a quiet room.
Grade II: Soft but consistent.
Grade III: Moderate in intensity and easy to hear.
Grade IV: Loud but no palpable thrill (vibration of the chest wall made by turbulent blood flow).
Grade V: Loud with palpable thrill.
Grade VI: Loud enough to be heard with stethoscope off chest wall and has palpable thrill.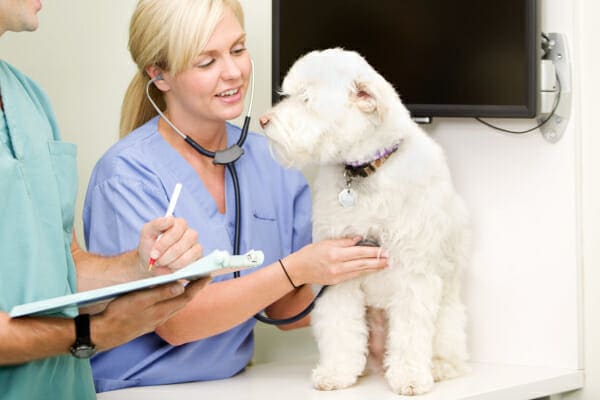 Your vet also will classify the murmur based on its location. For example, a dog might have a left-sided murmur that is loudest over the location of the mitral valve.
A murmur also is described based on when it occurs. Systolic murmurs are the most common, and occur when the heart is contracting. Alternatively, a diastolic murmur is heard while the heart is relaxed and filling. Other murmurs are classified as being continuous, meaning they are heard constantly.
What conditions cause heart murmurs?
Because a murmur is simply auditory proof of turbulent blood flow somewhere in the heart, many conditions can create a murmur. Some are more concerning than others.
Innocent murmurs
In young puppies, a heart murmur could be physiologic ( i.e. a result of normal processes in the heart). In this case, the murmur occurs because the pup is growing rapidly or is a large breed. This type of murmur is also known as an innocent murmur since it is not usually significant. It typically goes away on its own after a few weeks.
If your vet suspects your puppy may have an innocent murmur, he or she will check for the murmur again at the next visit. If it's still present, then this indicates it may not actually be an innocent murmur. At that point, your vet will probably recommend further diagnostics.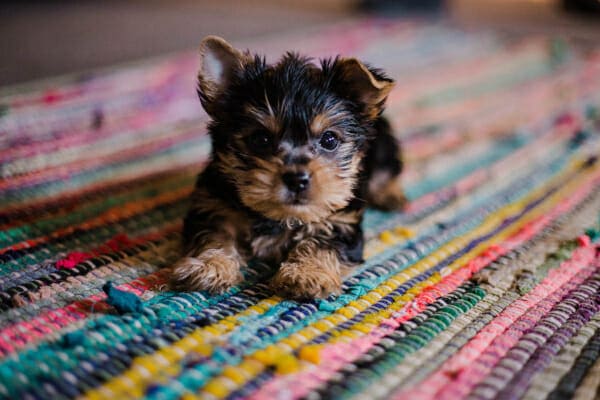 Anxiety-related murmurs
Sometimes, stressed or anxious dogs may have a heart murmur. This is usually because the heart is pumping very quickly. Like with physiologic murmurs, they eventually go away on their own. If your dog finds trips to the vet stressful, ask your veterinary team for tips to help relieve fear and anxiety. Your vet can also prescribe anxiety-reducing medications like gabapentin for dogs to help your dog feel less nervous about a vet visit.
Anemia or low protein
Underlying illnesses can cause a heart murmur even when there is no evidence of heart disease. When dogs are suffering from anemia (low red blood cell numbers) or have low protein in their blood, the consistency of the blood changes. This creates a functional murmur. Once your vet treats the underlying disease, the murmur usually resolves on its own.
Heart disease
When true heart problems are present, murmurs will develop due to structural damage to the heart muscle or the valves. Heart disease in dogs may be congenital (present from birth), inherited (genetically linked), or acquired.
Heart disease in puppies
Puppies who have heart murmurs that are not innocent murmurs may have been born with conditions such as:
Patent ductus arteriosus (PDA) in dogs—an abnormal connection between the aorta and the pulmonary artery that should have closed at birth. It causes blood to constantly flow from the aorta into the pulmonary artery, creating a murmur that is heard continuously.
Pulmonic stenosis—narrowing of the pulmonic valve, causing the heart to work harder and exert more pressure to push the blood through the opening. To understand how this creates turbulent blood flow, think about what happens to the water coming out of a garden hose if you close part of the opening with your thumb.
Subaortic stenosis—narrowing at the base of the aortic valve, causing the heart to work harder and exert more pressure to push the blood through the opening. The garden hose analogy applies here too.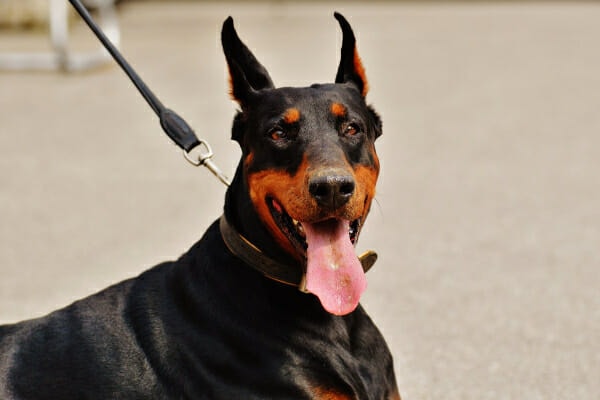 Heart disease in adult or senior dogs
Adult or senior dogs may develop heart disease that leads to a heart murmur including:
Mitral valve disease—The edges of the mitral valve (and sometimes tricuspid valve) may become wrinkly and misshapen in older small breed dogs. This prevents the valve from closing tightly and allows blood to flow "backward" from the ventricle to the atrium, thus creating a murmur.
Dilated cardiomyopathy (DCM)—The walls of the heart, especially the ventricles, may become thin and weak, preventing the heart from pumping blood effectively. This condition can be hereditary in some breeds. The FDA is also investigating whether there is a link between feeding grain-free, exotic ingredient, or boutique diets and DCM.
Heartworm disease in dogs—Adult heartworms live in the right side of the heart and pulmonary artery where they take up space and interfere with heart valve function. This sometimes creates a heart murmur.
It is important to note that the grade of a heart murmur doesn't always correlate with the severity of disease. Dogs with mitral valve disease do tend to have louder murmurs as their disease progresses. However, the vet may hear a moderate murmur on physical exam for months or even years before it becomes problematic.
Alternatively, dogs with DCM may only have a faint murmur or no murmur at all. Yet their heart may be failing significantly. Unfortunately, sometimes the first signs of DCM are acute collapse or sudden death.
Congestive heart failure
Over time, these heart diseases can lead to congestive heart failure (CHF). This occurs when the heart cannot efficiently pump enough blood to keep up with the body's demands. The heart's pumping action also is insufficient to prevent blood from backing up in the heart and vessels. CHF can cause blood pressure problems and/or fluid build-up in the abdomen or the chest cavity.
What are the symptoms of a heart murmur?
In some cases, you might not know that your dog has a heart murmur unless you have a stethoscope or your vet finds one on a physical exam. If your dog has a heart murmur that is grade IV or higher, you may be able to feel it as a vibration when you place your hand on your dog's chest. Each beat causes a palpable thrill.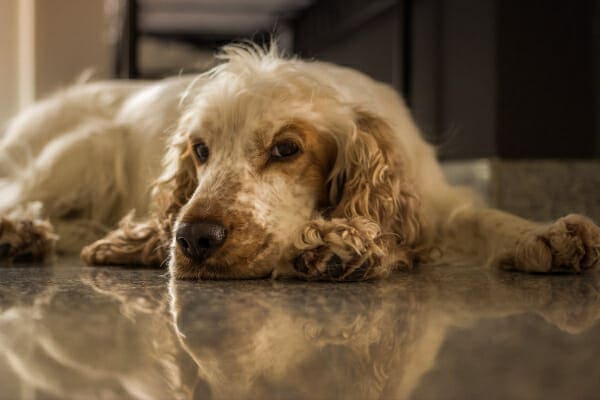 You can also detect arrhythmias (abnormal heart rhythms) by feeling your dog's chest. Heart beats should be a steady, repeatable pattern of "lub" and "dub." If it feels like there are extra heart beats or abnormal patterns, this may indicate heart disease, so contact your veterinarian.
Other signs of heart problems
Watch for these heart disease indicators:
Weakness
Exercise intolerance
Weak pulses
Coughing, especially at night
Increased rate or effort of breathing while awake, resting, or sleeping
Unwillingness to lie down to rest or sleep
Weight loss
Lack of appetite
Pendulous abdomen
If you notice any of the signs above, make an appointment with your veterinarian.
Life-threatening signs of heart disease
Keep a close eye out for:
Pale or blue gums
Acute collapse
Abnormal posture with elbows winged out and neck outstretched
Respiratory distress
If your dog is showing any of these signs, this is an emergency. Seek veterinary care immediately.
How are heart murmurs diagnosed?
Your vet will listen to your dog's heart in a quiet room to diagnose the heart murmur. It is also easiest to hear the murmur when your dog isn't nervous, shaking, or panting. Depending on your dog's age, medical history, and the intensity of the murmur, your vet may recommend additional diagnostic testing such as:
Blood and urine tests to look for anemia or low blood protein.
Blood pressure measurement to look for hypertension (high blood pressure) in dogs or hypotension (low blood pressure).
Electrocardiogram (EKG) to evaluate your dog's heart rate and rhythm for arrhythmias or other abnormalities.
Chest X-rays to evaluate heart size and shape, size of the vessels, and the appearance of the lung fields.
Echocardiogram (ultrasound of the heart) to evaluate the function and size of the heart chambers, flow of blood through the heart valves, pressures in different areas of the heart, and overall anatomy of the heart. Some vet clinics offer echocardiograms. In other cases your vet may refer your dog to a veterinary cardiologist so he or she can perform the echocardiogram, evaluate your dog, and formulate a treatment plan.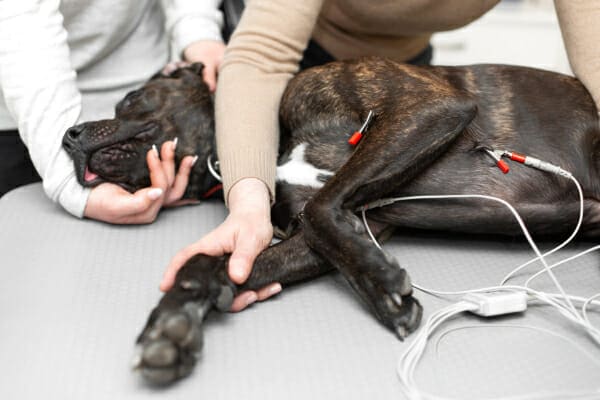 What is the treatment for heart murmurs in dogs?
Your vet will consider the underlying cause of the murmur and the results of any diagnostic testing when he or she formulates a treatment plan. If the murmur is functional, treating anemia or low protein will help it resolve. Innocent murmurs or stress/anxiety murmurs typically go away as the animal grows or calms down. Dogs with heartworm disease will require treatment to remove or kill the heartworms.
There are surgical treatments for young dogs with certain heart diseases. For example, a veterinary surgeon can close a PDA to prevent blood from flowing abnormally from the aorta to the pulmonary artery. These surgical procedures may cause the murmur to either resolve or lessen in intensity.
However, some murmurs caused by a structural abnormalities in the heart may be present for the rest of the dog's life. Older dogs with mitral valve disease will always have a heart murmur that gets louder over time. Thus, the goal is to support the dog's heart function and prevent or manage congestive heart failure for as long as possible.
The good news is that there are a variety of medications available to improve heart function and help manage arrhythmias, high blood pressure and fluid accumulation. If an arrhythmia is severe, sometimes a pacemaker implantation may be necessary.
The benefits of Omega-3 essential fatty acids for dogs are numerous, including promoting good heart health. Thus, your veterinarian may recommend a fish oil supplement depending on your pup's particular illness.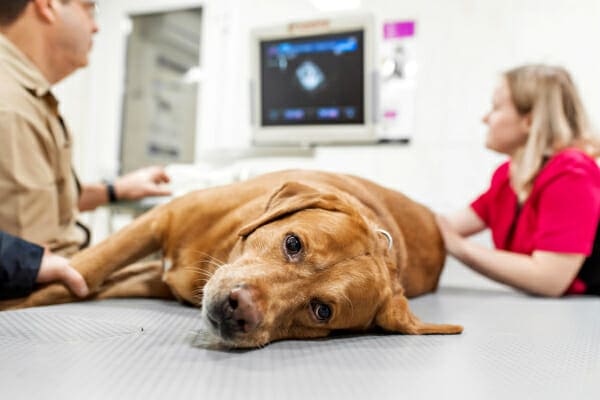 The "heart" of heart murmurs
I know it can be concerning when your dog is diagnosed with a heart murmur. But the good news is that some dogs with heart murmurs still have many good, happy years ahead of them.
Ensure you bring your dog to the vet for a wellness visit at least once a year (or twice a year for senior dogs). This greatly increases the odds your dog's murmur will be found before it starts causing problems.
Follow your vet's recommendations for additional testing, and work with him or her to create a monitoring and treatment plan. This early intervention may go far in minimizing the symptoms of heart disease and delaying the onset of CHF.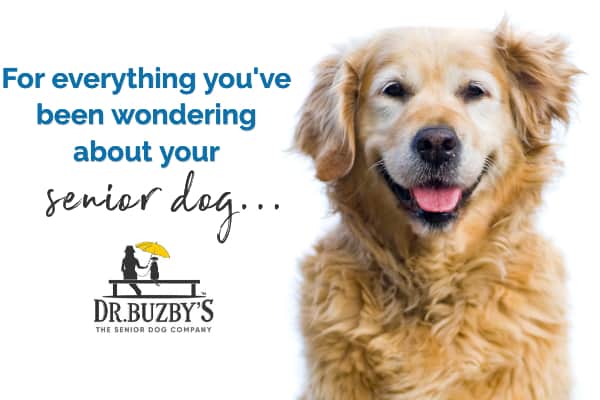 Does your dog have a heart murmur?
Feel free to share his or her story below.