Strokes are common in humans, but did you know dogs are sometimes susceptible too? Integrative veterinarian Dr. Julie Buzby shares dog stroke symptoms to watch for and dog stroke treatments that can help your senior friend recover after a stroke occurs.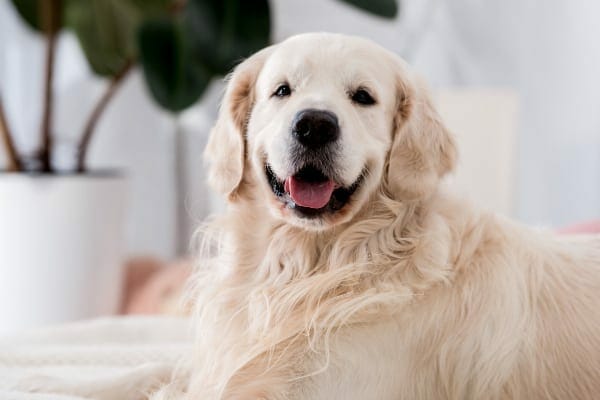 One afternoon you return home to find your senior pup stumbling around the house acting dizzy. He falls over, can't get up, and now his eyes are moving back and forth erratically. You watch with alarm as your mind races.
"Maybe it's a stroke—is it even possible for a dog to have a stroke?" you ask yourself. Regardless, you recognize your beloved dog is facing an emergency, and you know you need to get to the vet as quickly as possible.
Could it be vestibular disease and not a stroke?
Before we start talking about true strokes (i.e. disrupted blood flow to the brain), I want to briefly address one condition that often gets confused for a stroke by concerned dog parents—old dog vestibular disease. This condition occurs when there is a problem with the vestibular system, and it happens much more frequently than strokes in dogs.
The vestibular system includes the brain, cranial nerves, and inner ear, and helps create a picture of how the body is oriented in space. It indicates which way is up and if the body is moving or holding still.
Signs of vestibular disease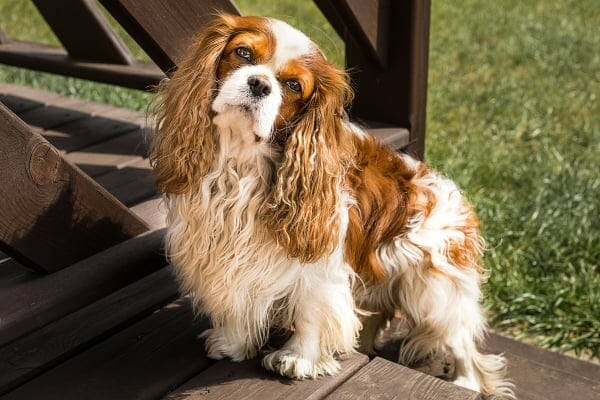 When the vestibular system malfunctions, a dog may experience:
Loss of balance and poor coordination
Head tilt or abnormal body position
Rapid eye movement (nystagmus)
If you have ever experienced a dizzying episode of vertigo, you probably have a pretty good idea how a dog with vestibular disease may feel. Although the signs are alarming, the good news with this condition is that many dogs recover well and continue to have a great quality of life.
You can learn more about vestibular disease (which is not the topic for the rest of this article) in my article, Old Dog Vestibular Disease: A True Story About Doggie Vertigo. Also, if your veterinarian diagnoses your dog with vestibular disease, these 10 tips and exercises for dogs with vestibular disease may prove useful for the recovery period.
What is a stroke?
As mentioned earlier, a true stroke occurs when blood flow to the brain is disrupted. Normally, arteries carry oxygenated blood to the brain. This blood also carries glucose, a type of sugar that is necessary to keep brain cells healthy. You can think of glucose as being "brain food." In short, the brain must have blood, and its life-sustaining components, to function correctly.
Types of strokes
There are two things that will affect blood flow to the brain and cause a stroke—a physical obstruction of a blood vessel or a leaking blood vessel. Strokes are named based on which of these situations occurred.
Ischemic stroke: A blood clot, also known as a thrombus, can lodge in a vessel and effectively block blood flow. Fatty deposits or even air in a blood vessel can also cause an obstruction.
Hemorrhagic stroke: A leaking blood vessel in the brain can be caused by traumatic injuries or diseases like cancer that increase the ability of blood to move through the blood vessel walls. Decreases in the number of platelets or problems with blood clotting also make bleeding more likely to occur.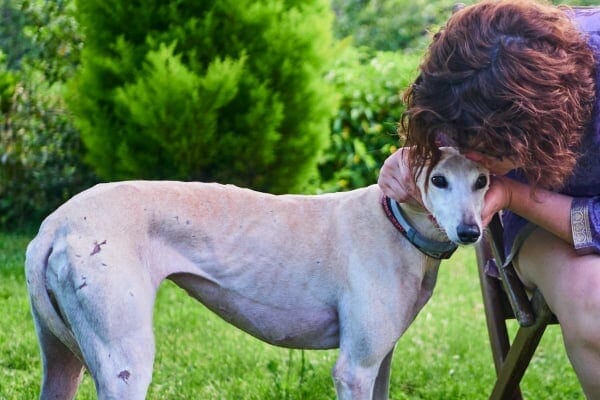 Can dogs have strokes?
Strokes are actually pretty rare in dogs. In fact, when I went to vet school, we were taught that strokes didn't happen in animals. Now we know they do happen occasionally, sometimes for an unknown reason, and other times because the dog has an underlying condition that increases the stroke risk.
Greyhounds and Cavalier King Charles Spaniels may have an increased risk of having a stroke. Strokes also occur more commonly in young adult or senior dogs.
What are dog stroke symptoms?
People who suffer from a stroke may start to slur their words, seem confused, become dizzy and off balance, or experience numbness or weakness in the arms, legs, or face. However, since our dogs can't explain in words what they are feeling, we have to rely on our observations.
Dog stroke symptoms will mostly be determined by the length of time the brain's blood supply was cut off and the part of the brain that was affected. If you suspect that your canine companion is having a stroke, look for the following signs:
Head tilt to one side
Circling
Abnormal eye movements or eye position
Sudden loss of balance
Unequal pupil size
Sudden blindness
Abnormal gait
Uncoordinated movements
Falling over
Abnormal mental state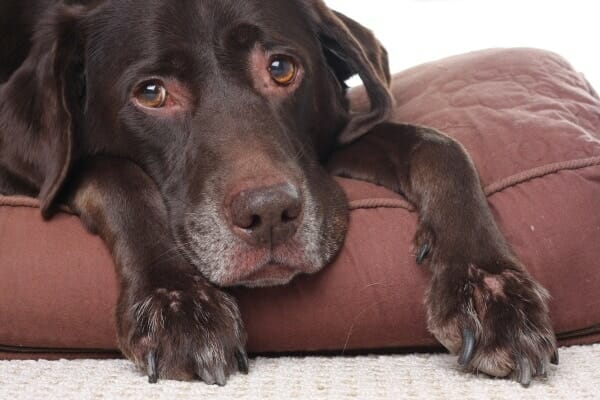 These signs indicate something may be wrong with your dog's neurological system but are not necessarily specific to strokes. Toxin ingestion or other neurologic conditions such as seizures and vestibular disease can also have similar signs. All of these conditions are medical emergencies so if your dog is showing these signs, contact your veterinarian immediately.
What are the possible causes of strokes in dogs?
It is important to determine the underlying cause of a stroke in order to know if a dog's stroke treatment will be effective. The list of possible causes is long, so we will just highlight a few of them.
Hypertension (high blood pressure)
High blood pressure, or hypertension in dogs causes blood vessels to become very narrow and stiff over time. In these circumstances, it's easier for blood clots to form, creating a physical vessel obstruction.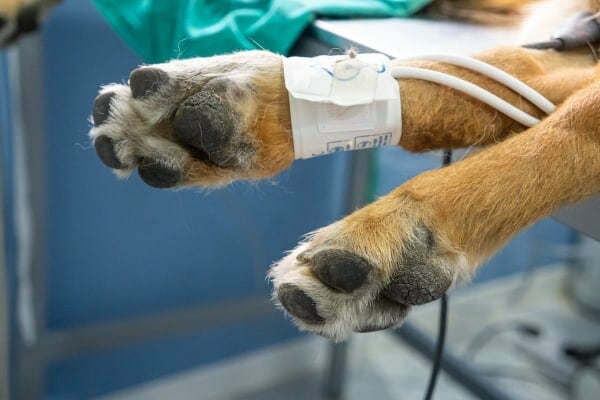 Because hypertension is one of the most common causes of strokes in dogs, I want to spend a bit more time discussing the diseases that could cause your dog's blood pressure to increase:
Cushing's disease in dogs — This endocrine disorder involves the excessive release of cortisol from the adrenal glands. Hypertension occurs in some cases when blood vessels can't dilate to reduce blood pressure and the hormone system that regulates blood pressure (renin-angiotensin-aldosterone system or RAAS) becomes activated.
Heart disease — A diseased heart cannot pump enough blood to the body to meet its needs, so oxygen-depleted tissues will send signals to the heart to work harder. Blood vessels tend to constrict in an effort to improve blood pressure, and in patients with heart failure, the RAAS system kicks in, leading to hypertension.
Kidney disease — The kidneys play a significant role in blood pressure regulation through the RAAS system, so kidney disease is often accompanied by hypertension. Kidney disease can also increase the leakiness of blood vessels or speed up the process of thickening or hardening of the blood vessels (arteriosclerosis), both of which could also lead to a stroke.
Increased or abnormal blood clotting
Some conditions make the blood more likely to clot abnormally. These clots can then lodge in a vessel and cause a stroke. Conditions leading to a hypercoagulable state (increased blood clotting) include:
Immune mediated hemolytic anemia (A condition where the body attacks its own red blood cells.)
Cushing's disease in dogs
Cancer (neoplasia)
Protein-losing nephropathy (Kidney disease involving protein loss in the urine.)
Sepsis (Organ or tissue damage that occurs due to the body's abnormal response to infection.)
Increased likelihood of bleeding
These conditions make a dog more likely to suffer from a hemorrhagic stroke by increasing the chances that bleeding will occur:
Tick-borne diseases in dogs such as Anaplasmosis or Ehrlichiosis
Von Willebrand factor deficiency or other clotting factor abnormalities
Diseases leading to reduced platelet numbers
Cancer (neoplasia) or noncancerous masses
Some bacterial infections
Trauma such as a head injury
How is a stroke diagnosed?
Conditions that cause strokes can have serious consequences without medical attention. That's why it's so important to seek help for your dog as soon as stroke symptoms are noticed. Your vet will perform comprehensive physical and neurologic exams and discuss your dog's history and clinical signs with you. Then your vet might suggest dog lab tests like blood work, urine testing, and X-rays to gather more information.
While your vet may suspect a stroke based on your dog's signs and diagnostics, advanced imaging (MRI or CT) is the best way to find a blood clot or signs of bleeding in the brain to definitively diagnose a stroke. These are typically performed at specialty clinics and university veterinary hospitals.
What does dog stroke treatment involve?
Depending on the underlying cause of the stroke and the severity of your dog's signs, the vet might consider these treatments:
Oxygen therapy or intravenous fluids to help optimize circulation and oxygen delivery to the brain.
Medications to control seizures or decrease intracranial pressure.
Treatments that target the underlying cause such high blood pressure or heart disease.
Observation, monitoring, and supportive care.
You may have heard of using "clot buster" medications for human stroke patients, but they haven't been thoroughly studied in veterinary medicine yet. To date, urokinase has shown some success in cats. However, streptokinase—a similar thrombolytic (clot busting) medication—caused very serious side effects including bleeding and even death.
How do I care for my dog who had a stroke?
The severity of your dog's stroke and the underlying cause will dictate some of the at-home recommendations your veterinarian will make. In general, these measures may be helpful:
Ensure your dog can easily reach the bowls to eat or drink.
Provide soft bedding or a comfortable bed to rest on.
Reposition your dog every four to six hours to prevent pressure sores.
Change bedding as soon as it becomes soiled with urine or feces.
Follow any other instructions given by your veterinarian and keep your vet informed about how your dog is doing.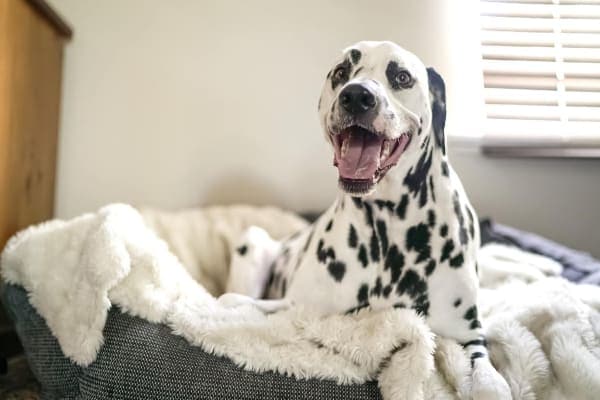 Stroke prevention
Since it is known that some conditions may predispose dogs to strokes, dog parents may wonder if there is anything that can be done to decrease a dog's stroke risk.
Medications like clopidogrel (Plavix®) are sometimes useful because they make the platelets less sticky. This decreases the risk that platelets will form a clot somewhere they shouldn't and lead to a stroke. Amlodipine, a medication used to treat high blood pressure, may also decrease the risk of blood clots.
Likewise, angiotensin-converting-enzyme inhibitors (or ACE inhibitors) like enalapril , which block portions of the RAAS system, can reduce blood pressure in heart disease, decreasing the stroke risk.
Prognosis for strokes in dogs
The good news is that most dogs who suffer a stroke will be able to resume their normal lives again. However, there are some cases where a severe stroke leads to long-term mobility difficulties or even behavioral changes. For these dogs, physical therapy can help them learn how to walk again. Additionally, a veterinary behavior specialist may also be able to give you exercises that can help to "re-train" your dog's brain.
It can be worrisome to see your dog stumble around acting abnormally, and you be wondering if a stroke is to blame. Don't panic. Instead, contact your veterinarian right away! With prompt diagnosis and treatment, chance are good your dog could make a full recovery.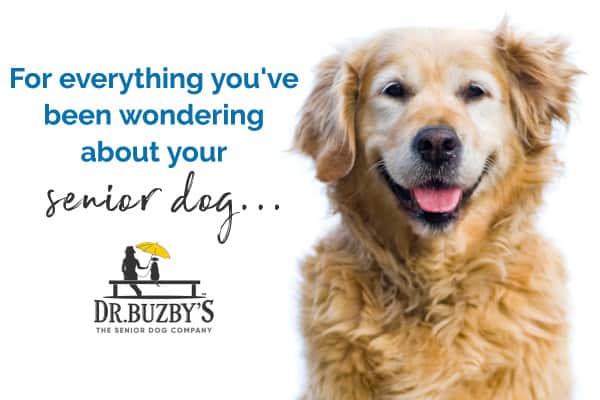 Has your dog suffered from a stroke?
Please comment below. We can all benefit from each other's experiences.