Routine health care for dogs is anything but routine. In the busyness of life, it's easy to skip some basic dog health care habits now and then. However, by refocusing on the "why" behind preventative health care for dogs, it's easier to stay on track. Integrative veterinarian Dr. Julie Buzby shares 10 health care habits to put in place now and why they are critical for your dog's good health and happiness.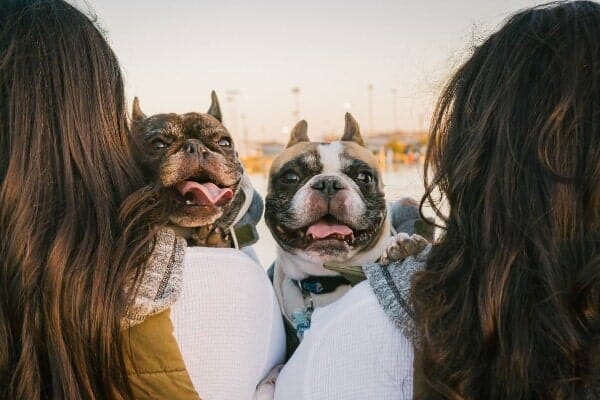 Preventive health care for dogs: 10 habits for your dog's best life
As a pet parent, you treasure every moment and memory with your dog. And, you want your senior dog to have the happiest and healthiest life possible. However, sometimes it is difficult to know everything that can be done to promote good health.
I have created this list of 10 habits that you can start today to help your dog live his or her best life. By putting these healthy habits in place now, you are putting measures in place that will prevent diseases down the road. As the saying goes, "prevention is the best medicine." It is much easier (and cheaper) to practice preventative health rather than treating a disease later on. And your dog will thank you, because he or she can enjoy life and more memories with you.
1. Take your dog in for yearly veterinary wellness visits.
I probably don't need to tell you that veterinary care is important when your dog is sick. Veterinarians are essential for diagnosing disease and administering treatment and medications. But, what if your dog is healthy and doesn't appear to have any problems?
Well, you have probably heard your doctor recommend that you come in for a yearly annual exam. This exam is a time to discuss your overall health, changes in your routine and life, and discuss any concerns you have. Yearly exams are just as important for your furry friend.
Pets are very good at hiding pain and symptoms of sickness. A veterinarian is trained to look for these subtle changes during an exam. By taking your dog in for regular check-ups, it is more likely that diseases will be caught early — an early diagnosis means a better prognosis for many diseases.
As dogs approach their senior years, these exams become even more important. In fact, I often recommend that my senior patients come see me for an exam two times a year. Senior dogs have an increased predisposition to many health problems such as:
Some of these diseases can be diagnosed through your vet's physical exam. Others might require bloodwork or other diagnostics. For this reason, I recommend yearly blood work for my patients — especially after they turn 5-years-old and on into their senior years.
While some diseases are more common in senior dogs, the conditions mentioned above (plus more) can affect dogs of all ages.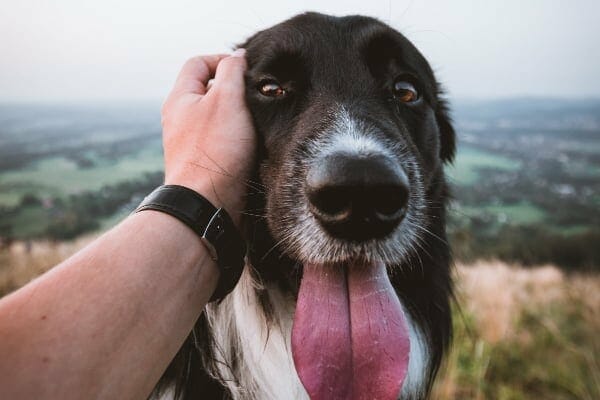 If your dog is diagnosed with a chronic condition, your veterinarian needs to regularly monitor your dog's progress. This is necessary to ensure that your dog's treatment plan is adequate to maintain good health and quality of life. Additionally, this helps your vet monitor the effectiveness of your dog's medications and if doses need to be adjusted.
As a pet parent, it is your job to regularly give your dog his or her prescriptions as instructed by the vet. Depending on your dog's condition, these medications might be necessary for your dog to survive or be pain free. If you are having problems giving your dog the prescriptions, please ask your vet for tips on how to give a dog a pill.
Vaccines
Routine vaccines are another important aspect of preventative medicine. Many pet parents know that dogs need vaccines as puppies. But, vaccines for adult dogs are just as important. Most vaccines need to be boostered every one to three years to successfully prevent diseases.
2. Speak with your vet about parasite prevention/control.
In addition to vaccines, parasite prevention and control is an important part of your dog's preventative routine. Parasite prevention helps your dog maintain good, overall health.
Dogs can pick up parasites almost anywhere from other dogs, other animals, and the environment. And, unfortunately, many of these pesky parasites can be spread to your other pets (and even yourself). Therefore, it is helpful to always have parasite prevention on board!
The first type of parasite prevention that I recommend is for fleas and ticks. These bugs are irritating to dogs and can cause them to scratch. But, they also can carry diseases that can make your dog sick. Flea and tick medications are available through multiple brands and forms. Some flea and tick medications are used monthly and others last for three months at a time. Depending on your dog's needs, you can choose from a chewable tablet, topical medication that goes on the skin, or a collar.
While fleas and ticks are external parasites that can cause trouble for your dog, there are also internal parasites that should be avoided. Many internal parasites are worms or small organisms (like Giardia). Internal parasites are often transmitted to your dog when he or she eats another animal, plants, or feces from outside or drinks contaminated water. Some parasites (like roundworms) can also be transmitted from moms to puppies.
These types of intestinal parasites can cause stomach upset in dogs — like vomiting or diarrhea. But some parasites, like heartworms, can cause more serious problems.
3. Keep your dog on year-round heartworm prevention.
Heartworms can be very dangerous for dogs (and cats). Unfortunately, as travel becomes more common and readily available in our society (and people are traveling more with their dogs), heartworm populations have grown and spread.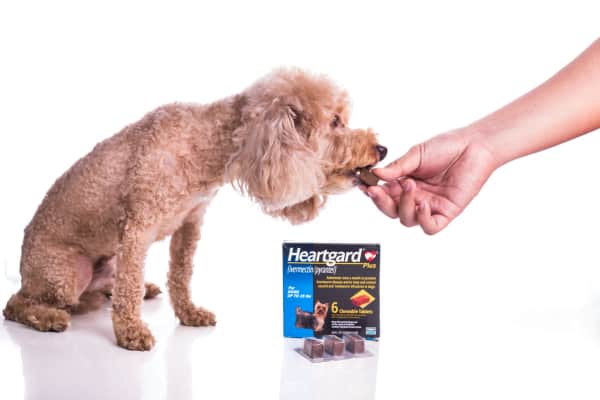 So, your dog's monthly heartworm prevention really matters. I recommend that dogs use heartworm medicine year-around to prevent heartworm disease. Prevention is simple and affordable (and it works). Treatment, on the other hand, is complicated, expensive, and painful for the dog.
As a holistic veterinarian, I do have a lot of clients using herbs, supplements, and alternative veterinary treatments. Usually, I love and recommend alternative treatments, but heartworm prevention is not a place to get creative.
With heartworm prevention, the decision is clear. The risks of not being on a heartworm preventative every month considerably outweigh the benefits of not taking that medication. And as an added benefit, most of the products on the market also contain dewormer to protect against internal parasites.
Heartgard Plus is my favorite heartworm prevention medication. It has been around for a long time, works, and is safe. However, there are a lot of other great options available today. There is even an injectable prevention available that works for an entire year, so you don't have to remember to give a medication every month.
Please talk to your vet about what product is right for your dog.
4. Brush your dog's teeth daily.
Parasites aren't the only thing your dog needs protection from. Your dog also needs your help fending off bad breath and dental disease.
Do you know the best defense against dental disease in dogs? It's as simple as picking up a doggy toothbrush. By brushing your dog's teeth daily, you can help your dog have good dental hygiene that will have a lasting impact on your dog's overall health (including heart health).
And don't worry. Dental care for your dog is easier than you may think!
In fact, clients often tell me that once they've established a positive brushing habit, their dogs actually come to them and "ask" to have their teeth brushed. Yes, I'm 100% serious. It's a win-win for everyone. You have the satisfaction of knowing you're accomplishing something significant for your dog's health while simultaneously sharing a bonding experience. (Plus, many dogs think the meat flavored doggy toothpaste is a treat!)
There is a small learning curve that you'll have to work through, but you don't have to figure it out alone. Check out our article, Should I Brush My Dog's Teeth?, featuring by a good friend of mine who brushes his dog's teeth daily. This short tutorial goes into detail about home dental care and how to teach your dog to cooperate for teeth brushing.
Note: You should never use human toothpaste when brushing your dog's teeth, only special doggie toothpaste.
One more benefit for added motivation: I guarantee taking care of your dog's teeth will save you money. It will likely prevent or delay development of periodontal disease and decrease the magnitude of professional dental care your dog will need. As a comparison, a tube of doggie toothpaste and a toothbrush only costs a few dollars. However, a dental cleaning (which must be done by a veterinarian under anesthesia) can costs hundreds to a thousand dollars depending on the extensiveness of the procedure.
Regular teeth brushing can be life-changing for your dog and wallet-saving for you.
5. Keep your dog at a healthy weight.
In addition to dental health, proper weight management is important for your dog's overall health. It is up to you to keep your dog a lean, mean canine machine. So, I encourage you to be your dog's "personal trainer."
Here's why…
There was a landmark study done years ago with Labrador Retriever littermates. The research demonstrated that dogs who were kept lean lived about two years longer than their chubby counterparts. The leaner dogs also enjoyed a much longer period of good health before experiencing chronic diseases in their senior years. Overall, they were just healthier dogs. And the ONLY notable difference in the two groups was their weight.
Just playing the odds, keeping your dog lean and fit could grant you two extra (and healthier) years of life to share with your dog.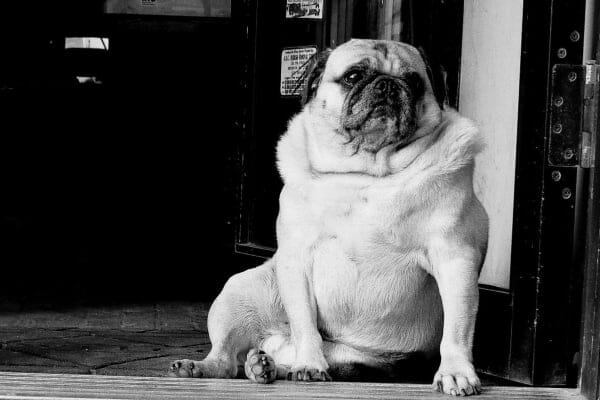 If you're unsure whether your dog is at a healthy weight, talk with your veterinarian. He or she can provide you with some excellent resources including a printout of your dog's weight over time (as recorded at prior vet visits.) Hanging this on the refrigerator can be motivating if you're helping your dog lose weight! Plus, your vet can calculate how many calories your dog should be eating each day to make sure you're not accidentally overfeeding.
Additionally, assess your dog's canine body condition score to learn what is optimal.
6. Restrain your dog in the car.
If you are taking your dog to the vet to ask about his or her weight or for a yearly check up, it is important that your dog is riding safely with you.
Unfortunately, I've heard several stories recently about dogs receiving injuries in car accidents. One colleague told me about a dog catapulted from the back seat into the dashboard resulting in significant damage to the poor dog's neck.
In another case, I saw the horrifying X-rays of a dog who had been in a serious car accident and had broken his back in the crash. Sadly, he had to be euthanized.
While accidents and injuries happen, proper restraint in the car can be life saving for your dog.
Concern for your dog's safety isn't the only reason to heed this advice. I'm worried about your safety too! Dogs left to move freely inside the car can distract drivers and cause accidents. In an AAA survey, 65 percent of respondents admitted to participating in at least one distracting behavior while driving with their dog in the car:
52 percent petted their dog while driving.
17 percent allowed their dog to sit in their lap in the car.
13 percent admitted to giving food or treats while operating a vehicle.
4 percent acknowledged playing with their dog while driving.
So while it's easy to be critical of the lady driving down the highway applying mascara, these behaviors are just as serious — so serious in fact that several states have passed laws requiring dogs to be secured in a moving vehicle. Violators can face fines of up to $1000.
One of my clients recently sent me this story about her 6-pound companion, Eleanor.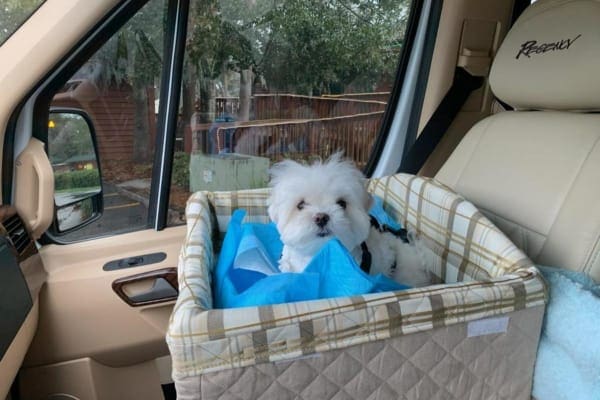 "This is Eleanor in our RV. Her car seat and the tether that hooks onto her travel harness lock securely into the RV's seat belt and shoulder strap. This seat design sits her up so she can see out while also providing "walls" that surround and protect her. Fortunately, the combined weight of Eleanor and her car seat do not activate the airbag. That means she can safely ride shotgun in our RV."
7. Learn the subtle signs that your dog is in pain.
While some injuries like a broken bone from a car crash or a bleeding wound are obvious, others are not as easy to detect. Dogs are very strong and good at hiding their pain.
While some dogs give full vent to their discomfort with moaning, whining, and crying, the vast majority of dogs won't. The term I use is "stoic." I call them my Spartan dogs.
In fact, I have seen many dogs that made me think, "Wow, I know you are in so much pain, you have every right to bite me. And yet you show no obvious signs. You are stoically accepting this pain as your lot in life."
Situations like these melt my heart. I feel deeply for these dogs, but I also rejoice in knowing I can treat the dog's pain and improve his or her quality of life.
As a dog parent, you have an important role to play here, too. You share life with your dog and know him or her better than anyone. You have the gift of time together to observe and note changes in your dog's behavior that could indicate pain. Keep an eye out for changes in:
Posture
Appetite
Facial expression
Daily routine/habits
Sleep and play schedules
For more telltale signs, please read my article, 7 Signs Your Dog is in Pain.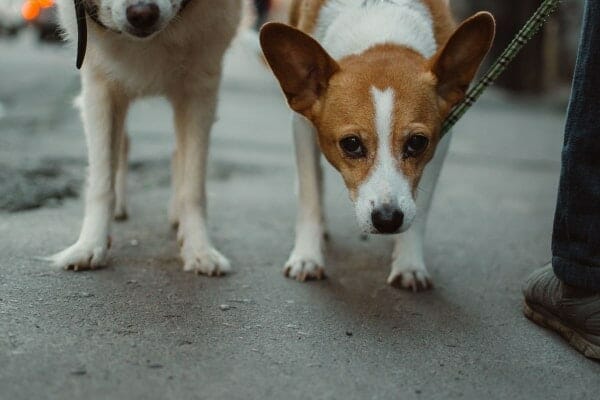 Should you have a concern that something isn't right with your dog, even if it seems minor, I'd encourage you to contact your veterinarian. Always error on the side of caution in the care of these gentle souls who can't speak for themselves.
8. Regularly trim your dog's toenails.
In addition to monitoring our dogs for pain, it is also our job as pet parents to routinely examine them for maintenance needs. This includes grooming and nail clipping.
Long nails can be easily over-looked if you aren't specifically checking them (especially if your dog has furry paws). So, I recommend checking your dog's toes and nail length every three to four weeks.
This is especially important for dogs who don't exercise as often or walk on rough ground like dirt or cement.
Long nails are not just a cosmetic issue. They change the way a dog's paws interact with the ground, negatively affecting both posture and gait. When a dog walks with long toenails, it's like a human walking in oversized clown shoes.
A dog with long toenails can't stand with legs perpendicular to the ground. Instead, he or she will stand and move in a way that compensates for the long nails. This also predisposes him or her to injury. And if your dog is in his or her senior years and suffering from muscle weakness or arthritis, the risk for injury increases.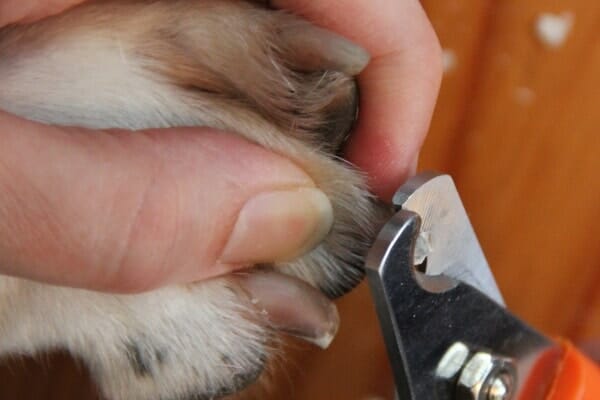 This is why, when I meet a new patient with long toenails, I often offer a simple and pain-free nail trim. This instantly improves the dog's posture so that when I do my gaiting and musculoskeletal exams, I can focus on deeper, root issues, not secondary problems from long toenails.
If the dog continues to have issues walking and slipping on my clinic floor, I determine if they are struggling to gain traction while walking. This is common in dogs who have arthritis or weak hind ends. If so, I also recommend Dr. Buzby's ToeGrips® dog nail grips. These grips enhance the natural mechanism of dog nails to grip the floor and provide traction as senior dogs walk.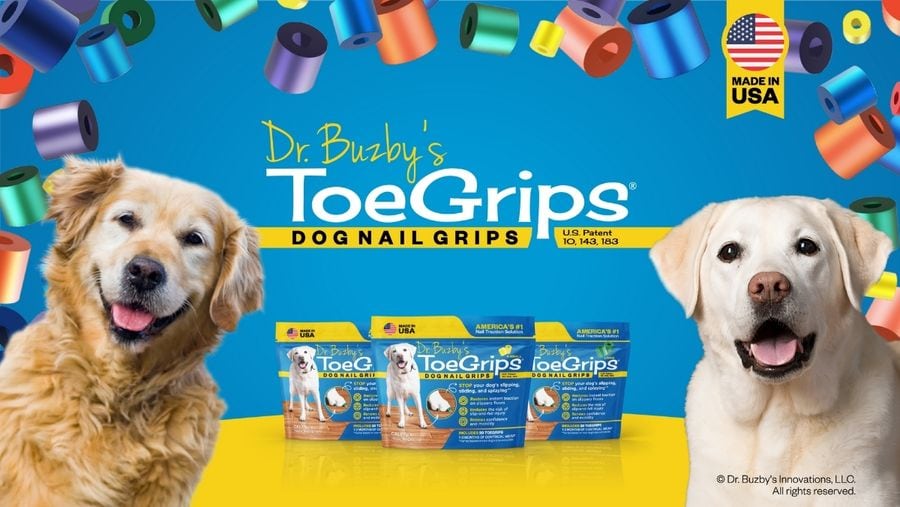 Finally, I discuss future nail care with my clients. Although some of them ask me to continue to trim their dog's nails after our initial visit, others are willing to learn to do it themselves (which makes me happy and proud!). If you'd like to learn how to trim your dog's nails at home, please check out my ebook: How to Trim Your Dog's Nails Without Blood, Sweat, or Tears.
9. Start your dog on a joint supplement.
Maintaining proper length nails isn't the only thing you can do to help your dog walk better and have more freedom. Joint supplements are another great tool that I think every dog owner should give to their dogs.
Joint pain is one of the most common reasons that owners bring their dogs to my clinic. And unfortunately, it is often a reason that I see dogs euthanized.
While arthritis isn't 100% preventable, there are ways to help delay its onset and severity later in life. Personally, I think starting dogs on joint supplements at a young age is very important. Some supplements may:
Slow the progression of cartilage breakdown
Prevent and reduce inflammation
Contribute to cartilage repair
Add extra benefits for the whole body
There are many great supplements on the market to consider for your dog, but my favorite is Dr. Buzby's Encore Mobility Joint Supplement for Dogs. I love Encore Mobility, because this completely natural supplement combines deer velvet antler and green lipped mussel, both sourced from New Zealand.
Deer velvet is the only quality, renewable source of glucosamine, chondroitin sulfate, collagen, and hyaluronic acid (all elements important for joint health). Deer velvet also boosts the immune system's ability to fight infection.
As an added benefit, dogs love the taste!
10. Keep your dog safe from household hazards.
Now that your dog can comfortably walk thanks to his or her freshly trimmed nails and healthy joints, it is important to ensure that your home is safe from common household hazards.
As you look around your home, it is amazing how many common items can be life-threatening for your dog. Here is a brief list of some of the most common hazards that we have in our homes:
Electrical cords: In today's world, our houses are filled with technology — which always comes with long, enticing electrical cords. These cords often look like fun toys for puppies (and cats) to chew on. Dogs can electrocute and burn their mouths when biting active cords that are plugged into an outlet.
Household plants: While plants make great decorations in our homes, many common household plants are actually toxic to our furry friends. For example, aloe vera, jade, oleander, and poinsettias are just some of the plants that could harm your dog. If you are not sure if your new houseplant is toxic to your dog or not, please consult your veterinarian.
Antifreeze: Antifreeze contains a chemical called ethylene glycol that is extremely toxic to dogs. Even the smallest amount of antifreeze can cause kidney failure and be fatal. There are "pet safe" versions that contain propylene glycol, which has a much higher margin of safety. However, it can still have toxic effects if a high enough quantity is consumed. Always keep antifreeze out of your pet's reach. Even small amounts spilled on the ground should be watered down and cleaned up.
Medications: Many medications that we take are dangerous to dogs or are the improper dose. Medications should be kept in a child-proof container and inaccessible to your dog.
Xylitol: Xylitol (sometimes called birch sugar) is an artificial sweetener used in many foods, ranging from gum to peanut butter. Xylitol and dogs is a very bad combination and xylitol can be fatal to dogs. Even a small amount of xylitol can cause hypoglycemia, liver damage, and/or seizures.
Chocolate: If you are looking for a snack to share with your dog and wandering "Can dogs have chocolate?", the answer is no! Chocolate contains a chemical called theobromine (and caffeine) that is toxic to your dog. If ingested, chocolate can cause vomiting and diarrhea, seizures, and increased heart rate.
If your dog ingests any of these common household items or another toxin, please contact your veterinarian immediately. You can also call the Pet Poison Hotline for advice. It is likely they will recommend taking your dog to your vet or local ER as quickly as possible.
Taking a proactive approach to dog health care
While your veterinarian is always there to help you in case of an emergency or when you have questions, I want to encourage you to remember these 10 crucial health habits. My intention is not to give you more to-dos, but to help you help your dog live the best life now…and for as long as possible! It's the "why" behind staying on top of these routines even in the busyness of life. You can do this—and I'm here to cheer you on and help every step of the way.
In summary, you can start these 10 healthy habits for your dog right now:
#1: Take your dog to a veterinarian at least once a year for an exam and vaccines.
#2: Give your dog parasite prevention as appropriate for his or her lifestyle.
#3: Make sure your dog is on a monthly heartworm prevention year-round (even small, indoor dogs).
#4: Brush your dog's teeth daily.
#5: Keep your dog at a healthy weight.
#6: Whenever you hit the road with your dog, make sure he or she is safely restrained.
#7: Be observant and watch for signs of pain in your dog.
#8: Trimming your dog's nails consistently and frequently is underrated. For your dog's well-being, clip your dog's nails or ask your groomer or vet to do so regularly.
#9: Start your dog on a joint supplement. Your dog (and his or her joints) will thank you later.
#10: Check your house regularly for toxins and keep them out of reach of your dog.
Do you have special habits to proactively care for your senior dog?
Share in the comments below.