If your senior dog was recently diagnosed with vacuolar hepatopathy in dogs, you may have a variety of questions and concerns. Integrative veterinarian Dr. Julie Buzby is here to help. She explains what vacuolar hepatopathy is, common causes, symptoms, diagnosis, treatment, and outlook to help put your mind at ease.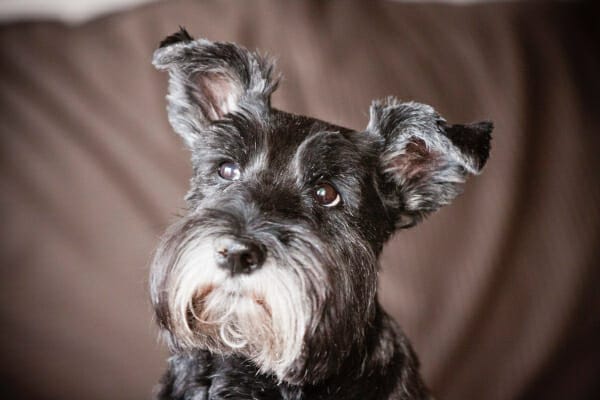 Your dog's liver is one of the most important organs in his or her body. While perhaps less exciting sounding than other internal organs—like the heart that pumps every minute of every day—the liver has many roles when it comes to maintaining overall pet health. The liver does all of the following:
Produces bile in order to digest food and convert fats into usable energy.
Helps break down and remove harmful toxic substances from the body.
Creates and stores a special version of glucose called glycogen for later use when needed.
Generates proteins that are necessary for blood clotting and keeping fluid in the blood vessels.
Houses "first responder" cells that work for the immune system.
Stores necessary vitamins and minerals.
Certain diseases or conditions can inhibit the liver's ability to work properly. Parts of the liver can become infected or inflamed in a variety of situations, which may result in problems at a cellular level. One particular liver disease that affects the inside of liver cells is called vacuolar hepatopathy.
What is vacuolar hepatopathy in dogs?
Vacuolar hepatopathy (VH) is a condition that affects hepatocytes, which are cells that make up the liver. Small spaces or holes known as vacuoles develop inside the cytoplasm (i.e. jelly-like liquid inside cells). Vacuoles can form from cellular damage or other insults. They may contain air, water, fat (lipids), or a stored form of glucose called glycogen.
What are the complications of vacuolar hepatopathy?
Physical injury or the presence of toxins can damage the hepatocytes. As a result, the cells may become swollen or vacuolated. It may take days or weeks for these types of injuries to heal if they do heal at all. Some hepatocellular damage can lead to permanent changes in the liver. This result in chronic inflammation and other changes such as:
Hepatic nodules—These benign, cyst-like growths occur inside liver tissue. They may result from chronic insults to the liver. The term "nodular hyperplasia" describes hepatic nodules that result from an overgrowth of vacuolated hepatocytes.
Portosystemic shunts – Sometimes due to VH, the body forms abnormal blood vessels that create a connection between the liver's blood supply (i.e. the portal vascular system) and the blood supply to the rest of the body (i.e. systemic circulation). Normally, these two blood supplies are separate.
Portal hypertension—VH may lead to elevated blood pressure inside the portal vascular system of the liver. It may be a result of chronic scarring (cirrhosis) of the liver and may lead to gastrointestinal bleeding or free fluid in the abdomen called ascites. 
Hepatocellular carcinoma—Scottish Terriers seem to be prone to developing VH. In this breed especially, VH may increase the risk of hepatocellular carcinoma, a type of liver cancer.
What causes vacuolar hepatopathy?
In general, veterinarians break the causes of VH into three categories:
Steroid-induced VH
A dog's adrenal glands normally produce very small amounts of a certain type of steroids called glucocorticoids (i.e. cortisol). These adrenal steroids help regulate glucose levels in the body. This is a very good and necessary thing when glucocorticoid levels are normal. However, increased levels of steroids can increase glycogen production and therefore glycogen deposition in vacuoles in liver cells.
Chronic use of steroid medications like prednisone for dogs is one of the most common causes of vacuolar hepatopathy. In a study published in the Journal of the American Veterinary Medical Association looking at 336 dogs with vacuolar hepatopathy, 55% of the dogs had been taking steroids. Additionally, steroid-induced VH may also occur in Cushing's disease in dogs. This is because overproduction of glucocorticoids by the adrenal glands is the hallmark of Cushing's disease. In the same study of 336 dogs with VH, 11.8% of them had Cushing's disease.
Secondary VH
VH also can develop as a result of other disease processes. Dogs with diabetes mellitus or hypothyroidism in dogs are more likely to have excess lipids in their blood. This increases the risk of hepatocytes developing vacuoles filled with lipid.
VH has also been associated with chronic disease conditions such as:
In some cases, researchers think that VH may be a result of dogs with chronic illnesses being under stress. The body naturally increases the release of cortisol from the adrenal glands during times of stress as part of the "fight or flight" response. Since cortisol is a steroid hormone, too much cortisol from chronic stress can cause vacuolar hepatopathy in the same way that excess steroid medication usage and Cushing's disease can.
Idiopathic VH
There are some occasions where the cause of VH is unknown (i.e. idiopathic). Scientists have proposed that steroid hormones like progesterone may play a role in development but have not definitively proven that hypothesis yet. It seems that Scottish Terriers may have an increased risk of developing idiopathic VH.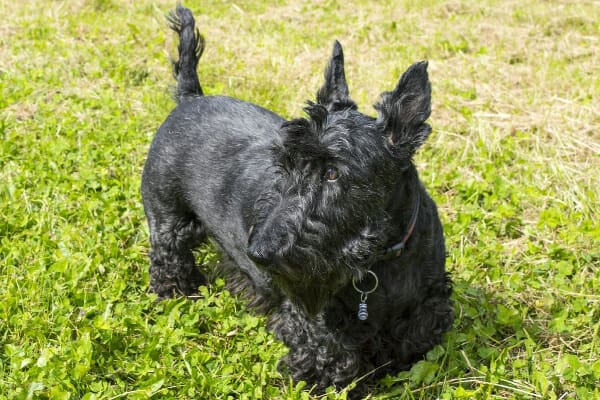 Which dogs tend to have vacuolar hepatopathy?
Typically, VH is more common in middle aged to older dogs with the median age being nine years. One study indicated it may occur more often in female dogs. As previously mentioned, Scottish Terriers are at increased risk.
What are the symptoms of vacuolar hepatopathy?
There are many dogs with VH who don't display any clinical signs. And any symptoms that are present tend to be more commonly related to the underlying cause of the VH. In certain cases, particularly if diabetes or Cushing's disease are present, dogs may have an increase in thirst, an increase in urination, and an increase in appetite. Similar signs may occur in dogs who are taking steroids.
Long-term use of steroids or increased levels of cortisol in the blood can eventually weaken muscles so that the abdominal body wall takes on a rounded or "pot-bellied" appearance. Dogs with vacuolar hepatopathy may also pant more and have a thin hair coat.
How is vacuolar hepatopathy diagnosed?
Your veterinarian may suspect that there is a liver issue if your dog has any of the clinical signs or risk factors associated with vacuolar hepatopathy. Sometimes, the vet notices he or she can palpate the borders of the liver during a physical exam. This suggests that there may be liver enlargement as the liver edges are not normally palpable in most dogs.
The vet may also decide to run routine blood work to look for elevations in liver enzymes. Dogs with VH may have marked increases in alkaline phosphatase (ALP). Other liver enzymes like alanine aminotransaminase (ALT) and gamma-glutamyl transferase (GGT) may be normal or show mild increases. Since other factors can explain an increase in ALP (i.e. dental disease, certain medications, bone disorders, and other liver conditions), your vet may discuss additional testing with you.
This may include X-rays and an abdominal ultrasound to look for further evidence of hepatic disease. This imaging can show evidence of liver enlargement and any changes to the overall architecture of the liver lobes. For example, ultrasound may reveal a "Swiss cheese pattern" to the liver that may indicate vacuolar hepatopathy.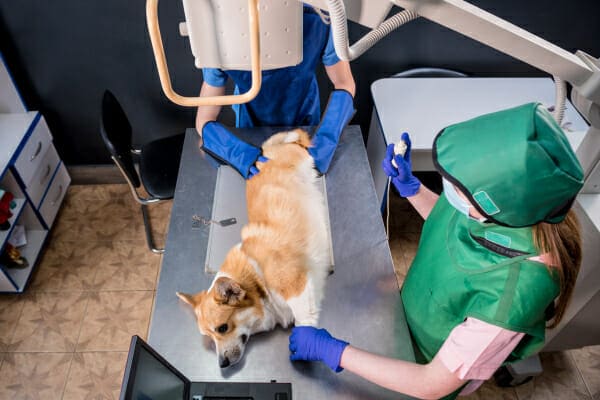 Using a liver biopsy to confirm VH
Definitive diagnosis of VH requires a liver biopsy under deep sedation or general anesthesia. In some cases, the vet may use an ultrasound to guide the biopsy collection. One option is to perform a fine needle aspirate (i.e. use a small needle and syringe to gather a collection of cells). This is an inferior method to using a specialized needle called a Tru-Cut biopsy needle. The FNA only gets a small sample while the Tru-Cut can collect a larger sample. Having more cells from a Tru-Cut biopsy may yield more accurate test results.
In other cases, a vet may decide to either collect the samples laparoscopically or during an abdominal surgery. While these methods are more invasive than an ultrasound-guided biopsy, they also provide excellent samples and better control over what portions of the liver the vet samples.
What is the treatment for vacuolar hepatopathy?
There is no specific treatment or cure for dogs with vacuolar hepatopathy. However, controlling any concurrent diseases is a great place to start. Addressing diabetes, Cushing's disease, or other conditions often helps decrease the symptoms of VH. Dogs with diabetes usually need to receive insulin injections and must have a tightly-controlled diet regimen. For dogs with Cushing's disease, they may respond to medications like trilostane or mitotane that suppress excess release of cortisol.
If the dog has been taking steroids, gradually weaning him or her off of them is ideal. Often, but not always, your vet will be able to find a different medication that can take the place of the steroids.
In general, nutritional support is usually the main focus of therapy. Diets that are rich in antioxidants can help support the liver. Additionally, supplements such as Denamarin® containing S-adenosyl-L-methionine (SAMe) will amplify the liver's ability to repair itself.
Some dogs can benefit from ursodiol, a medication that helps with the flow of bile. To aid in digestion, the liver releases substances called bile acids into circulation. A healthy liver will take these bile acids back up, but a diseased liver will not. Ursodiol can prevent the build-up of toxic bile acids. It also is theorized that ursodiol may prevent damage to hepatocytes.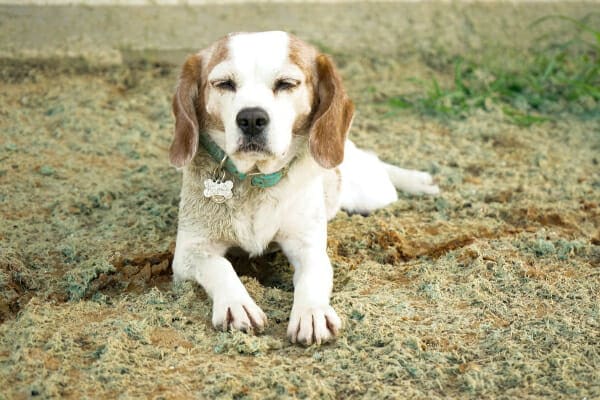 What is the outlook for dogs with vacuolar hepatopathy?
The good news about VH is that it is unlikely to directly impact the life expectancy or quality of life for most affected dogs. However, the specifics of the outlook depend on what the underlying cause might be.
For example, if your senior pup has VH secondary to diabetes, he or she may have a very good outcome as long as his or her diabetes is well controlled. Even better, if steroid usage was the cause, discontinuing the steroid may reverse VH altogether!
On the other hand, some dogs with VH, especially Scottish Terriers with idiopathic VH, will eventually progress to the point of having decreased liver function or occasionally develop liver cancer. Thankfully, that isn't what happens in the majority of VH cases.
I understand it can be difficult and stressful anytime your dog is diagnosed with a medical condition. But if there was ever a "good" liver problem to have, it would be vacuolar hepatopathy. It isn't life-threatening and typically won't keep your dog from fully enjoying life. With quick intervention and good supportive care, you can minimize your canine companion's clinical signs and continue to have a wonderful life together.
Has your dog been diagnosed with vacuolar hepatopathy?
Please comment below to share his or her story.