In dogs, elbow calluses may be primarily a cosmetic problem. However, sometimes they can become infected or cause other issues. To give you the scoop on elbow calluses, integrative veterinarian Dr. Julie Buzby explains why calluses form, which dogs are predisposed to them, when to seek veterinary attention, and how to manage elbow calluses.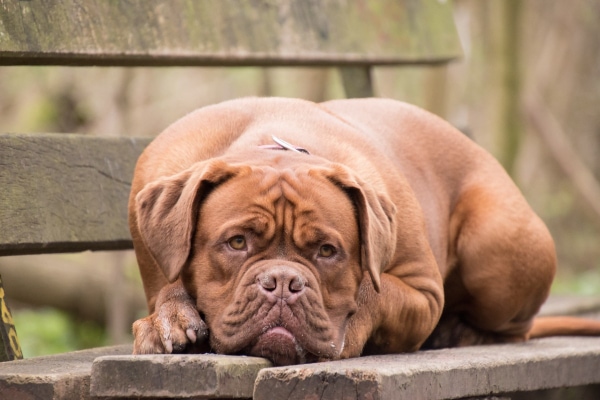 What might the fingers of a guitar player and the elbows of a Great Dane have in common? If you said "calluses" you would be right!
Guitar players develop calluses on their fingertips from repeatedly pushing down on the strings. Similarly, a dog's body may form a callus in areas where the skin is exposed to frequent pressure or friction.
These extra layers of tough skin in a callus are a great way to protect an area from further damage. However, human calluses and dog calluses don't quite look the same, so dog parents can understandably be a bit concerned if they notice changes in the skin of their dog's elbows, hocks, breastbone, or other locations.
The good news is that many times dog calluses are harmless. But it is still a good idea to have a working understanding of them so you can recognize potential problems.
Why do dogs develop calluses?
Based on knowing that calluses form in areas where there is pressure or friction, it may not surprise you to learn that they are most common on the elbows. This is because the bone in that area is close to the surface rather than being buried under muscle and fat. When the dog lies down, much of his or her body weight is resting on the poorly-padded elbows.
In a small dog, this doesn't present much of a problem. But giant breed dogs have a lot of weight resting on their elbows. Thus, it's no wonder elbow calluses are most common in Great Danes, Irish Wolfhounds, Newfoundlands, and St. Bernards. Along the same lines, these giant breed dogs are also more prone to developing calluses on the side of the leg or the hocks due to pressure from lying down.
Dogs may also form calluses on their chest (i.e. over the breastbone or sternum). This may be a result of lying on rough surfaces or having a chest that is very low to the ground. Overall, large dogs with short coats and deep chests like Doberman Pinschers and Boxers and small breeds with short legs like Dachshunds are more prone to sternum calluses.
Other factors that influence callus formation
Additionally, overweight and obese dogs have a significantly increased risk of developing calluses in any of these locations due to their excessive body weight. However, dogs who are extremely underweight can also develop calluses because they might not have enough fat to act as a protective cushion for the skin.
Plus, calluses may occur more often in dogs with underlying health issues like hypothyroidism in dogs or those with orthopedic diseases that cause them to spend a great deal of their time lying down. Finally, lying on rough or hard surfaces like concrete can increase the chances a dog will develop calluses.
What do dog elbow calluses look like?
Regardless of location or breed, calluses tend to be an area of rough skin that is:
Well defined
Round
Hairless
Thickened and slightly raised
Pink or pigmented
Wrinkled or smooth
Healthy calluses are usually soft and do not look irritated or sore. These sorts of calluses may be a bit unsightly but don't cause pain or problems for a dog.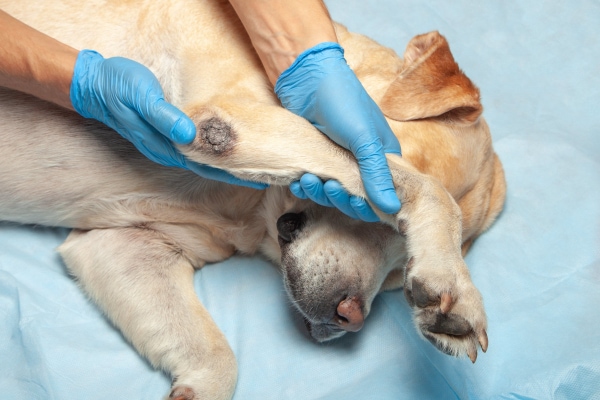 Signs of an infected callus
However, sometimes calluses can become irritated or infected. The crevices in the callus can trap moisture and bacteria, which creates the right environment for bacteria to grow out of control. Plus, trauma to the skin breaks down the normal defenses and predisposes a dog to skin infections (i.e. pyoderma in dogs). Staphylococcal species of bacteria tend to be the most common cause of infection, but other bacteria are possible too.
Additionally, hair follicles may become impacted near or over a callus. Sometimes the body treats that follicle as a foreign body and creates significant inflammation around it.
If a callus is inflamed or infected, it may crack and bleed or drain liquid. You may also notice that the callus becomes red, warm, and painful, or that the dog is trying to lick it.
The callus and surrounding area may swell slightly too. However, if a soft, painless lump suddenly pops up over your dog's elbow or hock, it could actually be an elbow hygroma, not a sign of infection. This condition is also a result of excessive pressure over the hock or elbow, but the body reacts by forming a fluid-filled cavity instead of making a callus.
In more severe cases, an infected callus may develop a large ulcer or draining tract. This predisposes a dog to deep bacterial infections. Also, elbow calluses may become pressure sores on dogs, especially if the dog is spending lots of time lying down in one position.
If you see any of these signs or have questions about your dog's elbow callus (or other callus), please contact your veterinarian promptly.
How are elbow calluses diagnosed?
Often the vet can determine that your dog has a callus based on the exam alone. However, he or she may recommend additional testing in some cases.
For example, minor calluses often have a hairless appearance that can mimic other skin conditions. Therefore, the vet may recommend a skin scrape to rule out demodex, a type of mite that lives beneath the skin's surface. A fungal infection known as dermatophytosis (i.e. ringworm) can also cause an area of well-defined hair loss, so fungal culture testing may be necessary as well. Finally, occasionally a callus can look a bit like a mast cell tumor in dogs, so the vet may recommend an aspirate or biopsy of the area.
If the vet suspects the elbow callus is infected, he or she may also want to do a skin cytology or skin culture. The cytology allows the vet to confirm that bacteria or yeast are present. And the culture will indicate the type of bacteria and best antibiotic choices.
Additionally, the vet may want to run some bloodwork and a urinalysis to look for systemic disease. Or he or she may perform an orthopedic exam to look for osteoarthritis in dogs or other orthopedic conditions.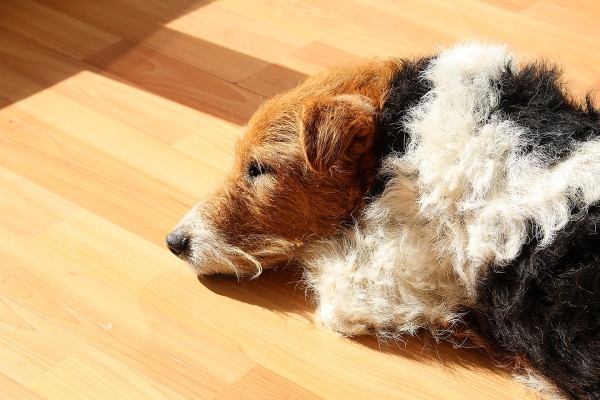 What is the treatment for elbow calluses?
After the examination and any testing, your vet will work with you to create a treatment plan for your dog. Remedies for dog elbow calluses primarily focus on maintaining overall skin health and preventing ulcers and infection. Unfortunately, there is no definitive way to make elbow calluses go away once they have developed.
Antibiotics
Mild infections often resolve quickly with a combination of topical and systemic antibiotic therapy. However, dogs with deeper skin infections may require several weeks of treatment. In those cases, the vet will use the culture and sensitivity results to select an antibiotic that is most effective and keep your dog on antibiotics for at least a week after the symptoms have resolved.
Additional therapies
Dogs may also benefit from:
Topical moisturizers to help with mild dryness
Products with 2.5% benzoyl peroxide or salicylic acid to help resolve folliculitis (i.e. inflamed hair follicles)
Omega-3 fatty acids for dogs to reduce inflammation and promote good skin health
Epsom salt soaks to soften skin and reduce inflammation in dogs with embedded hair shafts (Please note: Do not allow your dog to drink the Epsom salt solution as it could cause toxicity if ingested in large enough quantities. Also, for added safety, rinse the affected area after the soak.)
Daily whirlpool baths with warm water (i.e. hydrotherapy for dogs) for mild cases of callus inflammation
Pentoxifylline, an anti-inflammatory drug that can decrease skin inflammation and increase blood flow to the callus site in more severe cases
Topical anti-inflammatory drugs to reduce inflammation from embedded hairs
Trying a few home remedies to protect the elbow calluses from further trauma (see the prevention section for details)
Surgery for elbow calluses
Occasionally, there are situations where all of these medical management options fail. If the infection or inflammation remain severe, the vet may attempt to surgically remove the callus. However, this is "plan Z" because calluses are typically over high-motion joints, which spells trouble for trying to get an incision to heal well.
Interestingly enough, there was a study in the Journal of the American Veterinary Medical Association (JAVMA) that looked at using pipe insulation to protect wounds over the elbow joint. This same concept may potentially help callus removal surgery be more successful.
How can I prevent dog elbow calluses?
As you have just learned, treatment is geared toward addressing problems with the callus, not getting rid of it. Along the same lines, it may not be possible to prevent calluses from occurring altogether. However, there are various steps you can take to reduce the chances a callus would form or keep an existing callus from worsening. They include:
1. Provide soft bedding for your dog.
The most important thing to remember is that increased pressure and friction on the skin over the elbows, hocks, and sternum contribute to callus formation. Plus, continued trauma to the callus can lead to inflammation and infection. Therefore, soft bedding and cushioned surfaces are one of the best ways to prevent calluses from forming or worsening.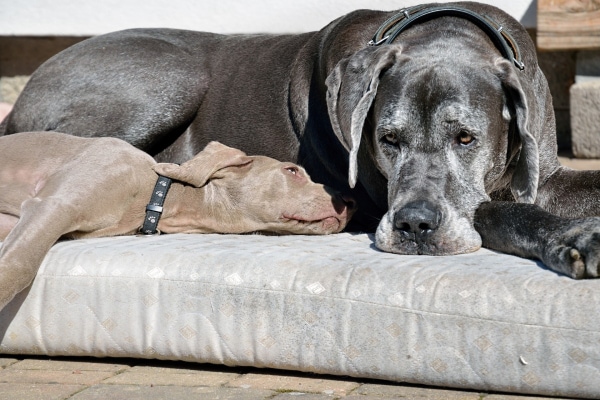 There are many dog beds available that promise comfort and cushioning. Some orthopedic beds have memory foam or egg crate foam. Or other beds have cooling gel layers so that your furry friend won't get too warm while sleeping. It may take some trial and error to find the one your dog likes best.
2. Consider elbow callus protectors
Some veterinary companies create other products that can protect the pressure points on the elbows and hocks from trauma. For example, DogLeggs provides special pads and braces to help dogs with calluses and orthopedic issues. Their hock and elbow pads are comfortable for dogs and can prevent further trauma to the callus.
3. Get your dog up and moving
If your dog struggles with pain or limited mobility, work with your vet to find a solution. This may involve pain medications, joint supplements like Dr. Buzby's Encore Mobility™ hip and joint supplement, or natural pain relief for dogs . Additionally, applying Dr. Buzby's ToeGrips® dog nail grips can help older or arthritic dogs navigate slick surfaces with confidence. Once your dog starts spending less time lying down, this should take the pressure off the calluses.
4. Watch your dog's weight
Overweight and obese dogs are heavier and have more trouble moving. This can put excess pressure on the skin covering their joints.
Start by finding your dog's body condition score (BCS). Then work with your vet to help your dog lose weight. This may involve low impact exercise and a lower calorie diet for your pup. Or, for a more significant weight-loss boost, prescription weight-loss diets are also available.
5. Moisturize, moisturize, moisturize
Topical moisturizers are an easy home remedy to help keep calluses soft, which makes cracking and drying out less likely. There are many different moisturizer options available. Some are advertised as balms for paws and dry noses in dogs, but you can put them on calluses too. There are also products created specifically to moisturize dog elbow calluses. Additionally, some people have had luck with bag balm or creams containing moisturizing ingredients like vitamin E and coconut oil.
Elbow calluses are (often) nothing to fear
While I've spent a fair amount of time talking about all of the things that can go wrong with calluses, I don't want to leave you with the wrong impression. Yes, calluses can be problematic. And yes, there are some simple things you can do to help a callus-prone dog. But many dogs have calluses for years and never have an issue with them.
As a dog parent, you should be aware of why calluses form and what you can do to minimize their impact on your dog. And it is important to know what a normal versus an infected or inflamed callus looks like so you know when to call the vet. But beyond that, please don't let worries about calluses keep you up at night or dampen your enjoyment of your dog.
Does your dog have elbow calluses?
Please comment below