Pressure sores on dogs who spend a large amount of time lying down are a very valid concern, especially for senior dogs. And they are a situation where prevention really is the best medicine. Integrative veterinarian Dr. Julie Buzby explains why dogs develop pressure sores, how to recognize and treat pressure sores, and most importantly, how to prevent them.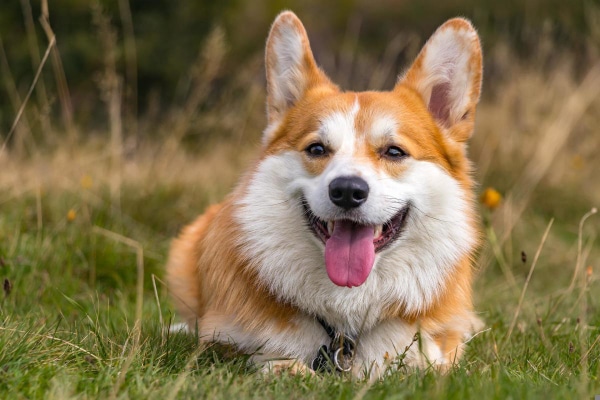 Awhile back I was working with a wonderful couple. They are clients who have been bringing their Corgi mix, Penny, to me for many years.
As many long-backed and short-legged dogs do, Penny suffered from intervertebral disc disease (IVDD in dogs). Sadly, I was seeing Penny for a particularly bad IVDD episode which had left her partially paralyzed. As we were discussing the treatment plan, I let her parents know she was going to require strict crate rest.
Penny's mom immediately piped up with a very good question, "Do we have to worry about pressure sores?" She explained that she worked in human hospice care and had seen many patients develop bed sores from being bedridden. Understandably, she was wondering if her dog could develop "bed sores" or pressure sores while on crate rest.
I let her know that yes, dogs can develop pressure sores just like people can. But thankfully, there are some ways to try to prevent them from forming. The first step is to understand why they happen and what they look like in the early stages.
What are pressure sores on dogs?
As the name would imply, pressure sores (i.e. decubitus ulcers or decubital ulcers) are a chronic skin injury that occurs when a dog's weight is continuously applied to a spot on the body. Typically, dogs develop pressure sores when they repeatedly lie in one position for a long period of time.
(Pressure sores can also occur if a cast, splint, or bandage is too tight or too loose. However, this is not the kind of pressure sore we are going to talk about here.)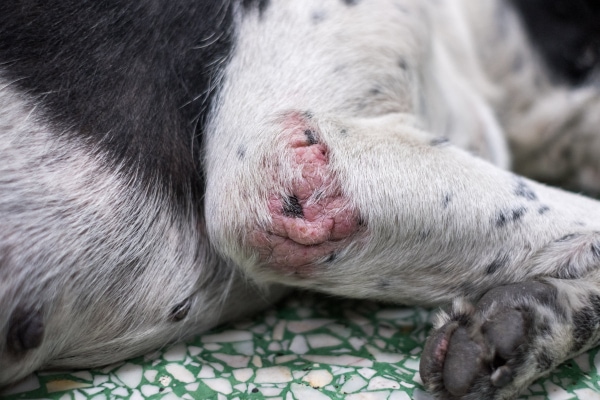 Which dogs are prone to pressure sores?
The sort of skin ulcers that are analogous to human bed sores can happen in any dog who spends long periods of time lying down. Dogs who could be more likely to have ulcers form include:
Senior dogs—Older dogs or those who are less active tend to lose muscle mass, which means they have less padding around bony prominences.
Dogs recovering from surgery or illness—Being unable or unwilling to move due to pain or injury makes them likely to stay in one position.
Paralyzed dogs—Dogs with IVDD, spinal stroke in dogs, or other causes of paralysis may be unable to reposition themselves effectively.
Large breed dogs—The extra weight puts more pressure on their skin.
Dogs with orthopedic issues—Osteoarthritis in dogs, hip dysplasia in dogs, or other painful conditions may cause a dog to be reluctant to change positions.
What causes pressure sores on dogs?
The commonality among these dogs is that they all are likely to have increased pressure on a section of their skin for an extended period of time. Most often, that area of skin tends to be over a bony prominence. This includes places like the elbow, hock, hip, chest, pelvis, and sides of the legs.
These pointed and hard parts of the body make contact with the floor when your dog lies down. Especially if the dog has poor muscle mass, the skin is squished between the bony areas and floor, cutting off oxygen and blood supply to the skin.
Without the proper flow of oxygen and blood, the skin is not receiving the nutrients it needs to stay healthy. The skin cells begin to die, which makes the skin more prone to further irritation and infection. Soon the dog has a pressure ulcer.
What do pressure sores in dogs look like?
In early stage pressure sores on dogs, you may notice:
Loss of hair (especially around bony areas like the elbow)
Reddening of the skin
Dryness and cracking associated with the skin
Constant licking of the area (which can also lead to a lick granuloma in dogs)
Signs your dog is in pain when touching the area
If you notice any of these early-stage signs developing, please consult your veterinarian promptly. The sooner a pressure sore is treated, the easier it is to prevent it from becoming a serious wound. The picture below shows a dog with a pressure sore forming on his or her stifle.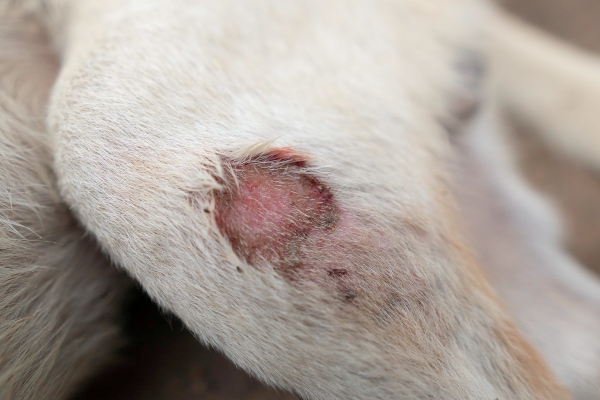 If the pressure sore continues to progress or becomes infected, you might see symptoms such as:
An open wound in the area
Bright red or black skin
Raised skin around the sore
Moisture or drainage from the wound
Yellow discharge or pus from the wound
If you notice these worsening signs, please take your dog to see your veterinarian immediately. An infected pressure sore can be very painful for your dog. And if it is left untreated, the skin can die or the infection could spread.
How are pressure sores diagnosed?
At the veterinary appointment, your vet will start with a physical exam, including a careful evaluation of your dog's skin. This allows him or her to get an idea of what the area in question looks like. Plus, the vet can also look for early-stage pressure sores in other areas that you may not have noticed yet.
The veterinarian may assign a stage to each pressure ulcer using the National Pressure Ulcer Advisory Panel (NPUAP) scoring chart. Originally that staging system was created for decubital ulcers in humans, but it works well for dogs too.
If the decubital ulcer looks like it might be infected, the vet may recommend additional diagnostics such as:
Using a cotton swab on the wound and examining the material under a microscope.
Culture and sensitivity testing (i.e. a test to determine which bacteria are present and to guide antibiotic selection).
Blood work to look for signs of worsening infection.
Additionally, the veterinarian may take pictures of the ulcers at that visit, and on subsequent visits. This makes it easier to track how the pressure sore changes over time. You may also want to take some pictures to help you assess your dog's progress.
What is the treatment for pressure sores on dogs?
After evaluating your dog's skin, the vet will work with you to create a plan to heal the pressure sore. This will look different depending on the severity of the pressure sores and the factors that contributed to their development.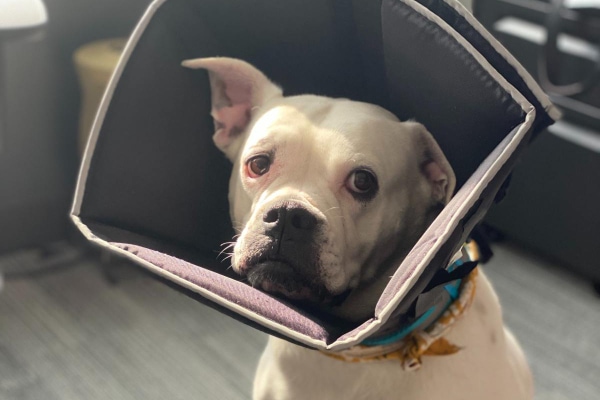 If the pressure sore is in the early stages, your veterinarian may not recommend any specific treatment. Instead, he or she may discuss how to ramp up your preventive measures to keep the wound from getting worse and help it heal.
In more severe cases or if the pressure sore is infected, the vet may recommend:
An ointment or cream to help prevent the skin from being further irritated or becoming too dry.
An E-collar (i.e. cone) to prevent your dog from licking the wound.
Special wipes or cleaning materials to help ensure the wound remains clean.
Oral antibiotics or antibiotic cream to treat the infection.
Bandaging with special wound care ointments or products to help get rid of pressure sores.
Debriding the wound to remove dead tissue that is preventing it from healing well.
Skin and muscle grafts to help cover exposed bone or tendon/ligaments.
During and after the healing process, the other critical component is keeping pressure off the wound as much as possible. You can accomplish this using the same tools and measures as you would use to prevent pressure sores.
Thankfully, most pressure sores do eventually heal, especially with prompt treatment. However, it can sometimes take a long time for them to resolve, which is why prevention is so important.
How do you prevent pressure sores on dogs?
The best thing you can do for older dogs or those who lie down for long periods of time is to be proactive about preventing pressure sores. Granted, some dogs are going to get a pressure sore even if you do everything right. But in general, following these seven prevention tips will help keep your dog's skin healthy and intact.
7 at-home pressure sore prevention tips
1. Reposition down dogs frequently.
If your dog is unable or unwilling to change position on his or her own, reposition your dog every two to three hours, if not more often. This helps ensure that your dog doesn't put pressure on one particular area for too long.
2. Provide soft bedding options to take pressure off the skin.
Encourage your dog to lie on a memory foam bed, egg crate foam bed, or other type of orthopedic dog bed. The goal is to provide thick cushioning that conforms well to the dog's body and supports the dog's weight evenly. When using blankets or pads under your dog, ensure they are free from wrinkles that could put pressure on your dog's skin.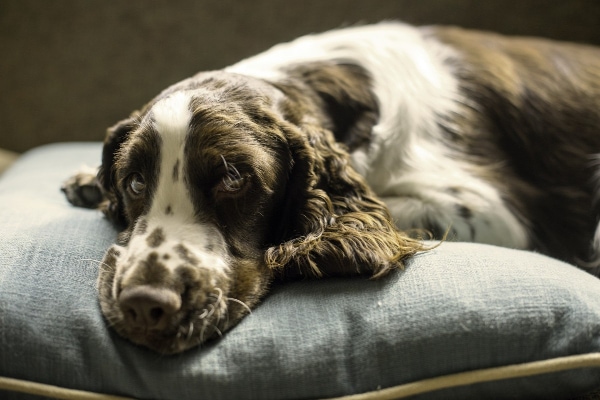 If you decide to take your pup out for some fresh air in a dog stroller or dog wagon, ensure that it is also well padded. Sometimes you can fit an orthopedic dog bed in the wagon or stroller. This can provide a nice amount of padding.
3. Use pressure-relieving wedges, blocks, or donuts.
Prop your dog up using soft foam wedges or use them to take pressure off certain areas of the body. For example, you can place a foam square between the hocks to keep them from pressing on each other. Alternatively, you can place a wedge under the bedding to roll a dog off a pressure point. Each dog might need a slightly different arrangement so it is best to consult your vet before you start using the wedges or blocks.
4. Keep your dog's skin clean and dry.
Each time you reposition your dog, check to see if there is any urine or feces on the bedding or your dog's haircoat. If the skin or hair is soiled, wash the area and dry it completely. Taking good care of your dog's skin is critical because skin that remains damp or has urine scald is more likely to form a pressure sore.
If your dog frequently urinates where he or she is lying, consider placing an absorbent wicking pad under his or her back end. This makes clean-up easier and can help keep the urine from sitting against your dog's skin.
5. Carefully monitor the condition of your dog's skin.
Inspect your dog's skin daily (or each time you reposition him or her) for warm or red areas, sores spots, hair loss, or any other abnormal areas. If your dog has a thick haircoat, you may need to part the hair to get a good look at the skin. Pay particular attention to the skin over the elbows, sides of the legs, hips, sternum (i.e breastbone), and shoulder.
If you see any concerning areas, please report them to your vet promptly. While waiting for the appointment, be especially vigilant about ensuring your dog is repositioned frequently and lying on thick soft bedding. Also, make an even bigger effort to keep the skin clean and dry.
6. Boost your dog's mobility to encourage movement.
Under your vet's direction, consider the following options to help your dog get up and moving (if possible):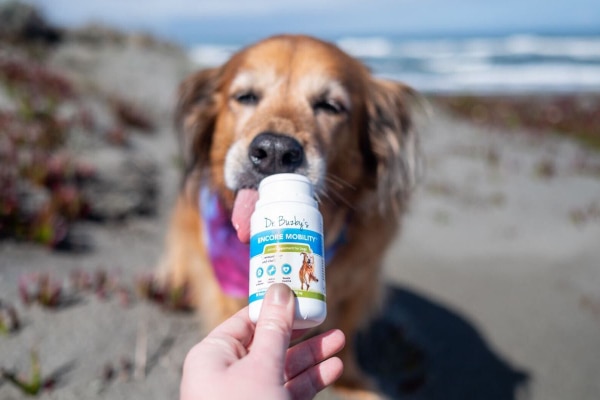 7. Pay attention to your dog's nutrition.
Feed your dog a well-balanced diet with an adequate amount of protein to promote healing. If he or she has trouble getting up, you may need to bring the bowl to your dog. This helps ensure your dog eats enough to nourish his or her body.
Partner with your veterinarian
If your dog might be prone to pressure sores, partner with your veterinarian to create a preventive plan. Together you can evaluate your dog's mobility, current environment, pain levels, and other contributing factors. This allows you to create a plan that is both effective and practical.
Hopefully, you will be able to keep your dog from developing pressure sores. However, sometimes no matter how hard you try to prevent them, pressure sores still happen. Such was the case for Penny, who did start to get a very mild pressure sore on her elbow after about three weeks of crate rest. Luckily though, Penny's parents caught it early so it never progressed to being open or infected.
This part of her story highlights the importance of being aware of the early signs of pressure sores. The sooner you notice a problem and contact your vet, the sooner you can start treatment or change up your preventive plan. I know it may seem daunting at first. But together, you and your vet can tackle pressure sores to keep your dog as happy and comfortable as possible.
What tips do you have for preventing pressure sores?
Please comment below