Mast cell tumors in dogs are masters of disguise and can sometimes have serious consequences for a dog's health. To teach you more about these tricky tumors, integrative veterinarian Dr. Julie Buzby shares the the symptoms, diagnosis, treatment, and prognosis for mast cell tumors.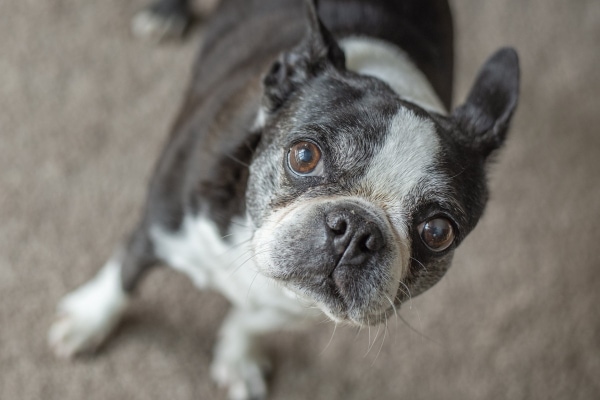 You may have found a small mass on your dog that seems to have appeared overnight. Or maybe the mass had been there for years. But suddenly it looks red and swollen and now your dog won't stop licking it. Or perhaps you didn't even know your dog had a mass until your veterinarian found it during a routine physical exam.
All of these scenarios could have the same troubling diagnosis—a mast cell tumor. This is the most common skin mass in dogs, and a mast cell tumor diagnosis opens a can of worms.
What is a mast cell tumor in dogs?
Mast cells are white blood cells that are part of the immune system. They are specifically designed to attack foreign invaders—usually parasites, but also allergens such as dust or pollen.
Mast cells are full of granules that contain bioactive substances such as histamine and heparin. They can degranulate (i.e. dump the contents of their granules into the surrounding area) in response to stimuli such as a parasite or allergen. When this happens, the chemicals in the granules cause itching, redness, and swelling.
If mast cells become cancerous and divide rapidly in one location, they can form a mast cell tumor. Unlike normal mast cells, the tumor cells are unstable and can degranulate easily.
When mast cell tumors degranulate, you may see mild symptoms like itching and swelling in the area around the tumor. Sometimes this can result in the dog scratching or licking the mast cell tumor. The area may puff up and get red, especially when the mass is handled or bumped, and then go back to normal.
It is also possible for the dog to have more severe systemic effects such as gastrointestinal ulceration or bruising and bleeding in the surrounding tissues. Affected dogs may also have a decreased blood pressure and even sudden death from anaphylaxis (i.e. a severe allergic reaction).
What does a mast cell tumor in dogs look like?
As you can imagine, the potential for severe symptoms make mast cell tumors in dogs concerning. And these tumors are made more dangerous by the fact they can look like any other skin or subcutaneous (i.e. under the skin) mass. They can also be anywhere on a dog's body— trunk, head, legs, tail, ears, nose, paws, eyelids, etc. Canine mast cell tumors can be:
Big or small
Firm or squishy
Raised above the skin or located under the skin
Smooth or ulcerated (i.e. having an open surface or looking like the mast cell tumor burst)
Pink or tan
Hairless or haired
The pictures of mast cell tumors in dogs below show two of the many, many different presentations. The picture on the left shows a mast cell tumor under the skin near the dog's anus. It looks very different from the dog's mast cell tumor in the picture on the right, which was a raised, pink, hairless area on the side of the leg.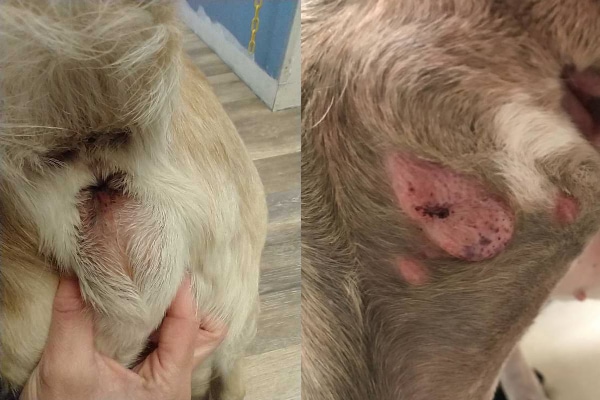 It is no surprise then that many vets call mast cell tumors "the great pretenders."
I was reminded of this when my receptionist brought her Boxer, Charlie, in for a dental cleaning. She asked me to take a look at a new lump on Charlie's side while he was there. Although the lump looked like a simple skin tag, we decided to aspirate it to be on the safe side. I'm so glad we did because it turned out this "skin tag" was actually a cutaneous mast cell tumor.
I was able to remove the tumor at the same time we did the dental. Thankfully, histopathology results indicated the mast cell tumor was low grade and completely excised so Charlie didn't need any follow-up treatment.
I tell you this story to demonstrate how easy it can be to mistake mast cell tumors for a skin tag or lipoma in dogs. Plus, mast cell tumors may grow and shrink in size, fooling everyone into thinking they are an insect bite. For these reasons, pet owners (and sometimes veterinarians) may accidentally dismiss a mast cell tumor as being harmless. This is especially the case with well-differentiated mast cell tumors.
Poorly differentiated vs well-differentiated mast cell tumors in dogs
When I use the term "differentiated," what I am referring to is how much the tumor cells resemble and act like the original cells. All tumors are composed of neoplastic (i.e cancerous) cells which originated from normal healthy cells. The more a neoplastic cell has changed from its cell of origin, the less well differentiated it is. Poorly-differentiated tumors tend to have cells that are harder to recognize, divide faster, and act more aggressively.
When it comes to mast cell tumors, well-differentiated tumors are slow growing. They may be present for months to years before they cause irritation to the surrounding tissue. As mentioned, without diagnostic testing it is easy to mistake them for a benign skin mass.
On the other hand, poorly-differentiated mast cell tumors usually grow much more rapidly than well-differentiated ones. The poorly-differentiated tumors also tend to degranulate more frequently, so the area around the tumor may be bruised or swollen. Aggressive tumors are also more likely to burst and start bleeding.
Mast cell tumors are usually solitary tumors. But it is possible for a dog to have more than one mast cell tumor at any given time. For example, a dog can have a well-differentiated mast cell tumor and a poorly-differentiated mast cell tumor on different areas of the body. Although they are there at the same time, these tumors are unrelated to one another.
In rare cases, mast cell tumors may disseminate, spreading rapidly and growing throughout the body. The most common locations for spread include the dog's lymph nodes, liver, and spleen.
Which dogs are more likely to develop mast cell tumors?
As we have established, mast cell tumors can look like anything. They can also occur in any dog of any age. While they are more common in middle-aged to older dogs, I have diagnosed several mast cell tumors in puppies under a year of age. There is no sex predilection. This means mast cell tumors occur equally in male and female dogs and spayed/neutered or intact dogs.
However, there is thought to be a genetic predisposition to developing mast cell tumors. This is because they are much more likely to occur in brachycephalic dogs of bulldog descent such as:
Boxers
English Bulldogs
Pugs
Boston Terriers
The picture below shows a mast cell tumor on the upper lip of a Boston Terrier. In this case, the dog's mast cell tumor presented as a pink, hairless area that really didn't look that much like a tumor at all.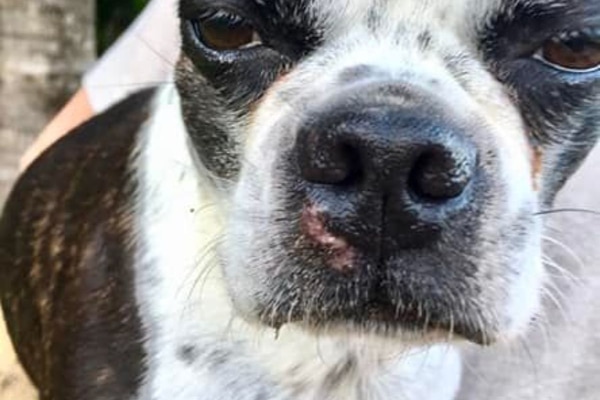 Mast cell tumors are also more common in:
Labrador Retrievers
Golden Retrievers
Shar-peis
Staffordshire Bull Terriers
Jack Russell Terriers
How is a mast cell tumor diagnosed?
Whether your dog is on the above list of predisposed breeds or not, you need to be aware of mast cell tumors. And if you only take one thing away from this article, I hope it is this—if you find a mass on your dog, don't ignore it. One of my friends, who happens to be a well-known veterinary oncologist, has a saying, "Don't wait—aspirate!"
Fine needle aspiration
What does the "Don't wait—aspirate!" message mean? If you or your vet find a new mass on your dog or if an existing skin mass is changing in size, color, or consistency, the best course of action is usually to start with having your vet perform a fine needle aspiration (FNA).
During an FNA procedure, the vet will insert a 22-gauge needle into the tumor and redirect it multiple times. This fills the shaft of the needle with tumor cells. Then the vet will transfer the cells to a slide and spread them out. After letting the slide dry and staining the material, the vet will examine it under the microscope.
The video below shows a veterinarian performing a fine needle aspiration on a lump that turned out to be a lipoma in dogs and not a mast cell tumor.
Your veterinarian may be able to diagnose a mast cell tumor in the clinic, especially if the cells have a typical appearance. Mast cells are normally round with dark-staining granules.
In some cases, the granules may not be visible with Diff-Quick (the typical stain the veterinary team would use). If your veterinarian suspects a mast cell tumor but doesn't see the typical granules, he or she may recommend submitting the slides to a pathology lab. These labs have special stains to better identify mast cells.
Also, sometimes the veterinarian may not suspect a mast cell tumor initially. The FNA may look like an innocent skin mass, or a pocket of infection, especially if the granules don't stain. In those cases, histopathology of the mass after surgical removal will reveal that the mass was actually a mast cell tumor.
The image below shows how mast cells in dogs may look under a microscope.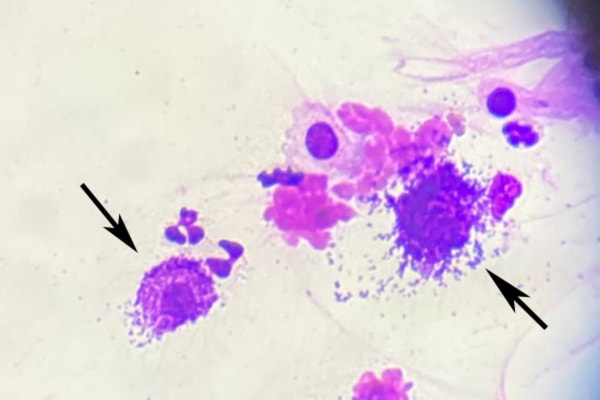 Histopathology
If the results of the fine needle aspiration show mast cells, your veterinarian will likely recommend removal of the tumor. After surgery to remove the tumor (which we will discuss later in this article), your veterinarian will probably suggest submitting the tumor to the laboratory for histopathology. Histopathology (i.e. biopsy) is the microscopic examination of all or part of the tumor tissue.
Clients often ask me why it is important to do histopathology if the FNA already indicated this was a mast cell tumor. I understand their concern because histopathology is an added expense. However, histopathology is the next step in the diagnostic process, and a very important one.
Histopathology, but not cytology (i.e. fine needle aspiration or FNA) can provide information to help determine the prognosis and next steps for your dog.
To help dog parents understand the distinction between cytology and histopathology, I like to use the analogy of a brick wall. Cytology is an examination of the bricks alone. Based on the FNA, the vet can often identify the "bricks" as mast cells.
At this point, the vet knows he or she is dealing with some sort of mast cell tumor. Since this is a type of cancer, the vet will need to take wide margins around the tumor to maximize the chances of removing all the tumor cells. If the "bricks" were something benign, the vet wouldn't need to remove as much tissue around the tumor.
What the vet doesn't know by looking at the bricks is what sort of structure they are part of. This is where histopathology comes in. It is the examination of the entire structure—the bricks, the mortar, and how they are arranged relative to one another to create a wall.
In other words, histopathology gives the information about the structure and appearance of the tumor as a whole. This is necessary for determining the grade (and therefore prognosis) of the mast cell tumor.
Grading systems for mast cell tumors
Veterinary pathologists grade mast cell tumors using two different systems.
The older system, the Patnaik grading system, evaluates mast cell tumors on a scale of one to three.
Grade I—well differentiated and surgical removal is often curative.
Grade II—intermediately differentiated tumors. Some tumors behave somewhat aggressively while others can be cured by surgery alone.
Grade III—poorly differentiated tumors that tend to be more aggressive.
There have been a lot of inconsistencies with this grading system, with most tumors fitting into a Grade II category. As a result, many pathologists now use the two-tier system. They will classify the tumors as either high-grade or low-grade. High grade tumors carry a worse prognosis because they have a higher rate of metastasis and a shorter survival time.
To reach a final consensus about grade, sometimes it is necessary for the veterinary pathologist to use additional stains and conduct further testing on the tissue samples. These special tests are most frequently used on Grade II tumors or tumors that have some characteristics of high grade and some of low grade.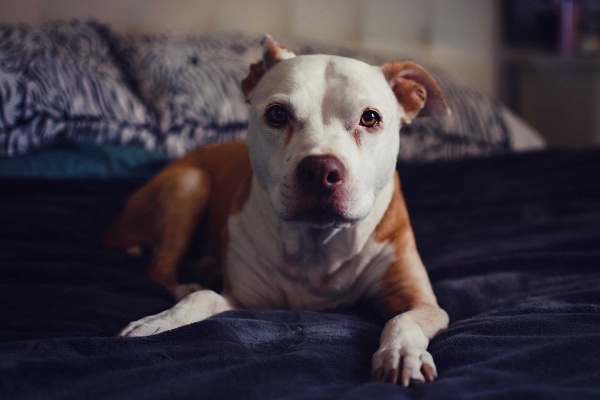 What is the treatment for a mast cell tumor in dogs?
In order to use histopathology to confirm the tumor is a mast cell tumor and grade the tumor, the veterinary pathologist needs part or all of the tumor. Plus, the end goal is to get rid of the tumor completely. So it is no surprise that surgery is often the treatment of choice for a mast cell tumor.
Surgical removal for a mast cell tumor in dogs
Prior to surgery, the veterinarian may recommend you give your dog medications to help decrease the risk of the mast cell tumor degranulating and causing adverse effects. These may include Pepcid (i.e. famotidine) and Benadryl for dogs.
The surgeon will most likely want to take wide margins around the tumor to try to ensure that he or she removes all cancerous cells in the region. One recent study in The Journal of Veterinary Medical Science investigated using margins proportional to the tumor diameter. This is in contrast to the other approach of using a standard number of centimeters for a tumor of any size. Since there currently is not a consensus on the best approach, your veterinarian will do what he or she thinks is best for your dog's situation.
Additional surgery, radiation, or chemotherapy
In cases of low-grade tumors, surgery is often curative as long as the margins are "clean." The term "clean" means that histopathology indicates there are no microscopic traces of the tumor extending to the edges of the incision.
If the margins are "dirty," the excision was incomplete and tumor cells remain. In those cases, the vet may recommend a second surgery. If there isn't enough tissue for the veterinarian to feel comfortable performing a second surgery, he or she may recommend seeing a board certified surgeon or surgical oncologist. Alternatively, the vet may suggest radiation therapy, which is the treatment of choice to kill the remaining tumor cells.
With high-grade mast cell tumors, or if there is evidence of metastasis, your veterinarian may also recommend a post-surgical consultation with a veterinary oncologist. The oncologist can help you determine if follow-up chemotherapy or other treatment options are best for your dog and you.
Treatment for non-surgical mast cell tumors
Consulting with a veterinary oncologist is also beneficial when surgery isn't an option. Some mast cell tumors are too big to be able to be completely removed. Or the tumor location may be such that surgery isn't possible. In those situations, radiation therapy, chemotherapy, or targeted therapy may be good alternative options.
Palladia®
Some mast cell tumors will respond to the medication Palladia, which is a tyrosine kinase inhibitor. This is an oral medication which blocks signaling through the KIT receptor, a receptor which may be mutated and more active in mast cell tumors. While it is a good option for some dogs, not all mast cell tumors respond to Palladia. Also, some dogs experience GI side effects such as nausea, vomiting, loss of appetite, or diarrhea.
Stelfonta®
Recently, Stelfonta, a new and exciting treatment for mast cell tumors has become available. Unlike other treatment options, the veterinarian will inject this medication directly into the mast cell tumor. Stelfonta works by activating a protein that causes the tumor cells to die.
This is an innovative (if not miraculous) treatment that appears to be an effective alternative to surgery for masses that meet certain criteria (size, location, and absence of metastasis, etc). Talk with your veterinarian to determine if your dog may be a candidate for Stelfonta.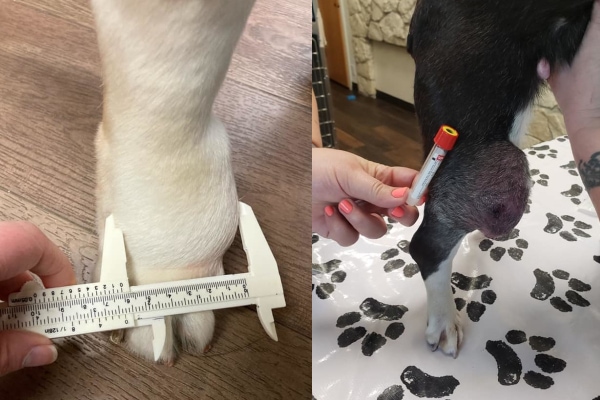 Prednisone
The steroid prednisone for dogs may be part of some chemotherapy protocols. It also has the ability to shrink mast cell tumors temporarily in some cases. However, prednisone alone is inferior to other true treatment protocols as results tend to be short-lived.
What is the prognosis for mast cell tumors?
The goal of any of these treatments is to give a dog the best possible chances of survival and a good quality of life. A dog's overall prognosis and life expectancy are based on a variety of factors.
As mentioned, histological grade plays a large role in long-term outcomes. Dogs with low-grade mast cell tumors that are completely excised have less than a 5% chance of recurrence or metastasis. On the other hand, dogs with high-grade mast cell tumors have a higher risk of metastasis, poorer local control, and shorter survival times.
In addition to histologic grade, location can also be prognostic. Tumors on the prepuce or inguinal area, nail bed, mouth, and perineal area are often more aggressive. Additionally, mast cell tumors that occur internally, such as in the GI tract, liver, spleen, or bone marrow, carry a very poor prognosis.
Finally, the breed of the dog can also affect the prognosis. Remember I said that dogs of bulldog descent are more likely to develop mast cell tumors? Well, the good news is that tumors in these dogs often tend to behave more benignly and are less likely to cause serious disease than in other breeds.
When do you stop fighting mast cell tumors in dogs?
As you can see, the prognosis and life expectancy can vary significantly. For some dogs, a mast cell tumor is just a one-time problem that surgery can quickly and completely resolve. But other dogs aren't so lucky. Maybe they have an aggressive tumor which is causing local or systemic effects. Or they have one that is difficult to remove surgically or requires additional therapies. In those situations it can be hard to know when you should stop fighting the mast cell tumor.
I can't answer the question of when to stop fighting mast cell tumors for your dog. But I can help direct you to some people who might be able to give you support and a bit of clarity. First of all, your veterinarian or veterinary oncologist are great resources. Like you, they are committed to helping provide your dog a good quality of life. They can help you evaluate your dog and discuss options (if there are some) for improving quality of life. Or they can help you know when it is time to say goodbye to your dog and prepare for your dog's euthanasia.
You could also consider consulting with a veterinarian who specializes in dog hospice care. These wonderful individuals can help fill your dog's last days with dignity and comfort. And they too can help you decide when to stop fighting mast cell tumors.
Don't Wait—Aspirate!
Mast cell tumors are very common in dogs. But they can also be very challenging because they can look like almost any other tumor. If you find a new mass on your dog or one of your dog's existing masses is growing or changing, ask your veterinarian to take an aspirate. That way you can breathe a sigh of relief that the mass is benign. Or you can start addressing the mast cell tumor while it is potentially still small and easier to treat.
If your dog does end up having a mast cell tumor, talk to your veterinarian about which treatments would be best. Thankfully, veterinarians and veterinary oncologists have an array of options at their disposal. They can discuss the pros and cons of each option with you so that together you can figure out how to get rid of the mast cell tumor while keeping your dog as comfortable and happy as possible.
Do you have personal experience with mast cell tumors in dogs?
Please share your dog's story or some words of encouragement below.