Do you have a dog first aid kit? If not, this article is for you! Integrative veterinarian Dr. Julie Buzby explains what to put in your kit and why each item is important. Plus, she discusses how to use each component of your first aid kit to care for your dog in the event of an emergency.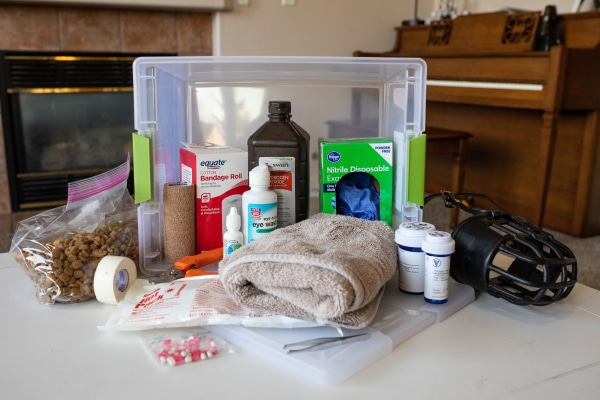 "Better safe than sorry." This motto was very common in my home when I was growing up. My mom was always saying it—whether she was reminding me to grab a jacket after I argued that it wasn't cold outside, or she was telling me to make an extra stop for gas on my road trip because you never know when you are going to get stuck in construction.
Now that I am an adult myself, plus a mom and veterinarian, I understand what my mom meant. It's better to be overly prepared and not need it, than to be caught in a situation and not be ready.
I firmly believe that dog parents should also live by this motto. Whether your dog spends his or her days sleeping on the couch or hiking in the mountains, accidents can happen anytime and anywhere. Sure, being cautious and taking the proper precautions can go far. But at the end of the day, an accident is just that—an accident.
It is important that you have the supplies (and knowledge) to handle common doggie emergencies. One of the best ways to do this is by having a dog first aid kit.
Wondering what to put in a dog first aid kit?
First, every dog parent's kit will look a little different. When designing your first aid kit, take into account:
Your location—the various areas of the country have different dangers and are in different proximity to veterinary care
Medical conditions your dog has
Typical activities you like to do with your dog—the kit for a backcountry camping dog is going to be different than one for a suburban couch dweller
15 items to include in a dog first aid kit
With these factors in mind, this is my list of items that I believe every first aid kit for dogs should include:
1. Colorful waterproof container
The first step is to select the container or box you want to use for your first aid kit. This will depend on personal preference. But the most important part is that it is large enough to store all your supplies and easy to use. In an emergency, you want to know exactly where everything is located so you can access it quickly.
Personally, I prefer brightly colored containers (red or orange). I find this makes it much easier to locate my first aid kit in an emergency. Also, if I ever need to tell a pet sitter or family member where the kit is, it's much easier to have a bright red box that stands out from every other black, white, or clear container I have in my house.
Additionally, I recommend selecting a storage box or bag that is waterproof. This will help protect your supplies from being damaged by moisture.
Finally, the container should be easy to carry or travel with. If you are hiking, camping, or traveling with your dog, I recommend bringing the first aid kit with you. When you are away from home or in an unfamiliar area, you don't want to waste precious time looking for a store to find the supplies you need.
2. Dog nail clippers and styptic powder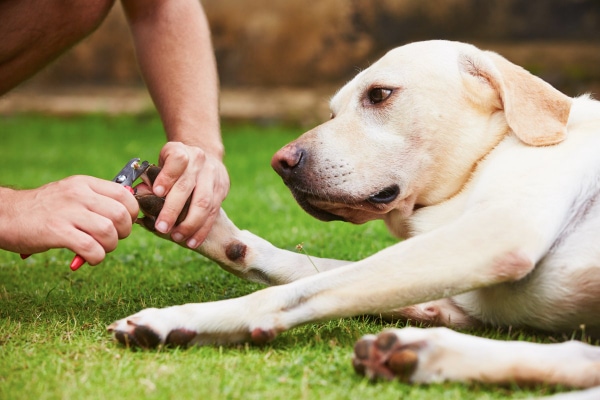 Some of the most common injuries involve your dog's toenails. If your dog rips a nail off, you cut a nail too short, or your dog's nail splits, Kwik-Stop (or another styptic powder or pencil) is a great way to stop a dog's nail from bleeding. Plus, in some situations, you can trim a split nail back to keep the split from progressing.
Storing the dog nail clippers and Kwik-Stop in the first aid kit is also a handy way to know where they are. (But this only works if you put them back after trimming your dog's nails.)
As a side note, learning how to clip your dog's nails is the number one way to help prevent nail injuries. And it doesn't have to be a huge, scary ordeal for you and your dog. Your veterinary team can give you a demonstration and some tips. Or you can check out Dr. Buzby's Nail Trimming Master Course to become a pro in no time.
3. Bandaging material
If your dog injures a nail or has a dog paw pad injury, you might need to bandage your dog's foot. Therefore, bandaging supplies are a great addition to your first aid kit. I recommend including:
Rolled gauze
Square gauze or Telfa™ pads
Elastikon® ( a sticky, stretchy tape)
Vet wrap (i.e. CoFlex®, Coban™, etc.)
Adhesive tape
(Depending on the location and type of bandage, you may, or may not, need all of these supplies. But it is good to have them, just in case.)
Brief bandaging tutorial
Anytime you apply a bandage, you should make sure the area is as clean and dry as possible. Ideally, you would wash the area with mild soap and water (if available) or at least gently remove debris. Cleanliness is important because trapping dirt and bacteria under the bandage can lead to poor wound healing.
I usually recommend placing a piece of square gauze or a Telfa pad on the wound. Then, use the rolled gauze to wrap a snug, but not tight, layer over the pad and around the body part to hold the pad in place. You can then wrap over the layer of rolled gauze with the vet wrap to help secure the bandage and keep the wound clean. Finally, apply Elastikon or adhesive tape to help keep the bandage together and in the correct location. (For more detailed instructions, check out my article: How to Wrap a Dog's Paw.)
As a safety note, check the tightness of the bandage by inserting one or two fingers at the top. If your fingers don't fit, the bandage is probably too tight. Also, monitor your dog's leg and/or toes carefully. If they become swollen, pale, discolored, or cool to the touch, the bandage may be cutting off your dog's circulation. A too-tight bandage is dangerous, and worse than not having one at all.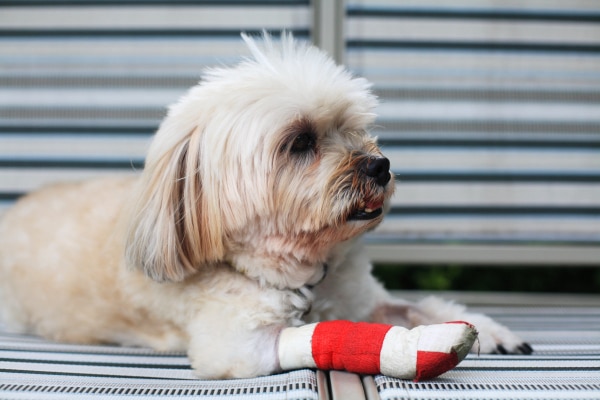 4. Latex or nitrile gloves
Anytime you are placing a bandage or cleaning a wound on your dog, you should wear gloves. This will help protect you from bacteria or harmful substances that could be in your dog's blood or wound. Plus, gloves also help protect your dog from anything that you might have on your hands. And they keep your hands cleaner too.
For these reasons, it is a good idea to have several pairs of disposable gloves in your first aid kit. You may want to put them in a resealable bag so it is easier to keep them clean and in one place.
5. Clean bath towel
Not only are clean gloves important to have readily available, but so is a clean towel or two. While it probably isn't the first (or second, or third) thing you would have thought of for a first aid kit, a bath towel can serve many purposes, including:
Substituting as a bandage or wrap if you are missing other supplies
Cleaning and drying a wound before bandaging
Applying pressure to a bleeding injury
Keeping your dog warm if his or her body temperature is low
Acting as a sling for a large dog who injured a leg and needs help walking
With all these uses, a towel is definitely worth the space it takes up in your first aid kit!
6. Dog muzzle
Another useful item for a variety of situations is a dog muzzle. I know this item is a hot topic. And it is something most dog parents would probably not consider putting in their first aid kit. However, I believe it is one of the most important tools to include.
I know your dog is special and he or she is your best friend. It is extremely difficult to imagine that your beloved dog would ever hurt you. You are probably right—under normal circumstances.
However, if your sweet dog is in severe pain, he or she may not be able to recognize that you are trying to help. Even the best, nicest dogs in the world can bite when they are hurt and distracted by pain.
For example, imagine that your leg is broken. And now someone is trying to inspect it or pick you up to take you to the car. While you are a human and know better, you still might feel like punching someone if they bump your injured leg while trying to help you.
Pain in dogs can make our dear dogs feel the same way, but they don't know better than to react. And often this reaction is in the form of a snap or bite. Therefore, it is best to have a muzzle that you know fits your dog appropriately just in case.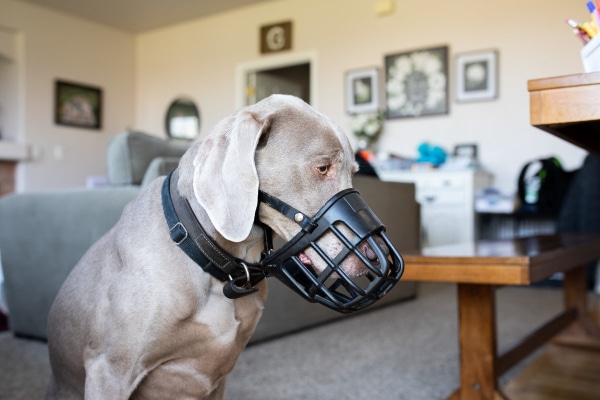 Types of dog muzzles
A basket muzzle is the most effective and safest way to protect yourself. This type of muzzle fully encloses your dog's mouth so there is no way for him or her to bite you. But it still allows your dog to pant and bark.
If you do not have a basket muzzle, a nylon muzzle would be the next best option. This is the type of muzzle that slips over a dog's nose and mouth to reduce how wide the mouth can be opened. While a dog can still bite with this type of muzzle, it is more difficult.
Finally, you can also fashion a makeshift muzzle out of a strip of material or your dog's leash. Start by tying it around your dog's muzzle so that the tied portion is under his or her chin. Then bring the free ends of the fabric or leash around to the back of your dog's head and tie them behind his or her ears. This option is the least effective, but I wanted to mention it in case it would help someone in a pinch.
As a word of caution, if your dog is having trouble breathing, a nylon muzzle or makeshift muzzle can make breathing even more difficult by forcing your dog to keep his or her mouth shut. For the same reason, be careful when using nylon or makeshift muzzle on brachycephalic (i.e. short-nosed) dogs. A basket muzzle is much safer for both of these situations.
Also, be vigilant to avoid being bitten when applying the muzzle. Some dogs may resist being muzzled, especially if they aren't used to it or are painful or worked up.
Muzzle fitting and training
It is important to try the muzzle on your dog in a normal, calm situation before putting it in the first aid kit. If the muzzle is not snug around your dog's nose and mouth, it will not prevent him or her from biting. And it cannot properly protect you. A muzzle that isn't properly fitted does not help you or your dog.
Additionally, you may want to practice putting the muzzle on your dog. This helps you become familiar with using it so you will be more confident in an emergency situation. Plus, it lets your dog become accustomed to wearing it. Ensure that you give your dog praise (and treats) so that he or she associates the muzzle with good things.
7. Ice pack
If you need a muzzle because your dog is in pain, you also might need an ice pack. Just like in humans, ice packs are great at relieving pain and swelling in dogs. Plus, if your dog gets an insect bite or sting (or comes in contact with an allergen), an ice pack can be soothing.
If your first aid kit is at home, you can keep the ice pack in the freezer. But if you are traveling or taking your first aid kit with you, an ice pack that can be activated when squished or bent would be more beneficial. (If you are using this type of ice pack, it is important to inspect it every few months. They can become accidentally activated, which would render them useless when you need them.)
8. Benadryl® (diphenhydramine)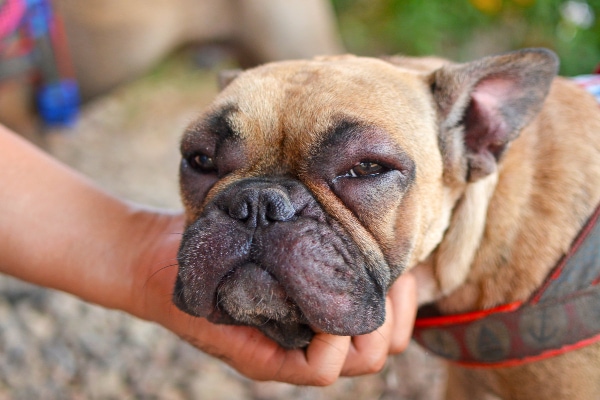 If your dog is having an allergic reaction to a bug bite or something in the environment, an ice pack is a great start. But it probably isn't sufficient to keep your dog comfortable. Therefore, I recommend having Benadryl® for dogs in your emergency kit.
The only form of Benadryl you should use in dogs is the 25 mg diphenhydramine tablets that adult humans take. Ensure that you purchase Benadryl which is free from other drugs (e.g. acetaminophen, pseudoephedrine, etc.) because they could be dangerous for your dog. And do not give your dog children's Benadryl without talking to your vet. Liquid formulations of Benadryl may contain the artificial sweetener, xylitol, which is toxic for dogs.
My policy is to not give dosing information over the Internet, so I recommend talking to your vet about how much Benadryl you should give your dog. Then use a permanent marker to write it on the bottle. That way, you don't have to try to remember the dose in an emergency situation.
In cases of an allergic reaction, Benadryl can reduce swelling and inflammation. However, if your dog is having a severe anaphylactic reaction, make an emergency vet visit ASAP. Just like in humans, an anaphylactic reaction can be life-threatening. While Benadryl will help, your dog may need additional medications like steroids or oxygen.
9. Tick remover or tweezers
In addition to allergic reaction-inducing bug bites, your dog could be bitten by a pesky tick. He or she can pick up a tick when hiking, camping, at the dog park—or even in your own backyard.
If a tick climbs on your dog, it is important to remove it as soon as possible—ideally, before it attaches to your dog's skin. The sooner you get the tick off, the less likely it is to have had time to transmit tickborne disease in dogs.
Sometimes, the tick is still crawling around on your dog. In that case, you may be able to just pick it up and dispose of it. But removing an attached tick is a bit more complicated. It is important to do so properly, which is helped by having the right tools for the job.
If you attempt to just pull the tick off your dog with your fingers, you might leave the head of the tick behind. This can increase the chance of infection or a local reaction to the tick—and be uncomfortable for your dog.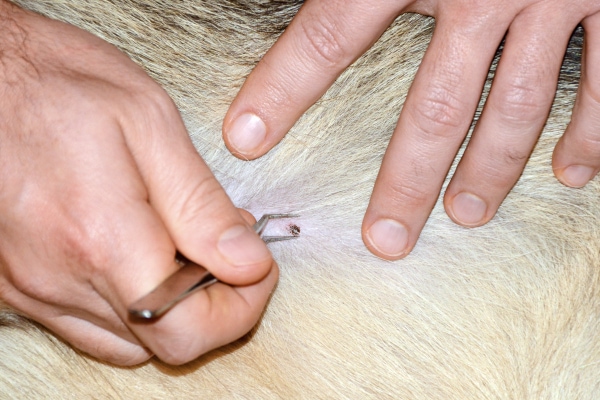 On the other hand, if you have tweezers, or better yet, a specialized tool called a "tick remover," in your first aid kit, you can quickly and properly remove a tick anytime you notice one on your dog.
Bonus tip: If you live in an area with a large tick population, I recommend keeping your dog on veterinarian-prescribed (i.e. not over-the-counter) flea and tick prevention. Also, after taking your dog outside (even for short periods of time), closely examine him or her for ticks.
10. Epsom salts
In some areas of the country, dogs can be exposed not only to ticks and fleas but also to grass awns. While foxtails and other grass awns don't bite as ticks do, they can become embedded in your dog's skin. And foxtails in dogs can cause serious wounds and infection.
If you notice a foxtail (or other grass awns) immediately and it is still in your dog's hair, you can remove it with your fingers before it becomes embedded. However, if it has started to burrow into the skin, Epsom salt soaks can help draw the foxtail out. (But don't let your dog lick or drink the Epsom salt soak water.)
Just like ticks, it is important to remove the whole foxtail ASAP. A broken piece left behind (or the whole foxtail) can travel through your dog's body, causing even bigger problems. Thus, if you aren't able to get the foxtail out of your dog's skin, please consult your veterinarian promptly.
11. Eye wash
Your dog could also potentially come in contact with something that irritates or gets stuck in his or her eyes. If you have ever had an eyelash, dirt, or other object in your eye, you know it can be very painful and irritating. And your dog feels the same way.
If you think your dog has a foreign object or irritating substance in his or her eye, you can try using a plain, saline eye flush to rinse the eye. Please do not use any medicated or prescription flushes that are not from your veterinarian.
When washing your dog's eye, remember "dilution is the solution to pollution." In other words, you don't have to worry about using too much eye flush—more is usually better. But, it is important to ensure you do not touch the tip of the eyewash to your dog's eye. This could scratch your dog's eye and create a corneal ulcer in dogs.
After flushing your dog's eye, if he or she still seems painful or irritated, please consult your veterinarian. Eye injuries can progress quickly and should not be ignored. Signs that your dog's eye might be painful include:
Squinting
Pawing at the eye
Redness of the sclera (i.e. the white part of the eye)
Green, yellow, or clear drainage
Swelling around the eye and eyelids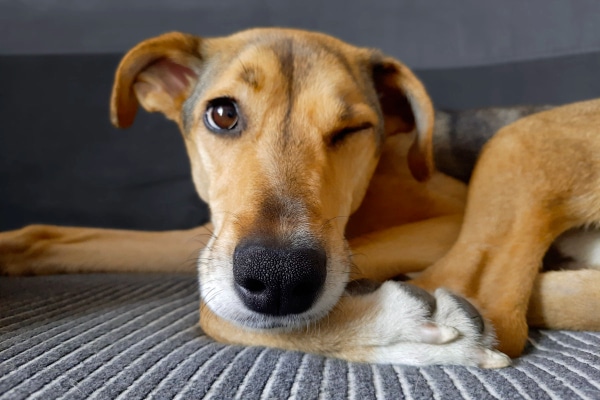 12. Hydrogen peroxide
If your dog gets into something that he or she shouldn't, the eyes might not be the only thing affected. Some dogs like to eat things that can cause stomach upset, or, even worse, are toxic.
In the past, if a dog ate a potential toxin (for example, chocolate, which can kill a dog), a common solution was using hydrogen peroxide to induce vomiting.
However, we now know that sometimes hydrogen peroxide can cause more harm than good.
For example, giving large amounts of peroxide can irritate your dog's esophagus and stomach. Or, if it accidentally goes down the airway, the hydrogen peroxide can enter your dog's lungs and cause aspiration pneumonia—which can be life-threatening.
Therefore, if your dog is exposed to a toxin, I recommend getting to your veterinarian immediately rather than reaching for the peroxide. Vet hospitals carry drugs that are safer and more effective at inducing vomiting. And the vet can also treat your dog for any potential effects of the toxin (if needed).
However, if you cannot make it to a veterinarian in a timely manner, sometimes the risks of the toxin staying in your dog's body may outweigh the risks of giving your dog peroxide. For this reason, I still recommend keeping it in your dog's first aid kit.
Thankfully, you usually don't have to make this call on your own. If you aren't sure whether you should rush to the vet or give your dog hydrogen peroxide first, contact your veterinarian or the ASPCA Animal Poison Control Center. (The ASPCA does charge a fee to talk to the veterinary toxicology team. But the peace of mind that comes from calling them is worth every cent in my opinion.)
13. Dog thermometer
While a thermometer may not seem particularly "lifesaving," it actually could be. If your dog is suffering from heat stroke in dogs or acting sick, knowing how to take your dog's temperature gives you valuable information.
Temperature is considered one of the core dog vital signs because your dog's organs and brain only function properly at certain temperatures. If body temperature gets too high (for example, with heatstroke), it can cause negative effects on the whole body—including the respiratory, circulatory, and neurologic systems. This means that recognizing your dog's temperature is dangerously high could save his or her life.
Plus, it is important to know if your dog's temperature is too low. A dog can have a decreased temperature when septic (i.e. undergoing an overwhelming response to infection). Plus, dogs can be hypothermic from being exposed to cold for prolonged periods of time. Both of those situations are also potentially dangerous for your pup.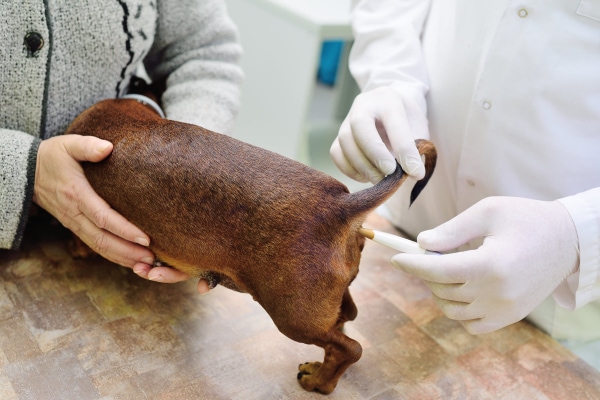 A quick reference guide to normal dog temperature
In order to know what to make of the number on the thermometer, it helps to know that normal dog temperature is 100o-102.5oF. (But keep in mind that if your dog has just been exercising in the heat, his or her temperature may be closer to 103oF. If this is the case, recheck your dog's temperature in 10 to 15 minutes—after he or she has had time to cool down and relax.)
If your dog's temperature is above 104oF, it is best to contact your vet as this could indicate a problem. And if your dog's temperature is extremely elevated (107o-109oF), this is a life-threatening emergency. Rush your dog to the nearest emergency room immediately! These "danger zone" temperatures can be fatal or result in permanent damage to your dog's body and brain.
14. Probiotics
An item that can be helpful to have for non-emergency (but definitely distressing) situations is probiotics. If your dog eats something he or she shouldn't or experiences mild stomach upset for another reason, he or she might start vomiting and/or having diarrhea. This is no fun for your dog (or for you).
Often, in cases of mild GI (i.e. gastrointestinal) upset, your dog can recover faster if you start combating it early. Feeding a bland diet for dogs and giving your dog probiotics are excellent ways to do this.
Not only are probiotics effective, but they are also safe and easy to give. One of my favorite probiotics is called ForiFlora®. This is a packet of flavored powder that you sprinkle on your dog's food. Most dogs love the taste and think it is a special treat.
By keeping probiotics in your dog's first aid kit, you can get a jump start on your dog's stomach upset. However, if you have any questions or your dog's GI problems seem to be progressing, please contact your veterinarian immediately. And if your dog is vomiting blood, having bloody diarrhea, or seems very painful, call your veterinarian right away.
15. Your dog's prescriptions and food
First aid kits are certainly important for accidents and sickness. They are a great way to be prepared for the unexpected and have any supplies you might need to temporarily care for burns, cuts, and other injuries. However, they are also essential in case of emergencies like natural disasters.
I recommend that dog parents stock their first aid kits with at least three to five days' worth of their dog's food. This is especially important if your dog is on a special or prescription diet. If you need to evacuate with your dog for any reason, you might not always have time to grab his or her food before leaving the house. Additionally, you might not be able to get to a store or veterinarian to get food right away.
Also, if your dog is taking any medications or supplements like Dr. Buzby's Encore Mobility™ hip and joint supplement, you should have three to five days' worth in your doggie first aid kit. If your dog is on important prescriptions, you don't want to miss any doses. This could add to your list of problems during an evacuation and cause unnecessary stress for both you and your dog. And even if your vet is open and available during a natural disaster, it can sometimes take a few days to get a prescription refill.
Being prepared and having all the materials together is the best and easiest way to make sure you don't forget anything in case of an emergency.
Recognizing the normal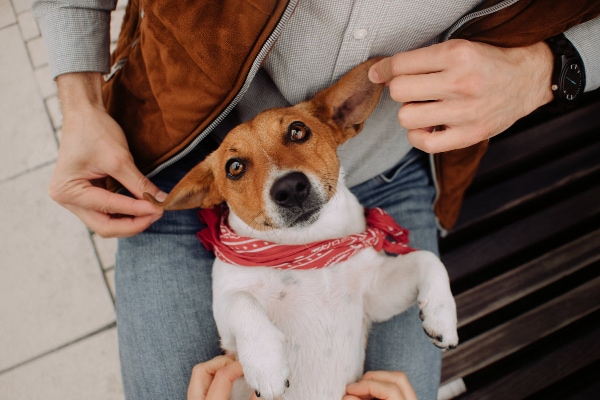 While we are on the subject of how having a first aid kit on hand can help you care for your dog, I also want to remind you of the importance of knowing what is normal for your dog. While some emergency situations are obvious (like a bleeding cut), others may not be. Dogs can be great at masking pain and acting like nothing is wrong.
For this reason, I also recommend performing a weekly wellness exam on your dog. By having a good sense of your dog's normal baseline, it will be easier for you to figure out if your dog could be injured or experiencing an emergency.
You might be thinking, "Dr. Buzby, I don't have time to examine my dog every week." However, what I am suggesting is something that you are already doing every day—petting your dog. The only difference is that I am asking you to purposefully pet your dog in a manner that allows you to quickly examine him or her. With practice, this should only take you about five minutes.
You can learn more by checking out my 10 Lifesaving Touches blog or Tip-To-Tail Health Scan™ Master Course.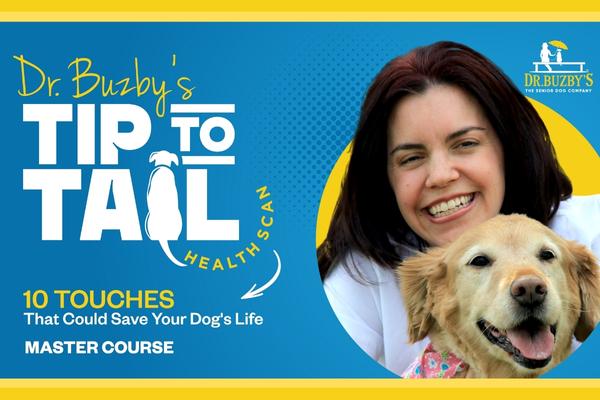 Making your DIY dog first aid kit (or reviewing the kit you have)
Now that you know what to pack in a dog first aid kit, it is time to take action. Why not set aside some time in the near future to purchase and organize all the necessary supplies to stock your kit or make a DIY dog first aid kit?
This first aid kit checklist will help you organize what you already have and what you may need to purchase:
DIY FIRST AID KIT CHECKLIST
HAVE
NEED
First aid container (Colorful, waterproof)
Dog nail clippers
Styptic powder

Bandages


Rolled gauze
Square gauze or Telfa™ pads
Elastikon® (a sticky, stretchy tape)
Vet wrap (i.e. CoFlex®, Coban™, etc.)
Adhesive tape
Latex or nitrile gloves
Large towel
Dog muzzle
Ice pack
Benadryl
Tick remover or tweezers
Epsom salts
Eye wash
Hydrogen peroxide
Dog thermometer
Probiotics
3-5 day supply of dog food
3-5 day supply of dog's meds
If you already have a dog first aid kit, take a few minutes to ensure it contains everything you need. And double-check that all the items are in good working order and not expired.
As my mom always said, "Better safe than sorry!"
What's in your dog first aid kit?
Please share some of your "must-have" items below!