When there is a tumor on a dog's paw, it may be malignant, benign, or not actually a tumor at all. So how do you tell the difference? Integrative veterinarian Dr. Julie Buzby answers that question and discusses three categories of lumps on a dog's paw so that dog parents will know what to do if they find a tumor on their dog's paw.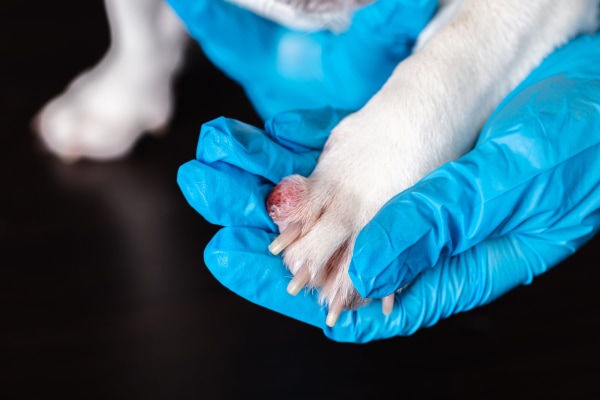 Tumors can appear almost anywhere on a dog's body, including his or her paws. But the good news is that not all bumps on a dog's paw are cancer. Some of them, while unsightly and sometimes uncomfortable for your dog, aren't inherently dangerous.
The difficult part is that it can be almost impossible to tell which lumps on a dog's paw are cancerous just by looking at them. So what should you do if you are doing your weekly 5-minute dog wellness scan and you notice a tumor on your dog's paw? Make an appointment with your vet, of course!
How can the vet determine the origin of a tumor on a dog's paw?
At the veterinary clinic, your dog's vet will carefully examine the bump you found. Plus, he or she will do a complete physical exam on your dog to look for any other lumps or health issues. Then, he or she will most likely recommend some different diagnostics to figure out what kind of tumor is on your dog's paw (or if it is even a tumor at all).
It would be amazing if all vets got a pair of "cytology glasses" during vet school so that we could look at a lump and immediately know what it is. However, we didn't get that, or X-ray vision, or any of those other handy vet superpowers. But we did learn how to take a sample of cells from a mass and examine them under the microscope (or ask a veterinary pathologist to weigh in).
Usually, when it comes to suspected tumors, the vet will want to perform a fine needle aspirate, a biopsy, or both.
Fine needle aspiration
One of the quickest and least invasive methods of identifying the type of tumor is a fine needle aspiration (FNA). As the name would imply, the vet inserts a small needle into the mass several times to collect some cells. Then, he or she spreads the cells on a slide, stains them, and examines them under a microscope. (Or the vet may send the slide to a diagnostic lab for a pathologist to review.)
This can often, but not always, give the vet a good idea of what type of cells make up the mass. For example, mast cell tumors are usually easy to recognize because the cells often have distinct blue granules. Or, if the aspirate yields thick, cheesy material that is mostly cellular debris, the dog may have a sebaceous cyst.
However, the FNA doesn't always reveal the identity of the mass. This can be the case because some masses don't exfoliate well (i.e. it is hard to get cells out of them). Or the aspirate may contain cells or debris that don't point to a definitive tumor type. Plus, some masses are just too small or too flat to accurately sample with a needle.
Biopsy
In situations where the FNA isn't definitive, the vet may suggest moving to a biopsy. Additionally, if the vet removes a mass, he or she may also recommend sending it in for a biopsy. This is often the case even if the vet is pretty sure of the identity of the tumor based on the FNA.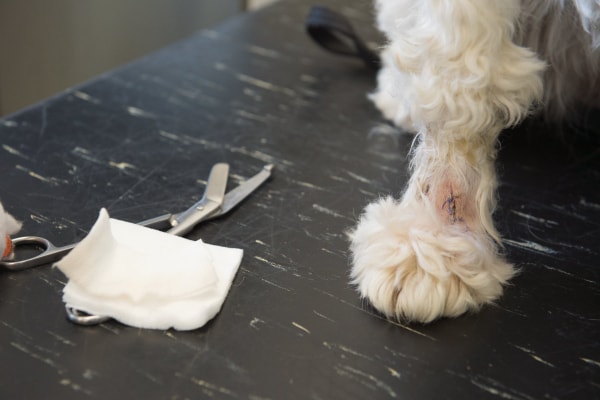 Biopsies are so important because they allow the veterinary pathologist to look at a whole piece of tissue, rather than a collection of cells.
An FNA is sort of like blindly plunging your hand into a layer cake and pulling out a handful of crumbs. You can guess what kinds of cake it contains based on the crumbs. But you don't know how the layers are arranged. And you don't know if there is a chocolate layer and a vanilla layer, or if the two flavors are swirled together in each layer.
On the other hand, a biopsy is like cutting a full slice of the cake. You can see each layer distinctly and look at the filling between the layers. This gives you a much better idea of what the whole cake, and each layer, was really like.
Why do an FNA and a biopsy?
Now that I have made everyone hungry for cake, let's wrap back around to tumors. The FNA is a valuable starting test because it is non-invasive. And it can funnel the masses into the "probably XYZ type of noncancerous tumor" category or the "most likely XYZ cancerous tumor" category. That information helps the vet find the best course of treatment.
Then, if the recommendation is to remove the mass, the biopsy gives the next level of information. It helps the vet definitively know the identity of the tumor (because sometimes it isn't what the FNA suggested). And, in the case of some tumor types, the pathologist can grade and stage the tumor. This helps give an idea of the prognosis. Finally, seeing whole slices of tissue also allows the pathologist to determine if the surgery removed the entire tumor. All of this information will help the vet to further refine the treatment and monitoring plan.
What are the types of tumors on a dog's paw?
Now that you have an idea of how the vet will arrive at a diagnosis, let's take a look at three categories of lumps on a dog's paw. We will start with the scary one, malignant tumors, to get it over with.
1. Malignant tumors on a dog's paw
Unfortunately, some tumors on a dog's paw are indeed cancer. These malignant tumors can be locally invasive in some cases. But many of them can also metastasize (spread) to nearby lymph nodes or important internal organs like the lungs.
The most common types of malignant tumors on a dog's paw include:
Malignant melanomas
Mast cell tumors
Squamous cell carcinomas
Basal cell carcinomas
Soft tissue sarcomas
Let's take a look at each type of cancer individually.
Malignant melanoma
Melanomas originate from pigmented cells in your dog's skin. The good news is that the majority of these tumors are benign (i.e. melanocytomas). But, in about 10% of cases, the pigment cells can form a malignant melanoma instead.
This seems to happen more often in certain areas like the eyes, mouth, or paw. More specifically, a dog can develop malignant melanoma on the paw skin or paw pad or in the toe or toenail bed. Also, certain dog breeds, like the Scottish Terrier, Irish Setter, and Golden Retriever tend to be at higher risk for malignant melanoma of the paw.
Because they come from pigmented cells, melanomas tend to be a brown or black tumor on your dog's paw that has a raised or domed appearance. However, there are a few cases where there is no obvious coloring (i.e. amelanotic melanomas). Or, sometimes the tumor may be flat and have indistinct margins. This is why testing any skin bump is so important!
Treatment for melanomas
If your dog has a suspected melanoma that is too small for an FNA, or if the FNA suggests the mass is a melanoma, surgical removal of the mass is typically the next step. Melanomas are a tumor type where the post-surgical biopsy is very important. Not only can it distinguish benign from malignant melanomas, but it can also evaluate the tumor margins.
The goal of surgery is to remove the mass with large margins. This makes it less likely that the malignant melanoma will come back or spread. However, this can be difficult on the foot because there isn't a lot of extra tissue. Sometimes, if the mass is on the toe or in the toenail, the vet may recommend amputating the entire toe. This sounds extreme, but it helps provide good margins.
When complete surgical removal isn't an option, the next best treatment may be radiation therapy and chemotherapy. Or, there is also a melanoma vaccine for dogs. It is mostly designed for dogs with oral melanoma but may work for melanoma on a dog's paw too.
Unfortunately, it is estimated that by the time of diagnosis, the tumor has already spread in 30-40% of cases. And with treatment, the average survival time for malignant melanoma is a little over one year.
Mast cell tumors
Mast cell tumors (MCTs) in dogs are the most common type of skin cancer in dogs. So it would only make sense that they can occur on a dog's paw.
Unfortunately, MCTs are also one of the most frustrating cancer types. They can appear out of nowhere and look like almost anything! On a dog's paw, mast cell tumors can occur on the skin or under the skin.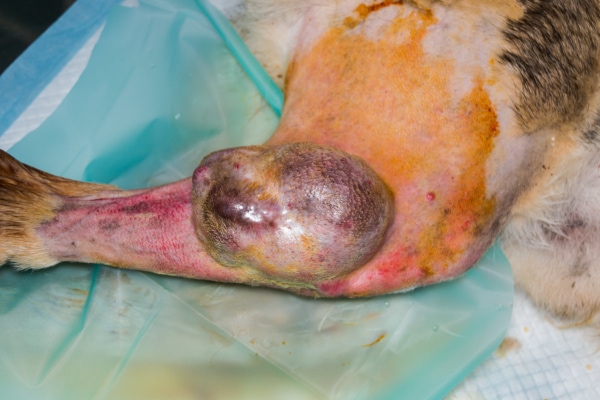 Mast cell tumors can be low-grade and slow-growing or they can be high-grade and very aggressive. Most are solitary lesions that are round, raised, and red. But it is possible to have multiple lesions in some cases, and can they have a variable appearance. Occasionally, a more severely affected dog may show systemic symptoms, such as trouble breathing, poor appetite, weight loss, and vomiting or diarrhea.
Like other masses, an FNA is a good diagnostic starting point. However, poking a mast cell tumor can sometimes result in an allergic reaction. This happens when mast cells release the contents of their histamine-containing granules. Therefore, your vet may recommend giving antihistamines like Benadryl for dogs to decrease the risk of a reaction.
Treatment for mast cell tumors
If the mass is an MCT, surgical removal with wide margins is often the treatment of choice. However, it can be difficult to get sufficiently large margins on a dog's paw. If the biopsy reveals the margins are incomplete, the vet may recommend amputation or radiation and chemotherapy.
Alternatively, there is also a new treatment, Stelfonta®, which is an intratumoral injection. It can be a great non-surgical option for mast cell tumors on a dog's paw in some cases.
The exact prognosis for dogs with an MCT can vary significantly. If the tumor is low-grade and completely excised, it is unlikely to come back or cause further issues. But high-grade tumors, or those that are difficult to remove, have a worse prognosis.
Squamous cell carcinoma
Like in humans, squamous cell carcinomas (SCC) on a dog's paw are thought to be caused by UV damage from frequent exposure to sunlight. Thin-coated dogs, or those with light-colored skin, are most likely to develop an SCC, particularly if they like to sunbathe. Unsurprisingly then, the most common breeds affected by cutaneous squamous cell carcinoma are:
Pit Bulls
Dalmatians
Boxers
Beagles
SCCs can be reddened and slightly raised, but do not often have a smooth, rounded shape like other tumors. Sometimes they can also be crusted, scaly, and plaque-like in appearance. And since SCCs are malignant, they can occasionally spread to local lymph nodes or to other organs like the lungs. That means you might see enlarged dog lymph nodes, trouble breathing, or other symptoms of cancer like weight loss and inappetence.
Typically, a biopsy of the affected area is the best way to reach a definitive diagnosis. However, the vet may also recommend an FNA of a local lymph node if it is enlarged.
Treatment for squamous cell carcinoma
Surgical removal with wide margins is ideal, although radiation can help if the cancer is inoperable. Chemotherapy isn't usually effective for squamous cell carcinomas. However, there are a few other treatment options.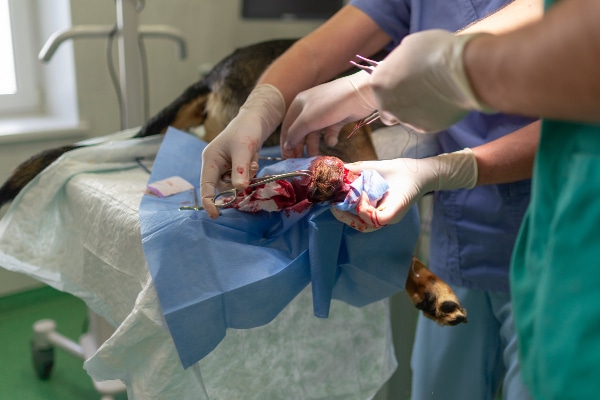 A topical ointment called imiquimod has had great success in treating SCC in humans and cats, so it may be an option for dogs. Also, photodynamic therapy, which selectively kills cells exposed to a light-sensitizing agent, and cryotherapy (i.e. killing cancer cells by freezing them) may be effective.
Even though SCCs are malignant, the good news is that they are mostly locally invasive and have a low risk of metastasizing. Local therapy can be curative, and the prognosis is good with treatment. However, it is possible for dogs sensitive to UV damage to develop new SCCs in the future.
Basal cell carcinoma
In general, basal cell tumors can be benign or malignant. Thankfully, the benign type is most common in dogs, and malignant basal cell carcinomas are very rare.
Like melanomas, these tumors are sometimes pigmented or black in color. But other times they may be pink or flesh-colored. Basal cell carcinomas may become ulcerated and are typically a solitary bump or plaque. A combination of hereditary and environmental factors (e.g., sun damage) may play a role in their development.
Even if needle aspirate testing confirms a malignant basal cell tumor on your dog's paw, the rate of metastasis is very low. Thankfully, surgical removal of the tumor is curative, and the risk of local recurrence is low with good surgical margins. Overall, this malignant skin tumor carries a good prognosis with treatment.
Soft tissue sarcoma
The term "soft tissue sarcoma" encompasses a variety of tumors that come from connective tissues (i.e. fat, muscle, fascia, etc.). They tend to be more common in middle-aged to older large-breed dogs with no particular breed predisposition.
One of the most concerning things about soft tissue sarcomas is that they can look and feel a lot like benign fatty tumors (which we will discuss soon). This is why having your vet perform an FNA on any new mass is so important! (If you need more proof of this, check out an article written by well-known veterinary oncologist Dr. Sue Ettinger entitled, "See Something, Do Something: Why wait? Aspirate!")
Soft tissue sarcomas are usually slow-growing firm masses that may be moveable or attached to the underlying tissues. And they may occur on or under the skin. While they are typically more likely to be locally invasive, it is possible for soft tissue sarcomas to spread to the lungs.
Like many other types of cancerous skin tumors, surgery is the treatment of choice, and the margins should be wide to decrease the risk of regrowth. This may sometimes mean that amputation, or leaving the surgical site open to heal on its own (rather than suturing it closed) may be necessary to treat a soft tissue sarcoma on a dog's paw. Alternatively, radiation therapy can be an option for tumors that are difficult to remove or have been incompletely removed.
Overall, the prognosis can be good for dogs with soft tissue sarcoma. However, it depends significantly on how well the surgery (and/or radiation) was able to control tumor growth in the area as well as the grade and size of the soft tissue sarcoma.
2. Benign skin tumors on a dog's paw
The good news is that some types of tumors on a dog's paw are benign. This means that they won't spread to other areas of the body or be locally invasive. And they generally have an excellent prognosis.
Plasmacytomas and histiocytomas
Two common benign skin tumors that may appear on a dog's paw are histiocytomas and plasmacytomas. Both are typically solitary, pink or red, hairless, and sometimes ulcerated masses. Plasmacytomas tend to occur in older dogs. And histiocytomas usually affect younger dogs (puppies or young adults).
While benign, surgical removal is the treatment of choice for plasmacytomas since they can still become large or ulcerated. However, cryotherapy or radiation are also options for plasmacytomas in areas such as the toe, where surgery is more challenging.
For histiocytomas, no treatment is necessary because they spontaneously resolve after two to three months and almost never return.
Lipomas
Lipomas in dogs are fatty tumors on a dog's paw which originate from fat below the skin's surface. This may sound strange because a dog's paw doesn't have as much subcutaneous fat as other places on the body. However, it is still possible for a dog to develop a lipoma under the skin near the top of the paw.
Since lipomas are benign and don't tend to ulcerate or bleed, they usually don't cause problems for a dog. However, if the lipoma is changing the foot conformation or making it hard for the dog to walk correctly, the vet may recommend surgical removal.
3. Tumor look-alikes
Sometimes a bump can pop up on your dog's skin that isn't truly a tumor (i.e. not formed by disordered and uncontrolled abnormal cell growth). These tumor look-alikes can be things like:
Sebaceous cysts
If a dog's hair follicles or pores become blocked, a sebaceous cyst in dogs may form on the paw. These masses may be on or under the skin and typically have a smooth pink, white, or bluish surface. Sometimes a sebaceous cyst may rupture, releasing a grey to white cheesy material. They can also start bleeding, especially if the dog traumatizes the cyst somehow.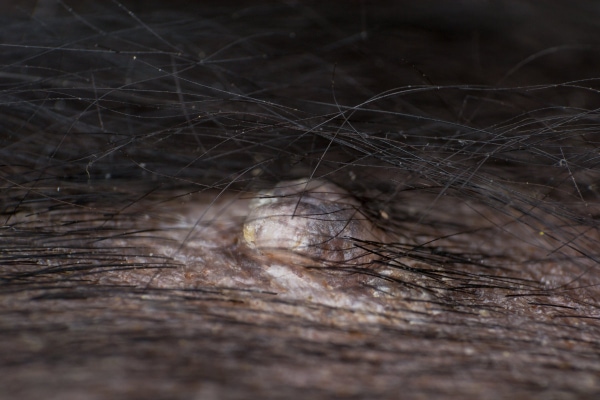 Treatment depends on what the cyst looks like. If it is small and not bothering your dog, your vet may recommend keeping an eye on the cyst (once he or she has performed the FNA to confirm that it is indeed a sebaceous cyst). In other situations, such as when the cyst is inflamed, infected, or keeps breaking open or bleeding, surgical removal is the best option.
Interdigital cysts
Another paw bump of concern is interdigital cysts in dogs. As the name would imply, they typically form between the dog's toes. And interdigital cysts are thought to occur when trauma to the hairy skin between the digits leads to irritation, inflammation, and dilation of the hair follicles. The resulting firm, painful, red to purple, itchy nodules can be a solitary lesion, or dogs may have one cyst between each toe. Sometimes these cysts may even rupture and bleed.
Interdigital cysts tend to be most common in large breeds, dogs with wide paws, or those who have other skin conditions like allergies or demodectic mange. Treatment usually involves addressing any concurrent skin disease and infection, plus using anti-itch and anti-inflammatory medications. Surgical removal of the cyst is also an option, but vets typically reserve this for cases that don't respond well to therapy.
Skin tags
A skin tag is a generalized description of any small, discrete nodule that appears on the skin. They can appear on the tops, sides, and bottoms of a dog's paws, or even between the toes. Skin tags are seldom bothersome unless they become large and/or ulcerated and infected.
However, cancerous tumors on a dog's paw can also look like skin tags, so ensure you let your vet perform an FNA on any new or concerning masses rather than chalking them up to "just skin tags."
As an aside, dog parents can also sometimes mistake an attached and engorged tick for a skin tag. This is understandable because ticks bury their heads in the skin, and their round smooth body can look a lot like a tiny flap of skin.
Foxtails or other foreign objects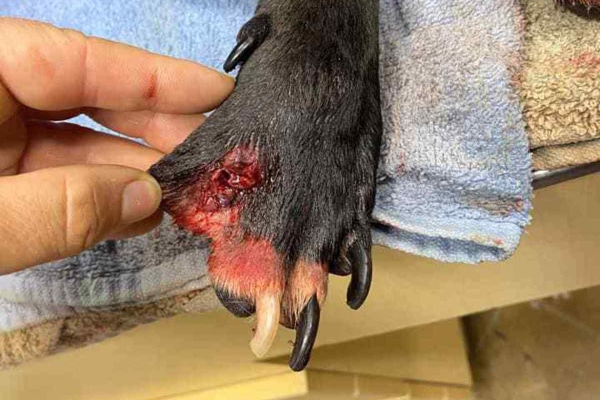 Sometimes a new lump on the paw that showed up rapidly may be the body's reaction to a foreign object lodged in the paw. For example, foxtails in dogs, or other grass awns, can pierce the skin and become lodged between a dog's toes or paw pads. This can create a painful area of soft tissue swelling which may become red and inflamed.
The veterinarian will often sedate your dog to find and remove the foreign object. Then he or she may prescribe antibiotics to address any infection and pain medications to keep your dog comfortable.
Abscesses
Along the same lines, dogs can also develop a walled-off pocket of pus (i.e. an abscess) on their paw if a puncture wound, or other trauma, seeds the area with bacteria. Typically, an abscess will pop up quickly and may be swollen, painful, warm, and inflamed.
The veterinarian will typically aspirate the swollen area to confirm the presence of bacteria, white blood cells, and purulent debris. This is also a good way to rule out a tumor. Then, depending on the situation, the vet may open and flush the abscess and/or start the dog on pain meds and antibiotics.
Don't wait and see—do the FNA
After reading the description of all these different tumors (and tumor look-alikes) you can probably better understand why I said that it is difficult to determine if a lump is benign or malignant by its appearance alone. After all, most skin masses are somewhat raised and pink/red or pigmented!
This means it isn't a good idea to take a "wait and see" approach to lumps and bumps. Especially on a location like a paw where surgery is more challenging due to the lack of extra skin, identifying and removing masses while they are small is the way to go. Plus, the sooner you catch a malignant mass, the less time it has to invade the surrounding tissues or spread to other locations.
Therefore, if you just found a tumor on your dog's paw, or there is one that has been there for a while without being tested, please make an appointment with your veterinarian. The cost of the FNA and/or biopsy is worth the peace of mind that comes from knowing the identity of the tumor. That information allows you to work with your vet to create a plan to address the tumor. And in the end, that translates to giving your pup a good quality of life for as long as possible.
Did your dog have a tumor on his or her paw?
Please comment below.