Looking for a dog lymph node location chart? Asking yourself, "Should I be able to feel my dog's lymph nodes?" and "Where are dog lymph nodes?" Curious why a dog might have swollen lymph nodes? If any of those sound like you, you found the right article! Integrative vet Dr. Julie Buzby answers all your dog lymph node questions. By the end of this article, you'll know how to locate your dog's lymph nodes and what to do if you suspect a problem.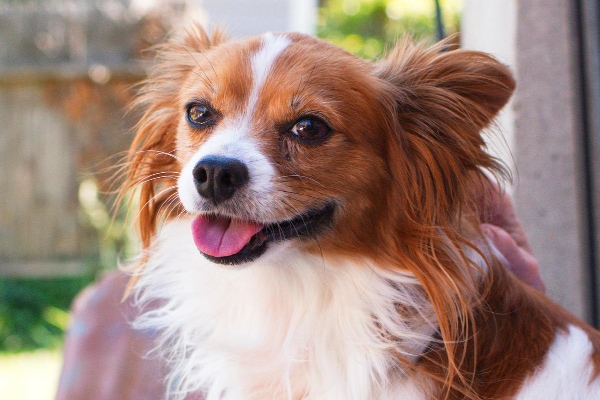 If you've ever had a really bad cold or sinus infection, you may have experienced swollen glands around your throat. These glands, called lymph nodes, don't just swell up as an annoyance. Lymph nodes are actually an integral part of your immune system, and the immune system of your canine companion too.
What are dog lymph nodes?
In some ways, lymph nodes are the military training ground for the immune system. Inside these small, bean-shaped organs, immune system "soldiers" (i.e. white blood cells called lymphocytes) await instructions to go to battle against infectious agents or other foreign materials that don't belong in a dog's body.
Your dog's lymph nodes make up one segment of his or her lymphatic system, which is part of the immune system. The lymphatic system is one of the chief ways dogs can fight infections and remove cellular debris from their blood.
The other main components of the lymphatic system are:
Other lymphoid organs/tissues—Bone marrow (a lymphoid tissue) and some lymphoid organs like the spleen and thymus are responsible for making lymphocytes.
Lymphatic vessels—These thin-walled vessels are the "highway" of the lymphatic system. They carry lymphocytes around the body and bring lymph to and from the lymph nodes, which are situated strategically along the lymph vessels.
Lymph—The fluid within the lymphatic vessels which is rich in lymphocytes. It may also contain foreign invaders or damaged cells from the tissues.
Let's take a closer look at how the components of the lymphatic system work together.
The fluid from blood becomes lymph
As blood flows through the blood vessels, some of the fluid component leaks into the surrounding tissues. This is an important way for the body to send nutrients to the cells within a tissue. Once this interstitial fluid (i.e. fluid in tissues) has distributed nutrients and picked up things like waste products, foreign invaders, and damaged cells, it drains into lymph vessels to create lymph fluid.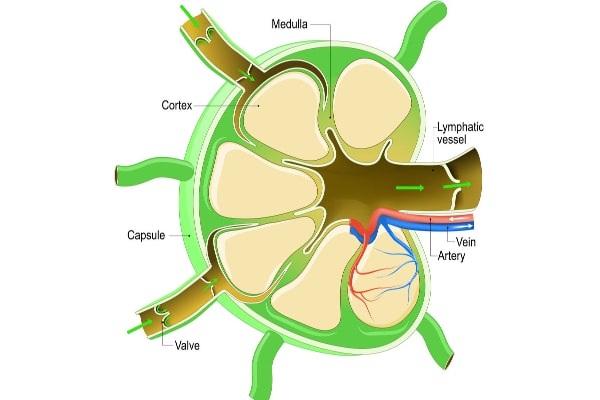 Lymph flows through a lymph node
With the help of muscle contractions, lymph can flow through lymphatic vessels and into the lymph node. Inside the lymph node, foreign invaders are filtered out and exposed to a variety of immune cells. This activates a cascade of highly complex events necessary to mount an immune response.
One result of the immune response is a change in lymphocyte numbers and distribution within the lymph node. This may cause the lymph node to swell significantly due to the increased cell numbers.
Lymph fluid re-enters the blood stream
Lymphocytes from the lymph node will enter the lymph, which flows out of the lymph node and travels to other areas of the body. Eventually the lymph will empty back into the veins of the circulatory system.
Where are dog lymph nodes located?
Lymph nodes are scattered throughout your dog's body. Some lymph nodes are located deep inside the body, such as within the abdomen and along the intestinal tract, where you can't feel or see them.
Lymph node locations you can feel
However, there are five sets of peripheral lymph nodes in dogs that are easy to feel. In some cases, you may be able to feel a hint of the nodes in their normal state (i.e., small). But it is much easier to detect enlarged lymph nodes.
The following lymph node locations are the easiest to palpate (i.e. feel):
Submandibular lymph nodes—located on either side of the lower jaw where it meets the neck
Prescapular lymph nodes (i.e. superficial cervical lymph nodes)—found in front of the shoulder blade where the neck and shoulder meet
Axillary lymph nodes—in the armpit
Inguinal lymph nodes—located in the groin (inguinal) region
Popliteal lymph nodes—found at the back of the stifle (i.e. knee)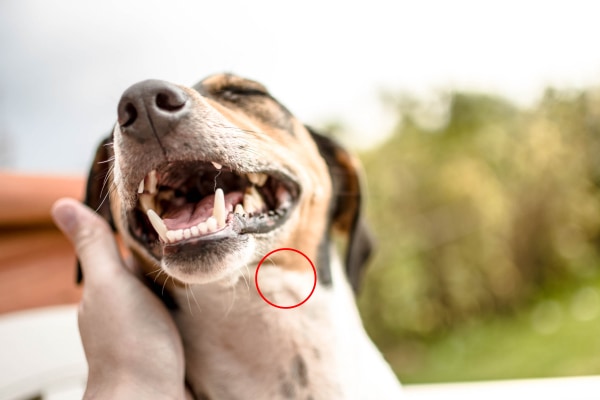 Out of these five sets, it is easiest for most people to detect the submandibular and popliteal lymph nodes. Especially if a dog is overweight or there are only mildly swollen lymph nodes, it may be a little trickier to locate the axillary and inguinal lymph nodes. The prescapular lymph nodes, located in front of the shoulders and near big neck muscle bodies, can also be a little trickier to detect if only slightly enlarged.
Dog lymph node location chart
Check out this handy dog lymph node location chart to help you visualize where your dog's lymph nodes are. This may make it easy for you to find and palpate your dog's lymph nodes.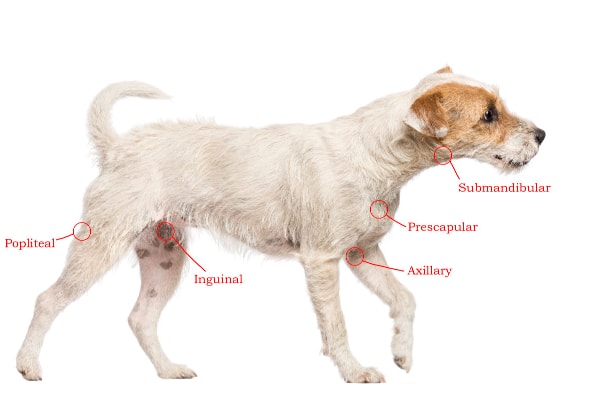 How do I check my dog's lymph nodes?
When I talk about palpating lymph nodes, what I mean is using your hands to feel the lymph node and check for any swelling. In order to do this, you need to know several things—where to find the lymph nodes (which we already discussed), how to palpate, and what a normal lymph node should feel like.
How do you palpate a lymph node?
In general, palpating involves running your hands along a particular area of the body in order to detect any deviation or swelling that wasn't there before. You've probably already done this to your furry friend if you practice my tip-to-tail dog wellness scan.
Gently running your hands over your dog's fur and skin while petting him or her can be a great way to look for things like insect bites, hives, cysts, and other skin lesions. Looking for swollen lymph nodes is really not all that different. It just means you need to feel specific places where lymph nodes are located. Sometimes it helps to gently grasp the deeper tissues in the region with your thumb and forefinger and feel for a round to oval structure.
How big should lymph nodes be in dogs?
In healthy dogs or cats, many times the lymph nodes are small enough that you barely feel them. And that is a good thing because lymph nodes should be pea sized in small dogs to grape sized in large dogs.
If the lymph nodes are swollen, they will typically be much more prominent. In some cases, a swollen lymph node (or lymph nodes) can become two, three, or even four-times their normal size. Those are much easier to feel, and you can often see them at that point too.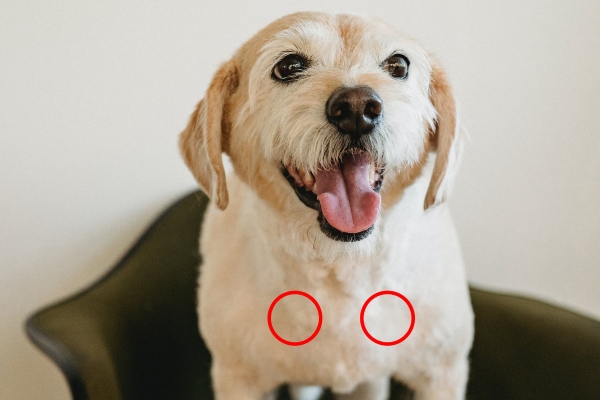 Try to get a good sense of what the lymph node locations normally feel like on your dog. Can you feel any sort of bump with gentle pressure? If so, how big is it and what does it feel like? You could also consider asking your veterinarian to help you properly locate and palpate your dog's lymph nodes. That way you have a bit of muscle memory when you go to do it yourself.
Routinely palpating your dog's lymph nodes yourself can come in handy because it makes it more likely you will catch enlargement when it is still mild.
Beware of lymph node lookalikes
I do want to mention one other thing to keep in mind. Sometimes a swollen lymph node can be easy to confuse with something else.
For example, the submandibular lymph nodes are located at the part of the dog's neck that is near the jaw. However, salivary glands dwell in this area too, and they can feel just like enlarged submandibular lymph nodes. Or, if your dog has a lipoma in dogs or other mass right at the same spot where you would expect a lymph node, you might mistake one for the other.
If you find yourself unsure about what you are feeling or if you think your dog has a swollen lymph node at one of the locations, consult your veterinarian. There are many reasons a dog may have swollen lymph nodes—some of which are worse than others.
Before we get into the causes for swollen lymph nodes in dogs, let's pause for a moment and define some terms. The medical word for enlarged lymph nodes is "lymphadenopathy" or "lymphadenomegaly." However, sometimes vets may also use terms that describe the process leading to the lymphadenopathy. For example, the term "reactive lymphoid hyperplasia" denotes lymph node enlargement due to the increase in lymphocytes numbers as part of an immune reaction.
What causes swollen lymph nodes in dogs?
Now that we have the terms cleared up, let's take a look a the two main reasons for enlarged lymph nodes—infection and cancer.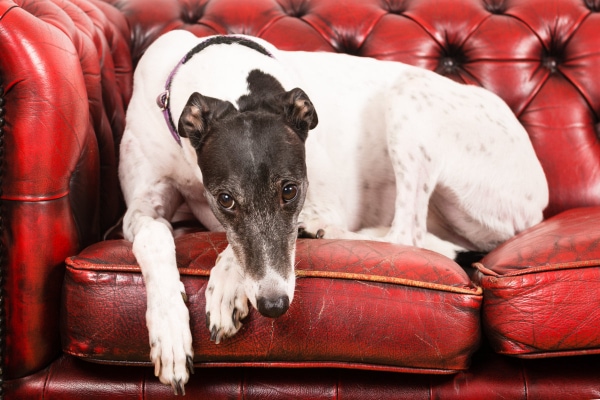 1. Swollen lymph nodes in dogs due to infection
As mentioned earlier, lymph nodes can become enlarged when lymphocytes interact with foreign materials. Bacterial infections and fungal infections in dogs can cause lymph nodes to enlarge in one part of the body or in several, depending on how widespread the infection may be. Also, tick-borne disease in dogs may cause widespread lymphadenpathy.
On the other hand, ear infections (i.e. otitis in dogs), dental disease in dogs, and upper respiratory infections may specifically lead to swollen submandibular lymph nodes. This is because those lymph nodes receive lymph from the head, which is where the infection is located.
Finally, allergic reactions, which are really a type of immune reaction, can also trigger lymphadenomegaly.
2. Lymph node cancer in dogs
Certain types of cancer can lead to lymph node enlargement. Lymphoma in dogs is a kind of cancer that can impact all parts of the lymphatic system. It may start out as enlarged lymph nodes in one part of the dog's body. But, in more advanced stages, it can spread to other lymph nodes and/or lymphoid organs like the spleen. Basset Hounds, Boxers, Bulldogs, Bullmastiffs, and Golden Retrievers all have an increased risk for the development of lymphoma, primarily when they are middle-aged or older.
Other types of cancer such as mast cell tumors, melanomas, and adenocarcinomas may eventually metastasize (i.e. spread) to a lymph node or multiple lymph nodes. This would also cause lymph node enlargement.
What other symptoms may occur with swollen lymph nodes?
Based on the range of conditions that can cause lymphadenopathy, it makes sense that dogs with swollen lymph nodes can experience a variety of other symptoms.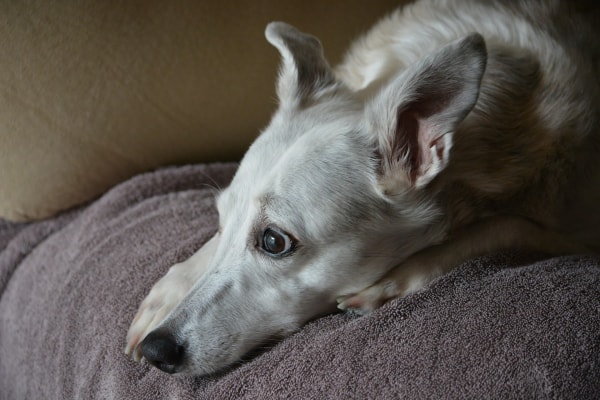 For example, a dog with an upper respiratory infection might also be coughing or sneezing. Pain while eating, foul breath, or older dogs losing teeth are all signs of dental disease. Other infections could cause a fever or a lethargic dog. Dogs with tick-borne diseases like Lyme disease in dogs may experience mobility issues and lameness in multiple limbs.
And sometimes there aren't any other symptoms right away. That tends to be the case with lymphoma where the swollen lymph nodes are the first sign of a problem.
If you believe your dog has a swollen lymph node, please schedule an appointment with you vet. As mentioned above, there are many reasons your dog may have a swollen lymph node(s), and some are more serious than others.
What can you expect at the vet appointment?
At the appointment, your veterinarian will take your dog's other symptoms, history, and the results of the physical exam into consideration when creating a diagnostic plan. This plan could run the gamut from blood work and urine testing to imaging like X-rays or ultrasound.
Generally your vet will perform a fine needle aspirate test on one or more of the enlarged lymph nodes. This is a test where the vet uses a needle and syringe to collect cells from the lymph node. Then, the vet views the cells under the microscope to gain more information about what is going on.
Sometimes, the vet will be able to visualize an infectious agent like bacteria in the lymph node aspirate. Other times, seeing an abundance of big, blue-stained immature lymphocytes (i.e. lymphoblasts) can point to a diagnosis of lymphoma in dogs.
Alternatively, the vet may discover cells from other types of cancer that have made it to a particular lymph node. For example, oral melanoma can make pigmented cells appear in the lymph node aspirate.
If your veterinarian is not sure about the contents of the lymph node aspirate, he or she can submit the microscope slides to a pathologist for further insight. If a fine needle aspirate is insufficient for obtaining a diagnosis, your vet (or the veterinary pathologist) may recommend a biopsy of the lymph node.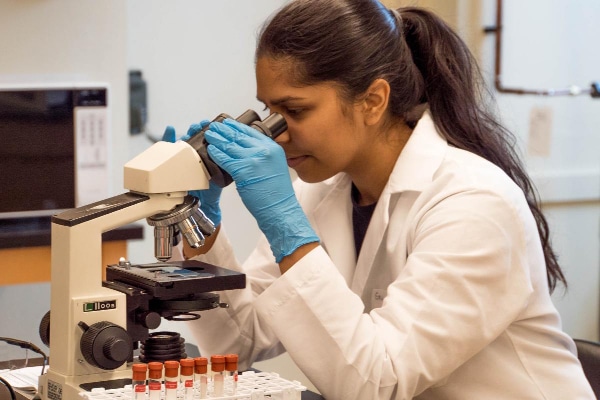 What are the treatment options for swollen lymph nodes in dogs?
Once your vet has determined the cause of the enlarged lymph nodes, he or she can make a treatment plan. If a fine needle aspirate confirms reactive hyperplasia, treatment centers around addressing the source of the infection.
This may involve performing a dental procedure to clean your dog's teeth and extract any diseased ones. Or it may mean treating an infection with antibiotics or antifungals. It may take a few days or weeks for the lymph nodes to return to normal size after the infection is gone.
Cancer patients may have any number of treatments depending on the type and stage of their cancer. With lymphoma, some dog parents elect to treat with prednisone for dogs while others pursue chemotherapy with a veterinary oncologist. While lymphoma is not completely curable, chemo can put lymphoma into remission for a period of time.
Whatever the diagnosis, you can count on your veterinarian to walk through it with you. He or she is a valuable asset and—just like you—has your dog's best interest in mind.
What can I do for my dog with swollen lymph nodes?
It's important to point out that there are no home remedies for dogs with swollen lymph nodes. As a dedicated dog parent, the best thing you can do is to seek treatment by a veterinarian if you suspect a problem.
There are, however, some things you can do to reduce your dog's chances of having swollen lymph nodes from an infection.
Remember to keep your dog up-to-date on vaccinations for infectious diseases. Vaccinations for upper respiratory conditions like kennel cough and tick-borne diseases like Lyme disease are particularly important.
Use flea, tick, and heartworm prevention all year round. Diseases carried by tick bites can cause swollen lymph nodes.
Work with your vet to develop an at-home daily dental hygiene routine for your dog. There are many good dental products on the market. But brushing your dog's teeth is still the best way to ward off dental disease. This is important because, as we discussed, bad teeth in dogs can cause swollen lymph nodes.
Choose safe chew toys for your dog to help prevent fractured teeth.
Make notes about your furry friend's travel history. (There are places where fungal infections may be more common.)
If your dog is susceptible to allergies, ask your vet about allergy medicines for dogs.
Finally, I would urge you to incorporate lymph node palpation into your dog's health routine. Learning to locate your dog's lymph nodes and familiarizing yourself with what those areas feel like can be a great tool for finding swollen lymph nodes rapidly. In turn, this means that your vet can start treatment sooner.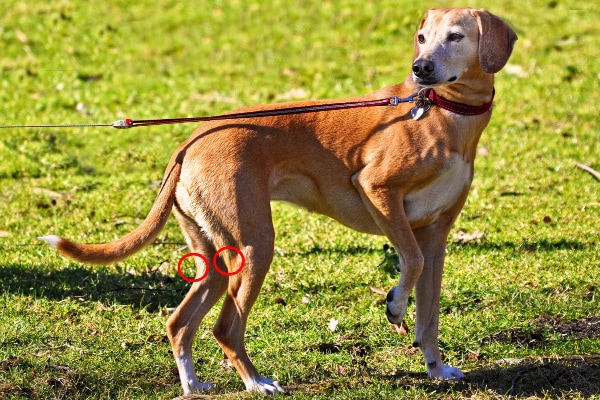 Become a lymph node locating pro
With practice, it can become easier to know the locations of the peripheral lymph nodes. The dog lymph node location chart included in this article is a great starting point. However, if you are struggling to find your dog's lymph nodes, don't feel bad. I want you to understand that even a skilled hand can sometimes miss something so tiny!
Also, keep in mind that even if you do become proficient at finding your dog's lymph nodes, this isn't a substitution for routine physical exams with your dog's vet. His or her trained fingers may notice a swollen lymph node that escaped your detection. Plus, wellness exams can also be a great way to screen for any other health issues. So be sure to schedule an examination for your sweet senior dog at least twice a year.
And, as always, if you have any concerns with your dog's health or think you may have found an enlarged lymph node, please talk to your veterinarian.
What questions do you have about dog lymph nodes?
Please comment below.