If you're searching for answers to questions about doxepin and other supportive therapies for canine laryngeal paralysis (lar par), hope and help are here. As a follow up to her ultimate guide on laryngeal paralysis in dogs, integrative veterinarian Dr. Julie Buzby discusses doxepin for dogs with lar par, non-surgical management of laryngeal paralysis, and answers reader questions. Knowledge can inform our decisions and bring peace to our hearts.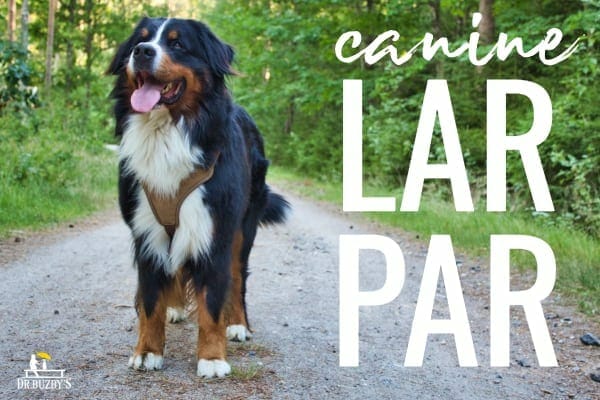 Non-Surgical management of canine laryngeal paralysis
When it comes to laryngeal paralysis in dogs, I firmly believe that we all have a lot to learn. By no means do I have all the answers to questions, but as a veterinarian, I have access to professional resources and research. Thanks to both, as well as my own experience with my canine patients, I can offer some information, as well as answers to some commonly asked questions about doxepin and medical management of lar par.
Doxepin for dogs with laryngeal paralysis
If your dog has been diagnosed with lar par, you've probably read enough to know that doxepin is promising, controversial, and confusing all in one. Let's shed some light on doxepin for dogs with laryngeal paralysis.
Does doxepin help dogs with lar par?
So far, the use of doxepin to treat laryngeal paralysis in dogs has been primarily based on anecdotal evidence rather than research. This treatment has not yet been studied extensively enough to have research-based conclusions on its efficacy. I can add my own personal accounts of doxepin helping my canine patients.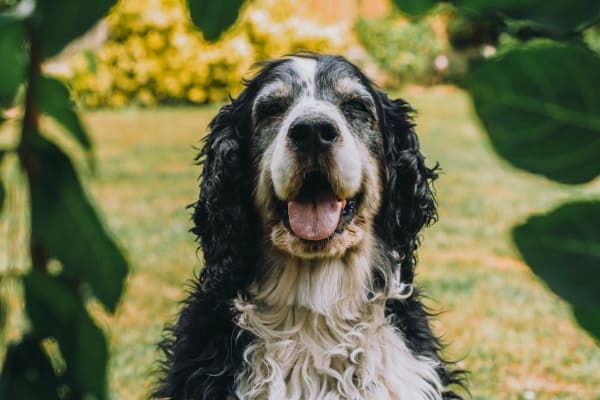 Interestingly, doxepin is purported to help 50% to 75% of dogs with lar par. Dogs treated with doxepin tend to either respond really well or not at all—there are not a lot of grey areas with its use. Thus, I believe doxepin has the potential to noticeably help some dogs with laryngeal paralysis.
However, it's also important to note that doxepin is not an appropriate treatment for dogs in crisis. Generally, veterinarians who prescribe doxepin do so for lar par management in dogs who are symptomatic but stable. Doxepin is just one tool in the toolbox for vets who are trying to help their canine patients suffering from lar par.
What kind of drug is doxepin?
Doxepin is in a class of medications known as tricyclic antidepressants. It also has antihistamine properties and sedating effects. It is possible that the calming effect of doxepin is a large part of how the drug helps dogs with lar par.
Why is sedation helpful for dogs with lar par?
With laryngeal paralysis, stress compounds the problem. So much so, that keeping your dog calm is as important as keeping your dog cool. The "perfect storm" for a crisis in these dogs is the combination of environmental stress, heat/humidity, and respiratory distress.
Because of this disastrous trifecta, sedative medications are sometimes prescribed for dogs with lar par. Doxepin may be a good choice for these dogs since it seems to provide direct benefit to the function of the larynx and can also be sedating.
In what ways is doxepin reported to help dogs with lar par?
When it works, doxepin seems to reduce the respiratory effort of dogs. They often experience less stridor (noisy breathing), less coughing, and less anxiety. This translates into improved quality of life for both the dog and the family.
Please do keep in mind that we now believe laryngeal paralysis is an early symptom of a progressive, neurodegenerative process called geriatric onset laryngeal paralysis polyneuropathy or "GOLPP."
Since there are no effective cures for degenerative neuropathies at this time, doxepin is working strictly to aid the breathing component. In other words, it's not treating the underlying cause. Nonetheless, doxepin can be a wonder drug for certain dogs.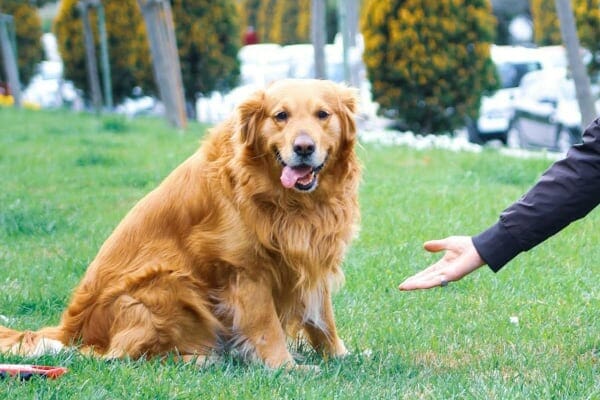 A research study on doxepin for dogs with laryngeal paralysis
A five-year study called "Effects of doxepin on quality of life in Labradors with laryngeal paralysis: A double-blinded, randomized, placebo-controlled study" was recently completed. Originally the plan was to evaluate 40 Labrador Retrievers with laryngeal paralysis over a one-month period. Twenty of the dogs would receive doxepin and 20 would serve as the "control," only receiving a placebo. At the start and end of the study, the owners of the dogs were to fill out a questionnaire about their dog's symptoms and quality of life.
However, the study ended up being terminated at the midpoint. When the investigators evaluated the owner-supplied data on the questionnaires from the first 22 dogs (12 taking doxepin and 10 on the placebo), they determined that there was no noticeable benefit to doxepin compared to the placebo. The owners of some dogs in both groups reported improvement and the difference between them was not statistically significant.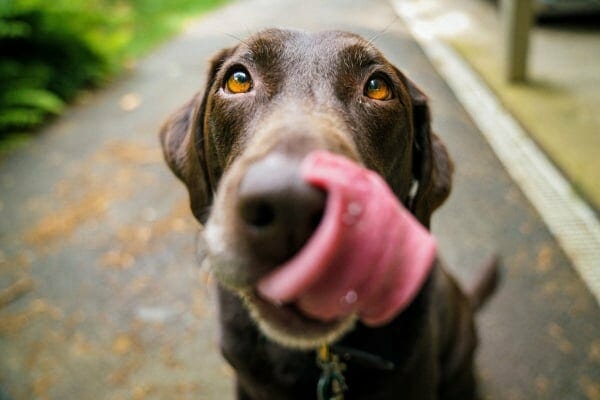 While this research paper did not support the hypothesis that doxepin could improve quality of life measures in dogs with laryngeal paralysis, I still think it can have value for some dogs. I think we need more studies on a broader scale, with more dogs included, before I would say studies prove doxepin is not effective.
Doxepin is generally safe and doesn't tend to have severe side effects. And I have personally seen it make a difference in the lives of many dogs. For these reasons, I will continue to use it as one tool in my toolbox of management options for canine laryngeal paralysis.
Are there other medications for treating lar par in dogs?
There are no medications that directly treat the underlying neuropathy that causes laryngeal paralysis in dogs. Our focus with medical management is on minimizing the symptoms of the disease.
This is part of the doxepin mystery, but doxepin is the only medication that seems to significantly improve the symptoms of lar par in dogs. Other drugs with similar mechanisms of action, like amitriptyline, have not been efficacious—that is to say effective.
A few different medications have been tried to see if they can help dogs with lar par. Gabapentin for dogs can be beneficial for treating nerve pain and neuropathic conditions. It can also have some mild sedative effects. Unfortunately, it does not appear to treat the symptoms of lar par in dogs.
Since doxepin has antihistamine properties, it would make sense that other antihistamines, such as Benadryl (diphenhydramine) for dogs and/or bonine may help as well. Again, these medications do not seem to lead to improvement in lar par symptoms the way doxepin does.
This leads us to the million-dollar question…
How does doxepin work for canine laryngeal paralysis?
The short answer is this: We do not really know.
The long answer is based on a compilation of theories and observations. We know that the mechanism of action is not primarily from doxepin's sedative effects because other sedating medications in dogs don't work nearly as well to improve the dog's breathing.
There's something special about doxepin.
I've seen guesses about it affecting neuropathic pain and reducing spasms of laryngeal muscles.
We know that doxepin has anticholinergic effects—which means that it blocks the effects of a chemical signal in the nervous system. Plus, it has antihistamine and antidepressant effects. But frankly, we do not know exactly how doxepin helps dogs with lar par.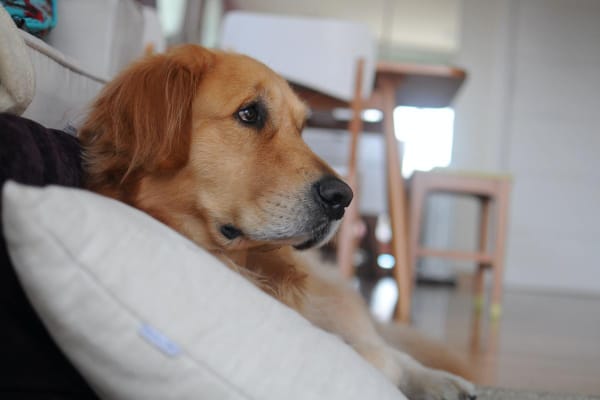 Hopefully, with more research, we will eventually understand the mechanism of this mystery medication.
Doxepin safety
Here's the good news—doxepin, along with other medications in its class, is generally considered safe for dogs. This is notable because if doxepin helps a dog with lar par, he or she will probably be on it for the rest of his or her life.
We've already mentioned that it can be sedating. Because of the anticholinergic effect, doxepin can increase the dog's heart rate. For this reason, it should be used judiciously in dogs with heart disease, especially at higher doses. It is contraindicated in dogs with glaucoma, which means it should not be used.
As with any medication, have a discussion with your veterinarian about whether it would be a good choice for your dog. You and your vet make the best team to decide what will keep your dog happy and healthy.
Can my dog who is on CBD also take doxepin?
Always speak with your veterinarian about the drugs and supplements that your dog is taking, as interactions are both possible and potentially very dangerous. I do not know of any red flags for dogs taking CBD and doxepin together. That being said, we are still learning a lot about the use of CBD oil in dogs.
Doxepin dosage for dogs with laryngeal paralysis
It is my practice to avoid discussion of drug dosages in our blogs, and that is even more relevant here because doxepin is a prescription drug being used "off-label" for laryngeal paralysis.
However, here are some general dosing guidelines:
Dogs are typically given the medication twice per day (every 12 hours).
Capsules come in 25, 50, 75, and 100mg. Dosage is based on a dog's body weight and the severity of the disease.
Typically, higher doses of doxepin are required for more severe cases of laryngeal paralysis.
Once again, discuss any new medications or dosing changes with your vet before medicating your dog.
Doxepin vs. tie back surgery
Compared to surgery, doxepin is a much more conservative option. Therefore, it may be used as a "first line" treatment for dogs with "noncritical" laryngeal paralysis. This is how I use it for my own lar par patients who are breathing well overall.
But I have to confess that tie back surgery for dogs, in my experience, is often the appropriate long-term choice for my patients with laryngeal paralysis. At a minimum, tie back surgery is worth researching, considering, and discussing with your veterinarian.
For perspectives from dog parents who chose tie back surgery, please read these quotes…
"Oscar, our 13-year-old, career change yellow Lab had tie back surgery for lar par, and for the last year of his life breathed so much easier. The small chore of changing his food, watching him eat, standing, and making sure he didn't eat or drink too fast was worth it…We were so happy to spend the money to give him a last 9 months of freedom from stress!" ~ Janelle
"My 13-year-old mutt was diagnosed with lar par last year. He had slight relief on doxepin, but as the weather got warmer, he got worse. He had tie back surgery done and is now living his best life as a 14.5-year-old. Surgery can be expensive, but I highly recommend it! It immediately changed his quality of life, and mine, as I didn't have the constant anxiety of worrying about him." ~ Liz
Now that we've discussed doxepin, let's take a look at some ways to support your dog through a combination of approaches.
Supportive therapy for laryngeal paralysis/GOLPP in dogs
Because we now know that laryngeal paralysis is part of a broad, progressive neurologic syndrome (GOLPP), dogs with lar par often have other neurologic deficits, such as hind-end weakness.
Neurologic weakness and slipping are biomechanical problems that medication does not treat very effectively. Treatment of geriatric onset laryngeal paralysis polyneuropathy (GOLPP) should be multimodal. In other words, your veterinarian will likely recommend a combination of medicine, supportive care, and home management practices.
Supporting your dog with GOLPP
Anytime veterinarians are treating any condition, they always want to take a look at the whole picture. This not only includes the biology of the patient and the pharmacology of the medications but also the environment your dog lives in.
Though medication options are somewhat limited, dogs with GOLPP can be helped with some home environment modifications. Most of these changes are easy, and you can get a big "bang for your buck." That is to say, your dog can benefit a lot from relatively low-effort modifications.
Some things that can help your dog with GOLPP be more comfortable include:
Using a harness rather than a collar for walks
Avoid overheating
Minimize stressors (for example, if your dog gets very anxious in the car, try to keep trips to a minimum)
Prevent overexertion—long hikes and afternoons at the dog park are probably not a great idea
Provide comfortable bedding for him or her to rest
Maintain traction on hard or slippery floors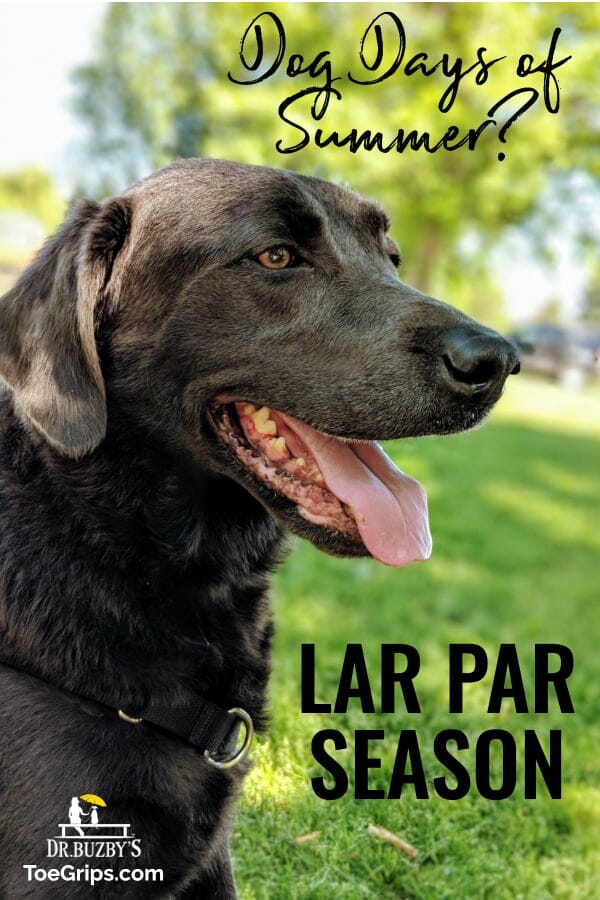 Maintaining traction for dogs with GOLPP
One of the best-kept secrets for GOLPP dogs is the use of ToeGrips® dog nail grips. Placed on the toenails, ToeGrips provide both stability and increased conscious proprioceptive stimulus. They can help improve mobility and confidence for dogs with GOLPP.
Our blog readers explain ToeGrips® dog nail grips for GOLPP dogs this way:
I had a Border Collie with GOLPP…Fortunately for us, the laryngeal component of his neuropathy never got severe enough to require surgery. His hind end weakness did become problematic though, and the ToeGrips we got from Dr. Buzby's were a great help his last few months. With good vet assistance and support, my boy made it just shy of 16, so there is good hope for those dealing with this problem for extended periods with good quality of life.

Lynda
We lost our amazing foster failure, "clown in a Dogsuit," Labrador, Beau to GOLPP…not from a breathing crisis as doxepin did help him tremendously, but due to the overall nerve degeneration and mobility and esophageal issues. We have tried to make something good come from his loss by helping others navigate the disease and passing on all the cooling and calming tricks we learned along the way. He also left his DNA at UW-Madison for their study in lar par/GOLPP and at Cornell for their Biobank and Labrador Health Study. He lives on through the research done with his DNA. And we did used ToeGrips for Beau with success too!!

Ally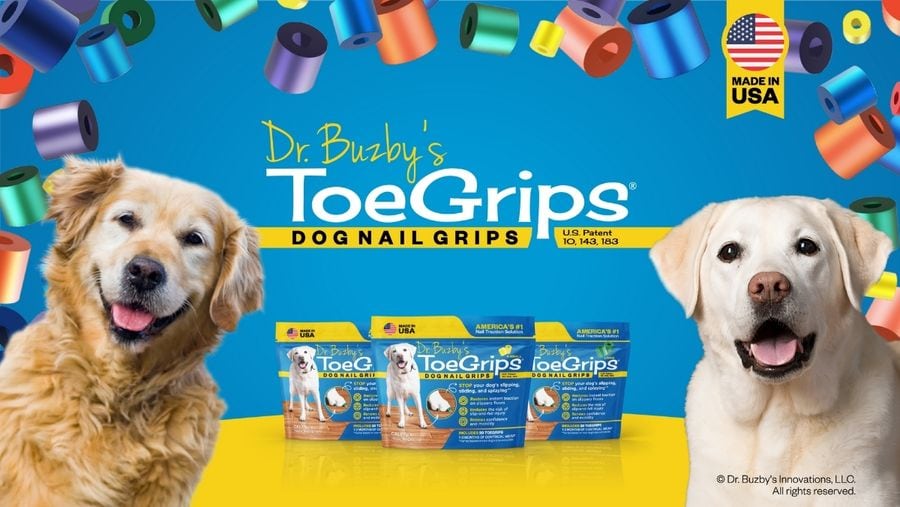 Laryngeal paralysis FAQs
With such a complicated and serious disease process, of course, questions will arise. Veterinarians are still asking and researching questions about GOLPP! Although it would be impossible to address every question in a single blog post, here are some of the more common questions I field about lar par in dogs: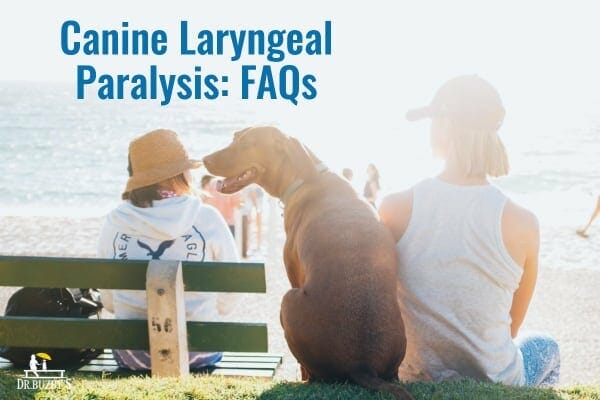 1. My dog makes a coughing noise that sounds like croup or a barking seal. He also gags or wretches but nothing comes out. Is gagging and coughing associated with lar par?
Yes, what you are describing fits with laryngeal issues. However, "inspiratory stridor" (raspy, noisy breathing) is considered the hallmark symptom of lar par. Other symptoms can include:
Voice/bark change
Coughing or gagging, especially when eating or drinking
Exercise intolerance
Excessive panting
Respiratory distress
I recommend discussing your dog's symptoms with your veterinarian. A laryngeal exam under sedation is considered the gold standard for diagnosis.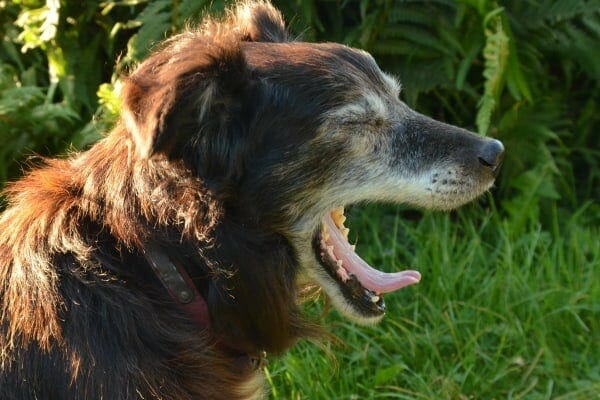 2. Why is heat stroke more likely for dogs with laryngeal paralysis?
Dogs pant to cool off, and dogs with laryngeal paralysis are much more prone to heat stroke because of their inability to effectively dissipate heat.
As dogs with laryngeal paralysis begin to overheat, they begin to breathe harder, but they can't move air efficiently. This creates a vicious cycle where neither the exchange of air nor the dog's attempt to cool the body works properly, often leading to heat stroke in dogs.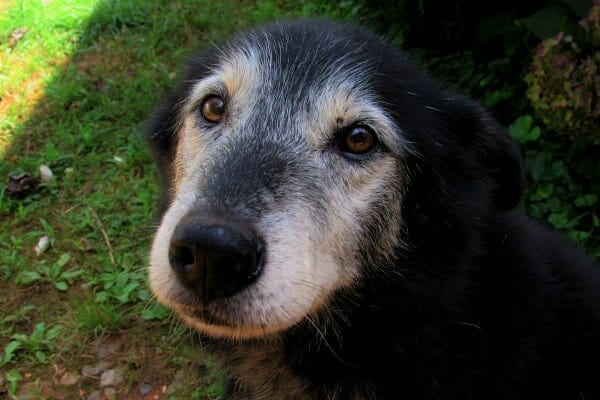 Because of their increased risk of respiratory distress and heat stroke, it's so important that dogs with lar par stay inside in cool areas during the summer months and the hottest parts of the day. Try to take walks in the early morning or evening to avoid heat exacerbating lar par symptoms.
3. When going for a walk my dog pulls. Can leashing pulling cause lar par?
There are documented cases of dogs developing laryngeal paralysis from damage to the nerves innervating the larynx as a result of the following:
Neck surgery
Cancerous tumor growth
Deep trauma (bite wound)
However, these cases are really the minority. I asked an expert board-certified veterinary neurologist, Dr. Bill Thomas, to explain why…
The most important thing to understand about laryngeal paralysis in dogs is that it's almost always a polyneuropathy—that is, a disease affecting multiple peripheral nerves. If you do electrodiagnostic testing on dogs with laryngeal paralysis, you typically find other nerves are also abnormal.

Many neuropathies affect the longest nerves the most. And the recurrent laryngeal and sciatic nerves are the longest, so they are often the most severely affected. (Meaning symptoms would manifest first and most predominantly in the larynx and hind legs.)

It would be possible for any sort of severe cervical (neck) trauma to affect the recurrent laryngeal nerves. But these nerves are pretty well protected and lie in some loose fascia (connective tissue) right next to the trachea.

So I think it would be pretty hard to damage both of those nerves, one on each side of the trachea, without damaging the trachea or larynx itself. Not to mention all the other important stuff in the neck larynx—esophagus, common carotid, vagosympathetic trunk, jugular veins, vertebrae, and spinal cord.

Bill Thomas, DACVIM (Neurology), University of Tennessee
Although we know pulling on a collar won't cause lar par, neck leads can irritate the larynx in dogs that already have this condition. I recommend using a harness rather than a collar for walks, especially if your dog is prone to pulling on a leash.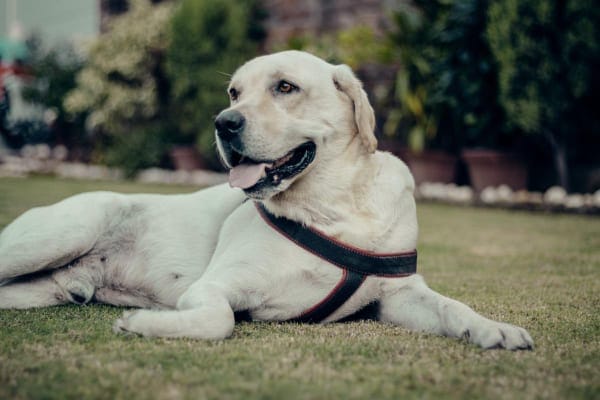 4. Is canine laryngeal paralysis similar to collapsing trachea?
Lar par and collapsed trachea in dogs are different structural problems. However, both conditions can manifest with a similar presentation—a dog struggling to breathe because the breathing channel has narrowed.
In laryngeal paralysis, it's because the arytenoid cartilage(s) in the larynx are decreasing airflow. With collapsing trachea, as the name implies, the windpipe (trachea) flattens and airflow is decreased.
Also, collapsing trachea tends to be a small dog issue, and lar par is mostly seen in large breeds.
5. Our dog and his littermate both died from laryngeal paralysis. Is lar par hereditary?
The precise cause of GOLPP, the polyneuropathy associated with laryngeal paralysis, remains unknown. However, since the condition is most common in certain breeds (Labradors, German Shepherds, Golden Retrievers, Siberian Huskies, and others), it makes sense to suspect that there is a genetic factor. But this is just speculation at this point. More research is needed.
Keep in mind that polyneuropathies can have many underlying causes. I'm sure some of those underlying causes are influenced by a hereditary predisposition.
Also, it's worth mentioning that there is a congenital form of lar par which may show up in very young dogs (in contrast to GOLPP which affects older dogs). For Black Russian Terriers and Leonberger dogs, there are tests for this congenital disease. For more information, please read these articles from veterinary colleges: JLPP in Black Russian Terriers and Genetic Test Available for Early-Onset Inherited Polyneuropathy in Leonberger Dogs.
6. How will I know if it's time to euthanize my dog who is suffering from laryngeal paralysis? I can't imagine saying goodbye.
It's heartbreaking to watch your dear dog declining and trying to make the difficult decision of when to euthanize him or her. I understand because I've been there. What I want you to avoid at all costs is the desperation of making this decision while your dog is in a life-threatening breathing crisis.
I would strongly recommend talking to your veterinarian about your thoughts. Your vet is your ally in navigating this heartbreaking journey and will give you honest answers based on his or her observations and examination findings.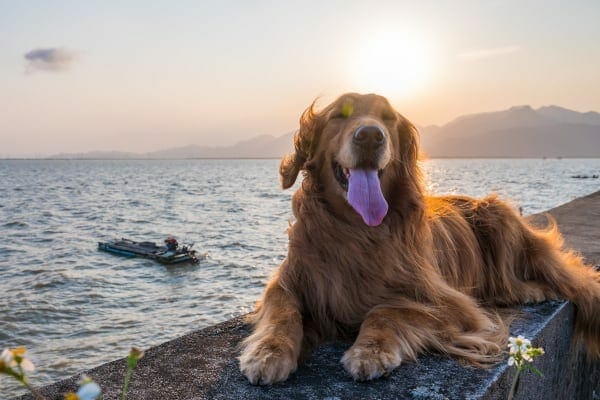 You may consider using a dog quality of life scale to help decide when euthanasia may be the best decision.
Also, I'd like to give you some resources that may help. I've written the following articles to address this difficult decision:
7. Are there any lar par support groups?
Yes! The Laryngeal Paralysis (LP) GOLPP Support Group on Facebook is a great place to connect with other pet parents with similar experiences. It can be a great resource for sharing stories and ideas.
Please remember, however, to always discuss treatments and supplements with your veterinarian before starting anything new. What works for one dog may not necessarily be the best for another. Your vet is your best resource to choose the management that is right for your dog.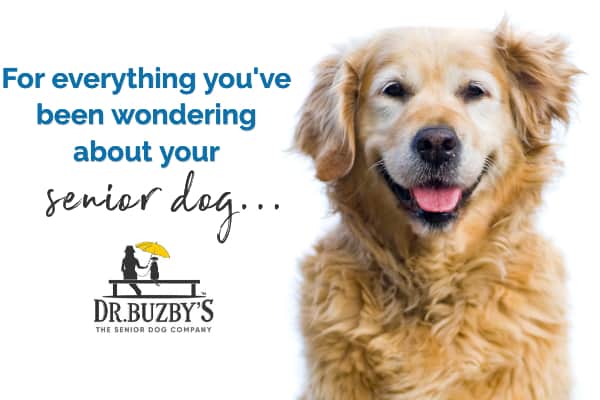 Do you have questions about canine laryngeal paralysis?
Please keep the questions, comments, and stories coming. We can all learn from each other.