Hair loss on a dog's tail can occur due to a variety of conditions. Some are temporary while others may require life-long management. To provide a starting point for dog parents, integrative veterinarian Dr. Julie Buzby explains the causes, symptoms, and treatment for 10 conditions that cause dogs to lose hair on their tails.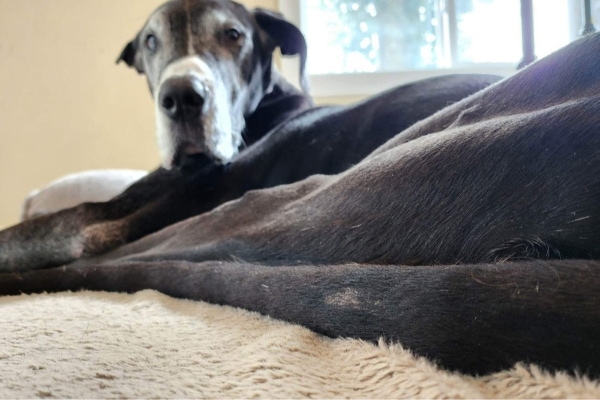 Hair loss on a dog's tail, body, legs, or head is one of the more common reasons for veterinary visits. Since there are a variety of reasons dogs may develop bald spots, it is up to the veterinarian to do some detective work to find the underlying cause.
This very scenario played out in my office. My patient, Regal, a senior Beagle, was itchy and had a large bald patch on his tail. While performing the physical exam and asking his mom questions about her pup, my mind was running through the common reasons dogs may be losing hair on their tails.
We will get to those reasons soon. But first I want to help you recognize abnormal hair loss on your dog and point out some other common "clues" that can help solve your dog's hair loss mystery.
How much hair loss is a problem?
As you know from looking at your floors, couch, and clothes, some dogs shed a lot and others seem to barely shed at all. The exact amount of shedding depends on your dog's breed and haircoat. But for most dogs, some daily hair loss is normal. In fact, it's more than just normal—it's actually a good thing. Shedding helps keep your dog's coat clean and shiny by removing old or damaged hairs.
However, if your dog's hair seems to be falling out more than normal, this could be a sign there is something wrong. Usually dogs shed fairly uniformly, so noticing sections of the fur that are thin or patchy is also cause for concern. And if your dog's hair loss has progressed to complete baldness (i.e. alopecia) in areas, this is definitely abnormal.
While hair loss can happen anywhere on your dog, the most common locations are the head (around ears and eyes), stomach, back, and tail. In this article, we are going to focus specifically on hair loss on a dog's tail.
What symptoms might I see in addition to hair loss on a dog's tail?
While every condition that causes alopecia has its own set of signs, there are some common symptoms that may accompany the hair loss:
Excessive scratching, itching, biting, or licking at the area
Red or irritated skin
Musky or foul odor
Dry, scaly, or cracked skin
Swelling of the affected areas
Discharge or blood coming from the skin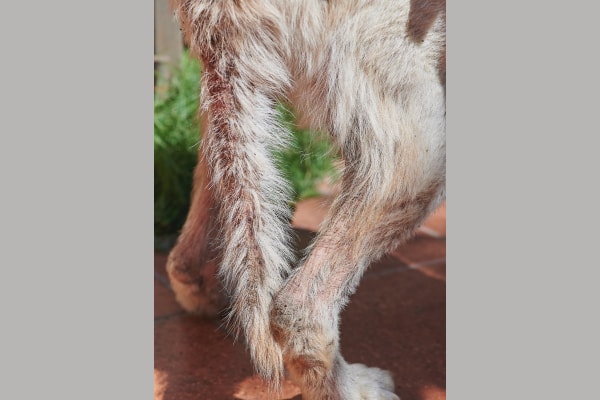 However, there are also a few causes of hair loss on a dog's tail that leave the skin looking pristine. Instead, the dog may exhibit symptoms like:
Behavior changes
Increased or decreased thirst or hunger
Changes in urination frequency or amount
If you see any of these symptoms accompanying alopecia in your dog, please consult your veterinarian. Your dog could have one of these 10 causes of hair loss on a dog's tail.
#1: Fleas
When I hear a dog is losing hair near or on his or her tail, some of the first conditions I consider are fleas and flea allergy dermatitis (FAD). These annoying, free-loading parasites can be very distressing for your dog. Flea bites are painful. Plus, some dogs are allergic to flea saliva, which means even a few flea bites can cause intense itching.
If your dog has fleas, you will probably see him or her scratching excessively. Sometimes, you can even see the small, red flea bites. Plus, you may notice hair loss, skin irritation, and crusts and scabs, especially over the neck, the back near the tail, the tail itself, and back legs. These locations tend to be hit the hardest because they are the areas fleas like to frequent.
Finding fleas
If you see these signs, I recommend checking your dog for fleas. Some people like to part the hair with their fingers to look for fleas or flea dirt (i.e. "flea poop," which looks like reddish coffee grounds). Others prefer to use a flea comb. This is a very fine-toothed comb that, as you run it through your dog's fur, will pick up fleas or flea dirt.
Managing fleas
If you suspect that you found fleas or flea dirt with the comb (or your fingers), contact your veterinarian. I know it can be tempting to hop on Amazon or run out to the store to pick up an over-the-counter flea product. But this often isn't a safe or effective approach.
Your veterinarian can recommend prescription flea control products that are right for your dog and situation. Plus, he or she can advise you about how to control flea life stages in the environment. And your vet can also treat any secondary bacterial skin infections (i.e. pyoderma in dogs) that may have happened as a result of your dog chewing or scratching at his or her skin.
For all these reasons, the vet, not the pet store, is the place to go if your dog has fleas.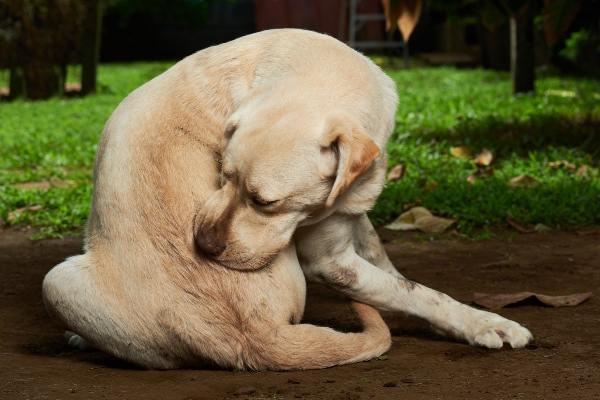 #2: Demodectic mange
Fleas are not the only parasite that can cause our furry friends to lose hair. Demodex mites (the cause of demodectic mange) are another external parasite that could be the culprit.
Typically, demodectic mange is seen in young dogs (under the age of one year) with an immature immune system. However, senior dogs, dogs with a disease that causes a weakened immune system, or dogs on immunosuppressive medications, are also more prone to demodectic mange.
As gross as it sounds, demodex mites live in the skin of every dog in small numbers. Normally, the immune system keeps the population in check. But in dogs with a weak or immature immune system, sometimes demodex mites can reproduce out of control.
Large numbers of demodex mites can start causing skin issues like patchy hair loss, which typically starts on the face and around the eyes, but can spread all the way to the tail. Affected dogs may also have dry, irritated, or crusty skin. Usually dogs with demodectic mange aren't itchy initially, but if they develop a secondary infection, they may start to scratch or rub their skin.
Treatment for demodectic mange
While this sounds bad, the good news is that this disease is not contagious to other dogs or humans. And as the puppy's immune system matures, it will usually begin to take care of the problem on its own.
However, if you suspect your dog has demodectic mange, it is still best to make an appointment with your vet. This is especially important in adult and senior dogs because they tend to have more severe cases which do not resolve on their own.
After assessing your dog and confirming the diagnosis, the vet can make some treatment recommendations. They may include an anti-parasitic drug to kill the mites, and topic shampoos and medications to speed up the healing process.
#3: Environmental and food allergies
If your dog is free of parasites but still losing hair and itching, the next cause to rule out is allergies. I already mentioned that dogs can be allergic to flea saliva. But they can also suffer from food allergies or environmental allergies.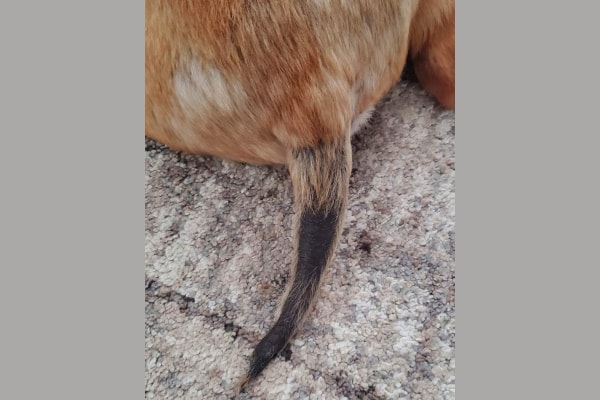 If dogs lose hair near their tail and on their extremities (i.e. feet and legs), belly, and/or face, I am often suspicious of an allergic reaction. Many of these dogs also have secondary ear infections (i.e. otitis in dogs) or bacterial or yeast skin infections (e.g. dog paw yeast infections).
To help determine if allergic dermatitis (i.e. allergic skin disease) could be the culprit, and if it is more likely to be food or environmental (or both), your vet may ask these questions:
Do the itching and hair loss happen year-round or only at certain times of the year? If year-round, is it consistent or does it increase during some seasons?
Do the symptoms seem to be worse or the same after your dog has been outside?
Do any activities (e.g. rolling in the grass) seem to make the symptoms worse?
Have there been any recent changes in your dog's environment?
Depending on the answers, and the results of the physical examination and diagnostic testing (e.g. skin or ear cytology or culture), your vet can help you create a plan. This may involve a food trial (i.e. feeding your dog a novel food) and/or allergy medicine for dogs.
Unlike parasites, allergies tend to be a life-long issue and they don't have a quick and easy fix. However, the sooner you can work with your vet to detect and control your dog's allergies, the better. This is one of the many reasons having a strong partnership with your vet is so important.
#4: Anxiety
When we see dogs chewing on themselves, we often think they are itchy or uncomfortable (like with fleas or allergies as discussed above). However, sometimes consistent licking of a body part is a coping mechanism for behavioral disorders like anxiety instead.
Dogs with anxiety can get restless and fidgety, and they might need something to focus on to distract them from being anxious. Conveniently, they have tails and feet within easy access all the time.
This makes the tail (and feet) a perfect stress-reducing chew toy. Sometimes you might catch your dog in the act of chewing or sucking on his or her tail or pulling hair out. But other times, especially if your dog is mainly anxious when you are not there, it may be not so obvious that your dog is causing the hair loss on his or her tail.
Clues that your dog is secretly (or not so secretly) chewing on his or her tail include:
Portions of the tail being wet from saliva
Brittle, broken, or damaged areas of hair on the tail
Rust-colored salivary staining on your dog's fur
Anxiety indicators
Plus, you may see more generalized signs of anxiety like:
Increased or unexplained panting
Whining, whimpering, and barking
Destroying walls, carpet, furniture, etc. when you are gone
Hiding or withdrawing from social interactions (with you or other pets)
Fear of loud noises (e.g. storms or fireworks)
Excessive pacing (especially if someone leaves the room or the environment is busy)
Gulping down food
Dogs often act quite differently at the vet clinic than they do at home. Thus, if you think your dog may suffer from anxiety, it can be helpful to record your observations and bring them to the vet appointment. This can help you have a successful vet visit and give your vet the information he or she needs.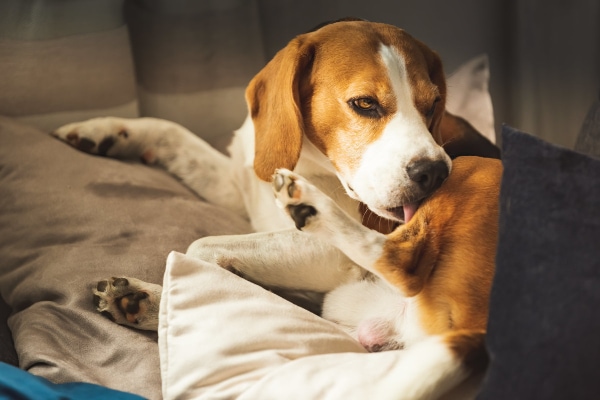 Together, you can create a plan to reduce your dog's anxiety. This may involve changes in your dog's routine or environment, anxiety-reducing medications like trazodone for dogs, or other anxiety-management techniques. Hopefully, with the right combination of interventions, your dog will feel calmer. And he or she will stop chewing and ripping hair out of his or her tail.
#5: Stud tail (tail gland hyperplasia)
Another reason a dog may be losing hair on his or her tail is tail gland hyperplasia. This condition is also known as "stud tail" because it is most common in intact male dogs. However, neutered male dogs and intact and spayed female dogs can also get stud tail.
The characteristic feature of tail gland hyperplasia is a focal bald spot on the top of the tail. Usually it occurs close to the base of the tail (about 2.5-5 cm from the anus). The bald spot corresponds with a collection of oil and scent glands in the skin.
Sometimes these glands can become enlarged, impacted, or infected. This causes oily secretions to accumulate in that region. As a result, the hair can become matted, fall out, or be pulled out by your dog while he or she is cleaning the area. The plugged glands can also cause that region of the tail to become painful and swollen. And the skin may darken or even turn black. If the dog develops a secondary bacterial infection in that area, the skin may also become itchy, crusty, or irritated.
If you suspect your dog has stud tail, it is best to consult your veterinarian. He or she is often able to diagnose tail gland hyperplasia based on the appearance of the tail. But sometimes your vet may suggest additional diagnostics to rule out other causes of hair loss or identify an underlying cause of the stud tail (e.g. hormone imbalance). Treatment usually involves addressing the underlying cause (if found) and using topical or systemic anti-microbial and anti-inflammatory medications.
#6: Cushing's disease
Two endocrine diseases, hyperadrenocorticism (i.e. Cushing's disease) and hypothyroidism, can also lead to alopecia on a dog's tail (and other body parts). We will address Cushing's disease now and hypothyroidism next.
Cushing's disease in dogs occurs when the adrenal glands produce too much of a steroid known as cortisol. Cortisol is a hormone that the body needs to help regulate glucose levels, metabolism, and the immune system. However, excessive amounts of cortisol (i.e. hyperadrenocorticism) are a bad thing.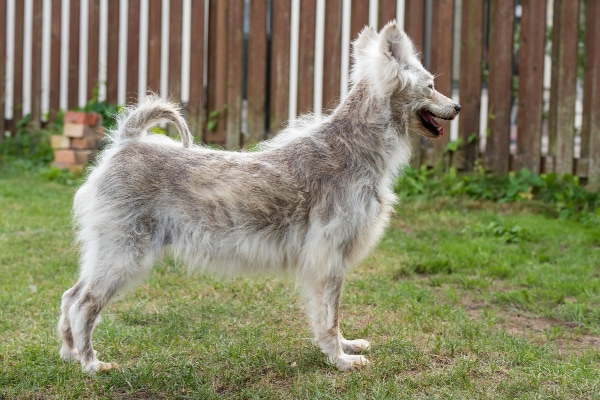 Senior dogs are most prone to Cushing's disease. They tend to have symptoms such as:
Increased urination
Increased appetite
Pot-bellied dog appearance
Decreased energy (i.e. being a lethargic dog)
Heat intolerance
Poor haircoat and hair loss
Dogs with Cushing's disease usually begin losing hair around their abdomen. Then the hair loss will progress down the back, toward the back legs, and to the tail. However, typically Cushing's does not cause dogs to lose hair on the head or near the ears.
If you suspect your dog is experiencing hair loss due to Cushing's or showing other symptoms on the list, it is important to seek veterinary care. Your vet can usually diagnose your dog with hyperadrenocorticism based on one or more blood tests. But sometimes he or she might also recommend additional diagnostics. Then after reaching a diagnosis, your vet will talk to you about medications like trilostane for dogs that can help normalize cortisol levels and manage your dog's symptoms.
#7: Hypothyroidism
The other endocrine problem that can cause hair loss on your dog's tail is hypothyroidism in dogs (i.e. low thyroid hormone levels.). Thyroid hormones help regulate a dog's metabolism, so it is important that they are present in the appropriate amounts.
If the thyroid starts to produce fewer thyroid hormones, it can lead to symptoms such as:
Weight gain (especially without an increase in food consumption)
Pot-bellied appearance
Decreased energy
Cold intolerance
Flaky skin
Hair thinning and worsening coat conditions
Skin infections
Interestingly, the hair loss in hypothyroidism often starts on either side of the trunk or on the tail. In fact, a "rat tail" (i.e. a tail that has little or no hair) is a classical sign of hypothyroidism. Over time, the hair loss may move to the rest of the body.
A trip to the veterinarian is warranted if you have started to suspect your dog has hypothyroidism. Sometimes hypothyroidism can be a little tricky to diagnose since some non-thyroid conditions can also cause low thyroid hormone levels on blood work. But if your dog does end up truly being hypothyroid, there is a medication your dog can take to replace the missing thyroid hormones. Often, once thyroid levels are corrected, the dog's hair will grow back.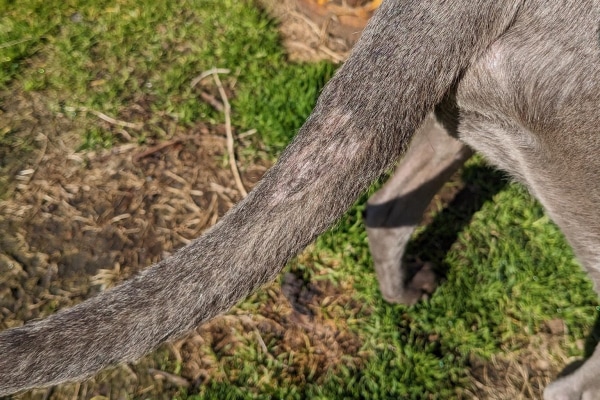 #8: Anal gland problems
While hormone imbalances like the ones discussed above can cause your dog's tail hair to fall out, a painful anal gland impaction or abscess might cause your dog to start pulling out the hair.
Anal glands are small, oval-shaped sacs that are located on both sides of a dog's anus. They produce a fluid that has a strong, fishy smell to it. (So if you are wondering "Why does my dog smell like fish?, the answer may lie in the anal glands.)
Normally, dogs empty these glands when having a bowel movement. However, the fluid inside can sometimes become thick—almost like toothpaste. As a result, the anal gland could become difficult for your dog to express on his or her own. This can be uncomfortable and lead to your dog scooting his or her rear end on the carpet.
Dogs who are not emptying their anal glands need them physically expressed by a veterinarian. Otherwise, if the gland is full for too long, it can sometimes become painful and infected. When this happens, your dog may start chewing on his or her rear or tail and pulling hair out. Also, you may notice that your dog keeps licking the base of the tail in an effort to relieve the pain.
Treatment for anal gland trouble
If you notice your dog scooting, straining to defecate, or biting at the hind end, I recommend taking him or her to a veterinarian promptly. It is better (and more comfortable for your dog) if your vet can express the anal glands before they become severely inflamed or infected.
For a simple anal gland impaction, gland expression may be the only treatment your dog needs. But for more significant anal gland issues (e.g. anal gland abscesses), the vet may need to flush out the anal gland and/or start your dog on anti-inflammatories and antibiotics.
#9: Tapeworms
A less stinky, but perhaps more gross, reason your dog might be chewing at his or her hind end and losing tail hair is tapeworms. These parasites live in your dog's intestines. Periodically, tapeworm segments, which look like grains of rice, will break off the worm and exit the anus.
These segments can stay attached to the hair around your dog's anus and cause irritation. As a result, the dog may start excessively scratching, biting, or licking at the rear end and tail region. This can lead to bald patches on or under the tail.
Plus, since dogs can acquire tapeworms from ingesting a flea that is carrying the tapeworm larvae, dogs who have tapeworms may also have fleas. This makes them extra itchy.
If you see tapeworm segments on your dog's rear end or on his or her bedding, please schedule an appointment with your veterinarian. That way he or she can examine your dog, potentially perform fecal tests for dogs to look for any other intestinal parasites, and then prescribe the appropriate deworming medication. Additionally, your vet will want to review your dog's flea control program since fleas transmit tapeworms.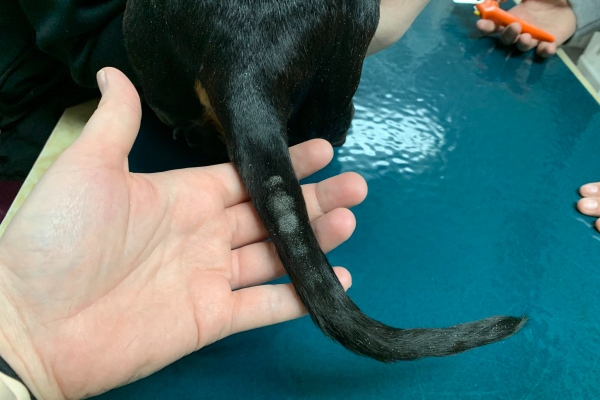 #10: Poor nutrition
Hair growth and coat quality are associated with your dog's overall health. That's why systemic diseases like Cushing's disease can impact a dog's skin and coat so quickly. But nutrition is also very important for your furry friend's hair.
Hair growth requires multiple nutrients, vitamins, minerals, and proteins. Without these important nutrients, a dog's coat could become dull, dry, and brittle, or the dog may develop dandruff. And if a dog continues to not receive proper nutrition, the hair may begin to fall out, often starting with the tail hair.
The tail is particularly vulnerable to nutrition-related hair loss because the hair follicles on the tail are different than those elsewhere on the body. Most of your dog's hair follicles produce multiple, long, thick hairs. However, the hair follicles on the tail usually only produce a single hair at a time. Therefore, if poor nutrition (or another health condition) is impacting hair growth, your dog's tail is likely to be one of the first places to thin and develop hair loss.
Thankfully, though, with good nutrition and help from your veterinarian, your dog's coat and tail hair should start regrowing and gaining back their luster.
Back to Regal
Remember Regal the Beagle from the beginning of this article? Well, after walking through my top ten causes for hair loss on a dog's tail and completing the physical exam, his mom and I agreed that the symptoms seemed to match up with anxiety. Regal had a long history of separation anxiety. And his mom had occasionally caught him pulling hair out of his tail and paws in the past.
However, to ensure that there wasn't another underlying cause for the hair loss, I ran some bloodwork and checked a skin cytology. Everything came back perfectly normal, so I recommended starting my anxious patient on an anti-anxiety medication and making a few adjustments to the routine at home.
I'm happy to say that when he trotted into my office a month later for a recheck, he had a full, shiny coat of hair that went all the way to the tip of his tail!
Work with your vet to find the cause of hair loss on your dog's tail
Hopefully, this can be your dog's story too. If you notice hair loss on your dog's tail, please make an appointment with your veterinarian. He or she can help you figure out which of these 10 causes was the culprit (or if it was a different condition). And your vet can work with you to create a plan that gets your dog's haircoat and tail in tip-top shape again soon.
Why was your dog losing hair on his or her tail?
Please comment below.