When dealing with a lick granuloma, dog parents may find themselves a bit discouraged because getting the spot to heal can take some time and trial and error. In order to make the process a little easier, integrative veterinarian Dr. Julie Buzby explains what lick granulomas are, why they happen, and what you and your vet can do to help your dog.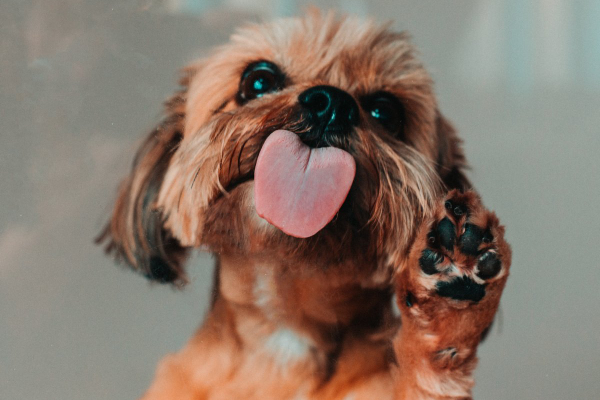 It's not uncommon for dogs to lick themselves. Perhaps they are soothing an area of minor irritation like a bug bite. Or maybe they are trying to get every last bit of leftover flavoring off their fur after chomping on a tasty chew they were "holding" with their paws. Whatever the reason, licking does happen sometimes.
However, frequent licking is concerning. And, if you suffer from misophonia (where certain sounds trigger unease), it is might be annoying too! Additionally, excessive licking, especially when it is concentrated on one particular area, can cause problems for your dog.
What is a lick granuloma in dogs?
Self trauma from constantly licking can cause the skin in the area to develop an acral lick granuloma. The term "acral" translates to "topmost" or "highest." The term is applied because these abnormal areas form on top of the skin.
What does a lick granuloma look like?
In the early phases of a lick granuloma, you may notice a well-defined wet spot with some redness (i.e. erythema) and hair loss (i.e. alopecia). This general appearance also goes with a type of skin infection known as moist dermatitis (i.e. a hot spot). However, as a result of the excessive licking, lick granulomas extend deeper into the skin than typical superficial skin infections.
As time goes on, lick granulomas can appear deeply red or even eroded and ulcerated. Often, they can have distinct borders and an oval or round shape. Over the course of a few weeks, a lick granuloma can become thickened as the body lays down scar tissue in an attempt to heal the abnormal area. Also, thick crusts and plaques can form over or around the granuloma.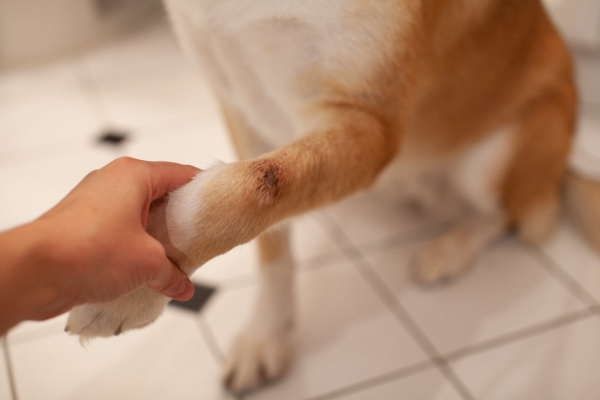 Where do lick granulomas occur?
Since lick granulomas are self-induced, they only occur in areas where a dog can lick himself or herself—the lower limbs, the flanks (i.e. sides) or the tail. However, the most commonly affected area is the distal forelimb. This is the part of the front leg that is close to the toes (i.e. the part near the top of the dog's paw).
What causes a lick granuloma in dogs?
There are a variety of reasons that a dog may begin to excessively lick the top of the paw or other locations. However, experts suggest that allergies and behavioral conditions are the two most common underlying causes. And often dogs who develop a lick granuloma suffer from a combination of BOTH allergies and behavioral issues.
Allergies
Skin allergies can be triggered by any number of factors including:
External parasites (e.g., fleas, ticks, etc.)
Indoor/outdoor allergens like dust and pollen
Certain foods
Exposure to those allergens can lead to intense skin inflammation and itchiness. For some dogs, licking an itchy area can trigger an endorphin release. This helps the dog relax and may alleviate some pain coming from the areas of damaged or inflamed skin.
Behavioral concerns
The fact that licking releases soothing endorphins may also contribute to lick granulomas in dogs with behavioral problems. Dogs who suffer from separation anxiety are stressed when their family is away, so licking may help them calm down. In the same way, repetitive licking as part of obsessive compulsive disorder (i.e. canine compulsive disorder) can lead to acral lick granulomas.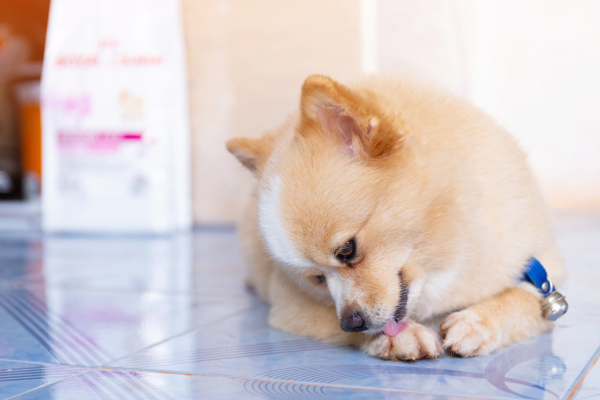 Additional causes
Besides allergies and behavior problems, lick granulomas may also result from:
Pain or abnormal sensations associated with osteoarthritis in dogs
Focal skin infections
Bites or other wounds
Irritation from pins, plates or other implants from orthopedic surgery
Venipuncture (inserting a needle through the skin and into a vein to draw blood)
Localized skin cancers or benign tumors
Which dogs tend to get lick granulomas?
As you can gather from the list of causes, there is going to be an overlap between the dogs who are prone to allergies and behavioral problems and those who develop lick granulomas. And while any age, size, and gender of dog can develop lick granulomas, they tend to be more common in large breed dogs.
Predisposed breeds include:
Boxers
Doberman Pinschers
German Shepherds
Golden Retrievers
Great Danes
Irish Setters
Labrador Retrievers
Weimaraners
Regardless of whether or not your dog has one of these predisposing factors, if you suspect that your dog has a lick granuloma or other skin problem, make an appointment with your vet. The sooner you get a diagnosis, the sooner you can start treatment for the lick granuloma.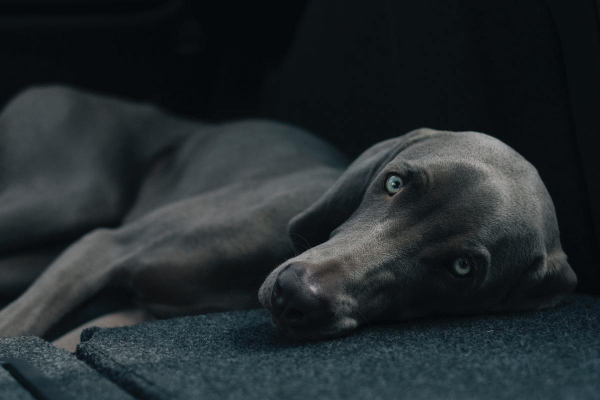 How will the vet diagnose a lick granuloma?
At the appointment, the vet will probably start out by carefully evaluating the suspect area on the skin. Many times, the vet will presumptively diagnose your dog with an acral lick granuloma. He or she will base the diagnosis on the classic appearance of the spot on the skin and history of seeing the dog excessively licking the area.
However, despite having the textbook appearance of a lick granuloma, occasionally the spot can actually be something else. One option is a mast cell tumor in dogs. These cancerous growths can look like almost anything. Your vet may recommend a fine needle aspirate (FNA) to ensure this really is a lick granuloma, not a tumor in disguise. During the FNA, the vet will use a small needle to collect some cells from the spot on the skin. Then he or she will examine the cells under the microscope.
Your vet may also want to do a skin cytology or skin impression test. This is because a study published in the journal Veterinary Dermatology indicated that 97% of lick granulomas will have a secondary bacteria infection. For a skin cytology, the vet will scrape some material off the surface of the skin lesion and apply it to a glass slide. Alternatively, for a skin impression test, the vet presses a glass slide against the abnormal area on the skin. Then he or she evaluates the material on the slide for signs of infection or abnormal cells.
Sometimes the vet will suggest additional testing. This may involve:
Skin scrape to look for demodex mites
Fungal culture to check for ringworm
Skin culture to determine which bacteria are present and guide antibiotic choices
Punch biopsy to confirm the diagnosis if there is no improvement after a few weeks of treatment
What is the treatment for lick granuloma?
Once the vet diagnoses your dog with a lick granuloma, he or she will begin to discuss treatment options. Unfortunately, there is no one-size-fits-all treatment for lick granulomas. So this may mean it will take some trial and error to find the right combination of treatments for the acral lick granuloma itself and the underlying conditions that caused it.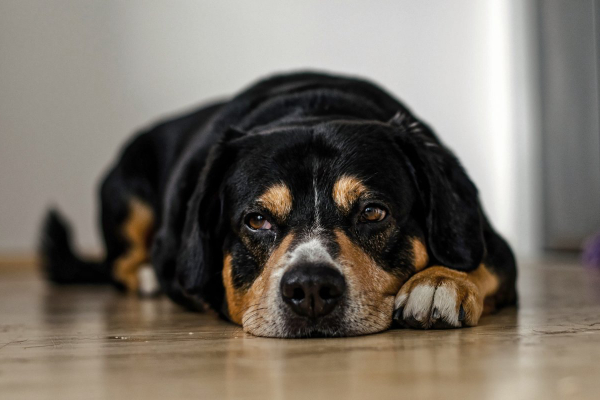 Antibiotics
Most cases of lick granuloma require antimicrobial therapy for treatment. This is because the constant licking breaks down the surface of the dog's skin. Now bacteria that would normally populate the surface of the skin can migrate deeper in the skin and set up an infection. Also, mouth bacteria can enter the area of broken skin from the licking. Since these infections can go deep, oral antibiotics are typically prescribed for six to eight weeks.
Topical products
In addition to the oral antibiotics, topical medications that contain antibiotics can also be extremely useful. In some cases they may reduce the need for systemic antibiotics, which in turn reduces the risk of antimicrobial resistance.
Interestingly, some veterinarians will use long-acting topical ear medications like Claro on lick granulomas. Applying this combination of antibiotic, antifungal, and anti-inflammatory ingredients on a dog's skin treats the infection while providing itch relief.
Another ear product that can be used off-label is called Synotic. It is a topical steroid (fluocinolone acetonide) that vets normally use for ear inflammation. Dimethyl sulfoxide (DMSO) is also included in the forumulation to help the steroid move deeper into the tissues.
Additional treatment modalities
Dogs may also benefit from:
Acupuncture for dogs—Placing acupuncture needles around the lick granuloma may lessen the itchiness.
Steroid injections—Administering an injectable steroid directly into the skin lesion can provide quick relief.
Laser therapy for dogs—Using the cold laser to apply a low-energy beam of light to the lick granuloma can to help speed up healing.
CO2 laser surgery—Removing scar tissue and dead skin cells from the lick granuloma exposes healthier layers of skin which makes it easier for other treatment options to promote healing and provide relief. This is best accomplished using a surgical laser. The vet will remove those abnormal layers while cauterizing the wound to prevent excessive bleeding. Typically this option is reserved for chronic or non-healing granulomas where secondary infection and underlying causes have already been addressed.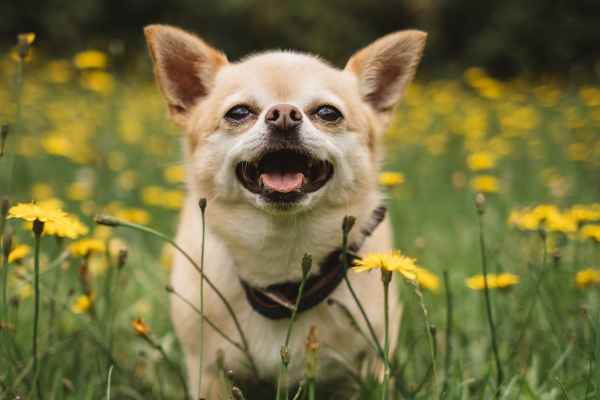 Control of underlying causes
In addition to treating the actual lick granuloma, it is extremely important to try to address the underlying cause.
Allergy treatments
In recent years, veterinary pharmaceutical companies have developed some fantastic allergy medicines for dogs. Oral medications like Apoquel and injectable ones like Cytopoint have helped give itchy dogs some relief by blocking the "itch signals" the body releases in response to allergen exposure. These medications are not definitive cures for allergies. However, reducing the itchiness will decrease the chances dogs will create a lick granuloma in an attempt to sooth their skin.
Dogs with environmental allergies can also benefit from immunotherapy (i.e. allergy shots). First, the veterinarian will allergy test the dog to determine the exact allergens the dog reacts to. Then, vet specialists will use the list of allergens to produce immunotherapies that "reboot" a dog's immune system. This should make the allergic reactions less intense.
However, immunotherapy and allergy testing are generally not useful for dogs with food allergies. Instead, most vets will recommend feeding a novel protein or hydrolyzed protein diet for 8 to 12 weeks. Then, if the itching improves significantly, the dog can continue to eat that diet long term.
If dog parents want to pinpoint the exact allergen, they can always reintroduce one suspected allergen (e.g. chicken or beef) at a time. If the dog becomes itchy again, this confirms the dog is allergic to that ingredient. Avoiding that allergen in the future can also help control food allergies.
Addressing anxiety
Since anxiety and other behavioral conditions can also cause lick granulomas, your veterinarian may discuss options to help your furry friend relax. He or she may recommend using medications like fluoxetine and clomipramine for several months. During that time, you can work on plans for behavior modification. This may include eliminating visual cues that set off your dog's separation anxiety, mitigating responses to loud sounds like thunder, etc.
Additionally, sometimes focusing on environmental enrichment and increasing your dog's activity can make a big difference. This may be as simple as sending your dog off to doggie daycare for a few hours. Or it may mean going for a longer run or walk, or providing some food puzzle toys.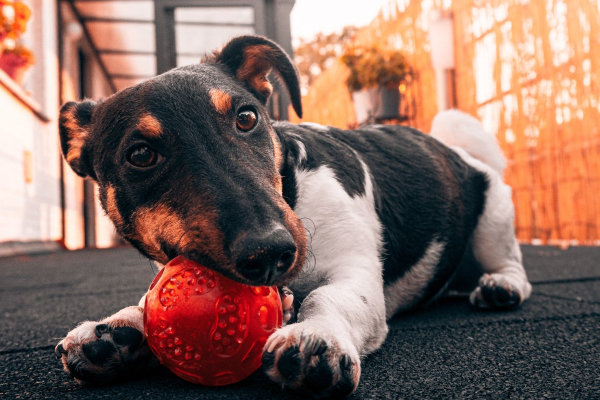 Arthritis management
Since some dogs lick repetitively in response to pain or abnormal sensation from signs of arthritis in dogs, finding ways to relieve arthritis pain in dogs can be helpful. Your veterinarian may want to try non-steroidal anti-inflammatory drugs (NSAIDs), or other pain medications like tramadol for dogs, gabapentin for dogs, or amantadine for dogs.
Additionally, joint supplements for dogs are a great idea. One of my favorites is Dr. Buzby's Encore Mobility™ hip and joint supplement. The green lipped mussel for dogs in Encore Mobility has great anti-inflammatory effects which are perfect for dogs with lick granulomas and arthritis. Plus, it contains deer antler velvet , which has many amazing joint support properties.
Save 10% on Encore Mobility™ Joint Supplement for Dogs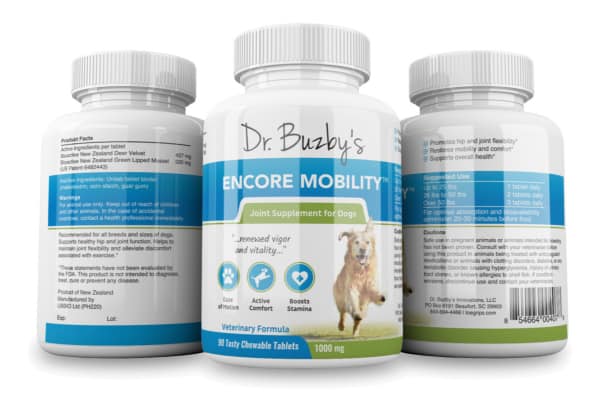 Give your dog more good days.
Use promo code HAPPY to save 10% on Encore Mobility.
At-home treatment for lick granulomas
In combination with these other treatments, it can also be helpful to try some techniques at home to keep your dog from licking an already established lick granuloma. Your vet may recommend using an E-collar (i.e. the "cone of shame"). You might also consider using socks or booties to cover a lick granuloma on a dog's paw. (But don't do this if you think your dog might chew or swallow the socks or booties.)
Noxious topical products like Bitter Apple spray can also be effective because they taste awful. Additionally, there are various recipes for homemade lick deterrents. But you should run these by your vet before using them to ensure they are safe. Generally, you would need to apply the yucky tasting substance in small amounts every eight to twelve hours to prevent licking.
Lick granuloma treatment takes time
Even if you do everything right for treatment, it is important to keep in mind that some lick granulomas can take several months to resolve. Lick granulomas are one of the more frustrating conditions that we treat in veterinary medicine. Most heal slowly, and it can take time to find the right treatment. Unfortunately, some never do fully resolve.
Even though there aren't any quick and easy solutions, that doesn't mean you should lose hope. There are still things you can do to help your dog during the healing process. First off, periodic check-ins with your veterinarian are vital to the process. He or she may want to recheck the skin cytology to ensure that any skin infection at the granuloma site is responding to therapy. Also, if initial therapies aren't helping, your vet can come up with a new plan or additional therapies.
Secondly, following your vet's directions is critical. Even something as simple as leaving the E-collar off can set back resolution for weeks, or perhaps months. I know it isn't fun to need to put an E-collar on your dog, give daily medication, or otherwise change the way you care for and interact with your dog for a period of time. However, if it means getting the lick granuloma to improve, it is worth it.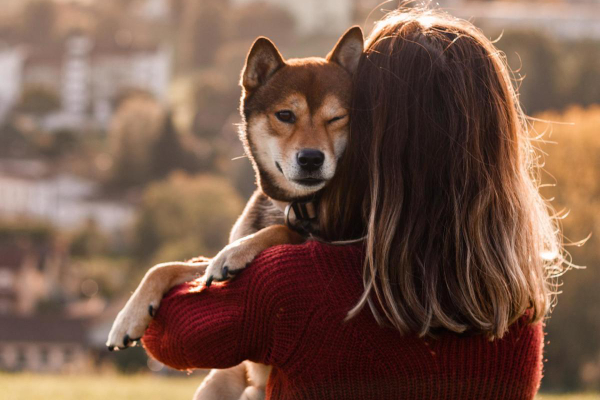 How can you prevent a lick granuloma?
Knowing how difficult it is to manage a lick granuloma once it is established, it only makes sense that trying to prevent one from starting would be ideal. If you know your dog has allergies, anxiety, or other factors that predispose him or her to lick granulomas, keep these prevention tips in mind:
Administer any prescribed medications as recommended by your vet.
If your dog suffers from environmental allergies, work with your vet to create a bathing and grooming routine that helps remove surface allergens.
Consider naturally calming treatments and supplements such as Zylkene, Composure Pro, and Solliquin if your dog struggles with anxiety.
Promptly report any changes to your dog's level of itchiness, skin appearance, or pain or anxiety levels to your vet.
Break out the E-collar or lick deterrents if you notice that your dog is just starting to lick an area. Then make a vet appointment to get to the root of the licking.
Work with your vet
I want to stress again the importance of working closely with your vet if you think your dog is developing a lick granuloma. The sooner you can start treatment and the more you stay in communication with your vet, the lower the chance the dog will end up with a chronic or difficult-to-treat lick granuloma. Hopefully, with a bit of patience and persistence, your dog will be able to recover quickly and "lick" his or her lick granuloma once and for all!
Has your dog had a lick granuloma?
Please comment below