Is your dog losing weight but eating a normal (or increased) amount? If you aren't trying to get him or her to shed some pounds, this could be a sign of a medical condition. To help prepare you for your dog's visit to the vet, integrative veterinarian Dr. Julie Buzby discusses the 10 most common causes of weight loss in dogs.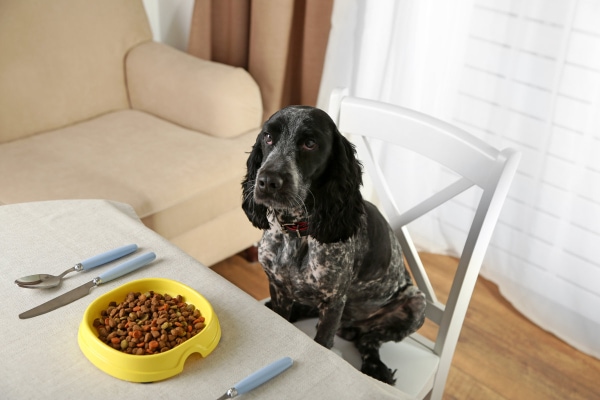 If you're not actively helping your pup lose some excess pounds, unexplained weight loss can be a bit concerning. And it can be downright alarming if your dog is eating the same amount of food, or worse yet, more food, but still losing body mass!
If your adult or senior dog is losing weight but still eating, it is generally best to get your vet involved sooner rather than later. However, you can play an important role in the diagnostic process too. After all, you know your dog better than anyone else. It is amazing how many times something that a dog parent mentions during the examination helps point me toward the right diagnosis.
With this in mind, my goals for writing this article are two-fold. First, I want to teach you how to gather the information at home that can help your vet help your dog. Then I want to equip you with knowledge about the top 10 reasons a dog might be eating but losing weight so that, again, you can partner with your vet to help your dog.
How do you get to the bottom of why a dog is losing weight but eating?
When it comes to solving any doggie medical mystery, a good physical examination and history come first. This often starts with a preliminary "check-up" in your own home. (But don't worry— your vet will perform a comprehensive physical examination as well.)
To evaluate your dog at home, you may want to consider using my 5-minute tip-to-tail dog wellness scan method. While looking your pup over from head to toe, ask yourself the following questions:
Are there some areas where weight loss seems to be more localized, like over the hind limbs? Or is my dog's weight loss generalized?
Is my dog's overall shape the same? Or does he or she have a pot-bellied dog appearance with poor muscle mass?
Does my dog have any problems with eating or drinking? (e.g. dropping of food, vomiting, difficulty swallowing)
Has anything changed about my dog's food recently (e.g. new bag, new formulation, new brand)?
Has my dog's activity or stress level changed (e.g. getting a new puppy, more walks now that the weather is nice)? Sometimes the explanation may be as is as simple as your dog is starting to burn more calories than he or she takes in.
Is my dog acting more hungry? Less hungry?
Is he or she showing increased thirst in dogs? Drinking less water?
Have there been any changes in my dog's stool consistency, frequency, or appearance?
How does my dog's body condition score (BCS) compare to what it was previously? (Use the chart below as a reference for scoring your dog.) Over what time period has it changed? (Sometimes going back and looking at pictures of your dog can help with this.)
Then take this information (perhaps recorded on a piece of paper or in your phone) with you to the vet appointment. That way you can give your vet a clear and concise picture of what is going on with your dog.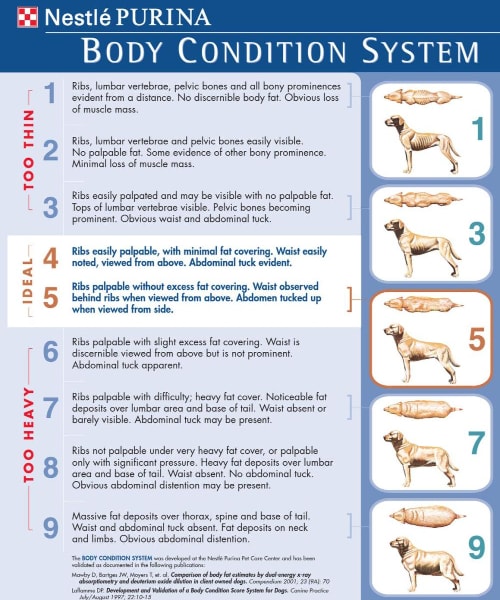 What to expect during the vet appointment
Based on that information, your dog's past medical history, and the physical exam findings, your veterinarian will discuss the next steps with you. This often involves diagnostic testing such as:
Bloodwork (e.g. chemistry panel, thyroid panel, complete blood count)
Urinalysis
Imaging (e.g. X-rays or ultrasound)
Fecal tests
Additional follow-up tests like biopsies, cultures, specialized blood tests, etc.
These tests can often help the vet further differentiate between the various causes of weight loss that we are about to discuss. (Or sometimes they may point to a condition that didn't happen to make my top 10 list.)
10 Reasons a dog is losing weight but eating
As mentioned, there are numerous diseases that cause weight loss in our canine companions. But there are 10 in particular that I want to highlight for you.
#1: Kidney disease
Kidney failure in dogs is one of the most common reasons for a senior dog losing weight but eating. Normally, the kidneys are responsible for filtering toxins out of the blood, then removing them from the body via the urine. Plus, the kidneys help maintain the delicate balance of electrolytes, fluid, proteins, and other substances in the body. However, when the kidneys become diseased, they can no longer perform these important functions. As a result, the dog becomes sick.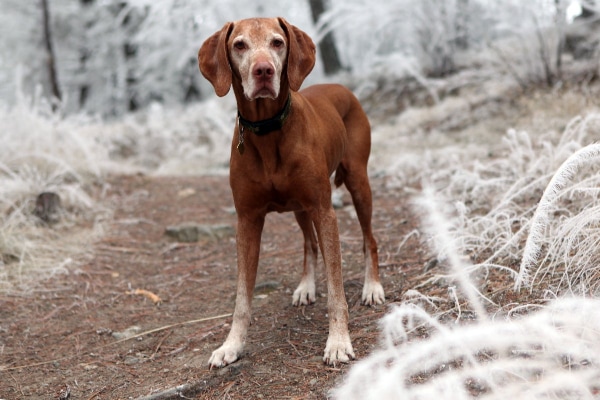 Dogs with kidney disease experience unexplained weight loss because they are breaking down fat and muscle, especially as they advance through the stages of kidney disease in dogs. Plus, these dogs typically experience other symptoms include vomiting, diarrhea, being a lethargic dog, and increased thirst and urination. Older dogs with kidney failure may also be more susceptible to urinary tract infections (UTIs in dogs). This can result in urinary accidents or seeing blood in the urine.
Typically, the vet will use a combination of elevated kidney enzymes on bloodwork and changes in the urinalysis (e.g. decreased urine concentration), to make the diagnosis of kidney failure. From there, he or she may recommend some additional test such as urine cultures, X-rays, or ultrasounds to get a better picture of your dog's situation. Based on that information, the vet will devise a treatment plan. It may involve fluid therapy (such as subcutaneous fluids for dogs), diet change, and/or certain medications to manage symptoms or slow disease progression.
#2: Liver disease
Another common reason an older dog may be losing weight but eating is liver disease in dogs. Your dog's liver has many important functions, from breaking down various nutrients to removing toxins from the body. It is no surprise then that when the liver is no longer working correctly, a dog can show a variety of clinical signs.
For example, dogs with liver disease may have trouble digesting, absorbing, or metabolizing nutrients properly. This can lead to weight loss. Additionally, they may experience abdominal pain, vomiting, jaundice (i.e. yellowing of the skin), fluid accumulation in the abdomen (i.e. ascites), increased thirst and urination, and dog nose bleeds (or other signs of abnormal blood clotting).
Dogs with liver disease usually have elevated liver enzymes on bloodwork (e.g. high ALP in dogs). And they may also have changes to the liver size, shape, or architecture on imaging. The vet will use this information, any additional diagnostics that might be indicated, and an understanding of the underlying cause of the liver failure (if known) to create a treatment plan. Since there are a variety of causes of liver failure, the exact treatment may vary. But a special diet, or other supportive measures, tend to be part of the plan.
#3: Dental disease
If you have ever had a toothache, you probably know how excruciating dental pain can be. However, dogs are stoic and the signs of oral pain in dogs can be subtle. This means it can go undetected for a period of time, sometimes until it starts causing weight loss.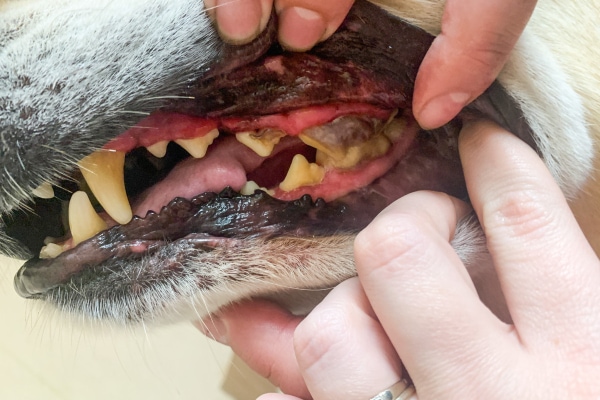 In some cases of dental disease in dogs, it may appear that your pup still has a good appetite. But in other cases, he or she may start eating less. And dogs with severe oral pain may even choose not to eat at all. Thus, it is important to be vigilant for signs of oral pain like drooling excessively when eating, chewing on one side of the mouth, or dropping bits of dog food. Plus, you should watch for symptoms of general dental disease like bad breath, bloody saliva, or a dog losing teeth.
If your vet suspects your dog's teeth are to blame, he or she will probably recommend a thorough oral examination under general anesthesia. This allows your vet to evaluate and clean the surfaces of the teeth above and below the gum line. Plus, he or she can take dental X-rays to look for evidence of periodontal disease (i.e. inflammation of the structures surrounding the teeth), dog tooth abscesses, or other problems.
Sometimes the veterinarian may need to perform a dog tooth extraction if a tooth is broken, loose, or otherwise compromised. Or in other situations, your vet may refer you to a veterinary dentist for more specialized treatments like a root canal. The vet will also talk with you about at-home oral hygiene strategies like brushing your dog's teeth. And he or she may recommend routine veterinary dental cleanings going forward.
#4: Cancer
No one ever wants to hear the word "cancer," but unfortunately it is another reason that an older dog may be losing weight. Sometimes cancer in dogs is a discrete tumor like a mast cell tumor in dogs or bladder cancer in dogs. Other times, it could be something more generalized like lymphoma in dogs or leukemia.
Dogs with cancer can appear mostly asymptomatic at first. They may be eating normally but losing weight very slowly. Over time, they might start showing other signs depending on the tumor type. Some dogs develop a lump or enlarged lymph nodes in dogs. Others may have trouble urinating due to prostate cancer in dogs, or experience life-threatening internal bleeding from a ruptured hemangiosarcoma in dogs.
However, dogs with most types of cancer will also experience more generalized signs like vomiting, obvious weight loss, pain, coughing, and lethargy. These symptoms may be due to the original tumor or the spread of the tumor cells (i.e. metastasis) to other areas of the body.
Reaching a cancer diagnosis can look a bit different depending on the type of cancer. However, it often involves a fine needle aspirate or biopsy. These tests allow the vet to examine the tumor cells to determine if they are malignant (i.e. cancerous) or benign.
Then, based on the type of cancer, your vet or a veterinary oncologist can discuss your dog's treatment options. Thankfully, there are now numerous cancer treatments available for dogs, including surgery, radiation, chemotherapy, and immunotherapy.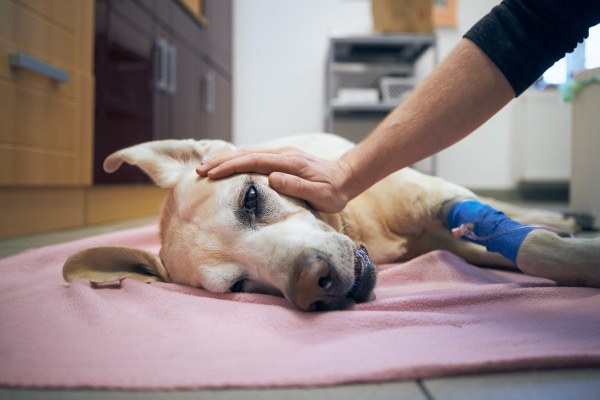 #5: Diabetes mellitus
On the other hand, some disorders can result in rapid weight loss in dogs, especially senior dogs. One such condition is diabetes mellitus (diabetes in dogs), which affects the ability of the body to use and store glucose (i.e. sugar). Normally, the pancreas releases insulin, which drives glucose from the blood into the cells. However, dogs with diabetes don't produce enough insulin. Thus, glucose stays in the blood and cannot move into cells to provide energy.
Since the body can't use glucose for energy, it ends up breaking down fat and muscle to use as alternative energy sources. This results in weight loss despite a good, or often even increased, appetite. Additionally, dogs with diabetes mellitus frequently have increased thirst and increased urination. Many will also develop cataracts in dogs at some point in their life due to high blood glucose levels.
Typically, the vet will diagnose your dog with diabetes mellitus based on elevated blood glucose on the chemistry panel and evidence of glucose in the urine. However, there are times when he or she may recommend additional tests.
The mainstay of diabetes treatment is lifelong insulin injections. I know it may sound intimidating at first, but the veterinary team can teach you how to administer insulin. Plus, your vet can also give you tips on feeding your diabetic dog and monitoring for complications like diabetic ketoacidosis in dogs (DKA) and low blood sugar.
#6: Adrenal gland diseases
The adrenal glands are responsible for the production of multiple hormones. These include cortisol (i.e. the stress hormone), aldosterone (which controls sodium and potassium levels), sex hormones (testosterone and estrogen), and the fight-or-flight hormones (epinephrine and norepinephrine). Keeping those hormones in balance is important because they help regulate heart rate, blood pressure, blood sugar, and other parameters.
Cortisol in particular is a hormone that can cause weight loss if there is too much of it (i.e. Cushing's disease in dogs) or too little of it (i.e. Addison's disease in dogs). Dogs with Cushing's disease tend to lose weight due to muscle wasting. But dogs with Addison's disease tend to experience weight loss due to poor appetite.
Additionally, dogs with Cushing's disease often have a ravenous appetite, hair loss or poor hair coat, and increased thirst and urination. On the other hand, dogs with Addison's typically have vague and non-specific signs like lethargy, weakness, or GI upset.
Both Addison's and Cushing's can be diagnosed via several specific blood tests. Additionally, some dogs will need an abdominal ultrasound to look for an adrenal tumor (one cause of Cushing's disease). After reaching a diagnosis, the vet will prescribe medications like trilostane for dogs to suppress cortisol production for Cushing's dogs. Or he or she will use medications to replace the missing cortisol and/or aldosterone for dogs with Addison's disease.
#7: Heart disease
Dogs of all ages—from young puppies with congenital heart defects to older dogs with acquired heart disease in dogs—may lose weight when their heart starts to fail. Typically, this is due to a combination of muscle wasting (i.e. cardiac cachexia) and loss of body fat from inappetence.
Heart disease may affect the heart muscle, valves, blood vessels, or conduction system, depending on the underlying condition. Initially, the dog may be asymptomatic. But as the disease progresses, it can cause symptoms such as coughing, weakness, exercise intolerance, collapse, and difficulty breathing. Often dogs with severe breathing trouble will also have a decreased appetite or no appetite at all.
Sometimes your veterinarian may detect an abnormal heart rhythm, heart murmur in dogs, or abnormal lung sounds on a physical exam. Or your dog's symptoms may raise the suspicion of heart disease. From there, the vet may recommend specific tests such as chest X-rays, blood pressure measurement, electrocardiogram (ECG or EKG), and/or heart ultrasound (i.e. echocardiogram) to further evaluate the heart.
Based on that information, the vet can develop a treatment plan. This often involves medications to help the heart pump more effectively, correct abnormal rhythms, and remove fluid build-up from the lungs.
#8: Inflammatory bowel disease
As you might imagine, conditions that affect the ability of the stomach and intestinal tract to move food from one end to the other and absorb nutrients can also lead to weight loss despite a great appetite. The last three conditions we are going to discuss all fall into that category.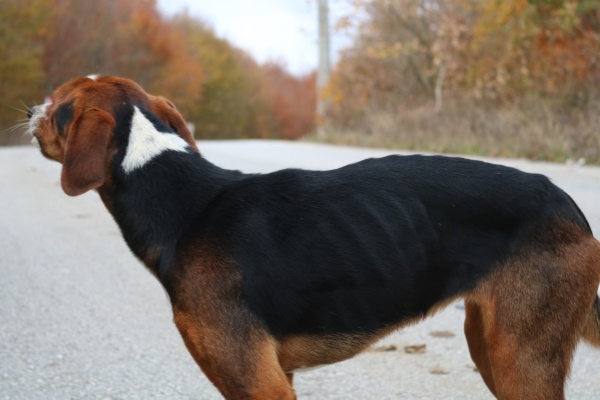 As the name would imply, inflammatory bowel disease (IBD in dogs) occurs when the intestines become inflamed. The exact cause of the inflammation is not well understood. But it seems to be related to the interactions between the dog's diet, environment, intestinal bacteria, and immune system.
Affected dogs typically have GI signs like chronic, intermittent vomiting and diarrhea. However, IBD can also cause unexplained weight loss in dogs with few or no other symptoms.
To definitively diagnose IBD, the veterinarian needs to collect intestinal biopsies and examine the cells under a microscope. However, sometimes the vet will presumptively diagnose a dog with IBD instead. This process involves both ruling out other causes of weight loss and seeing an improvement on immunosuppressive medications and/or a special hypoallergenic diet.
#9: Megaesophagus
Another digestive condition that can lead to weight loss with a good appetite is megaesophagus in dogs. In this case, the problem is that much of the food the dog eats isn't even making it past the esophagus.
Normally, a combination of muscle layers and nerve fibers allows the esophagus (i.e. the tube connecting the mouth and stomach) to move food and water down to your dog's stomach. However, in megaesophagus, the nerve fibers malfunction or something blocks the esophagus. As a result, the esophagus gradually distends and is no longer able to push food down to the stomach.
The food and water will accumulate in the esophagus and often come back up again. This passive expulsion of undigested food from the esophagus is called regurgitation. It is not the same as vomiting, which involves retching and abdominal contractions to bring food up from the stomach.
Most dogs with megaesophagus will act normally initially and have a ravenous appetite. However, they often lose weight rapidly because, despite eating plenty of food, they regurgitate most of that food again. This leaves very little food to pass through the stomach and intestinal tract to nourish the body.
Often the vet will be able to diagnose megaesophagus by seeing a distended esophagus on chest X-rays. But occasionally he or she will recommend some more specialized imaging. Dogs with megaesophagus benefit from treatment of the underlying cause (if one is found) and special feeding arrangements. This may involve being fed in a special chair that holds them upright and eating canned food "meatballs," or food blended into a slurry.
#10: Parasites
Last, but certainly not least, intestinal parasites can also cause a dog to lose weight but be eating normally. Of all the causes on the list, parasites are probably the "best" one for your dog to have. Parasites are simple to detect and treat and usually don't cause ongoing issues.
There are various species of intestinal parasites that sometimes lead to weight loss in dogs, such as roundworms, whipworms, hookworms, giardia, and tapeworms. Dogs may acquire parasites via the fecal-oral route (i.e. ingesting the worm eggs or giardia cysts shed through the feces of other animals), via the placenta or milk of their mother, through their skin, or after consuming an infected animal or flea. (To learn more, check out one of my favorite parasite resources, Pets & Parasites.)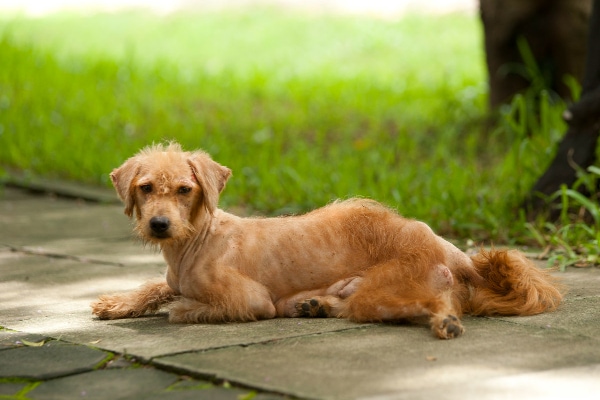 Many dogs with parasites are asymptomatic. However, parasites do suck blood or take nutrients from the partially digested food found within the intestines and can cause damage to the intestines. This means that in high enough numbers they can potentially cause weight loss. Additionally, parasitized dogs may have other signs like diarrhea, vomiting, decreased appetite, and lethargy.
To screen for intestinal parasites, the vet will perform a fecal test for dogs (e.g. fecal flotation and Giardia antigen test). Plus, he or she may look for rice-like dried tapeworm segments near your dog's anus since tapeworm eggs don't tend to show up well on fecal tests. Once the vet knows which parasite is the problem, he or she will prescribe the correct anti-parasitic medication.
How can you help a dog who is losing weight start gaining weight?
Once your vet has figured out why your dog is losing weight, he or she will speak with you about how to treat that particular condition. Getting the problem under control might, in and of itself, help your dog stop losing weight. However, your vet may also talk with you about some strategies for helping your dog gain weight again.
Sometimes, weight gain can be achieved by simply increasing the amount of food your dog eats. Keep in mind that you should make any increases gradually. And keep them to no more than 10% of a dog's daily caloric intake at a time. Feeding too much extra food can lead to stomach upset or even bloat in dogs.
Additionally, dogs with muscle wasting can sometimes benefit from diets that contain extra amino acids and highly digestible proteins. However, it is best to consult with your vet before making the switch to those foods. Excess protein may worsen some conditions like kidney or liver disease.
Even with these measures, there may come a time when a dog is no longer eating well and continues to lose weight. At that point, your vet may suggest using appetite simulants for dogs, feeding a high-calorie and highly palatable food, or trying other supportive measures.
Partner with your veterinarian
Hopefully, you have a better idea of the various reasons your dog might be chowing down on his or her food but still losing weight. And you have also been reminded of the important role that you play in your dog's healthcare. By routinely observing your dog at home, and monitoring his or her body condition score, you can quickly detect abnormal weight loss.
And then, by promptly bringing your dog to the vet, sharing your observations, and allowing the vet to run the necessary diagnostics, you can help your vet help your dog. Keep in mind that sometimes the answer shows up on the first diagnostic test. But in other situations, it can take several tests and some time to find the underlying cause of the weight loss. Either way, rest assured that your vet is in your corner. Together, you can get to the bottom of your dog's weight loss.
Why was your dog losing weight but eating?
Please share your dog's story below.