Dog wagons or dog strollers can be great solutions for senior dogs who have poor mobility but still love going on walks. Integrative veterinarian Dr. Julie Buzby explains how to select and use a dog wagon or stroller and runs through some important safety tips.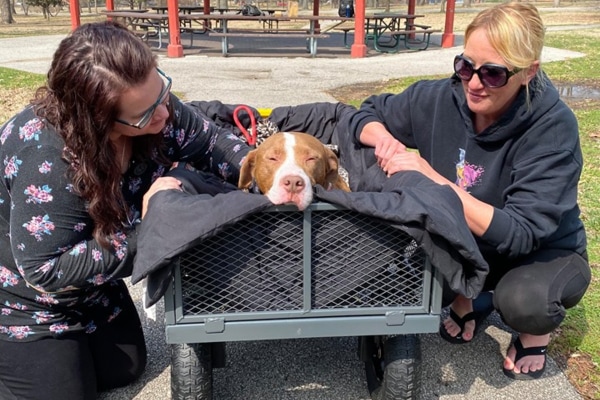 Do you have an older dog with mobility issues? Have your daily walks become more difficult? Dr. Buzby's ToeGrips® dog nail grips can work wonders for dogs with reduced mobility. But there are still times when you might also want to consider using a dog wagon or dog stroller.
Why use a dog wagon or dog stroller?
Dogs are creatures who love adventure. For many canines, exploring their neighborhoods and local parks can be the highlight of their day! They see Mom or Dad get the leash, and they get excited. They even know which shoes mean a W.A.L.K. is about to happen.
As dogs get older, exploration becomes more challenging, and walks must be shorter. For some paralyzed dogs, disabled dogs, or dogs with other mobility issues, it may seem like walks are destined to be a thing of the past. However, this is where dog wagons or dog strollers come to the rescue!
1. Wagon or stroller walks can promote cognitive function
Wagons and strollers are perfect for dogs who still love the routine of a daily walk or a weekly park outing but can't physically walk around anymore. Sniffing all of the new and intriguing smells is mentally stimulating. And a regular "sniff-ari" (sniffing safari) helps dogs maintain their cognitive function. These activities can hopefully delay the onset of canine cognitive dysfunction and signs of dementia in dogs.
2. Wagons and strollers can be your arthritic dog's legs
Dogs with loss of mobility from osteoarthritis in dogs or degenerative myelopathy in dogs may still have the desire to go on a walk. But their body may gradually lose its endurance and strength. A dog who used to run with you for many miles may only be capable of walking a single slow mile now. Eventually, even walking around the block may be too much for dogs with arthritis.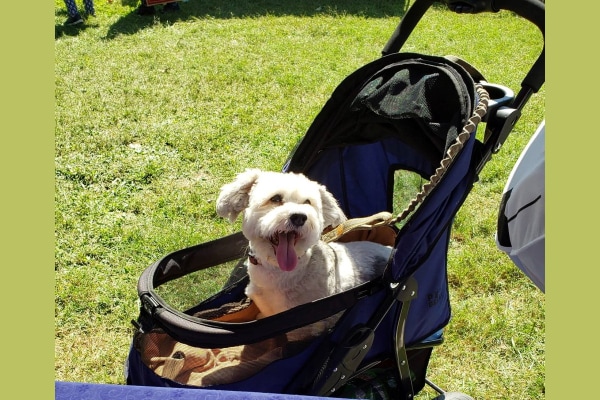 If you and your dog have always been running buddies (or walking or hiking buddies), giving up that special time together may not be something either one of you is ready for. The good news is that you don't have to! A wagon or stroller can be the perfect solution for dogs who can't walk or run that far anymore.
3. Wagon or stroller trips can strengthen your bond
You may have seen people out and about, pushing or pulling their canine friends for a fun ride. Chances are, both the dog and the person look happy. It is a great feeing to be able to still enjoy taking in the sights and sounds with your dear old dog. Plus, using wagons and strollers can be a wonderful way to stay active together as your best buddy ages.
How do you pick the best dog wagon or stroller?
According the American Pet Products Association (APPA), in 2021, Americans spent $123.6 billion on their pets. Part of that number includes purchasing wagons and strollers so their dear dog can ride in comfort and style. If you're committed to continuing your walks, runs or hikes together, consider these things when when choosing a wagon or stroller:
1. The size of your dog
For little dogs, a small pet stroller may be perfect. They come in many styles, and may even fit several of your little canine friends. You can also buy a double dog stroller if you have two dogs who prefer their own space. Often, small dog strollers have a mesh cover that can zip closed. This allows your dog(s) to sniff and watch the scenery from the safety of an enclosed space.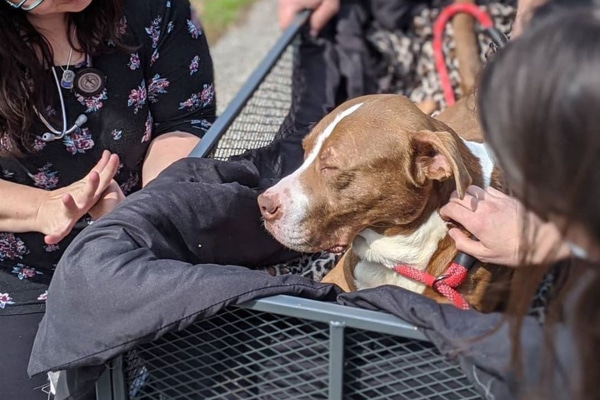 For medium dogs, a larger stroller may be a great investment. These strollers look much like the small dog strollers and offer the perks of being pushed (rather than pulled like a wagon). They may also have mesh windows to keep your dog from jumping out of the stroller mid-ride.
For large or giant breed dogs, you may wish to have something sturdier like a wagon. If you already have a child's wagon at home, it might be easy to repurpose the wagon for your dog. But before you take off on that first walk in your DIY dog wagon, be sure that the sides of the wagon are tall enough to protect your dog from falling over the edge as you navigate rough terrain, corners, and bumpy sidewalks!
2. Whether you plan to walk, run, or ride a bike
Traditional strollers or wagons are perfect if you plan to mostly take walks or hikes. If you are a runner, you may want to select a dog jogging stroller. These are often three-wheeled strollers for better maneuverability and a smoother ride when running.
Or, if you enjoy bike rides, you may decide to purchase a "pull-behind" dog wagon. These wagons are made specifically to attach to your bike. That way you can take your canine with you on a short ride around the neighborhood, or a much longer ride around your favorite city parks. Many bike carriers also come equipped with reflectors or a safety flag for better visibility on the road.
3. Where you plan to go
You will also need to think about the terrain. Will you be sticking to paved pathways or will you go off-roading on trails and across grassy hills? If you will be covering rough ground, you will want to look for something with larger and more durable tires. These all-terrain wagons or beach wagons will be easier to pull or push through grass. Plus, they won't get stuck as easily if you happen to find soft ground or a muddy spot in the path!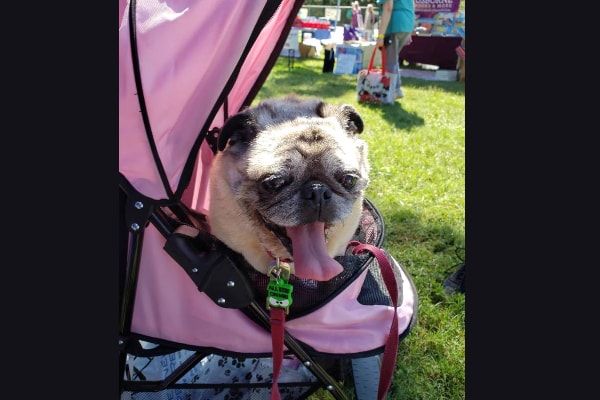 4. How much space you have in your car and garage
You also want to consider how you will be transporting and storing the wagon or stroller. Do you have room for a large wagon with sturdy sides, big wheels, and even a canopy? If not, you may want to choose a fabric wagon with collapsible sides. These wagons can be stored in much smaller spaces. They are very convenient, but be sure to check their weight capacity before purchasing one for your large or giant breed dog.
Dog wagon and dog stroller safety and comfort tips
Once you have selected the wagon or stroller, you need to think a bit about the best ways to keep your dog safe and happy while in it.
1. Provide padding and a non-slip surface
No matter what kind of wagon or stroller you choose, be sure to have lots of padding ready before you set out on your adventures. You want something to protect your dog's joints as you push or pull him or her along.
You also want something that won't slip or slide around as you go up and down hills and around corners. Placing a yoga mat in the bottom of the wagon may be a good option. They are non-slip, can be cut to fit your wagon, and can be pulled out for easy cleaning.
2. Prepare for different temperatures
In the summer, ensure you take water along on your trips. Your dog may not be up and walking, but hot weather and the excitement of the walk may still get your dog panting. Be sure to plan enough time for water breaks in the shade too. Senior dogs can be at a higher risk of heatstroke in dogs, so it is important to keep your buddy cool and hydrated.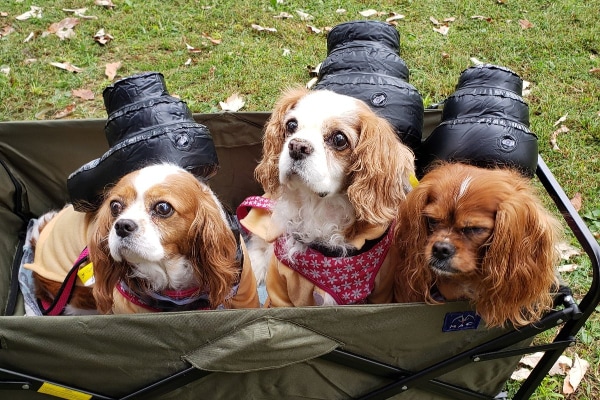 Alternatively, if you are walking in chilly weather during the fall or winter, don't forget to take a blanket as well. Older dogs get cold more easily. And since your dog won't be walking, he or she won't have the added warmth from increased muscle activity.
3. Be mindful of your dog's physical and mental state
As you prepare to keep your geriatric pet active, keep in mind that wagon rides can be a source of fun for your aging canine friends. But it is also important to realize that the experience is new. And for some dogs, it may be a bit scary in the beginning. Start out slow, and keep your first few walks short.
Also, keep an eye on your sweet pup to ensure he or she doesn't seem more painful in the hours or days following your ride. If you do notice signs your dog is in pain, talk to your dog's vet about options for increased pain control. This may involve using:
Get your dog's tail waggin with a dog wagon!
With a little research and preparation, a dog wagon or stroller can be the perfect way for your senior dog to be able to go on "walks" to his or her heart's content. No longer will your dog's limited mobility put a damper on your adventures together.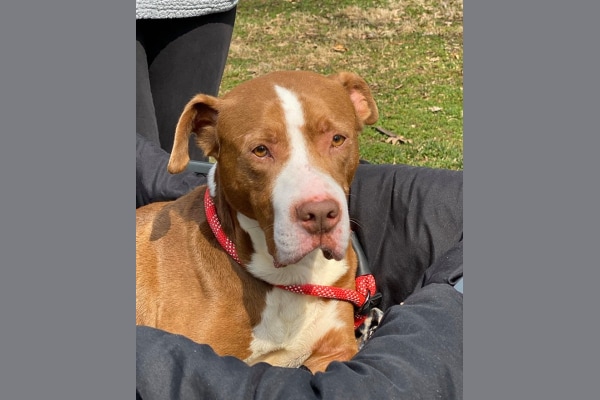 In no time at all your dog will probably start getting excited when he or she sees you preparing the wagon. And then, with your dog's tail waggin', you can load him or her up in the wagon or stroller for a fun and memorable excursion.
Does your dog enjoy riding in a wagon or stroller?
Please comment below.