When is a dog considered a senior? Integrative veterinarian Dr. Julie Buzby offers insight on when you can confidently welcome your dog into the prestigious "silver senior dog" club. Plus, get highlights on some common health issues you might encounter on the journey through your dog's golden years.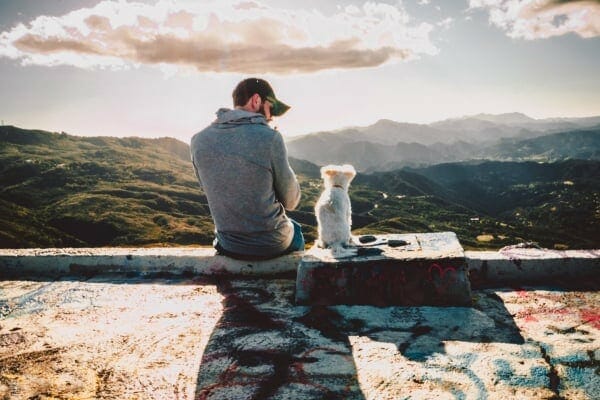 When I'm in an exam room with a client and their senior dog, I love to hear stories—from their first day home together to the purpose of their visit that day. Inevitably, I'm reminded that the bond between a loyal dog parent and his or her grey-muzzled companion is unconditional, unbreakable, and always one-of-a-kind.
It's true—your dog is a pal and a confidant, and your heart's desire is to see your dog thrive in every season of life. You've made that happen so far, and the golden years needn't be different. But how do you know when you're entering your dog's senior years? What changes can you expect as your dog ages? How do you care for a senior dog? These are common questions devoted dog parents ask, and I can't wait to share some answers with you.
By the end of this article, you'll know:
Why the "one human year to seven dog years" rule of thumb to estimate your dog's age is outdated
The latest research from scientists on how to accurately determine your dog's age
Which health-related issues to watch for during your dog's senior years
Is 1 human year 7 years for a dog?
First, to assess your senior dog's age, we must use the latest research. When I was growing up, people thought one year of a dog's life equaled seven years in a human's life. It was simple arithmetic dog owners calculated at every doggie birthday.
Today, we know this "one dog year = seven human years" is inaccurate. For one reason, most dogs reach maturity by the time they are one year of age. That would be the equivalent of a human reaching maturity at seven years of age. Using this outdated formula simply doesn't work to calculate your dog's age.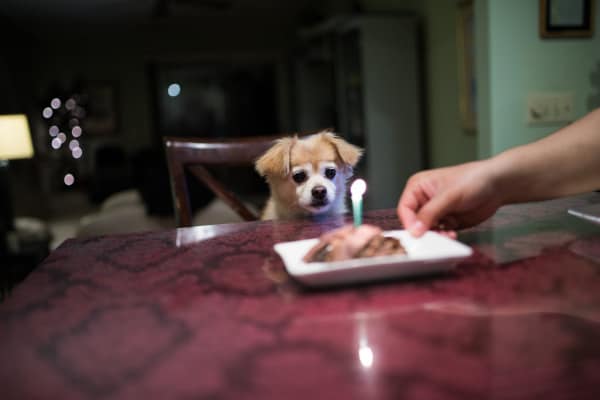 At what age are dogs considered seniors?
The truth is there is no clear and simple way to determine an age at which all dogs would be considered seniors. Dog breed and size certainly play an important role.
Rather than using the "1 dog year = 7 human years" rule of thumb, let's look at the latest findings. There are two studies that shed light on a fairer way to calculate your dog's age.
Two studies on calculating your dog's age
In a 2007 study from Texas A&M University, researchers looked at the effects of height and weight on the life expectancy of dogs. They found that shorter and lighter dogs lived longer than taller and heavier dogs. This suggests that small breed dogs age more slowly than large and giant breed dogs. Based on these findings, as a general rule:
Large-breed dogs are considered seniors after age six or seven
Medium-breed dogs are generally considered seniors after age seven to nine
Small dogs aren't considered seniors until after age ten or eleven
More recently, the University of California, San Diego published a study in November 2019. The study looked at Labrador Retrievers and how their aging compares to that of humans. By looking at epigenetics, or the way that the environment caused certain genes to be expressed or suppressed, researchers were able to develop a new formula for calculating a dog's age.
The study determined puppyhood goes by as quickly as childhood in humans, but then aging slows down as a dog matures. The authors admit the study isn't perfect since it only looked at Labrador Retrievers to the exclusion of all other breeds. But it is a great start. More research is necessary.
Curious what this formula says about your dog's age? Check out the formula for calculating a dog's age in Smithsonian magazine.
With the new formula in mind, know that it's entirely possible for your dog's early senior years to look very similar to his or her adult years.
However, just like in humans, age increases your dog's risk for various health issues. Next, let's look at common health conditions to watch for as your dog navigates the senior years.
7 health issues when your dog is considered a senior
Below I've outlined seven of the most common conditions I see in my senior canine patients. Log this information in the back of your mind for the months ahead as you care for your senior dog. Having an awareness of these health concerns may help you and your veterinarian diagnose and treat them earlier.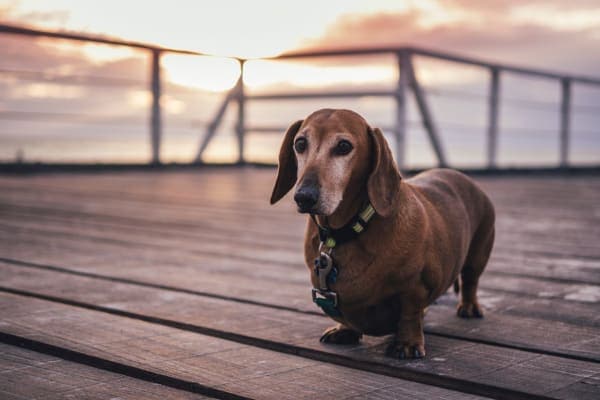 Osteoarthritis in dogs is a progressive, irreversible degeneration of the cartilage and bone within a joint. As your dog ages, cartilage and other soft tissues that cushion the joints become less elastic and flexible. This is especially true for large dogs. Because of this, your dog may experience joint pain due to inflammation.
Your vet may prescribe an anti-inflammatory medication to help relieve arthritis pain in dogs. Also, joint supplements for dogs are a great way to proactively protect your dog's joint health.
Further, it is extremely important to work with your vet to ensure your dog maintains a healthy weight. Dogs who are a healthy weight avoid extra strain on the joints. If you're curious about your dog's body health, you can learn how to find your dog's canine body condition score.
2. Kidney disease in dogs
Your dog's kidneys filter toxins and waste products out of the blood. Over time, the filters (called nephrons) don't work as well as they used to. When damaged nephrons begin to shut down, the active nephrons become overworked, and the body can't eliminate waste products efficiently.
Older dogs who develop this form of kidney disease have what we call chronic kidney disease. Symptoms of chronic kidney disease include increased thirst, urination, weight loss, vomiting, and a lack of appetite. For more information on what to do if your dog is turning up her nose at dinnertime, please read, Why is My Old Dog Not Eating?
3. Lumps and bumps
Tumors, skin tags, lipomas in dogs, and other growths can happen at any age. But senior dogs are at increased risk. While most skin growths are benign, some are malignant and can potentially spread to other parts of the body. Make sure to check your dog regularly for new lumps or bumps, and bring them to the attention of your veterinarian right away. In fact, a weekly 5-minute tip-to-tail dog wellness scan may just save your dog's life!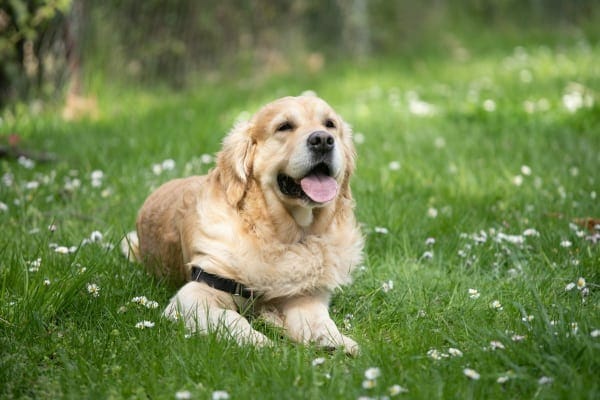 4. Canine cognitive dysfunction
One of the most common signs of aging in dogs is behavior changes. Senior dogs who seem more anxious, disoriented, or have changes in their sleep-wake cycles may have a disorder known as canine cognitive dysfunction or CCD. If your dog has CCD, you may notice that she has accidents in the house or paces, often in the evening or at night.
While there is no cure for CCD, there are some things you can do to help manage this condition. For more information on CCD, please read my article: Canine Cognitive Dysfunction in Dogs.
5. Dental disease
Dogs develop dental disease just like people. Without proper dental care, senior dogs can develop significant oral infections that contribute to mouth pain, bone loss, tooth root abscesses, and even heart disease.
At-home dental care like dog toothbrushing and choosing safe chew toys for your dog can make a big difference in his or her oral health. To help prevent dental disease in dogs, establish routine vet dental check-ups at least yearly.
6. Heart disease
Older dogs may be more susceptible to developing heart disease. They can develop disorders of the heart valves that cause the leaking of blood around the valves when the heart contracts.
Symptoms of heart disease include coughing, weakness, and exercise intolerance. In addition, your vet may be able to detect early heart disease during a routine exam as he or she listens to the heart. Early detection is vital because senior dogs with clinical signs may need blood pressure medications.
7. Endocrine diseases (weight gain)
Diabetes, hypothyroidism in dogs, and Cushing's disease in dogs are all examples of endocrine disorders. These conditions can not only cause dogs to gain weight, but also to exhibit increased thirst, urination, and appetite. Middle-aged and senior dogs have a higher risk for developing these health problems.
Routine diagnostics like blood work and urine testing can help screen for these disorders. As a proactive pet parent, there are many tips for improving your dog's lab tests that you can do. They will help provide your vet with the best samples to interpret.
When is a dog considered a senior?
Bottom line: There is no one factor that dictates when your dog is considered a senior. However, by using the latest research to calculate your dog's age and by keeping a close eye on your sweet old dog's "normal," you can be a knowledgeable guide during these years.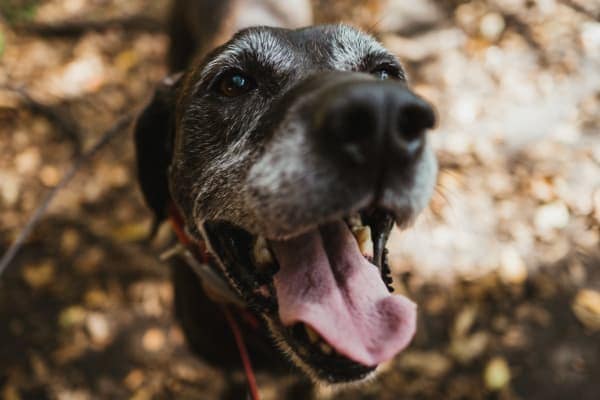 Finally, remember to take your senior dog in for twice-yearly physical exams at your local animal hospital since your dog may be at a higher risk of developing health problems. I've seen it firsthand and experienced it myself—early intervention has the biggest impact on your older pup's quality of life.
Do you have a senior dog in your life?
Please let us know how you care for your senior dog. We can all learn from each other.