Prostate cancer in dogs, while rare, is unfortunately quite serious. Integrative veterinarian Dr. Julie Buzby explains the types, causes, symptoms, diagnosis, and treatment of prostate cancer in dogs so that dog parents will know what to expect should their loyal companion be facing this devastating diagnosis.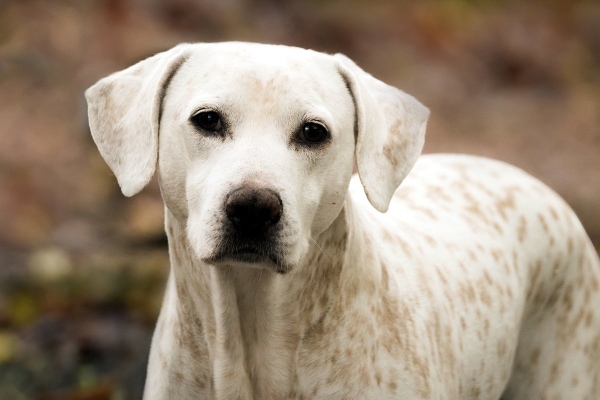 As you may have discovered if you read my article on enlarged prostate in dogs, prostate cancer only accounts for about 5 to 7% of cases of prostatic disease in dogs and affects 0.3 to 0.6% of dogs overall.
However, if you love a dog who has just been diagnosed with prostate cancer, those numbers probably don't bring you much comfort. All you know is that your dog has cancer—and a pretty bad kind at that.
I want you to know that I see you. And I want to help equip you with information so you can make informed decisions as you digest this difficult news.
What is prostate cancer in dogs?
There are actually several different types of cancer that all fall under the umbrella of "prostate cancer in dogs." Ninety-eight percent of prostatic tumors are characterized as carcinomas, though. This means they primarily come from epithelial cells—the cells that line the surfaces of many organs, including the prostate and the skin.
Overall, prostatic adenocarcinoma is the most common type of prostate cancer. However, dogs can also have other prostatic carcinomas including squamous cell carcinoma and undifferentiated carcinoma. Plus, carcinomas that occur elsewhere in a dog's urinary tract (e.g., bladder cancer in dogs such as transitional cell carcinoma) have been known to extend into the prostate gland in some cases.
The remaining 2% of prostatic tumors are sarcomas (i.e. tumors arising from connective tissue) such as fibrosarcoma and leiomyosarcoma.
Unfortunately, it is extremely rare for any prostate tumors to be benign, and many of them tend to metastasize (i.e. spread) to other parts of the body.
What causes prostate cancer in dogs?
Like most other cancers, there isn't one single cause of prostate cancer. However, researchers agree there are genetic and environmental factors that may play a role. They have isolated a mutation in the BRAF gene which seems to be present in most cancers that involve the urogenital tract.
Additionally, prostate cancer is more common in dogs who are older than 9 or 10 years of age. And it tends to occur in medium or large-breed dogs more frequently, especially:
Airedales
Beagles
Doberman Pinschers
German Short-Haired Pointers
Miniature Poodles
Norwegian Elkhounds
Scottish Terriers
Shetland Sheepdogs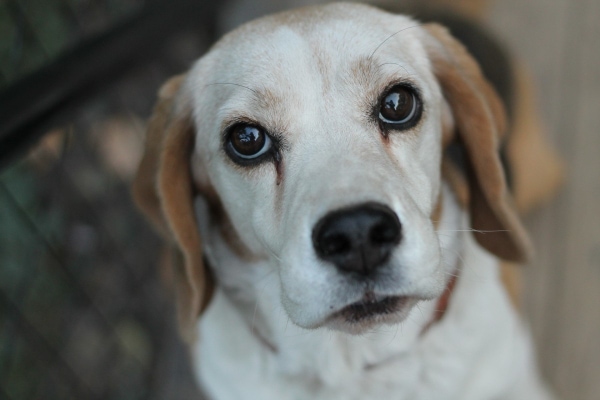 Interestingly, while it is the most common cause of the prostatic enlargement, benign prostatic hyperplasia (BPH) does not put dogs at a higher risk of being diagnosed with prostatic cancer. In fact, intact male dogs (i.e. the group of dogs who develop hormone-related BPH) are actually two times less likely to develop prostate cancer than neutered males. This may be because of the protective effect of sex hormones on the prostate gland.
What are the symptoms of prostate cancer in dogs?
Initially, dogs with prostatic cancer may appear to have no outward clinical signs. This can make it easy for cancer to go undetected until it reaches the later stages and the dog becomes symptomatic. Because of this, sadly, cancer has already spread in four out of five dogs at the time of initial diagnosis.
Earlier signs of prostate cancer in dogs
Once becoming symptomatic, the majority of dogs with prostate cancer will initially have signs associated with the urinary tract. This makes sense because the urethra passes through the prostate. And when the prostate gets larger, it squeezes the urethra, restricting the flow of urine.
As a result, the dog may start straining to urinate or have difficulty urinating. Sometimes he may have blood in the urine too. These signs can look quite similar to the signs of a UTI in dogs (i.e. urinary tract infection).
Since the prostate lies directly below the colon, an enlarged prostate due to prostate cancer can compress the colon too. This may make it difficult for the dog to defecate and lead to straining or prolonged posturing. You may also notice your dog's stool is narrower than normal or ribbon-like.
Signs of advanced prostate cancer
As prostate cancer progresses and spreads to other internal organs, you will start to see additional symptoms. They can vary depending on which area or areas the cancer is affecting. Signs of advanced or end-stage prostate cancer in dogs include:
Weight loss
Inappetence
Coughing
Urinary obstruction (i.e. an inability to urinate, which requires an emergency vet visit)
Vomiting and diarrhea
Low back or hind limb pain (due to the proximity of the prostate to the lumbar spine and pelvis and the potential of metastasis to bone)
If you see any of the early or advanced signs we just discussed, or you have other concerns about your dog, please schedule an appointment with your vet.
How is prostate cancer diagnosed?
Your veterinarian will start by asking you some questions about your dog and performing a thorough physical examination.
Rectal palpation
As part of the physical, the vet will attempt to palpate the prostate gland via a rectal exam. Normally the prostate should be small and smooth. But dogs with prostate cancer may have a prostate that is large and irregular on its surface. A diseased prostate gland may also be firm, nodular, and painful.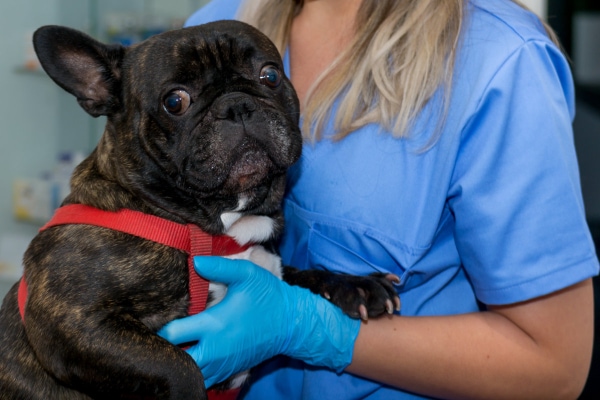 During the rectal examination, the vet will also palpate the dog's sublumbar lymph nodes, which are located just below the lower spine. These lymph nodes are sometimes enlarged when a dog has prostate cancer.
Bloodwork and urine testing
Since urinary tract symptoms are common in dogs with prostate cancer, your vet may also recommend a urinalysis and bloodwork. These tests will help rule out other illnesses like a kidney infection (i.e. pyelonephritis in dogs), kidney failure in dogs, or a urinary tract infection. Plus, they are important parts of staging a dog's prostate cancer.
X-ray or ultrasound
Imaging such as X-ray and ultrasound is also useful for evaluating the prostate and staging the prostate cancer. For example, if the vet sees prostatic mineralization on the X-ray of a neutered male dog, there is a very high likelihood of prostatic carcinoma. Imaging can also reveal evidence of metastatic disease in organs like the lungs, liver, spine, and colon.
CADET® BRAF test
Your vet may also recommend a special urine test called the CADET® BRAF or BRAF PLUS. These tests look for a mutation of the BRAF gene, which is found in the majority of urogenital cancers. Since this test is non-invasive and easy to perform, it can be a great screening tool to rule out carcinomas of the urinary tract. However, it won't detect all cancer types.
Cytology or biopsy
For a more definitive diagnosis, the vet may recommend collecting prostate cells for analysis. Sometimes he or she will perform a prostate aspirate (i.e. pull cells out with a needle under ultrasound guidance) or examine the cells in the prostatic fluid. However, a biopsy (i.e. obtaining a bit of prostate tissue) is the best way to determine precisely what type of prostate cancer the dog has.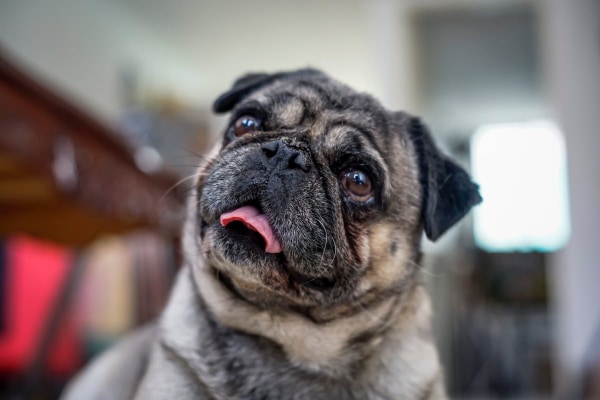 What are the treatments for prostate cancer?
After your vet has diagnosed prostatic cancer in your dog, he or she, or a veterinary oncologist, can talk to you about the various treatment options.
Surgery for prostate cancer in dogs
There are a variety of potential surgical options, depending on the size of the tumor, the goal of surgery, and the dog's clinical signs.
Prostate surgery
Veterinary surgeons may elect to remove the entire prostate gland if the tumor is small and detected early. However, a complete prostatectomy (i.e. prostate removal) can increase the risk of complications such as urinary incontinence.
Alternatively, the surgeon may remove part of the prostate gland. This can help preserve the nerve signal to the urinary bladder, making the dog less likely to become incontinent. It can also help relieve some of the clinical signs related to an enlarged prostate. However, it won't guarantee the complete removal of the cancer.
Palliative surgery to relieve urinary obstruction
There are also some palliative surgical options that are aimed at relieving signs of urinary obstruction, rather than addressing the tumor itself. One of the problems with prostate cancer is the fact that the enlarged prostate gland can partially or completely obstruct the urethra, leading to difficulty urinating. If the dog can't urinate at all, this can quickly become life-threatening.
To help the dog urinate, a surgeon may perform a tube cystotomy (i.e. inserting a tube in the bladder that drains urine to the outside world and bypasses the urethra) or urethral stenting (i.e. placing a device that helps keep the urethra open).
Neutering an intact male
Neutering will not help with prostate cancer directly because prostate tumors don't respond to stimulation from testicular hormones. However, if there is benign prostatic enlargement (BPH) present at the same time, neutering may help to shrink the prostate and thus provide some relief from the symptoms.
Chemotherapy and radiation
Sometimes chemotherapy or radiation therapy can help slow the growth of the tumor for a period of time. A veterinary oncologist could advise you about the protocol he or she would recommend for your dog's particular case.
Photodynamic therapy
There are also newer therapies such as photodynamic therapy (PDT), which kills cancer cells using special drugs activated by laser light. Although not a complete cure, PDT may increase the survival time of a dog with prostate cancer.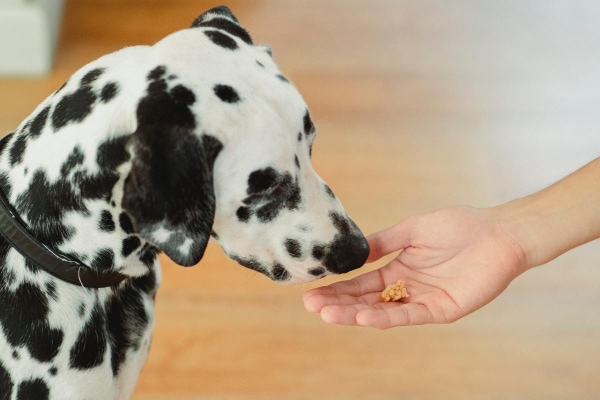 Non-steroidal anti-inflammatories
Many prostate tumor cells express the enzyme COX-2, but regular prostate cells do not. Interestingly, this is the same enzyme that many non-steroidal anti-inflammatory drugs (NSAIDs) target to reduce pain and inflammation. This means that these drugs could be a helpful treatment for prostate cancer too.
In fact, a study in Veterinary and Comparative Oncology indicated that dogs treated with the NSAIDs piroxicam or carprofen lived an average of 6.9 months after diagnosis. This is significantly longer than the 0.7-month mean survival time in the untreated group.
Dewormer
In human research, there are ongoing studies looking at the effects of certain anti-parasitic medications and their usefulness in the treatment of prostate cancer. Drugs such as nitazoxanide and mebendazole have been used with chemotherapy to help kill prostatic tumor cells in mouse models.
However, human clinical trials are currently underway, so the data on these treatments is not yet definitive. This also means that we aren't sure whether dogs can benefit from similar therapies.
Natural treatments
Unfortunately, there are no natural ways to cure prostate cancer in dogs. However, dogs may benefit from being fed a complete and balanced diet. You could also consider giving them anti-inflammatory supplements like omega-3 fatty acids for dogs, glucosamine, chondroitin, or Vitamin C.
As an added benefit, Vitamin C also helps make it harder for bacterial infections to take hold. This can be useful in dogs with prostatic cancer because they are prone to prostate infections (i.e. prostatitis).
What is the prognosis for prostate cancer in dogs?
Unfortunately, because many prostatic cancers aren't detected until the end stages, prostate tumors can be very difficult to treat. And even with treatment, a complete cure is unlikely. Plus, prostate cancer is locally aggressive and can spread rapidly.
For these reasons, the prognosis for a dog with prostate cancer is poor. Due to the severity of their disease, over 50% of dogs with prostate tumors and metastatic disease are euthanized at the time of diagnosis. And only half of the dogs who are alive a week after diagnosis will still be alive in 30 days.
Occasionally, with the currently available treatments for prostatic cancer and palliative care options, it is possible for dogs to have a slightly longer life expectancy—perhaps several months or up to a year.
Knowing when it is time to euthanize a dog with prostate cancer
During this time frame, it will be important to monitor your pup closely. You might find it helpful to complete a quality-of-life scale for dogs on a regular basis or keep a journal of observations. This can help you track changes in your dog's happiness and health.
Prostate cancer can be very painful and interfere with your dog's overall quality of life. If you are seeing signs your dog is in pain, or if he isn't eating or drinking, is lethargic, and is not playing like he used to, make sure to talk with your veterinarian about your options going forward.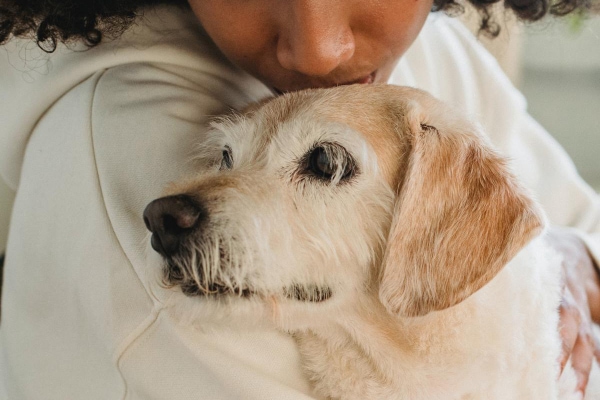 It may be time to euthanize a dog with prostate cancer if he shows any of the following signs:
Stops eating completely
Experiences continuous vomiting and diarrhea
Has trouble breathing (from metastatic disease)
Is extremely lethargic and cannot walk
Loses a lot of blood in his urine
Starts having seizures in dogs
I know that this is a heart-wrenching decision to have to make, so I wanted to offer a few resources that might help with the process:
Words of comfort
Unfortunately, when cancer—and especially an aggressive type of cancer like prostate cancer—is on the table, hope and comfort can be hard to come by. I can't tell you how long your dog will be with you after the diagnosis. And I can't tell you what, if any, treatment is right for your dog. But I can tell you that your dog knows that he is loved and that you are doing your best to take care of him.
I hope that if you are reading this because your dog has prostate cancer, you will be one of the lucky ones who gets a bit more time with your sweet pup. But if you aren't, or even if you are, I also hope that you can find a measure of joy and comfort in all of the memories you shared with your beloved dog.
Have you lost a dog to prostate cancer? Or is your dog fighting prostatic cancer now?
Please share their story below.