If your dog recently started taking gabapentin and you are wondering about the gabapentin side effects in dogs, this article is for you. Integrative veterinarian, Dr. Julie Buzby, discusses how the body breaks down gabapentin, what side effects to watch for, and how those side effects can be minimized or managed.
Recently, I met Berry, a ten-year-old Poodle mix with arthritis in her hips and knees. She had been on a non-steroidal anti-inflammatory drug (NSAID) for several years to help manage her arthritis pain. Over the past few weeks, her mom noticed Berry was having trouble going up the stairs. She also didn't want to go as far on walks.
This was a signal that Berry's arthritis pain was no longer well controlled. Her mom and I talked about some additional pain-relief options and decided to try gabapentin every eight hours to help her be more comfortable.
Berry's mom called me a few days later to say that Berry didn't seem to be quite herself. She was eating normally and seemed less stiff and achy. But she was drowsy and a little bit wobbly when she walked. I recommended only giving gabapentin at bedtime for a few days to let Berry adjust to it.
That did the trick! A week later, Berry was back to normal. She showed no drowsiness or wobbling, although she did seem a little achy during the day. Now that she had adjusted to the medication, we decided to try giving it every eight hours again. Soon Berry was comfortably following her mom up and down the stairs like she used to!
Let's take a look at what was happening here with Berry. But first, we need to do a quick overview of gabapentin to set the stage for a side effects discussion.
What is gabapentin?
I recently wrote another article that discusses gabapentin for dogs in more detail, but here is a summary of the pertinent information for our discussion. Gabapentin is a medication that is FDA-approved for use in humans. Like many medications in the veterinary world, vets use gabapentin "off-label" in dogs.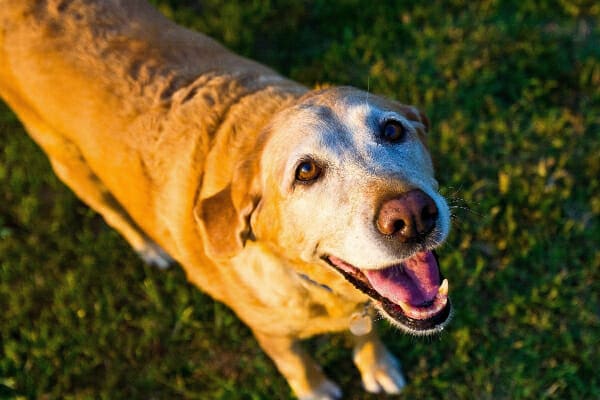 Vets most commonly prescribe it to treat chronic pain in dogs. However, it can also be used to treat seizures in dogs (usually in conjunction with other anti-convulsant medications). A small study of 11 dogs with idiopathic epilepsy published in The Veterinary Record indicated that gabapentin was effective at reducing seizures by at least 50% in six dogs who were already on other anti-convulsants. Plus, it may help decrease anxiety in dogs. Gabapentin works by binding to calcium channels and reducing the ability to perceive pain.
In the interest of being transparent, I want to mention here that I have seen gabapentin work wonders for painful patients. However, the veterinary literature supporting gabapentin's use as a pain medication is sparse. Some studies indicate it may be effective while other studies did not find that it significantly decreased pain. At this point, the official verdict on gabapentin is out until we have more data. Still, my personal experience with using it for my patients has made me a believer in its usefulness and efficacy.
What is the dose of gabapentin for dogs?
Gabapentin has a wide therapeutic range. This means vets can safely prescribe it at a wide range of doses for the same size dog. It's available in 100 mg, 300 mg, and 600 mg capsules, as well as a liquid formulation that we sometimes use for very small dogs. Typically dogs take gabapentin every 8 to 12 hours for best efficacy. But sometimes your vet may start out with once-a-day dosing at bedtime until your dog gets used to the medication.
The dose of gabapentin that your dog will take depends on his or her size and the severity of the pain, anxiety, or seizures. Your veterinarian will help decide on the best starting dose for your dog and can make adjustments along the way based on how your dog responds.
Can my dog overdose on gabapentin?
Because gabapentin has a wide margin of safety and a wide therapeutic range, true overdoses are uncommon. In reported cases of accidental overdose, only about 20% of dogs had clinical signs of an overdose. These signs were mostly ataxia (a wobbly or unsteady gait), sedation or drowsiness, and vomiting. If you find that your dog has accidentally taken more than the prescribed dose of gabapentin, please let your veterinarian know.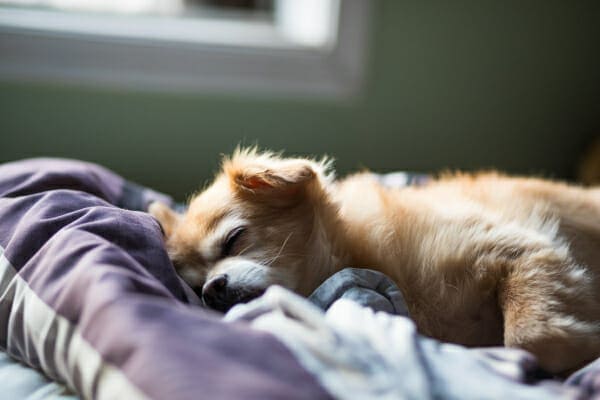 How long will gabapentin stay in my dog's system?
The half-life of a medication is the time it takes for the body to metabolize (break down) and excrete (eliminate from the body, usually through stool or urine) half of the dose of medication. It helps give an indication of how long we can expect the effects of the medication to last. For medications with long half-lives (meaning they remain active in the body for a long time after each dose), side effects may be more concerning. This is because it takes longer for the medication to wear off.
Gabapentin, however, is not one of those drugs. It has as a short half-life of about two to four hours in dogs and cats. This means the body has broken down and eliminated half of the dose in that time frame, so the good news is that any side effects should wear off fairly quickly.
How does the body get rid of gabapentin?
Like many medications, gabapentin is excreted primarily by the kidneys in the urine. Because of this, sometimes vets need to make dose adjustments for dogs with severe kidney disease. This may involve prescribing a lower dose of gabapentin for that dog compared to a dog of the same size who has healthy kidneys.
Unlike many medications, gabapentin is not heavily metabolized by the liver. Therefore, dogs with liver disease may not need significant dose adjustments.
What are the gabapentin side effects in dogs?
Many dogs do not experience any side effects from taking gabapentin. Even dogs who do have side effects often adjust fairly quickly and end up tolerating their gabapentin very well. Just like what Berry experienced, the most common side effects we see with gabapentin are:
Sedation
Drowsiness
Ataxia (a wobbling or unsteady gait)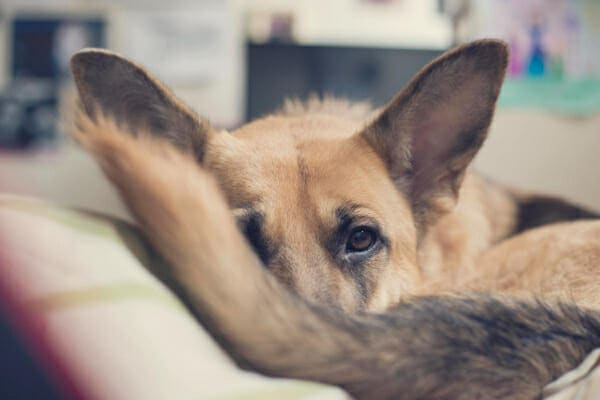 Sedation is also more common in dogs who are also on other medications that cause sedation, such as:
It is also important to note that when dogs with seizure disorders are taking gabapentin as an anti-seizure medication, sometimes stopping it abruptly can lead to increased seizure activity.
What should you do if you notice side effects?
The good news is that gabapentin's side effects are generally mild. Also, they often subside within a few days as your dog adjusts to the medication. But it's understandable to be concerned if you see your dog wobbling around the house or acting sedate or drowsy.
Please let your veterinarian know if you're seeing side effects that worry you. That way he or she can make adjustments to help manage those side effects. This may involve temporarily decreasing the dose or frequency of administration until your dog becomes accustomed to the gabapentin.
What are some ways to decrease the side effects?
Sometimes your vet will suggest giving the gabapentin only at bedtime for a few days to give your dog time to adjust to it. That way the side effects are happening when your dog is already sleeping. A bit of extra sedation isn't a problem when your dog is sleeping anyway. Also, since he or she isn't normally walking around at night, ataxia is less of a concern. As your dog adjusts, your vet may recommend increasing to the typical dosing frequency of every 8 to 12 hours.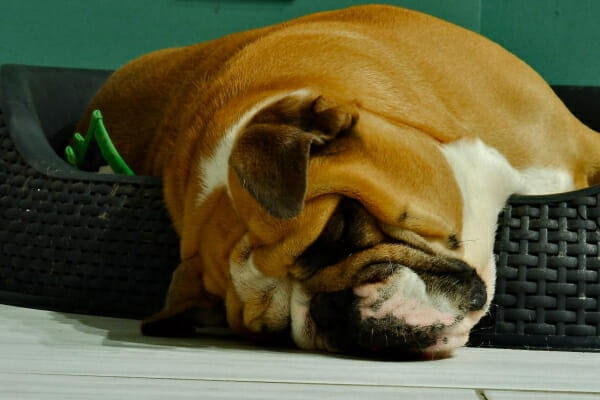 Another way to limit side effects is starting at the low end of the dose range or temporarily decreasing the dose of gabapentin. The downside to this is a lower dose may not be as effective at controlling your dog's pain. However, as your dog adjusts, your vet can increase the dose over time to (ideally) reach the desired level of pain control.
Occasionally there are situations where severity of side effects may prompt your vet to switch your dog to a different medication. Thankfully, this is fairly uncommon. Most of the time, the strategies we talked about will be enough to get your dog through the initial ataxia, sedation, or drowsiness.
How do gabapentin's side effects compare to non-steroidal anti-inflammatory drugs (NSAIDs)?
Vets commonly prescribe NSAIDs when they notice signs a dog is in pain. So, it would make sense to compare the side effects of NSAIDS to gabapentin since both are used as pain relievers. NSAIDs are popular because they're very effective at decreasing pain and inflammation and can relieve arthritis pain in dogs to dramatically improve their quality of life.
However, the side effects of NSAIDs include vomiting, diarrhea, bloody stool, GI ulcers, and lack of appetite. Additionally, NSAIDs can negatively impact kidney function. Thus, vets must use them sparingly in dogs with kidney issues. Since many dogs who need daily medication to manage joint pain are seniors, this population is also more likely to have pre-existing kidney disease.
Gabapentin is an attractive alternative for pain management in these dogs. Although dogs with kidney disease may need a lower dose due to slower excretion, gabapentin does not seem to have adverse effects on the kidneys like NSAIDs do. One of the drawbacks to gabapentin as a pain medication, however, is that it does not have anti-inflammatory effects like NSAIDs do. This may make it less effective for conditions where inflammation is contributing to the degree of pain.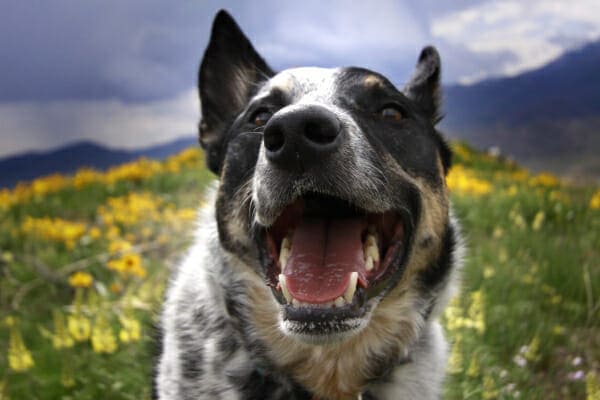 Are there situations where gabapentin could hurt my dog?
As we have discussed, gabapentin is overall a very safe medication. We do, however, try to avoid using it in pregnant dogs unless absolutely necessary. This is primarily out of an abundance of caution since, like many medications, the effects of gabapentin on the fetus have not been fully characterized in dogs. Also, as already mentioned, your vet may also need to adjust the dose for dogs with kidney dysfunction.
It's worth noting that the liquid form of gabapentin often prescribed for humans (trade name Neurontin), can contain xylitol. This is an artificial sweetener commonly found in human medications, sugar-free gum, and many other products. Unfortunately, xylitol is toxic to dogs.
When vets prescribe liquid gabapentin for dogs, they must check with the pharmacist to ensure the product the pharmacy carries doesn't contain xylitol. If the human pharmacy doesn't have a xylitol-free formulation available, your vet may need to order one from a compounding pharmacy.
Don't let the concern about side effects of gabapentin keep you (and your dog) down
We all want what is best for our dogs and hate to see them experience any medication side effects. The good news is that, as far as side effects go, gabapentin's side effects really aren't so bad. They are unlikely to be harmful and usually go away within a week or so.
That doesn't mean that it isn't concerning to see your dog acting wobbly or sleepy. But it does mean that you can take some comfort in knowing that these side effects are par for the course and pretty easy to manage.
If your dog is experiencing side effects from gabapentin, please talk to your vet. Don't let the short-term side effects make you think you should throw in the towel on gabapentin. Often the long term benefits that your dog will reap from being on gabapentin will far eclipse the stress and worry about the side effects. In the end, gabapentin may give your dog more good days, which is always a win in my book!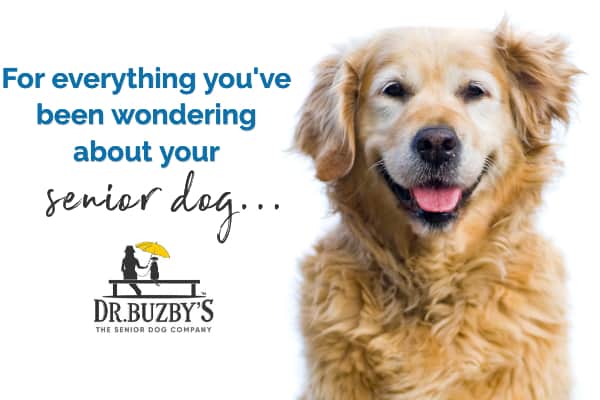 Did your dog experience any gabapentin side effects?
Please comment below to share your pup's story and any words of advice for other readers.