Spondylosis in dogs is a common condition that may or may not be an "expected" byproduct of aging. Dr. Julie Buzby, integrative veterinarian and founder of Dr. Buzby's ToeGrips®, shares the nitty-gritty on spondylosis in dogs. By the end of this article, you'll have the answers your senior dog wants you to know.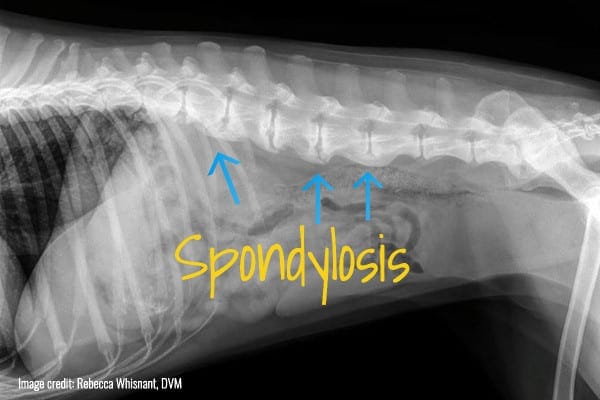 As a veterinarian with more than 25+ years of experience caring for senior dogs, I've seen a lot of dog spines with spondylosis. The X-rays can be dramatic and scary, but the story is often rather mundane. In this article, we'll explore what spondylosis is, its causes, symptoms, and risk factors. Plus, we'll take a look at how vets diagnose this condition. Lastly, I'll share treatment options that have the potential to make a big difference in your dog's quality of life.
What is spondylosis in dogs?
First, let's answer the question, "What is spondylosis in dogs?"
Spondylosis deformans, as it is formally called, is a degenerative condition that affects a dog's vertebrae—the bones that make up the spinal column and protect the spinal cord. In many cases, spondylosis is considered a normal part of aging for older dogs.
Dogs with spondylosis deformans often do not show any outward symptoms at all. Perhaps it's because of my training and certification through the American Veterinary Chiropractic Association, but I also believe that dogs can display signs of pain and "restriction" of movement related to spondylosis.
What causes spondylosis?
In order to better understand spondylosis in dogs, it helps to know a little bit about the anatomy of a dog's spine.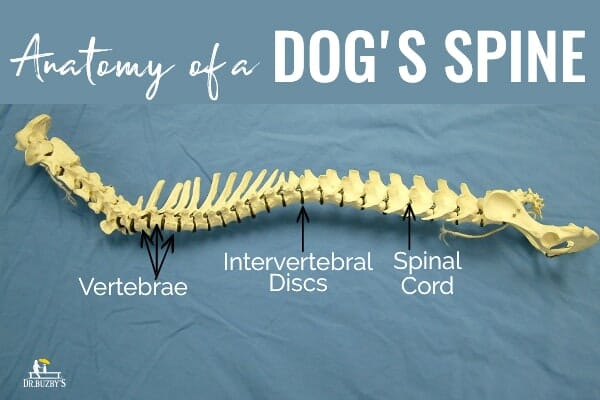 Similar to humans, your dog's spinal cord is a large bundle of nerves that connects to the base of the brain and runs down the neck and back. Nerve roots from different parts of the spinal cord send signals from the brain to the rest of the body. Without this part of the nervous system, dogs can't walk or perform their everyday tasks.
To protect this nerve highway, individual bones (vertebrae) encase the spinal cord. Spaces between the vertebrae are the joints that help maintain the back's flexibility. The spinal cord is further protected by intervertebral discs—small, soft pads that act as cushions or shock-absorbers.
If you'd like to learn more about how you can care for your dog's spine, please read: Know the Health of Your Dog's Spine.

For the most part, the cause of spondylosis in dogs is simply the normal wear and tear on the fibers of the ligaments that connect the intervertebral discs to the ends of the vertebral bodies. As stress and strain cause microtears in these fibers, and subsequently instability, the body tries to compensate by laying down new bone (bone spurs) on the ends of the vertebrae and eventually "bridge the gap."
Bridging spondylosis in dogs
What do I mean by this? Bone spurs can grow large enough that they touch neighboring spurs and form a bridge. This is known as "bridging spondylosis." These bridges typically form along the vertebrae in the middle of the back – the thoracolumbar spine – and most commonly form along the lumbar spine in the lower back.

What are the risk factors for spondylosis?
Spondylosis affects large breed senior dogs and some middle-aged smaller breed dogs. As explained in an abstract from the National Library of Medicine (NIH), it is commonly seen in Boxers, which suggests there may be a genetic predisposition.
Conditions that cause disruption to the joints of the spine increase the risk of developing spondylosis. For example, if a dog suffers a traumatic injury that causes compression of the intervertebral disc spaces, the resulting joint instability increases the risk of bone spurs developing in this area.
Similarly, a dog with intervertebral disc disease may go on to develop spondylosis in the affected area since the diseased discs have resulted in instability for those joints.

Essentially, spondylosis is the body's attempt to stabilize instability in the joints of the spine by laying down extra bone to guard them.
What are the symptoms of spondylosis in senior dogs?
As mentioned above, in most cases, dogs with spondylosis don't show any outward symptoms. The classic changes in the backbone that we see with spondylosis are not usually responsible for pain and lameness. Rather, the condition is most often found incidentally while diagnosing another health condition.
The unique X-ray (radiograph) below perfectly illustrates how spondylosis in dogs is often diagnosed. My colleague, Dr. Jaime Wright Carroll, saw this patient not for back problems, but for gastrointestinal distress. After a physical exam and X-rays, Dr. Carroll diagnosed the 13-year-old hound dog with gastric dilatation and volvulus—commonly known as bloat in dogs. Take a look at this X-ray. Do you see anything odd?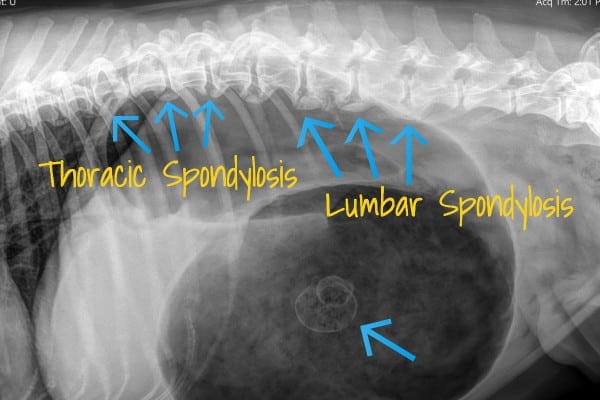 Yep! You guessed it. There is a "foreign body" in that huge stomach. At some point prior, this poor dog had swallowed a yellow rubber ducky! The X-rays show a large, twisted, gas-filled stomach—a serious veterinary emergency.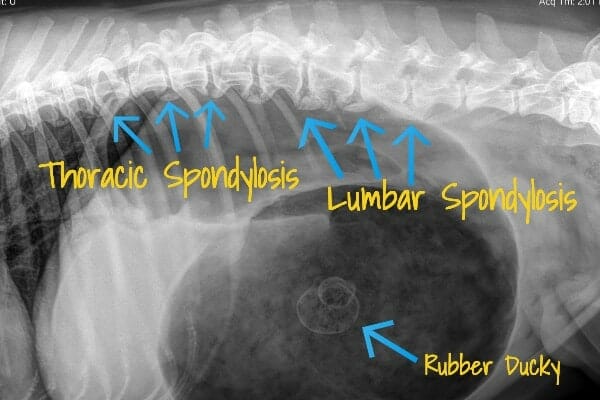 Dr. Carroll was unsure if the rubber toy was a red herring unrelated to the bloat or if it had acted like a roadblock to the normal flow of digestion, leading to bloat.
But along with bloat, Dr. Carroll found spondylosis in the dog's spine. If you look closely at the X-ray above, you'll see the telltale bone spur "bridges."
3 symptoms of spondylosis in dogs
Your dog may or may not display symptoms from this "reshaping" of the vertebrae. Here are a three signs of spondylosis to watch for on behalf of your senior dog:
1. Changes in walk
Instead of smoothly swaying from side to side, you may see your dog's back stiffen and fail to move freely.
2. Change in movement
Your dog's back may seem rigid, and he may avoid ambitious movements like jumping up or rolling over.
3. Change in comfort level
If your dog's bone spurs begin to pinch the delicate nerve roots along the spinal cord, he may show signs he is in pain and be very sensitive to touch along his back.
How does a vet diagnose spondylosis in senior dogs?
Your vet will use X-rays to diagnose spondylosis since the distinctive bone spurs show up easily on X-rays. If your vet suspects damage to the spinal cord or inflammation of the nerves, he or she may also recommend advanced imaging. An MRI or CT scan can rule out other issues and ensure appropriate treatment.
The X-ray below confirms a diagnosis of spondylosis for this dog.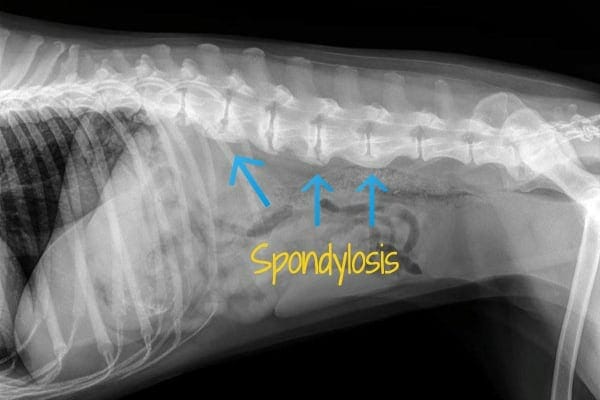 How do you treat spondylosis in dogs?
If your dog has spondylosis but isn't experiencing pain or discomfort, he may not need treatment right away…or ever. But if your veterinarian shares my thinking, he or she may recommend joint supplement for dogs because they have a protective effect on joints.
Ingredients like glucosamine and chondroitin help keep joints flexible and healthy. Therefore, supplements may be helpful in slowing the development of spondylosis. And although I believe that the best supplement for joint pain in dogs is not just about the joints, my go-to product recommendation for protecting the health of the joints between the vertebrae is Encore Mobility™ with Green Lipped Mussel and New Zealand deer velvet.

In very rare cases, surgery may be necessary to remove spurs that are pressing upon the spinal cord, but I've never seen this scenario in my entire career.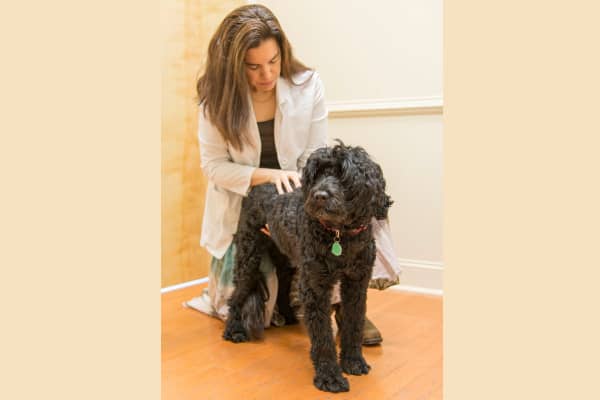 If your senior dog is experiencing back pain, it's most likely not coming from spondylosis. Anything's possible, but there's a laundry list of conditions that I'd be concerned about before pinning the pain on spondylosis.

But whatever the root cause, your dog may benefit from anti-inflammatory medications and/or medications for nerve pain. These are often able to provide relief for back pain. Also, veterinary acupuncture for dogs, animal chiropractic, and physical therapy are highly effective methods for mitigating pain and improving mobility for these dogs.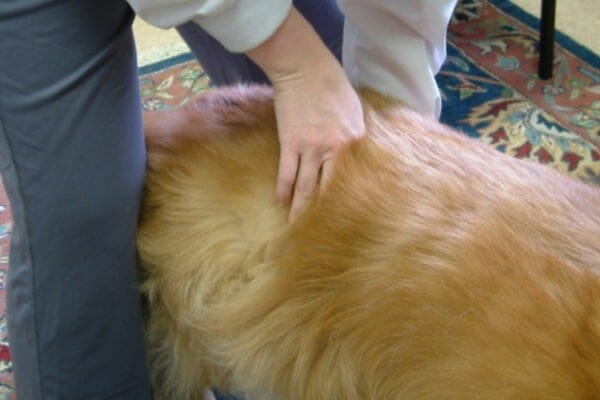 If your dog is overweight, this is the #1 thing you must address to protect your dog's spine. Your veterinarian can help you formulate a personalized diet plan. Lower calorie foods and controlled exercise can facilitate weight loss. If you're unsure whether your dog is overweight, you'll want to "find your dog's number" on our canine body condition score chart.

Since present-day pups live longer than their predecessors, they're more susceptible to joint damage and inflammation over time. Joint inflammation is commonly known as canine arthritis. Spondylosis has been likened to arthritis in the spine. However, unlike arthritis, there is not an inflammatory component with the bony changes. This is a blessing because inflammation means hurting.
A common disease in senior dogs
Often diagnosed as an incidental finding, spondylosis deformans is a common disease in senior dogs. Though veterinarians debate this, I believe spondylosis can be painful. We know spondylosis in humans can be painful. Knowing what to watch for can help prevent your dog from experiencing unchecked discomfort.
Your veterinarian will have your dog's back on this one (pun fully intended!) But as veterinarians, we're trained to treat the dog, not the X-rays. Sometimes a dog can have horrific radiographs and no apparent pain…or have very mild changes on radiographs and tremendous stiffness and soreness.
Even if your dog's spondylosis diagnosis is believed to be an incidental finding not associated with problems, ask your vet how you can be more intentional and proactive in maintaining mobility. Your dog (and his spine) will thank you for it!
Has spondylosis affected your senior dog?
Share the subtle signs you first noticed that led you to seek help from your veterinarian. How is your four-legged friend doing today?