Osteosarcoma in dogs can be a difficult diagnosis to face. No one wants to think about their beloved dog having cancer, especially painful bone cancer. Integrative veterinarian Dr. Julie Buzby explains the risk factors, signs, diagnosis, and treatment for osteosarcoma so you will know how to help and support your dog.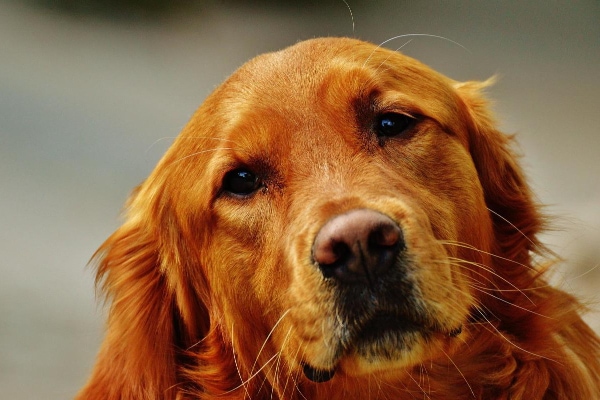 A dear friend and client brought her "heart dog," Sadie, in to see me the other day. Sadie had been limping more frequently so her mom was worried that Sadie's arthritis was progressing. Sadly, nothing could have prepared Sadie's mom for what we would find that day.
When I examined Sadie, it was obvious she was favoring her right hind leg. Most of the pain was centered around her knee. To get a better idea of what was going on, I recommended taking some X-rays.
Instead of showing worsening arthritis like we suspected, Sadie's X-rays revealed something far more sinister. The lower part of Sadie's femur had a moth-eaten appearance that usually spells one thing in a senior dog—bone cancer.
Sadie's mom was devastated. No one is every fully prepared to hear that dreaded "C" word. I hugged her and sat with her while she cried, and then we talked about what this meant for her sweet Sadie.
What is osteosarcoma in dogs?
I explained to Sadie's mom that Sadie most likely had osteosarcoma—the most common type of bone cancer seen in dogs. Unfortunately, osteosarcoma is an aggressive and malignant type of tumor which can easily spread to other places in the body.
Osteosarcoma occurs when the cells that are responsible for creating and breaking down bone begin to act abnormally and multiply out of control. Most commonly, this happens in the long bones of dogs, like their legs. However, osteosarcoma can be present in other bones and non-bony tissues as well.
What are the risk factors for osteosarcoma?
While any dog can develop osteosarcoma at any point in his or her life, there are some dogs who are higher risk.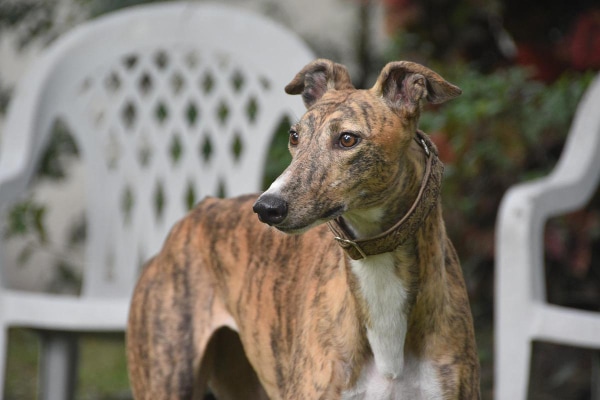 While small dogs can get osteosarcoma, it tends to be more common in large and giant breed dogs. This seems to be due to height (i.e. taller dogs are at a higher risk due to rapid early bone growth) and/or genetic predisposition. Some of the predisposed breeds include:
Boxers
Golden Retrievers
German Shepherds
Great Danes
Rottweilers
Greyhounds
Mastiffs
Irish Wolfhounds
Labrador Retrievers
Scottish Deerhounds
Like many cancers, osteosarcoma is also more common in middle-aged and senior dogs. The median age of onset is seven years but it has been seen in dogs as young as six months old.
Where does osteosarcoma typically occur?
Not only are osteosarcomas more likely to be found in some breeds and ages of dogs, but they are also more common in certain bones—namely the long bones (i.e. the large bones of the limbs).
Vets use the saying—"Away from the elbow and towards the knee"—to help them remember exactly where in the long bones osteosarcoma likes to strike. As demonstrated by the picture below, osteosarcoma most often affects:
The end of the radius near the wrist and the end of the humerus near the shoulder (i.e. the locations "away" from the elbow in the front leg).
The portions of the tibia and femur that come together to form the knee joint (ie. the bones "towards the knee" in the rear leg).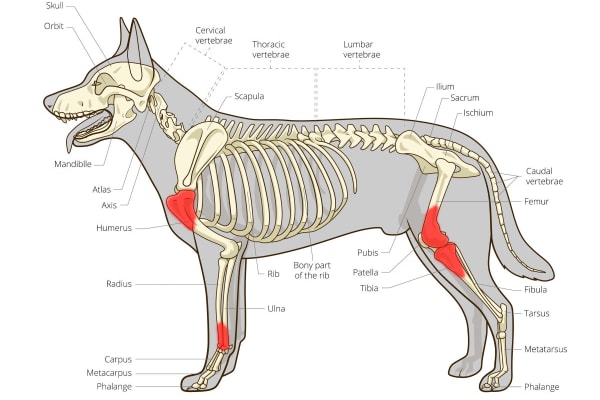 However, osteosarcoma can technically attack any bone in the body, including the jaw, hips, toes, ribs, skull, spine, and nasal cavity. Plus, it can spread quickly to other bones or soft tissues. The most common site of metastasis is the lungs. While more rare, osteosarcoma can also metastasize to the mammary glands, muscles, and lymph nodes.
What are the symptoms of osteosarcoma in dogs?
As you can imagine based on the fact that osteosarcoma is a type of bone cancer, lameness tends to be one of the first symptoms.
Some of the other earlier symptoms include:
Limping (to learn about other causes of limping, check out Why is My Dog Limping?)
Abnormal gait
Pain when the leg is touched
Excessive licking of the leg or toes
Decreased energy (i.e. a lethargic dog)
Swelling of the leg or toes
Loss of appetite
Reluctance to walk or play
Weight loss
If the cancer has spread to the lungs, there can be some respiratory signs as well. The most notable are:
Heavy breathing
Panting
Coughing
Collapse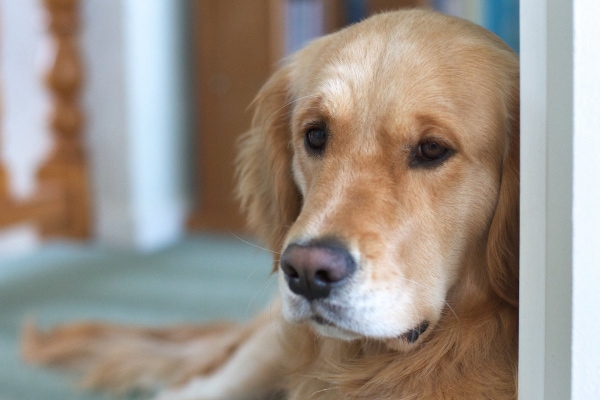 If you notice some of the clinical signs on either of these lists, don't delay in making an appointment with your veterinarian. As Sadie's mom thought, osteoarthritis in dogs can cause many of the signs on the first list. So can osteomyelitis, which is swelling or inflammation in the bone due to bacterial or fungal infection. Plus, dogs can also develop other types of bone cancer—either cancer that starts in the bone or cancer that spreads to the bone from a different location.
The best way to determine if it is osteosarcoma versus osteomyelitis versus arthritis versus other bone tumor types is to make an appointment with your vet.
How is osteosarcoma in dogs diagnosed?
During the appointment, one of the first things your veterinarian will do is the physical exam. As part of the exam, the vet will also perform a detailed orthopedic exam. This will help your vet determine which part of your dog's leg seems to be painful. Also, it will allow him or her to rule out other causes of limping including a dog ripping a nail off, thorns/stickers in the paw, wounds, luxating patella in dogs, etc.
X-rays
If your veterinarian suspects there is something going on with your dog's bones, he or she will likely recommend X-rays. When osteosarcoma is present, the X-rays will show a "moth-eaten" appearance of the bones. This means that the bones will not look as solid as they should. This appearance is due to the cancer degrading the bone and/or laying down new bone in a disorganized fashion.
Sometimes the X-rays will also show a pathologic fracture. This is a fracture that occurs spontaneously due to the bone being so fragile from the cancer.
There are plenty of times when the vet can feel fairly confident about diagnosing an osteosarcoma on X-rays. However, sometimes bone tumors and other processes in the bone can look very similar. To try to get a more definitive answer, your veterinarian may send the images to a board-certified veterinary radiologist for a second opinion.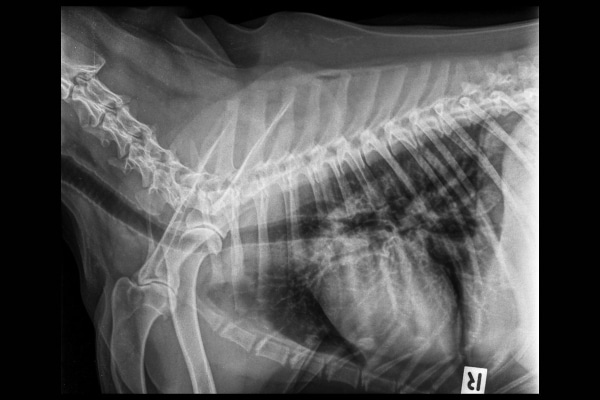 Fine needle aspirate
Your veterinarian might also recommend a fine needle aspiration (FNA) of the affected bone. This involves sticking a needle into the bone, removing some cells, and looking at them under the microscope and/or sending the slides to a board-certified pathologist for evaluation. Unlike a FNA of a lipoma in dogs or a dog lymph node which the vet can do awake, a FNA of bone requires anesthesia.
Based on the results of the FNA, the vet can usually distinguish between bone tumors and osteomyelitis (i.e. bacteria or fungus invading the bone). However, occasionally the FNA is non-diagnostic. In that case, the vet can advise you on the next diagnostic steps, such as a bone biopsy.
Tests to look for metastasis
Once your vet suspects or diagnoses osteosarcoma, he or she will likely recommend additional diagnostics to look for signs of metastasis. This is because in 80 to 90% of dogs, osteosarcoma has already spread to the lungs by the time of diagnosis.
The most common way to evaluate for metastasis involves taking three-view chest X-rays to look at the lungs. If the vet sees nodules in the lungs, this means the osteosarcoma has metastasized. However, just because the lungs look ok, this doesn't rule out the possibility that the areas of spread are simply too small to show up on X-rays yet.
Your veterinarian also might recommend blood work and a urinalysis to get a better idea of your dog's overall health status.
In some cases, your vet may suggest advanced imaging like a CT or MRI. This is more common when there is suspicion that lymph nodes are affected or if radiation therapy is being considered as a treatment option.
What are the treatment options for osteosarcoma?
Once your vet diagnoses your dog with osteosarcoma and completes the diagnostics needed to check for evidence of metastasis, he or she will help you formulate a treatment plan. Treatment options will depend heavily on the location of the tumor and if the tumor has spread.
Removal of tumor and prevention of spread
When there is minimal metastasis, there are two main goals of treatment. One is to prevent the cancer from spreading. And the other is to reduce or eliminate pain from the tumor.
The most common and most effective treatment option is a dog leg amputation. While this often seems like a scary and radical treatment plan to dog parents, dogs do very well on three legs. In fact, most dogs are actually more active after they recover from the surgery. This is because amputation of the affected limb removes the source of their pain.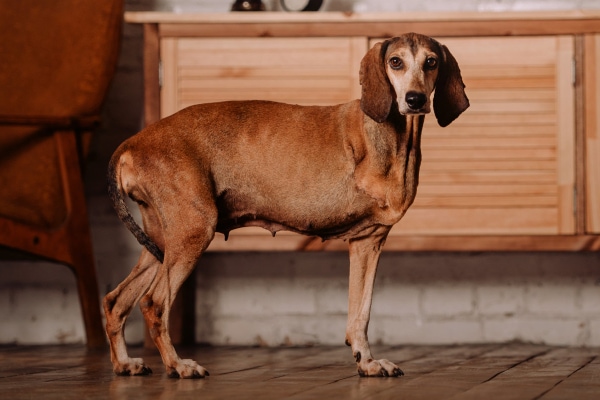 In some cases where dog parents do not want to pursue amputation, limb sparing surgery may be an option. This is a less common cancer treatment because it is not as effective at limiting cancer growth. Plus, it requires a longer period of confinement during recovery than amputation does.
Limb spare surgery is generally only an option in cases where the cancer is very localized to one section of certain bones. In this procedure, the veterinary surgeon removes the diseased bone. Then he or she replaces it with a bone graft. Alternatively, the surgeon can perform a bone transport osteogenesis, which is a procedure that uses the dog's own bone to bridge the gap in the bone.
Chemotherapy
Both amputation and limb spare surgery can be paired with chemotherapy to maximally prevent tumor spread or regrowth. Typically, this involves seeing a board-certified veterinary oncologist (i.e. a veterinary specialist who focuses on treating cancer). The oncologist can devise a treatment plan based on your dog's specific situation.
There are a variety of different chemotherapy protocols that the oncologist may choose to use. Thankfully, dogs don't tend to have nearly as many negative side effects from chemotherapy as people do. This means that electing to go with chemotherapy shouldn't significantly decrease your dog's quality of life during treatments. Plus, it has the potential to buy you and your dog more time together.
If you are weighing the options, I strongly encourage you to make an appointment to talk with a veterinary oncologist. The field of veterinary oncology is growing tremendously and new treatment options are becoming available all the time. The oncologist can lay out all your options and discuss the pros and cons so you can make the most informed decision possible.
Palliative care for dogs with osteosarcoma
The options we just finished discussing can be a great choice for some dogs and families. But for a variety of reasons, amputation or limb sparing surgery and chemotherapy aren't the right choice for every situation. And that is ok. Some dogs wouldn't handle walking on three legs very well because they have significant orthopedic issues. Other dogs are nearing the final stages of osteosarcoma by the time of diagnosis and already have metastasis to other bones or their lungs.
In these cases, owners and veterinarians may elect for palliative care (i.e. keeping a dog comfortable) rather than surgery or chemotherapy. I want you to know that this is a reasonable and loving option too. You aren't giving up on your dog if you decide to go down this road.
I also want you to know that realistically, most dogs with osteosarcoma are going to end up needing palliative care at some point. Maybe initially their family will choose aggressive therapy. But the time may still come when, due to the progression of osteosarcoma, comfort care becomes the priority. So whatever you decide to do, this next section is still worth reading.
Pain management
Whether you choose dog hospice care from the beginning or eventually end up there after battling osteosarcoma with your dog for awhile, there are lots of ways to help your sweet pup have good days for as long as possible. The most important aspect is pain management. Often this will be multi-modal pain management, meaning the vet combines a variety of medications and therapies for maximal pain relief.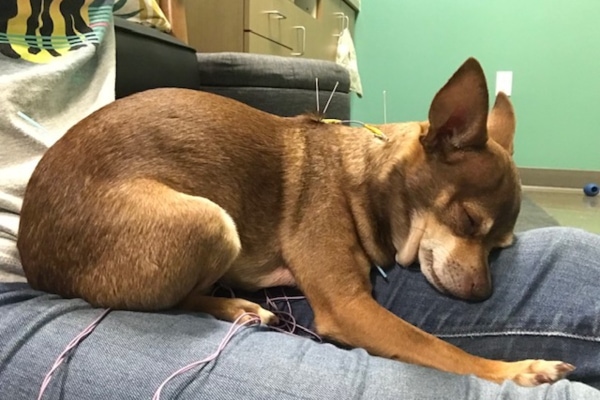 Your veterinarian may prescribe pain medications like non-steroidal anti-inflammatories (NSAIDs), tramadol for dogs, amantadine for dogs, and/or gabapentin for dogs, to help get your dog's pain under control.
Radiation is also another option. If your dog isn't a good candidate for amputation or limb sparing surgery, palliative radiation can help decrease pain and improve function in the affected leg in 75% of patients. Generally the effects last two to four months and the treatment can be repeated if needed.
Plus, there are a range of holistic options that are very helpful. For example, acupuncture for dogs can help dogs with cancer relax and ease some of their pain. Another great option is pulsed electromagnetic therapy (i.e. PEMF for dogs). PEMF sends a magnetic pulse through your dog's body to help heal damaged tissues. Also, it can reduce pain and inflammation.
ToeGrips
I also think that my signature product, Dr. Buzby's ToeGrips® dog nail grips, is a wonderful option for dogs with osteosarcoma. ToeGrips slip on a dog's toenails to provide extra traction and make walking easier, especially on slippery surfaces. This can be useful for dogs who have weaker legs due to osteosarcoma and for three-legged dogs following amputation.
The added traction from ToeGrips makes these dogs less likely to slip, fall, and potentially injure themselves. Plus, it helps them to walk more confidently. These benefits translate to your dog feeling comfortable moving from room to room with the family rather than being isolated to carpeted rooms.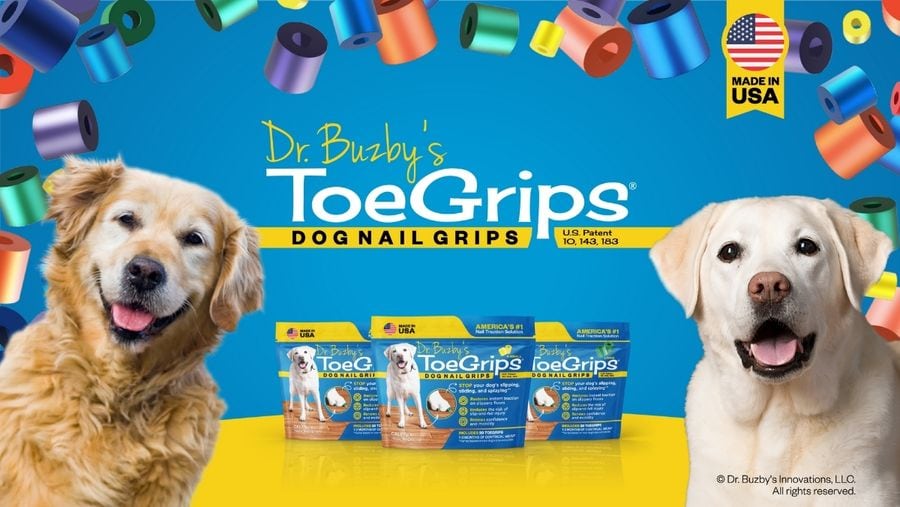 What is the prognosis and survival rate for dogs with osteosarcoma?
The good news is that, as we have discussed, there are ways to help your dog feel a bit better while battling osteosarcoma, regardless of whether you pursue specific cancer treatment. However, the bad news is that osteosarcoma is a very aggressive cancer. It will eventually spread and cause worsening symptoms (especially pain). While the prognosis and life expectancy can vary heavily depending on the specifics of the tumor, unfortunately, the overall prognosis is poor.
Survival time varies with each case. But the information below should give you a general idea of how it varies between the options. (Please note that these are just averages. It is always best to talk to your veterinarian or a veterinary oncologist to get an idea of what to expect for your dog's specific situation.)
Amputation plus chemotherapy—This combination offers the best prognosis. The average survival time is one year.
Amputation alone—The average life expectancy is about six months after surgery.
Radiation and chemotherapy—Six months is the average lifespan for dogs who undergo this option.
No treatment (palliative care only)—This option carries the worst prognosis with survival times of only two months after diagnosis.
Unfortunately, regardless of the treatment plan, most dogs will eventually develop metastasis and pain secondary to the osteosarcoma. As they enter the final stages of osteosarcoma, you will have some heartbreaking decisions to make.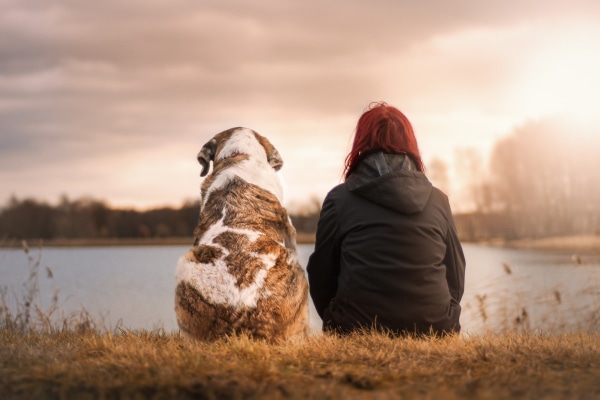 Saying goodbye to a dog with osteosarcoma
Loving a dog who is in the final stages of osteosarcoma is hard. No matter how much time you have to process the diagnosis, when the time comes to discuss euthanasia, it is always too soon. But still, for your dog's sake, and your sake, we need to talk about it.
For dogs with osteosarcoma, the pain associated with the cancer tends to be the most common reason owners decide it is time for euthanasia. Bone cancer is extremely painful. And since it can spread to the lungs, it can eventually become difficult for dogs to breathe as well.
Because the cancer is destroying the bone, it makes the bone very fragile. This also subjects your dog to an increased risk of fractures in his or her leg secondary to the cancer. Once fractures start occurring, this is usually a sign that the bone is very weak and the cancer is progressing.
Between the risk of fractures and the pain associated with osteosarcoma, it can become difficult for dogs to enjoy the things they love. Activities like playing and going on walks may become almost impossible.
Knowing when it is time
I always say, that as a dog parent, you know your dog best. When you start seeing that "spark" leave your dog and he or she doesn't seem to be enjoying life anymore, it might be time to consider euthanasia.
You also can keep track of how many "good days" versus "bad days" your dog is having. When the bad days start to outnumber the good, it might be time to say goodbye.
Another tip is to make a list of your dog's top five favorite things to do (like eating, playing, lying with you on the couch, etc). When he or she stops doing two or three of those activities, it might indicate that he or she is in pain and ready to say goodbye.
If you are having a hard time figuring out if you are seeing signs your dog is in pain or if it is time to say goodbye, talk to your veterinarian or a close friend. Sometimes they can help you see things that you might not see because you are with your dog every day.
Additionally, if you would like more resources to help you with this difficult decision, consider reading these articles: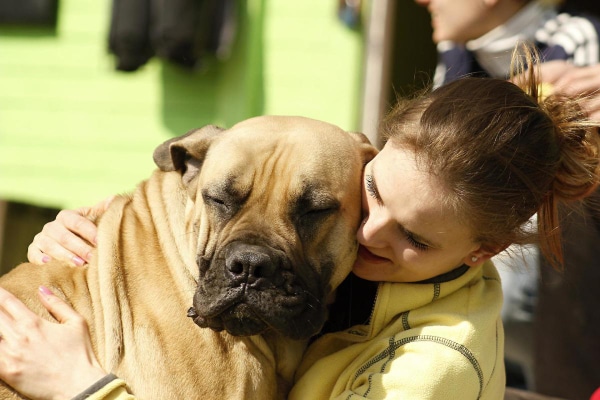 Finding hope
Osteosarcoma is a heavy topic. There is simply no way around it. Your dog is your best friend and has been there for you during the highs and lows of your life. So finding out that he or she has osteosarcoma can be a crushing blow.
If you have read many of my blogs, you know I like to end with some hope and encouragement. But you might be wondering where the hope is right now. So here is your answer. Look at your dog. Look at the way he or she looks at you with those loving, trusting eyes. He or she is still here now. And therein lies the hope.
Hope is found in the chance to have a few more good months (or maybe even a year) together, because that is better than none. And hope grows when you make plans to create memories with your dog and treasure every minute together. Hope may be harder to find after your dog is diagnosed with osteosarcoma, but it isn't gone forever.
So talk with your vet and work together to make a plan for your dog. Maybe that is amputation and chemotherapy. Or maybe it is palliative care. Either way, it is a plan to put one foot (or paw) in front of the other and live each day to the fullest.
What advice do you have for others who are navigating osteosarcoma with their dogs?
Please comment below.