As the parent of a dog, "leg amputation" is a phrase you probably hope you never have to hear in reference to your furry friend. However, sometimes it becomes a necessity due to injury or cancer. Integrative veterinarian Dr. Julie Buzby understands the many emotions this procedure can evoke. With compassion and clarity, she explains everything you need to know about a dog leg amputation.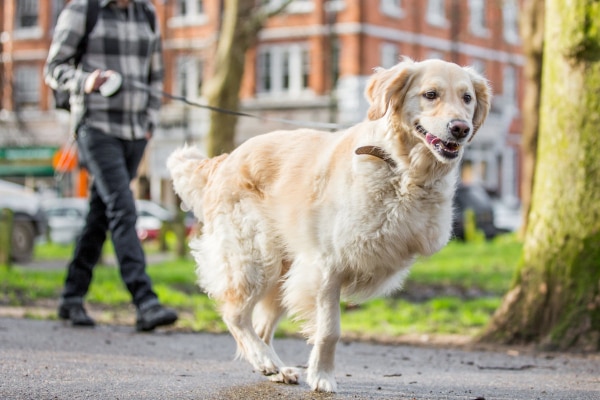 I met McArthur, a 10-year-old friendly, happy-go-lucky gentleman of a Westie, after his parents noticed he had started limping. As I examined him, I determined he had very mild lameness in his right front leg but seemed painful in the shoulder, too. I recommended X-rays to be on the safe side.
Unfortunately, the X-rays showed his shoulder had a moth-eaten appearance near the head of the humerus (i.e. the bone above the elbow in the front leg). This destructive pattern indicated he could have a serious underlying problem such as bone cancer.
After breaking the news to McArthur's parents, we discussed the treatment options—palliative care to manage his pain or an amputation to remove his painful leg. Removing a limb isn't a decision to be taken lightly. So while his parents processed everything, I started McArthur on pain medication to keep him comfortable.
What is a dog leg amputation?
As I discussed with my canine patient's parents, amputation involves surgically removing either a front or back leg. Vets may recommend it when there is severe disease or damage present. The goal is to remove the source of pain, which in this case is the limb.
Why might a dog need an amputation?
There are many reasons why your veterinarian may recommend an amputation for your dog. These include:
Cancer such as osteosarcoma or soft tissue sarcoma
Non-healing or complicated fracture
Severely infected limb
Non-functional limb that is painful or continues to be damaged
Financial concerns—the cost to amputate a severely fractured leg is typically significantly less than the cost for surgical fracture repair
Preparing for a dog's leg amputation
McArthur's parents and I had several conversations to discuss the pros and cons of surgery. Since the dog's pain was becoming progressively worse despite pain medication, they made the difficult decision to proceed with an amputation. His parents felt it was the best way to buy him as much time without pain as possible.
Pre-operative blood work showed my patient's liver, kidneys, and other organs were working well prior to surgery. This helped put his parents' minds at ease because like many senior dog parents, they were wondering, "Is my dog too old for surgery?" and "Is my dog too old for anesthesia?"
We also took chest X-rays before the procedure to look for evidence that the cancer had spread to his chest. We did not see any masses in his lungs. However, I warned his parents the cancer might have spread microscopically. In other words, it could already be in the chest but the areas are too small to see.
How is amputation surgery performed?
*Disclaimer: Some people may find this portion of the article unsettling or graphic.*
There are a couple of different procedures for amputation depending on which limb the vet is removing and why the amputation is necessary.
Scapulothoracic disarticulation
This is the most common procedure for front leg amputation and is the one I used for my patient. Just like the name indicates, the surgeon removes the scapula (i.e. shoulder blade) from the thoracic (i.e. chest) muscles. The scapula is only attached to the thorax by muscles. So by removing those attachments, the surgeon is able to easily remove the entire leg. The surgeon then sews the muscles closed to provide padding to the area.
Proximal femoral amputation
One method of hindlimb amputation involves cutting across the upper thigh bone (i.e. femur) then sewing the thigh muscles around the remaining bone. By preserving some of the femur and the associated muscles, there is more padding around the hip to provide comfort when the dog lies down.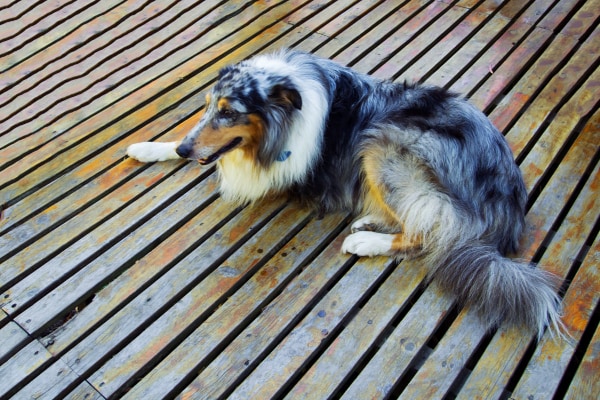 Coxofemoral disarticulation
The vet may recommend this method of rear leg amputation when the affected area is higher up on the femur near the pelvis or hip. In this case, the vet separates the femur from the pelvis at the hip joint (i.e. coxofemoral joint). This procedure is more invasive to the musculature of the hip, and can result in some reduced padding over the surgical site.
Hemipelvectomy
This is a less common procedure and is the most invasive method of amputating a back leg. It is primarily used in cases where a tumor involves the upper femur, hip joint, or pelvis. In order to achieve complete removal of the tumor, the surgeon must remove part of the pelvis in addition to the back leg.
How will the vet control the leg amputation pain?
As you can imagine from the amputation surgery descriptions, pain management is extremely important. After all, the whole point of the surgery is to eliminate the source of pain for a better quality of life, right? Your dog's surgeon will provide multimodal analgesia. This means he or she will combine several different medications and other pain management methods to control pain in dogs.
Pain management will start before surgery even begins. Your dog's veterinary surgeon will give medications prior to surgery to preemptively prevent pain and discomfort. These medications typically include opiates to manage the pain. Additionally, the vet may administer other medications to help prevent anxiety and stress during surgery. Then, during surgery, the vet may use a local anesthetic to block the nerves in the area, thus preventing additional pain.
After the amputation, the vet will send your dog home on pain medication such as:
You should give those medications as directed and contact your veterinarian if you continue to notice signs your dog is in pain. If you see medication side effects, please also consult your vet for advice.
How can you help your dog during the amputation recovery period?
In addition to administering pain medications on the prescribed schedule and monitoring your dog's pain level, there are several other ways that you can help him or her in the post-operative period.
Provide support and traction
After surgery, your dog will need to learn how to redistribute his or her weight onto the remaining three legs. Using a sling under your dog's chest, in the case of a front leg amputation, or under the hips, in the case of the back leg amputation, can help provide additional support when your dog needs to get up to use the bathroom.
Slippery floors such as hardwood floors or tile can make it difficult for your dog to keep his or her balance and walk confidently. This is where Dr. Buzby's ToeGrips® dog nail grips come in. ToeGrips are silicone bands that go on your dog's toenails to help provide extra grip on those slick surfaces. This helps prevent your dog from slipping and falling while learning to navigate on only three legs.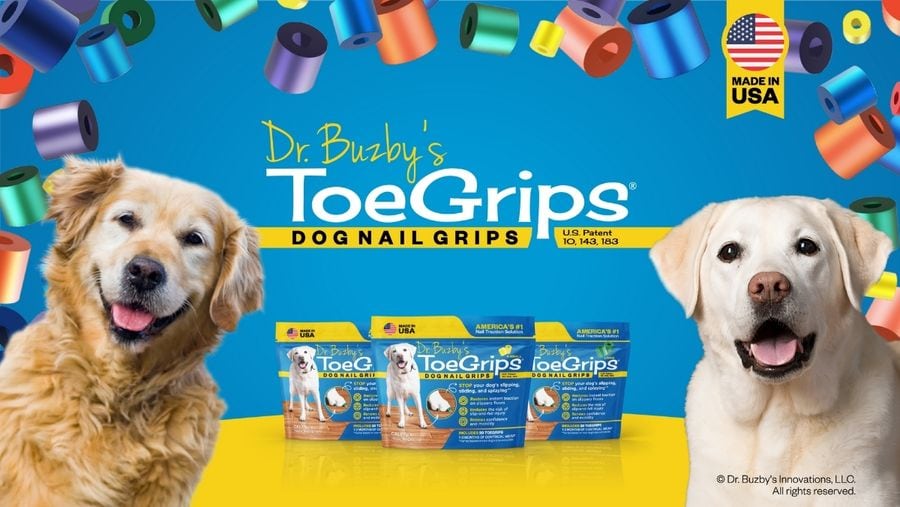 Even after your dog has adjusted to getting around on three legs, he or she can still benefit from the added traction ToeGrips provide. With amputees, we recommend gluing the ToeGrips to the nails to help ensure they are not pulled off by the altered motion of your dog's new gait.
Additionally, your dog can benefit greatly from recovering in a comfortable space with plenty of soft, thick bedding and/or a nice, cushy dog bed. Using non-slip rugs in the recovery area can also be a helpful way to provide traction as your dog learns to get around on three legs.
Follow a rehab plan
Your veterinary surgeon may recommend working with a rehab veterinarian. Doing this can help your dog learn to walk on three legs if he or she is struggling. The rehab vet may suggest strengthening exercises, using an underwater treadmill for dogs after the stitches are removed, or other therapies.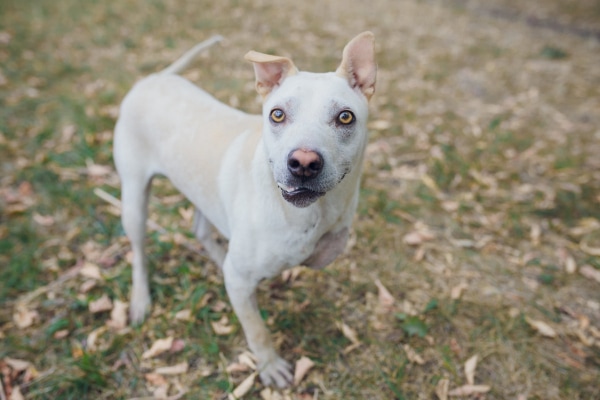 Watch for dog leg amputation complications
As part of the amputation aftercare, dog parents should also keep their eyes out for these potential complications:
Bruising
You may observe mild bruising around the incision site. While this is a fairly common complication from surgery, it usually resolves on its own after a couple days. Your veterinarian may recommend icing the incision for five minutes twice a day after the procedure to reduce bruising.
Seroma
Removing a limb creates an empty space in the tissue where fluid may accumulate, forming a seroma. This may make the area around the incision look swollen and feel squishy. Seromas tend to occur more commonly in front limb amputations. As long as there is mild accumulation, the fluid is usually reabsorbed by the body in one to two weeks. If you have any concerns, please reach out to your veterinarian.
Infection
Signs of infection include redness, swelling, or pus draining from the incision. Thankfully, infections are relatively uncommon due to the strict sterile procedures veterinarians follow.
However, it is also important that you keep the E-collar, also known as "the cone of shame," on your dog at all times after surgery. If your dog licks the incision, he or she can introduce bacteria into the incision and cause infection. If you are concerned about an infection, it is important to contact your veterinarian to start antibiotics quickly.
Neuroma
In rare cases, the nerves cut during the amputation can form small masses at the end as they try to heal. These lumps are called neuromas and can be painful. Sometimes a dog may require additional surgery to remove a bothersome neuroma.
Phantom pain
Surprisingly, phantom pain has not been commonly observed in dogs after an amputation. Once the veterinarian removes the painful limb, most dogs return to their usual level of activity.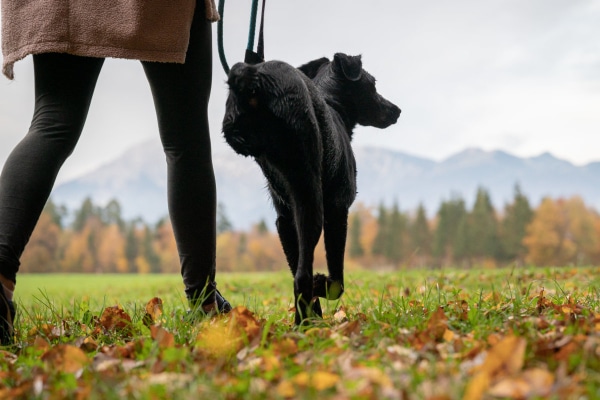 Plan for the future
After your vet removes the staples or stitches and gives their seal of approval to resume activity, you can continue to support your dog's recovery by:
What about prosthetics after a leg amputation?
There have been some cases of partial limb amputations where prosthesis have been used. They can help reduce the strain and compensatory injuries that can occur from the change in weight distribution. In senior dogs who have osteoarthritis in dogs in other joints, a prosthesis may provide additional stability.
Be aware that the stump and prosthetic often require daily care and monitoring. Also, dogs may require multiple prosthetics as sometimes they can break down over time.
What is the prognosis after amputation?
Surprisingly, most dogs adjust well to amputation. Because the removed limb was a chronic source of pain or was not functional due to previous injury, most patients have already started to adjust to shifting their weight off of the leg. This often means pets learn to adjust to only having three legs fairly easily. In the cases where a limb is removed due to a previous injury, those dogs typically go on to live normal lives.
In cases where a vet performs an amputation due to certain types of pet cancer—such as osteosarcoma or soft tissue sarcoma—prognosis often depends on the type of cancer involved.
Low or intermediate grade soft tissue sarcoma—removal can be curative.
High grade soft tissue sarcoma—survival is about a year with surgery alone. In some cases chemotherapy or radiation can improve survival time.
Osteosarcoma—dogs live about four to six months after surgery with amputation alone. Chemotherapy or radiation therapy can extend that timeline.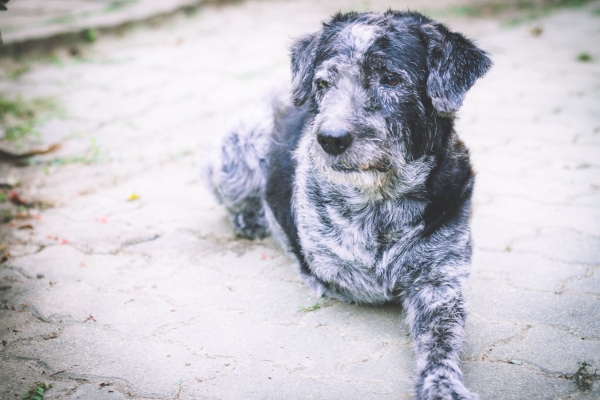 Should you proceed with the leg amputation or put down your dog?
Although the outlook after amputation is good for trauma and it may buy some time after a cancer diagnosis, it is important to realize that amputation isn't the right choice for all dogs. In some cases, euthanasia is certainly a valid decision, even if it is a hard one.
Not all patients adjust well to amputation regardless of the reason for the amputation. Plus, pet cancer can be a devastating diagnosis. This is especially the case when you know surgery may not completely remove the cancer due to its type or location.
Additionally, some senior dogs may not be good amputation candidates if they have severe arthritis in other limbs. The already painful limbs will need to support additional weight once the affected limb is removed. Sometimes the increased weight may be too much for the remaining legs to bear comfortably.
Talk to your veterinarian
Do not be afraid to schedule an appointment with your veterinarian to discuss the pros and cons of an amputation. That way you can discuss how he or she feels your dog would cope with an amputation. The vet can also give you an idea of what the long-term prognosis would look like.
Sometimes you will have the ability to process the information over a period of a few days or weeks. Other times, such as when your dog sustains a fracture due to osteosarcoma, you may have to make the decision to amputate or euthanize much faster. Both scenarios are incredibly difficult.
If you decide euthanasia is the right decision for your dog, you and your veterinarian can work together to create a plan to manage your dog's pain until it is time to say goodbye. The following resources can be helpful during that heartbreaking time: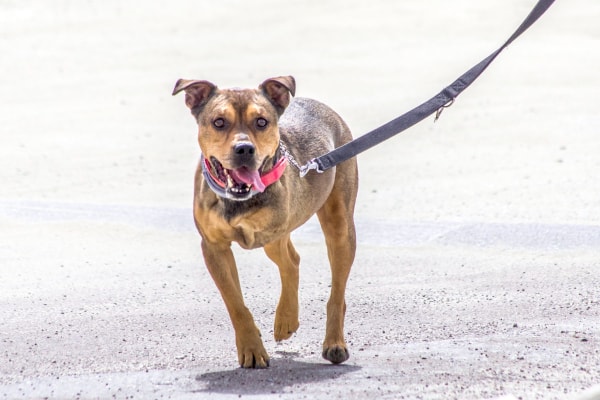 Back to my Westie patient
Let's wrap back around to our friend McArthur. His surgery went smoothly. And despite having his leg removed, he surprisingly seemed more comfortable immediately after surgery. While we were prepared to use a sling to help him walk and use the bathroom, he had been so used to not using his leg that he adjusted immediately.
At McArthur's two week recheck, he bounded into the hospital with the exuberance typical of a Westie puppy. In fact, we had a little trouble removing the stitches because he was so busy bouncing around with a full body tail wag and constant kisses. His dad was thrilled at his recovery!
Unfortunately, McArthur's biopsy report came back as osteosarcoma. His parents elected not to pursue chemotherapy or radiation. Instead, they chose to focus on ensuring their beloved dog enjoyed the time he had left. He certainly lived life to the fullest chasing his ball and going out on the boat with his owners.
Sadly, about three months later, he returned to the hospital because he had been showing signs of discomfort and slowing down. X-rays showed that the cancer had spread to his lungs and one of his nearby ribs. While they were incredibly sad to face saying goodbye to their spunky Westie, his parents were grateful for all the good time we were able to buy McArthur with the amputation.
There is life after a leg amputation
I know that the prospect of your dog having a leg amputation sounds scary. It isn't the right choice for every dog or every family. However, many dogs can live good, happy, comfortable lives after an amputation just like this spunky Westie did. Yes, it might only be for a few months if your dog has an aggressive cancer, but each good day is a blessing. It is one more day you can spend loving on your dog and making memories.
Do you share your home and heart with a dog who had a leg amputated?
Please share your experiences below. We can all learn from each other.