Deciding when to euthanize a dog with Cushing's disease can be heartbreaking. That's why integrative veterinarian Dr. Julie Buzby invited her friend, end-of-life care veterinarian Dr. Dawnetta Woodruff, to share some heartfelt words of wisdom and comfort. Dr. Woodruff explains how to recognize the final stages of advanced Cushing's disease and gives advice about when it might be time to say goodbye to your dear dog.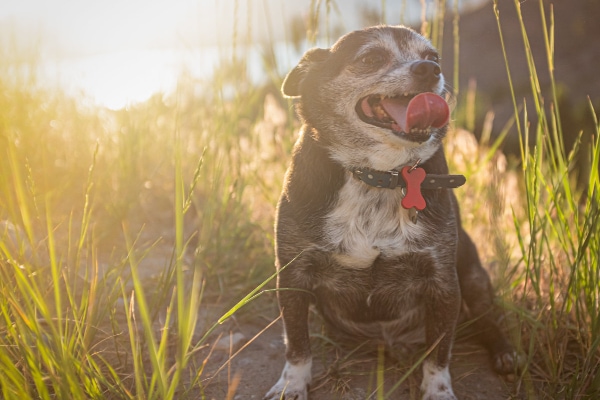 Finding out your dog has Cushing's disease can feel stressful and overwhelming. What will this mean for your dog? Will you need to euthanize your dog because of his or her Cushing's? How will you know it is the right time to put your dog down?
These are all valid questions. Dr. Buzby has already written an excellent in-depth blog on Cushing's Disease in dogs that address the medical aspects of the disease. So I'll quickly hit the high points before moving on to the goal of this article—preparing you for the challenging decisions that may lie ahead.
Cushing's disease basics
In short, Cushing's disease means that your dog's body is producing an excessive amount of the steroid cortisol. This is problematic because having the correct amount of steroid hormones is important for the body to function correctly.
Normally, the pituitary gland (located in the brain) produces the ACTH hormone which tells the adrenal glands to produce cortisol. But, when either of these glands isn't working correctly, steroid levels can become too low (i.e. Addison's disease in dogs, which is also called hypoadrenocorticism). Or, they can become too high (i.e. Cushing's disease, which is also called hyperadrenocorticism).
If your vet suspects your dog has Cushing's disease, he or she will run blood tests (and possibly perform some imaging) to reach a diagnosis. Then, he or she will formulate a treatment plan, which usually involves lifelong medications like trilostane for dogs or surgery to remove a cortisol-producing adrenal gland tumor. Plus, your vet will discuss how to care for your dog with Cushing's disease. And he or she can help answer the question in the back of your mind—how long can my dog live with Cushing's disease?
What is the life expectancy for dogs with Cushing's disease?
If you were to look at the various papers published in veterinary journals, you would see that the average survival time after diagnosis is 2-2.5 years for dogs with Cushing's disease due to an ACTH-producing pituitary tumor (i.e. pituitary-dependent Cushing's disease). And for dogs with an adrenal tumor (i.e. adrenal dependent Cushing's disease), the average survival time is 1 year with medications and ranges from 1.5-4 years (depending on the paper) with surgery.
Keep in mind, though, that these numbers are averages. When it comes to looking at the prognosis for Cushing's disease, accounting for the differences from one dog to another is important.
Some dogs receive a diagnosis of Cushing's disease, and their disease seems to progress slowly. They are otherwise healthy enough to have surgery to treat an adrenal gland tumor in dogs (if indicated), they respond well to medications, and they continue enjoying a relatively normal life for years.
Other dogs go downhill much more rapidly. They may already be frail at the time of their diagnosis. Or they may have other life-altering diseases as well, such as diabetes, kidney failure in dogs, canine cognitive dysfunction, osteoarthritis in dogs, or heart disease in dogs. These dogs may seem worn down, have little energy to enjoy life, and have numerous secondary infections. In those cases, they may only live with Cushing's for a short time (weeks to months) after their diagnosis.
How will I know when to euthanize my dog with Cushing's disease?
These differences in outcome demonstrate that every dog and every disease process is different. And that is part of what makes Cushing's such a frustrating disease for pet caretakers and veterinarians alike.
There is no definitive point where euthanasia becomes a clear-cut or easy decision. But knowing the signs of advanced Cushing's disease, how to decide if you should keep going with treatments, and how to assess your dog's quality of life, can help with the decision of when to put a dog down.
What are the symptoms of advanced Cushing's disease in dogs?
Your dog's Cushing's disease may be worsening if you see the following signs:
Significantly increased thirst in dogs (i.e. polydipsia) and severe increases in urination volume (i.e. polyuria)
Frequent urinary tract infections (UTIs in dogs) because the excessive cortisol suppresses the immune system
Dramatic weight gain, especially in the belly, gives a pot-bellied dog appearance
Ravenous appetite, sometimes to the point of stealing food from the table or the counter
Panting (even when your dog is not excited or hot)
Rapid breathing (when your dog is at rest, or even sleeping)
Weak muscles, which may make your dog unable to go for long walks, or cause problems jumping or climbing stairs
Sleeping much more than normal (may include restless sleep)
Loss of fur or thinning fur (including hair loss on a dog's tail)
Changes in skin pigmentation (especially the presence of new black pigment in the skin)
Skin infections (i.e. pyoderma in dogs) that take a long time to heal, or don't heal even with appropriate medications
Smelly oily skin or wounds that ooze and seem tender to the touch
Constant licking or chewing on the skin and itchy dog paws
GI distress (diarrhea and/or vomiting)
Sudden weakness or being a severely lethargic dog
Confusion or disorientation (can look similar to the signs of dementia in dogs)
Periods of time when your dog seems unresponsive, or can't easily be woken up
Collapse
What do you do if you see these signs?
If your dog is showing some of the symptoms on this list, it would be a good idea to schedule an appointment with your regular veterinarian. He or she may be able to adjust your dog's medications. Or the vet may suggest adding another medication to help reduce the common symptoms of Cushing's.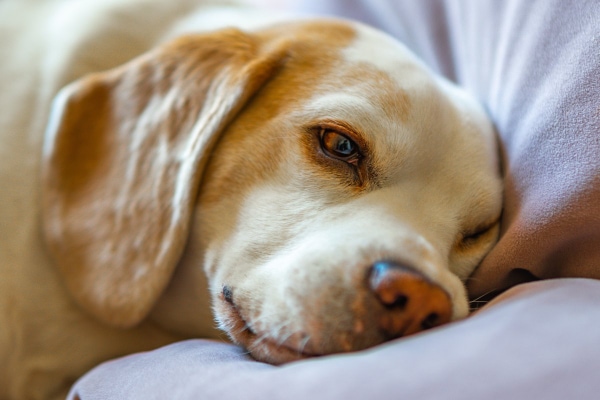 (Please note, sometimes the progression of symptoms is rapid, or your dog starts experiencing more severe symptoms like sudden weakness or collapse. In those situations, you may need to make an emergency vet visit rather than a regular appointment.)
Should I keep treating my dog's Cushing's disease and associated problems?
However, just because you can try a treatment, doesn't always mean you should. Yes, the goal of treating a dog with Cushing's disease is to control the cortisol levels and manage the dog's symptoms. But it is also to find ways to minimize the overall decrease in your dog's quality of life.
Some dogs take pills well. And they allow their family to bathe them and apply ointments to their skin to manage the skin problems that often accompany Cushing's disease. For these sweet pups, the things you need to do to treat Cushing's disease do not decrease their quality of life at all. And providing care may not be stressful for their human family.
On the other hand, some dogs have severe anxiety when it is bath time. A normally sweet pup may even try to bite when their skin is inflamed and painful due to their disease. Or they may have an extremely difficult time taking medications (even after trying Dr. Buzby's tips for dogs who won't take pills). This can mean that giving pills quickly becomes everyone's least favorite part of the day. Alternatively, even if your dog takes pills well, some medications have unpleasant side effects that may decrease quality of life.
For these precious dogs, you need to look at the whole picture. There may come a time when decreasing their treatments is the best choice, even though their symptoms are worsening.
Deciding that enough is enough
In those cases where a dog no longer tolerates treatments, when the monetary commitment becomes too burdensome, or when caregiver fatigue is severe, it is time to consider euthanasia as the kindest option. There is no shame in admitting that your dog's medical needs have become burdensome. We all wish we had an unlimited budget of money and time to devote to our pets. However, that is not often the case. And that is ok.
It is important to preserve the human-animal bond above all else. And a big part of preserving that bond is focusing more on the quality of your dog's life than on the number of days.
Assessing the quality of life for dogs with Cushing's disease
While it is a critical part of decision-making, evaluating the quality of life is not an easy "one-step" process. However, there are several quality of life scales for dogs that can be helpful when filled out on a regular basis. Plus, you may want to consider the answers to these Cushing's disease-focused quality of life questions:
Is eating taking over your dog's day? Has food become an obsession? Does he seem satisfied, or is he always hungry (even after just finishing a meal)?
Is she drinking so much that she is having accidents in the house? Is she urinating in her bed?
Is she able to keep herself clean, or does she allow you to clean her when needed?
Is he able to enjoy his favorite things? Does he still hate the things he's always hated (like the vacuum)?
Is she able to sleep well at night, and does she seem awake during the day?
Is his skin comfortable? Does he seem to lick and chew at himself every waking moment?
If he needs medicated baths or topical medications, is he comfortable while these treatments are given?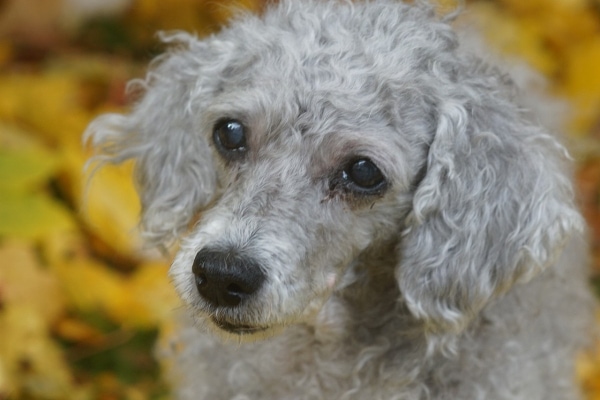 If your dog's appetite, hydration, hygiene, skin health, and sleep are all affected, the quality of life has dramatically decreased due to Cushing's disease. At that point (or even before) it may be time to consider euthanasia as the kindest decision.
When is the "best time" to euthanize your dog with Cushing's disease?
Most of the time, there is not one right day to put a dog down with Cushing's. Instead, there tends to be a window of time where euthanasia is a kind and appropriate choice. As Cushing's disease progresses, there will come a time when watching your dog continue to struggle is even harder than letting him or her go.
A dog whose skin always hurts, who is always hungry and thirsty, and who is restless and exhausted, is not a happy dog with a good quality of life. And neither is a dog who hates taking pills or being bathed. In these cases, setting him or her free from his or her struggles often becomes the most merciful choice.
The decision window
Some families are comfortable making the decision a little bit earlier in the course of the disease. Their dog may really hate vet visits and medications, so they take a more conservative approach to treatment. Choosing euthanasia early means they may miss a bit of quality time together. But it allows them to know they have helped their beloved dog avoid all suffering.
For other families, they need to wait longer, exhausting all options for treating and managing the disease. They know that their sweet pup may suffer for a short time. But to them, a few difficult days are worth it to ensure they were able to spend as many good days together as possible.
Neither decision is "right" or "wrong"—and the same family could make a different decision with two different dogs, even if they have the same disease. Each dog's personality and ability to handle the struggles that come with Cushing's disease is unique. That means there really is no "one-size-fits-all" answer.
Use your resources but also trust your instincts
When trying to make this difficult decision of when to euthanize your dog with Cushing's disease, it can be helpful to seek the opinions of others. You may wish to consult with your dog's regular veterinarian or a veterinarian who provides dog hospice care. Or you may want to ask trusted friends and family members for help.
All of these people can give you valuable advice as you weigh the severity of your dog's illness. But it is important to remember that you know your pup better than anyone else. You are the one that spends every day with him or her. And you are the one who sees the true extent of his or her struggles.
If he or she seems brighter and happier when friends and family visit, or more alert and aware when you go to the vet's office, other people may tell you he or she has more time. However, you are the one who sees your dog day in and day out. If you see the majority of his or her time is spent merely existing, instead of truly living, then it is no doubt a kind choice to set him or her free.
Give yourself grace and compassion. These decisions are never easy—but if you are trying your best to care for your pup and make a kind and reasonable decision, that is the best anyone could ask you to do.
How did you know when it was time to euthanize your dog with Cushing's disease?
Please comment below.