Dog Christmas gifts are fun to give—and get. After all, as a member of the family your pup deserves something special under the Christmas tree. But what do you give the dog who has everything? Integrative veterinarian Dr. Julie Buzby helps you think outside the box by sharing 12 unique Christmas gift ideas for dogs.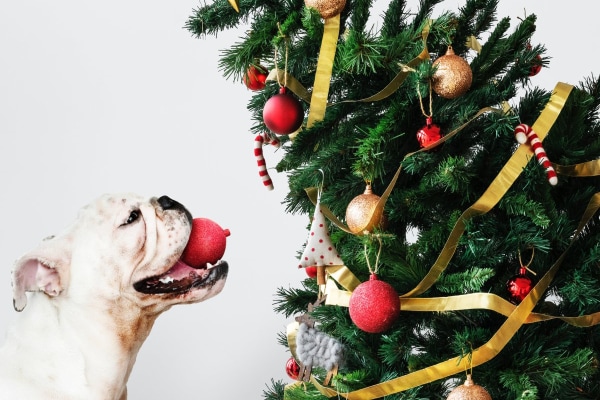 With the holidays quickly approaching, your to-do list is probably growing as fast as a Great Dane puppy. There is a house to clean, dinner to plan, shopping to do, and the list goes on. Even though this is a hectic time of year, I love every minute of it. I cherish the time with family and friends and embrace the opportunity to show them the blessing they are in my life.
One of the ways I like to show my love and gratitude is through gifts. And for my friends and clients who are dog parents, it gives me much joy to include a surprise for their furry family members too.
There is nothing wrong with the more traditional gifts of a new dog collar or box of toys and treats, but I also enjoy giving gifts that are unique, useful, and great for a dog's health. What might those be, you ask?
Well, hold on to your Santa hat because I'm about to share my list of 12 dog Christmas gifts. Some of them are what you might expect. Others, while a bit unconventional, give the gift of improved health and wellbeing. What better gift for a dog you love this Christmas?

DISCLAIMER: Every single gift on this list is one I personally have purchased, use for my own dogs, and LOVE. I receive no financial "kick backs" for recommending gifts that are not part of my own product collection.
What do you need to consider when picking a Christmas gift for dogs?
Before we get to the gift ideas, I wanted to include a few questions that might help narrow down the gift options:
Is there anything specific your dog (or your friend's dog) needs? Something that will improve his or her day-to-day life?
Does the dog have any allergies that you need to consider? Or a tendency toward pancreatitis in dogs or acid reflux in dogs that might limit the food or treat options?
Does the dog have any other medical conditions that could impact his or her enjoyment of a gift?
Is the gift safe for your dog or your friend's dog?
If you take the answers to these questions into consideration when shopping for a dog Christmas present, you probably can't go wrong!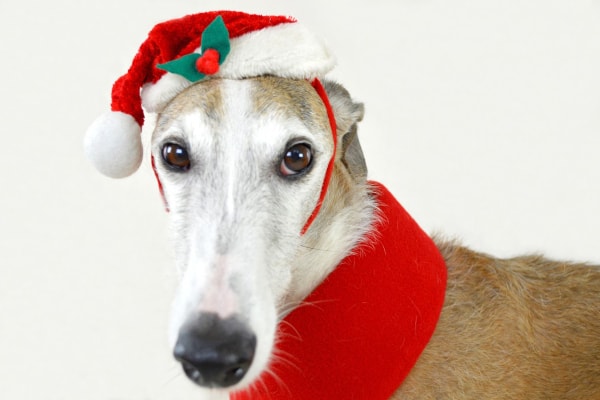 12 best dog Christmas gifts
So without further adieu, I present (see what I did there) 12 dog Christmas gifts that are sure to delight your dog.
Gift #1: Dr. Buzby's ToeGrips® dog nail grips
If you are shopping for a senior dog or special needs dog with mobility issues, Dr. Buzby's ToeGrips® may be the perfect gift. ToeGrips are non-slip nail grips that fit on the dog's toenails. They enhance the natural traction that nails provide, to restore the dog's confident mobility.
Seem to good to be true? I'll give you the quick and dirty on how they work: Dogs use their nails like soccer cleats to grip the ground. However, hard nails can't get traction on slippery surfaces like hardwood floors. This can cause your dog to slip and fall, especially if he or she is weak, arthritic, or has an abnormal gait. As a result of sliding and potentially falling, your dog may become afraid of hardwood floors. Or worse yet, your dog could hurt his or her back, neck, or legs.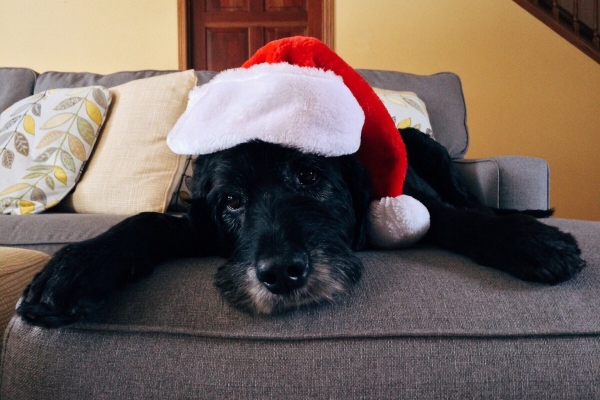 The solution to this problem is ToeGrips, not socks or boots. You see, I don't recommend using dog boots to help with traction because they cover and disable the dog's natural gripping mechanism—their paw and toenails. In contrast, ToeGrips create a GripZone™ between the nails and the floor, and they don't interfere with the normal function of the nails or foot.
Which dogs benefit from ToeGrips?
ToeGrips can improve the life of:
Once you apply the ToeGrips, your dog can constantly wear them both indoors and outdoors, making them a great dog mobility aid. You don't have to bother taking them off and putting them back on all the time. Instead, depending on the dog, you will just need to replace the ToeGrips every one to three months.
If you are looking for other ways to help your slipping dog, you can also check out my blog, Tips to Stop Your Dog Slipping on the Floor.

One of my fundamental beliefs as a veterinarian is that mobility is a dog's greatest asset. ToeGrips are a drug-free way to restore mobility for senior or special needs dogs.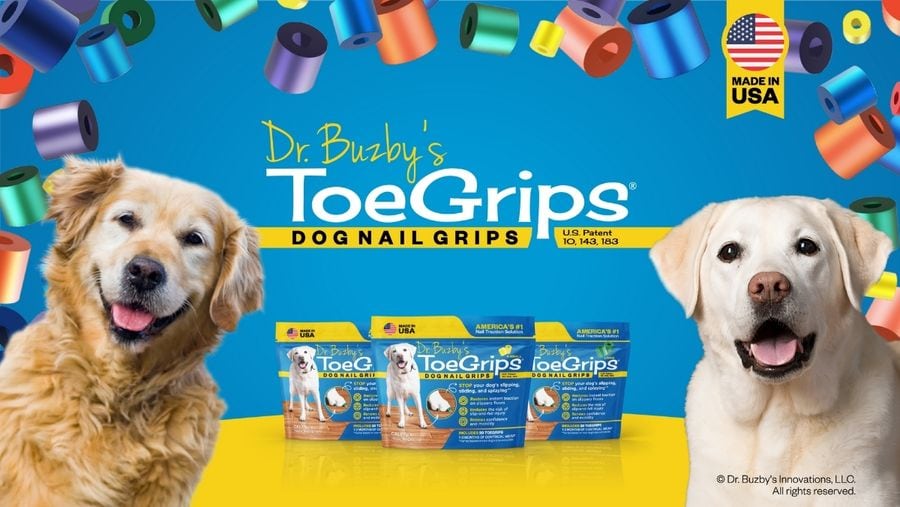 Gift # 2: An orthopedic dog bed
If you are shopping for gifts for dogs that can improve their comfort, consider an orthopedic dog bed. This is wonderful gift for both small and big dogs. Although I realize that some senior dogs prefer sleeping on the cool wood or tile floor, I still think a good bed is a staple every dog needs.
Dog beds come in all sorts of shapes and sizes. Over the years my clients have reported all kinds of beds as their dog's favorite, but orthopedic dog beds are the clear winner—especially for senior dogs or those suffering from signs of arthritis in dogs. These beds often use memory foam mattresses that can support a dog's painful joints. And some even have cooling mattresses, which is an added bonus.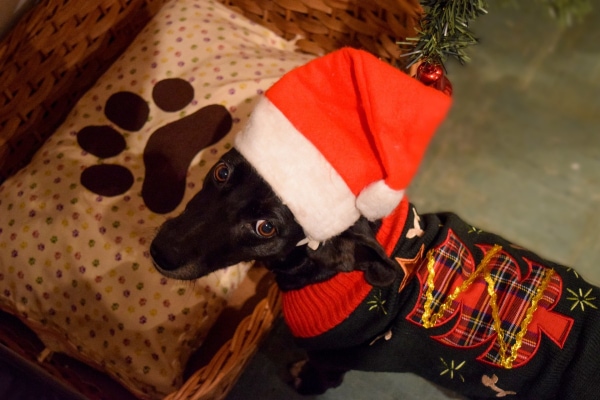 Orvis®dog beds are a personal favorite among my clients (and also one of my favorite things for senior dogs) but each dog seems to have his or her own preferred brand and style. You might need to do some trial and error to find the one your dog likes best.
Gift #3: A doggie ramp or stairs
In addition to a new bed, buying a ramp or stairs for your dog could be an excellent holiday purchase. Think of it as giving the gift of injury prevention. And if, like me, you're past the years of invincible youth, you start to realize that injury prevention is key to quality of life!
Having a ramp or stairs makes it much easier, and safer, for a dog to get up and down from couches, beds, decks, and cars. They can be a life saver for senior dogs, TriPawds®, or dogs with joint issues. And they are a very practical way to help your senior dog with arthritis at home.
But not only are stairs great for older dogs, I think they are good gifts for younger dogs too. You have probably heard the saying "prevention is the best medicine." I fully agree. Repeatedly jumping on and off high surfaces puts strain on their joints and spine. Dogs also risk injuring themselves when jumping or landing.

Introducing stairs at an early age has two plusses. First, you'll likely need a bit of dog training to teach the skill of using the ramp or stairs. Like crate training, it's so much wiser to teach that young as opposed to trying to teach an old dog a new trick 😉 when it's a necessity. Plus, you'll be preventing years of potential wear and tear to your dog's joints.
Gift #4: Dr. Buzby's Encore Mobility™ hip and joint supplement
Supplements (or better said—the right supplements) are not only a super helpful part of maintaining your dog's health and wellness, they also make a great stocking stuffer! Two supplements made this year's list, the first of which is a bottle of Dr. Buzby's Encore Mobility™ hip and joint supplement.
Save 10% on Encore Mobility™ Joint Supplement for Dogs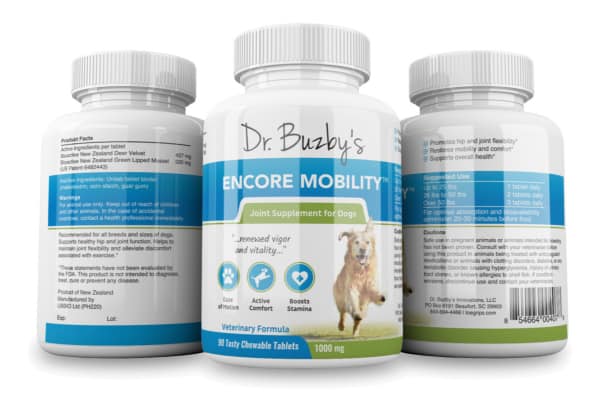 Give your dog more good days.
Use promo code HAPPY to save 10% on Encore Mobility.
Encore Mobility is an all-natural joint supplement that combines New Zealand deer velvet for dogs and green lipped mussel for dogs. I've been using it in my patients for many years because there's nothing on the market like it. This power duo works synergistically to:
Soothe painful joints (providing natural pain relief for dogs)
Renew your dog's spark and spirit
Restore ease of motion
Improve your dog's comfort
Renew natural stamina
Plus, dogs love the taste of these chewable tablets.
Because this unique supplement benefits the dog in ways well beyond just joints, it can be the perfect gift for dogs of all ages. Whether your dog is a senior with joint pain or a 2-year-old agility champion, Encore Mobility is a great choice for a Christmas dog gift.

And if you're the type of Christmas elf who enjoys the science behind the story, nerd out here: Deer Antler Velvet: The Science Behind the Supplement.
Gift #5: A nightlight
If you are looking for a simple, small purchase to make your dog's life easier, I suggest a nightlight. While many dogs can probably see better than you or I at night, they seem to still enjoy a nightlight to help them navigate.
This is especially true for senior dogs who have developed vision problems or are awake pacing the house at night because of canine cognitive dysfunction (i.e. doggie dementia or sundowners in dogs).

But even without those conditions, a nightlight can relax your dog and reduce senior dog anxiety at night. I've had many clients report a positive impact in their dog's ability to settle down overnight by simply making this small change to their environment.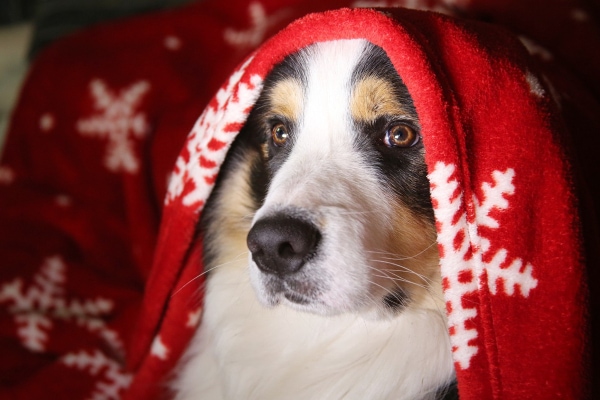 Gift #6: Dr. Mary Gardner's book: It's Never Long Enough
This practical guide to caring for your geriatric dog may seem like an odd "dog" Christmas gift, namely because…well…dog's can't read. But, hear me out…this is the gift your dog would want you to have!

As the co-founder of Lap of Love Veterinary Hospice, Dr. Mary knows a thing or two about senior dogs. Her book is 500 pages of practical tips, home hacks, and "vetted" wisdom, covering such topics as common senior dog ailments, environmental enrichment, pain management, and grief.
This book reads like a letter from a good friend who's walked in your shoes (but happens to also be a world-renowned expert). It would make a fabulous gift for a friend with a grey-muzzled companion, or to add to your own wish list!
Gift #7: Thermometer and petroleum jelly
I have to confess to being the kid who hated getting practical gifts at Christmas, like a new toothbrush or underwear. So it is with a touch of shame that I mention a thermometer and petroleum jelly as another practical gift that could come from Santa Paws.
While this may not be your typical idea of a perfect present, it is actually one of my favorite Christmas gifts for dog lovers. And here's why: most people do not have (or know the location of) their pet thermometer. So this simple gift has real value!
I recommend that all pet owners have a thermometer and petroleum jelly in their doggy first aid kit. Body temperature is always one of the first vital signs you should assess when your dog is sick. And in some cases, having the ability to take your dog's temperature at home can be lifesaving.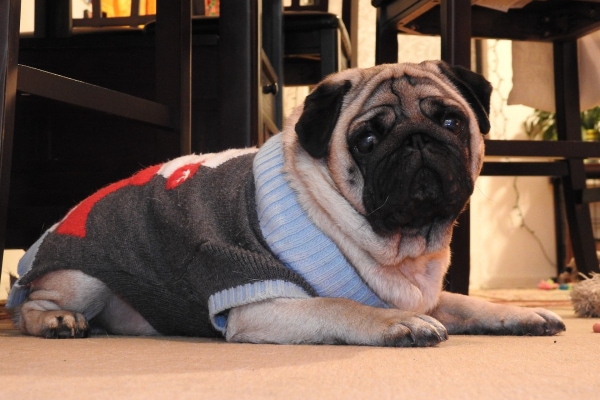 Uses for a thermometer
Thermometers can come in handy for:
Checking your dog after exposure to extreme cold or heat
Monitoring for early signs of labor in pregnant dogs
Assessing for signs of infection
Knowing your dog's normal temperature (which is usually between 100o and 102.5oF, but can vary with dog breed and size)
That last bullet point is extremely important in my mind. Having a baseline to share with your veterinarian can help them better interpret your dog's vitals and assess your dog's status when they are sick.
If you decide to share this gift with fellow pet parents this holiday season, I also recommend printing out a copy of my blog Keeping a "Pulse" on Your Dog's Vital Signs to include with the gift. That way the pet parent will have a quick reference infographic of what normal ranges are for doggy vital signs.
Gift #8: The Nail Trimming Without Fear online mastercourse
If you (or someone you know) dreads doing dog nail trims, the Nail Trimming Without Fear Master Course could make a wonderful gift. Nail trims are one of the most common activities that dogs and their parents struggle with. However, this should be part of every dog's routine care…without spiking blood pressure. 😉
With a little help, you can learn simple techniques to successfully trim your dog's nails at home. Even the most daunting nail trims (like black toenails) can be done in a fear-free and positive manner.
This practical and encouraging mastercourse can serve as a unique gift for yourself or a friend. While you're at it, you can get my dog nail trimming kit too. The course + kit will ensure you have the tools you need to get the job done…without blood, sweat, or tears.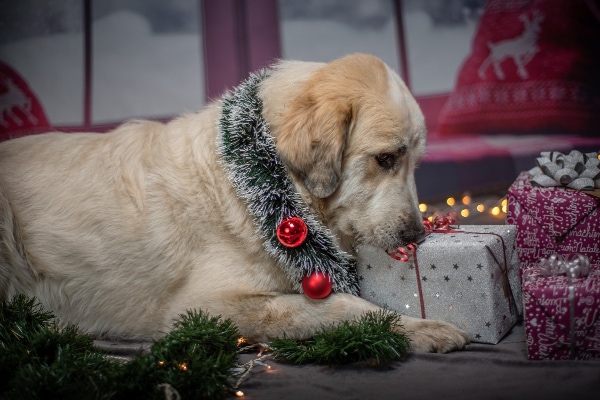 Gift #9: Homemade dog treats
Since we have done some fairly unique dog Christmas gift ideas, let's take a look at something more traditional. Each year I try to come up with a new homemade gift idea. Personally, I think there is something extra special about these types of holiday gifts.
For our dogs, what gift could be better than some yummy homemade treats. After all, food means love to many of our canine companions!
There are plenty of recipes on the internet for delicious dog treats. And as an added bonus, humans can enjoy some of them too! My personal favorite recipe is Pup-kin Holiday Dog Treats because they are simple, can be cut into a variety of shapes and sizes, and feature canned pumpkin as the star (more on that soon). But whatever you pick, I hope you enjoy finding a recipe that you love and then creating it.
(As a word of warning, ensure that as you make your creations, you only use foods that are safe for dogs. Many recipes will call for pumpkin and peanut butter, which can be quite tasty. However, you need to check these products for harmful ingredients like xylitol, which is toxic for dogs. Also, xylitol is sometimes listed as birch sugar.)
Gift #10: Canned pumpkin
If you don't want to make homemade dog treats, you can give the gift of canned pumpkin with a bow attached. It might sound strange, but I think canned pumpkin for dogs is a wonderful gift idea and another great stocking stuffer!
In addition to using it as an ingredient in tasty dog treats, I will sometimes freeze small amounts of canned pumpkin and stick it inside dog toys (like Kongs® and other treat holders). This makes a homemade "frosty paws" for your dog.
Not only is canned pumpkin delicious, but it also has great nutritional benefits, such as:
Providing vitamins A, C, and E
Having a high water content that aids with hydration and digestion
Containing minerals like potassium and iron
Being high in fiber
Potentially improving diarrhea and relieving constipation (yes it is true… it really can do both)
With all of these benefits, canned pumpkin is a yummy and practical gift dogs will love.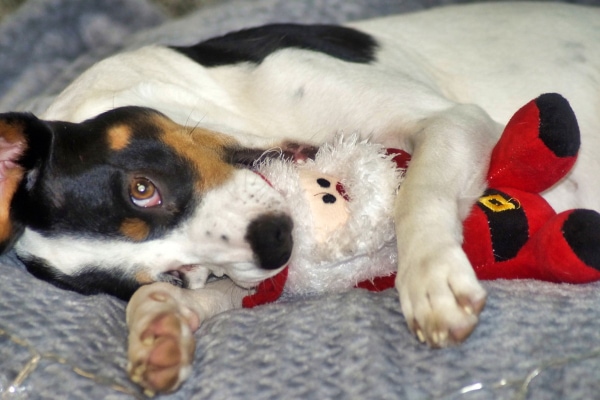 Gift #11: Safe dog chew toys
Safe chewing toys for dogs is a classic gift idea, but worth a bit of discussion. The emphasis here is on the word "safe" because not all items marketed as a dog chew toy are actually good for a dog's teeth or digestive system.
My short list of safe recommended dog Christmas toys and treats includes:
Kong® toys
Veterinary Oral Health Council approved dog treats and toys to help control plaque and tartar
Planet Dog rubber dog toys
Zogoflex® dog toys by West Paw
GoughNuts chew toys
I mention these specific chews because they will satisfy a dog's chewing needs without risking their health. Additionally, many of these chews help promote good dental hygiene too.
My concerns with other chew toys is that they could cause a foreign body obstruction (like rawhides that aren't easily digested), act as choking hazards, or fracture a dog's teeth (like antlers for dogs). I would hate for your dog's Christmas present to land him or her at the emergency hospital.
Gift #12: A toothbrush
Lest I sound like the Grinch, adding such a boring gift to the list—especially after confessing that I never appreciated a new toothbrush in my own stocking—allow me to explain my logic.

I don't have to convince you to brush your own teeth. But odds are you are not brushing your dog's teeth. For most people it's not a habit that's been cultivated.

So what better time to turn that around than the new year?
And what better way to be prepared to turn over a new leaf than through the gift of a doggy toothbrush and toothpaste.

Perfect for dogs of all ages, a toothbrush represents the gift of dental health. And dental health is just as important for our beloved dogs as it is for us. Not only does good oral hygiene matter for a healthy mouth, but it also plays a role in:
Appetite and weight management
Reducing the risk of heart and lung disease, liver disease in dogs, or kidney failure in dogs
Decreasing the potential for long-term inflammation and negative impacts on the immune system
Thankfully, as dog parents we have a way to combat dental disease—tooth brushing. By brushing your dog's teeth daily, you can remove plaque while it is fresh and soft. By brushing away plaque regularly, bacteria are hindered from growing in the mouth, which disrupts the formation of tartar (i.e. hardened plaque, which is more difficult to remove).
By gifting a toothbrush to a dog, and learning how to brush your dog's teeth, you are giving him or her the long-term health benefits of proper oral care. Plus, it's like giving a present to your savings account! By taking good care of your dog's teeth, odds are you'll reduce the severity of dental disease in dogs. This should translate to fewer dental procedures and dog tooth extractions over your dog's lifetime.
As an another benefit, giving a toothbrush to your dog also adds a fun bonding activity to your daily routine. My dogs love getting their teeth brushed! They enjoy the taste of the doggie toothpaste and the one-on-one attention they receive from me. Plus, they always get a special, healthy treat after we are done.
It's important to call out that using "doggie" toothpaste is key. If you're wondering, "Can you use human toothpaste for dogs," the answer is a definite no. Human toothpaste poses a health hazard for our dear dogs.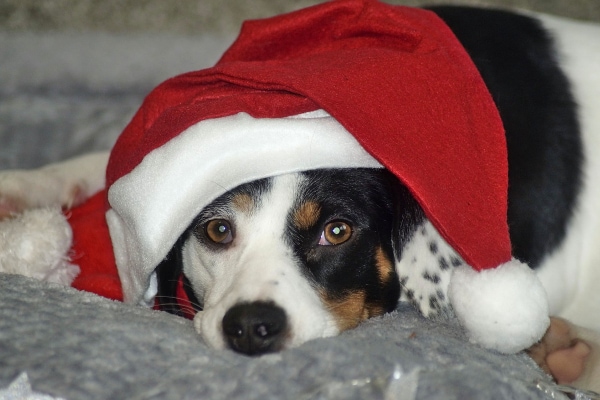 A bonus gift for you
Don't worry, I have a Christmas gift idea for you too!
If you are looking for a little something fun and dog-related, I recommend searching for the perfect journal. Look for one that is appealing so it will encourage you to write in it. Journals can be a great place to write down memories and funny stories about your dog that you can go back and read in the years to come. Reviewing the details of those anecdotes can bring a smile or laugh on even the hardest days.
Also, a journal can be very helpful for keeping track of your dog's health and activities. Personally, I have a journal for my dogs and have it divided in sections for each pet. In it, I record:
Diet changes
Medications and supplements (with their doses)
Vaccine history
Date of exams and reasons for the visit
Changes I see at home
Seasonal allergy observations
Results of a quality of life scale for dogs
Having these notes and records in one spot makes it easier for me to keep track of my dog's health.
Also, for many of my clients, journals make taking a dog to the vet less stressful. Everything they need to discuss with the vet is all in one little book. This decreases the pressure of trying to remember every tiny detail as I ask questions and take a history.
Then, during the exam, my clients also can write down any directions I give them. This can be especially useful for pet parents who are taking care of senior dogs, because they may have lab results, medication changes, and special instructions to keep track of.
Joy, love, and peace to you and your dog
While there are many gifts to consider for your dog this Christmas, I hope my gift guide helps you find the perfect present. Whether you pick one item from this list, or create a gift box from several, I am sure your dog or the other dog lovers in your life will feel the love!
I hope your holidays are furry and bright!
What did you decide to give your dog this Christmas?
Please comment below.